We use affiliate links. If you buy something through the links on this page, we may earn a commission at no cost to you. Learn more.
I work in a special library for K-12 educators and we do not, currently, have any audio books in circulation. I have been very curious about the Playaway audio books since I first read about them several months ago.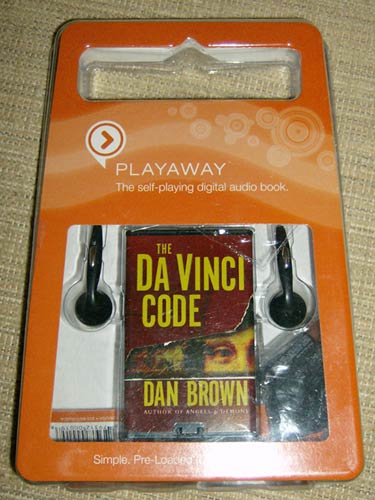 The Playaway audio book I was given to review is The Da Vinci Code by Dan Brown. The audio book is from Random House Audio and it is unabridged. The running time is 16 hours.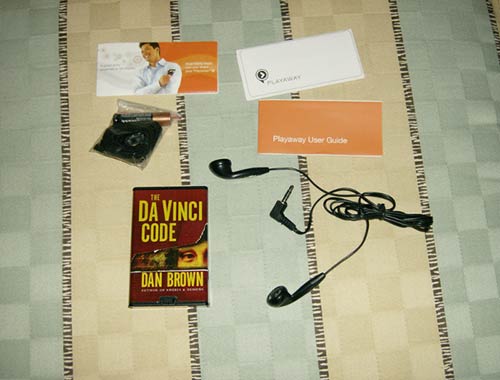 Package Contents
Playaway audio book
Earphones
AAA battery
Lanyard
Playaway User Guide
Documentation on One-Year Limited Warranty, FCC Statement and Safety Precautions
Documentation: How many ways can you share your Playaway?
The audio book costs $49.99 from Playaway. I scrolled through some of the other titles available and they range from $30 up, at least on the first few pages of results from the Online Store. These are hardcover prices and, although I understand why they need to charge the hardcover price, it may be too pricey for some readers. Of course, if you are used to purchasing audio books on CD you will be used to these prices. If you are used to buying regular books for discounted prices you may have sticker shock.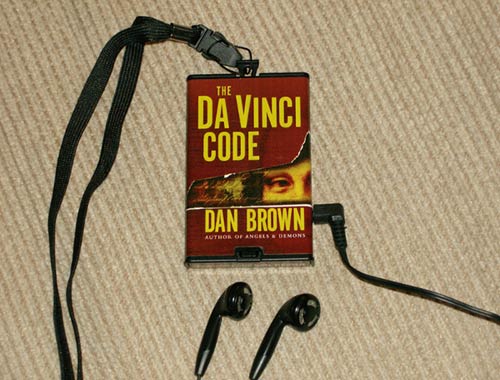 The headphones are black earbuds and the black lanyard fits through a pull-up hook on the top of the audio book. By the way, you can use your own earbuds or other earphones.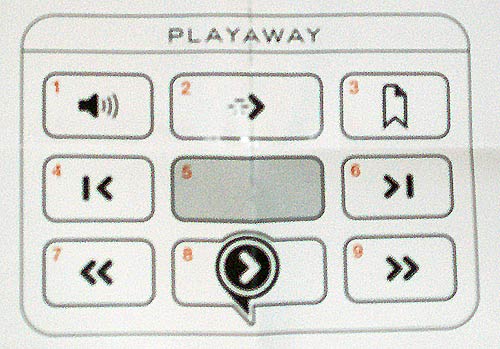 There are several buttons on the small unit (the unit is about 2 inches wide and less than 3.5 inches long).
The buttons work very well on the Playaway and they give you several options:
1. Volume: You can increase the volume level from 1 to 10. Keep pushing the button to start over.
2. Voice Speed: There are three levels to choose from for voice speed: normal, fast and fastest.
3. Bookmark: You can set up to 50 bookmarks to mark key passages. You can move through the bookmarks and remove bookmarks.
4. Skip Back: You can skip to the previous chapter or bookmark.
5. LCD Screen: The LCD screen shows you chapter, time remaining in chapter and battery icon.
6. Skip Forward: Skip to the next chapter or bookmark.
7. Reverse: Scroll backwards.
8. Playaway Button: Used for Power On, Play, Pause and Power Off.
9. Fast Forward: scroll forward.
I used all of the buttons and they worked great. The audio on the Playaway is excellent. Very clear with no distortion at all.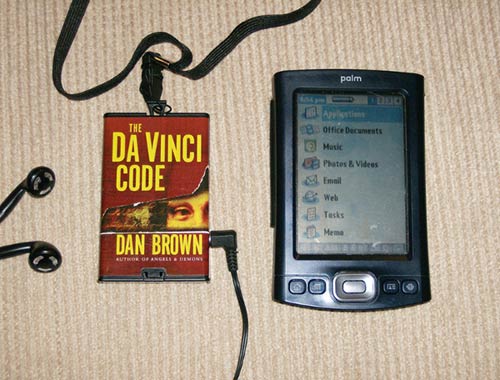 I like this product. If you buy audio books on CD you should really give
this a try for walking and exercising. I have to admit that I use the
library for acquiring books. But if I purchased audio books, I would buy from
Playaway. I also see this product as a nice addition to a library
collection. I know that many libraries check out audio books on MP3 players
and on CD so the Playaway audio books would be a nice format to add to the
collection.