We use affiliate links. If you buy something through the links on this page, we may earn a commission at no cost to you. Learn more.
Good backups of my Palm have saved my fanny several times. One time, I ended up using an obscure, almost forgotten and out of date backup file because every other backup I had was dead. I hope I never relive that day- and with some solid backup software, I shouldn't have to.
NVBackup is a solid backup program that happens to also be freeware. Offered by Alex Pruss Software (but, oddly, not showing up on his website), there is not much on-line documentation, but the 'ReadMe' is helpful. When run head to head with a commercial product like BackupMan from Bits & Bolts, it holds up quite nicely. The ReadMe and other documents are filled with the typical 'use at your own risk' warnings, but I found nothing that makes me think there is much risk here.
NVBackup is designed for new Palms (Treo 650, TE2, T5, Tx, and Lifedrive are the models listed) and claims to use a different system for accessing the data. There is not a lot of information about this new method, but it claims that it should be more reliable on newer Palms than most other programs.
The program uses about 240k, and offers a nice selection of options, such as:
Various compression options
Daily backup option
Encryption
Putting the program on the card
Selectable time server
The option to export or import a copy of the backup to or from an FTP server
Besides these option, the program features include:
Backing data up directly from internal nonvolatile memory (which supposedly helps avoid crashes)
Selective or complete restores
Fast saves that only update files changed since the last backup
Source code available from SourceForge.net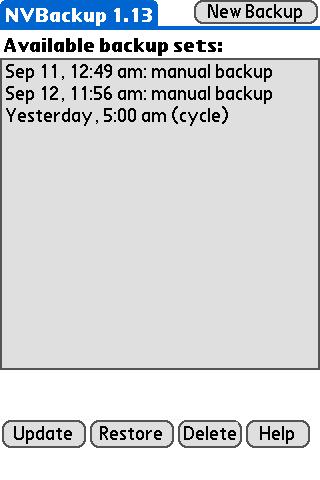 The interface is simple, and fairly easy to figure out. The export and import functions are not as clear as they could be but are also not necessary to appreciate the program. When backing up, it shows a complete list of what is being backed up (in a rather small font), and shows a double status bar- one for the file, the other for the complete job. The job bar not only gets longer as the job goes on, but it shifts from blue to green. Nice touch! The author has also included a small program that allows you to sync the time on your PDA with an Internet time server, either once or with every back-up..
A complete manual backup of my Tx with about 395 files, using default program settings, took NVBackup about 5.5 minutes. A similar backup with BackupMan took 2.5 minutes. The completed file size for each was 38.5M for NVBackup and 32M for BackupMan. Partial restores from each are about equally easy, and full restores follow the same basic pattern- BackupMan is faster but both get the job done.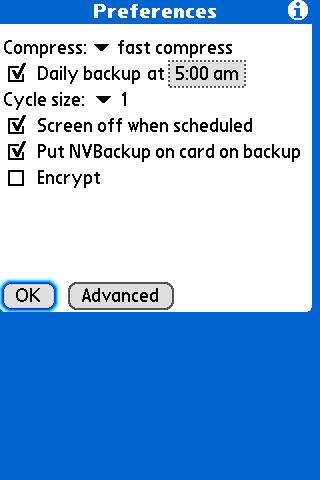 NVBackup offers compression and encryption options as well. The compression has several options, but just the 'fast' compression was enough to save my file in 21.2M instead of the original 38.5M. While the first save takes a while, subsequent saves go fast with compression since they only save changed files. The encryption is explained in the ReadMe, but since data sets saved with NVBackup won't really work on other kinds of PDAs, even other Palms, I am not massively concerned about that.
I have experienced glitches with another commercial program's scheduled backups, but NVBackup has so far worked perfectly with no conflicts or crashes. My scheduled back-up time is early in the morning when my Tx is usually in the charging cradle. NVBackup turned made the backup and the Tx was ready for me in the morning. This program has outperformed many back-up programs I have paid for!
While I might wish for some better documentation or a support site, it is hard to knock NVBackup. It does a solid, reliable job and easily competes with commercial products. It actually has an edge over some commercial programs with the reliability, export/import feature, compression options, and encryption choice. It's going to stay on my Palm for a few more months- if it keeps working well, and saves me memory card space, it will become my backup program of choice.
Product Information
Price:
Manufacturer:
Alex Pruss Software
Requirements:
Pros:

Free!
Very stable during the testing
Most functions are very easy to use and understand
Compression option makes back-up files smaller
Nice feature set for freeware

Cons:

Slower than similar programs
Not well documented