We use affiliate links. If you buy something through the links on this page, we may earn a commission at no cost to you. Learn more.
I'm always on the lookout for good flashlights. Living in South Florida has given me a better appreciation for dependable light sources due to our frequent hurricanes and otherwise unreliable electric service. Lately I've also found the need for a small light during my normal daily activities, so having one small enough to fit in my jeans pocket is a definite plus. I was browsing the Gadget Brando site and saw the "One Battery Torch". The original product photo and description weren't clear that the battery was a type AA (many small LED lights use expensive lithium batteries). I like to find products which use AA batteries because I get my wife's discards (she's a photographer); when her high powered photo flash takes too long to cycle, she needs to replace the batteries. These used AA's still have plenty of life for other uses.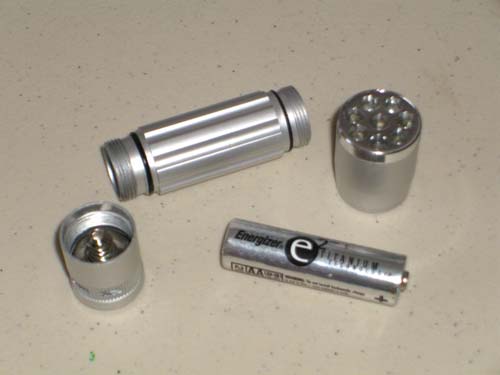 I ordered the flashlight and received it in the mail 10 days later. My first reaction to using the light was that it felt very solid and was a very well designed product. To turn the light on, the head is twisted clockwise. I prefer having a click on/off switch for single-handed operation, but considering the size of the light, the twist switch is a necessary feature to keep the size down.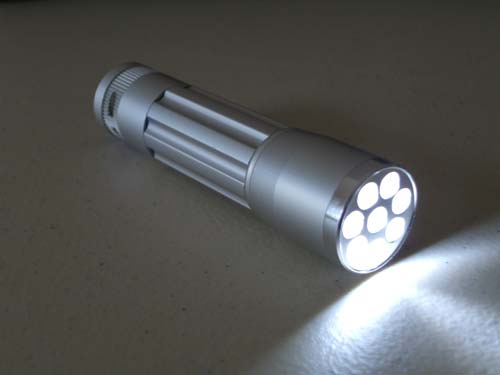 The light output of the 8-LEDs is bright, but not tremendously bright. Compared to another 8-LED flashlight I have (which uses 3-AAA batteries), I'd say the Brando light is about half as bright. The next test was to see how many hours of usable light it could produce.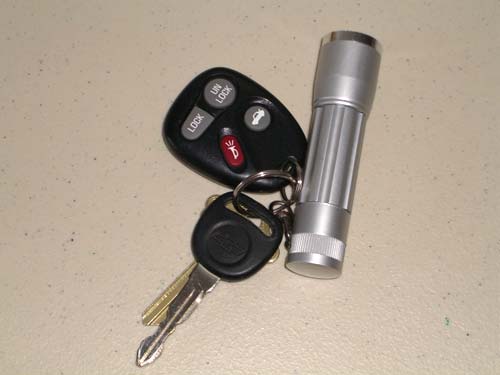 I set it on my desk at the beginning of the day and watched as it slowly got dimmer. With the slightly used AA's that I have, I got 6 hours of reasonably bright light. I'm sure that a brand new alkaline would give better performance.
I removed the included wrist-strap and added it to my keychain. It's a bit large as a keychain charm, but it's a welcome replacement for the single-LED "squeeze" light that I used to carry.
Product Information
Price:
7.0
Manufacturer:
Brando Gadget
Pros:

Runs on a single AA battery
Small enough to fit easily in your pocket
Solid construction
Price

Cons:

Not as bright as other 8-LED flashlights
I prefer a push switch to the twist cap