We use affiliate links. If you buy something through the links on this page, we may earn a commission at no cost to you. Learn more.
If you have a Sony PSP, you probably already know that it is designed for video as well as gaming. There are plenty of movies available on UMD, but what if you want to carry around a few TV shows, your favorite DVD, or something you shot with your camcorder? The Neuros MPEG-4 Video Recorder 2 is one way to do that: it's a "digital VCR" which records from a video source directly onto a Memory Stick Duo or CompactFlash card, in formats compatible with the PSP, video iPod, and other mobile devices.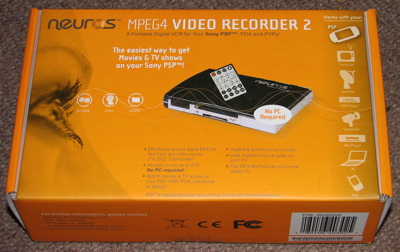 Neuros makes two versions of their MPEG-4 recorder. The one reviewed here is the second version; the original has a SD slot instead of Memory Stick, different software, and a different recording format which is not PSP compatible.
Physical Description
The Neuros MEPG-4 Video Recorder 2 is a small black box, about the size of two decks of playing cards side by side. On one edge are CompactFlash and Memory Stick slots as well as the window for the remote infrared receiver. The opposite edge has 1/8-inch input and output jacks and the power connector.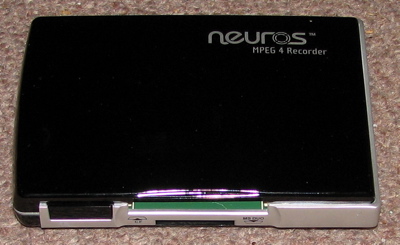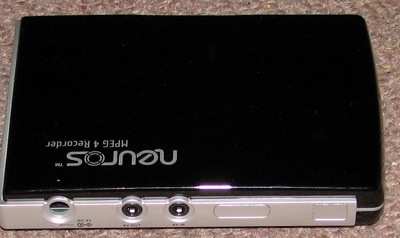 The recorder comes with a typical "wall wart" power supply and two audio/video cables, each of which has the usual three RCA plugs (no S-video) at one end and a 1/8-inch connector at the other. A software CD containing media player applications for popular mobile platforms is included. The remote (which is the only way to operate the recorder, so don't lose it!) is a flat, credit-card-shaped black slab with rubber membrane buttons.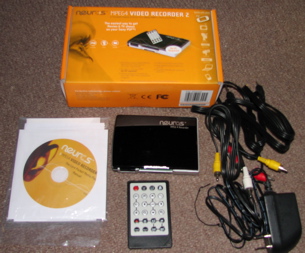 Usage
Setting up the recorder is simple: attach the audio/video inputs and outputs, insert a Memory Stick or CompactFlash card, and turn the recorder on using the remote. A live preview is available on the main menu: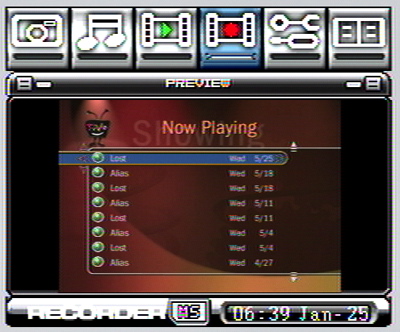 Recording is started from the full screen video passthrough. An information overlay shows the recording quality and space available.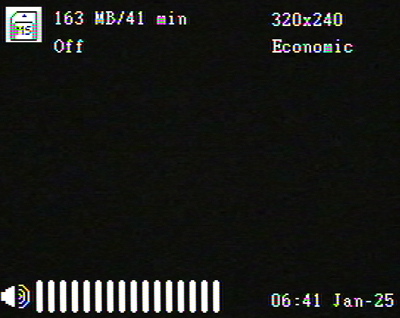 Pressing the Menu button from this screen allows you to select the recording quality and timer options.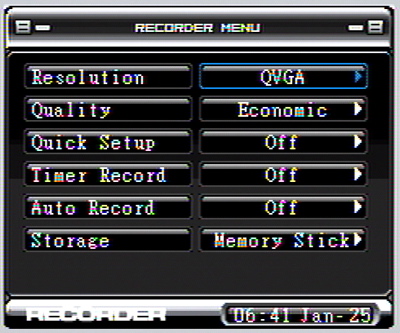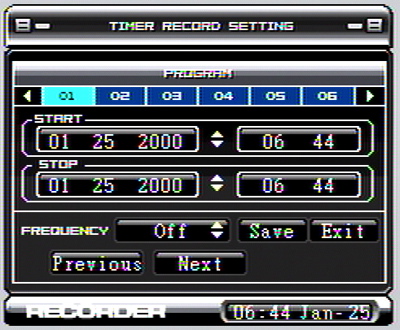 Once everything is set up to your liking, you can start and stop recording using the remote. Each recording is stored as a separate video file which you can play on the PSP or another mobile device or copy to your computer. Videos are recorded in MPEG-4 format with AAC audio.
You can, of course, play back the videos you record. The video player also supports DivX and Quicktime MPEG-4 files.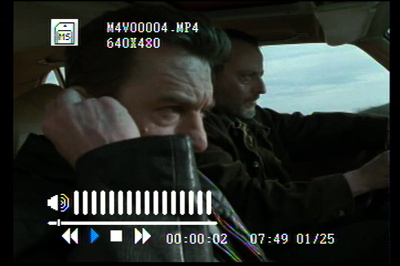 You can also use the recorder to display photos and play music from your memory card. The music player supports MP3, AAC, and WMA formats but does not play protected (purchased) music files.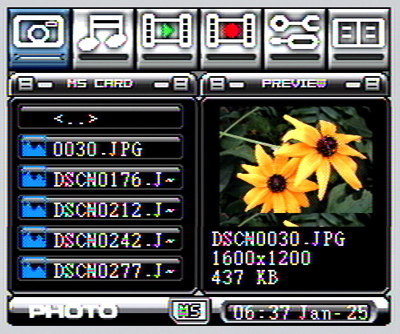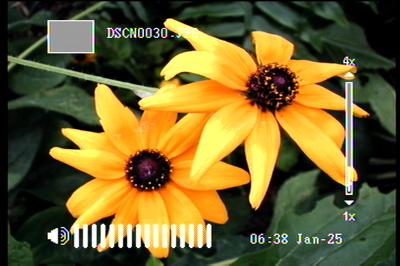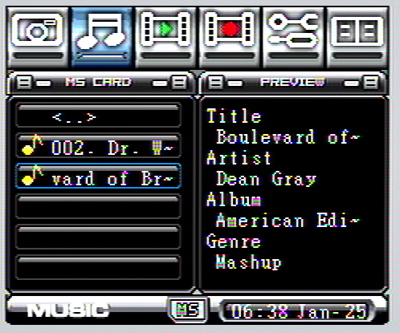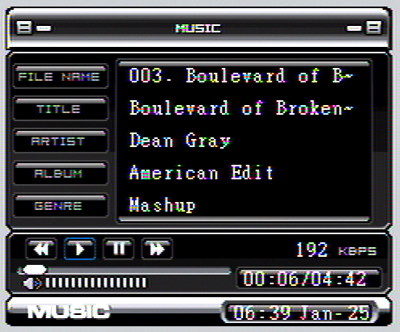 Finally, if you have both supported memory cards, you can use the built in file manager to copy files back and forth. Also shown below is the setup menu. Note that a firmware upgrade option is available, in case Neuros fixes bugs or improves the software.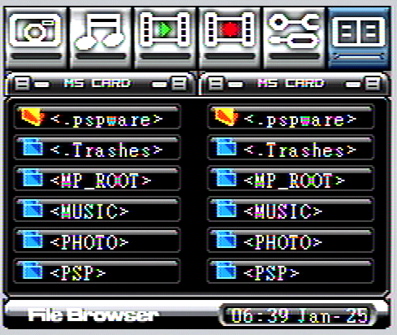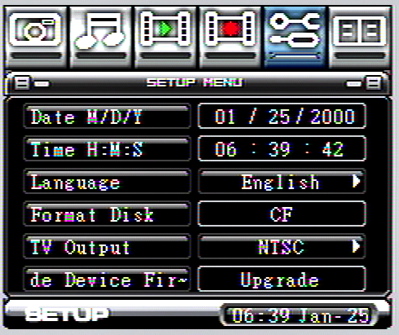 Recording Formats and Quality
The Neuros recorder captures video in several different resolutions and quality levels. If you record video to watch on a portable device, you will probably use the QVGA (320×200) resolution. QVGA recordings can be played directly on the PSP and should work without additional conversion on the iPod and most PDAs as well. The PSP's wide screen is also supported with a WQVGA (368×208) option. Finally, the recorder can capture at VGA (640×480) resolution. The PSP can't play VGA recording (due to hardware limitations), but they should work well on high-end PDAs.
The recorder has two quality levels for QVGA and WQVGA recording and four for VGA. These affect video quality only; audio is always recorded as 128 kbps AAC. The following table shows the average bit rate of each format, how many megabytes are required per minute of recording, and how much video will fit on a 1GB memory card. All values are based on various test clips I recorded while writing this review, and are estimated conservatively.
| Format | Average Bit Rate (kbps) | MB/minute | 1GB Card |
| --- | --- | --- | --- |
| QVGA or WQVGA Economic | 500 | 4 | 4 hours |
| QVGA or WQVGA Normal | 900 | 7 | 2 hours |
| VGA Economic | 650 | 5 | 3 hours |
| VGA Normal | 950 | 7 | 2 hours |
| VGA Fine | 1200 | 9 | 1.5 hours |
| VGA Super Fine | 2200 | 16 | 1 hour |
Sample Clips
The following sample clips (all of the same 30 second scene) show the effects of the recorder's resolution and quality settings. This particular scene has a lot of movement in it, so it should be a good test of how well the Neuros' encoder does under pressure.
[QVGA Economic]
[QVGA Normal]
[WQVGA Normal]
[VGA Economic]
[VGA Normal]
[VGA Fine]
[VGA Super Fine]
Viewed on a PSP, there are visible artifacts in the QVGA and WQVGA clips but the "normal" quality is still quite watchable. I wouldn't recommend the "economic" setting for an action movie like the one the sample clip is from, but it should be adequate for normal television shows.
One thing of note about the WQVGA clip is that the top and bottom are cropped. That resolution is meant to be used only with widescreen video, so the recorder trims off the edges of the input to remove the letterbox bars.
The VGA recordings at "fine" and "super fine" quality are appropriate for TV playback or computer viewing. The "economic" and "normal" settings are probably not worth using at VGA resolution, as they have to cram four times as many pixels into almost the same amount of bandwidth as QVGA mode.
Likes and Dislikes
The Neuros MPEG-4 Recorder 2 does exactly what it claims to: it is an easy way to record video to watch on a PSP. But there a lot of small ways in which it falls short of perfection.
The use of 1/8″ mini jacks for input and output is one example. You have to use the provided cables, and there is no way to directly plug into devices (such as game consoles) that don't have their own A/V jacks. Not having proper A/V jacks on the box isn't a dealbreaker, but it would be more useful if they were there. Similarly, S-video support would be nice, and its omission seems odd for a device made in 2006.
Another drawback of this product, from my perspective as a gadget lover, is the choice of supported memory formats. I have devices that use both Memory Stick and SD, and I suspect I'm not alone in that. The recorder would be much more useful if it had all three memory formats in one box; perhaps Neuros will do that in the
next version.
I also don't like the user interface. The on screen menus are somewhat ugly and feel clunky to me, especially in combination with the membrane click buttons on the remote. But it gets the job done, and making recordings is simple enough.
On the whole, the Neuros MPEG-4 Video Recorder (both versions) is an interesting first entry in the new product category of "recording for mobile devices," and there is clearly a lot of room for growth and improvement. In a few years, PVRs and set-top DVD recorders will probably include memory card slots, but until then this product is a convenient way to put video on your PSP or PDA without the complexity of PC video capture. I'm not entirely convinced there is a big market for this product right now, especially since USP video boxes are in the same price range, but it fills its niche well.
Product Information
Price:
149.99
Manufacturer:
Neuros Audio
Requirements:

Video source
TV
CompactFlash card or Memory Stick Duo

Pros:

No PC required
Records directly to CF or Memory Stick
PSP and iPod compatible video formats including PSP wide screen
Plays DivX, music, photos from card to TV

Cons:

Must use supplied video cables
No S-video
Clunky user interface and remote