We use affiliate links. If you buy something through the links on this page, we may earn a commission at no cost to you. Learn more.
Is there a law somewhere that says that all laptop bags have to look
like laptop bags? You know what I'm talking about, they tend
to be black, boring, made for men and as far away from making a
fashion statement as humanly possible. I guess this is my cue to tell
you that when it comes to actually having a fashion sense, I'm not all
that qualified. My idea of dressing up is to wear dark blue
jeans instead of faded ones ;o) All joking aside, Judie is probably
more qualified to review girly girl things than I am, but that didn't stop me
from taking on a review of the Signature Paris Bag from La La Laptop.
Sorry guys, this is a laptop bag for women. You have my permission for
your eyes to glaze over.
Made of Ostrich embossed leather and available in 6 color combinations, I was sent the Lime
Green / Black Combo with Lime Green lining. My first
impression upon opening the box and seeing this bag was WOW. The color
/ style caught my attention first, then my sense of smell kicked in and
I said ahhhhhhhhhh as I sniffed that great quality leather aroma.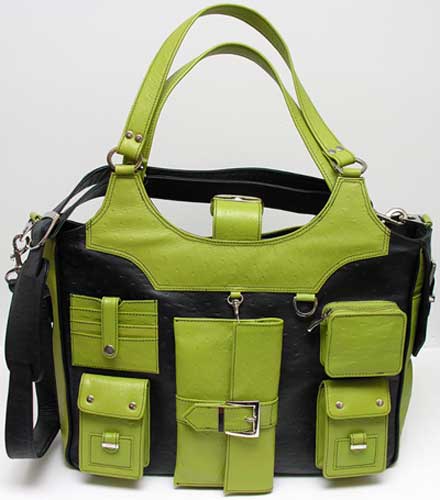 Measuring
approximately 18Lx5Wx12H
and weighing in at 5 lbs. 10 oz. (on my electronic scales) with the
detachable shoulder strap connected, this bag already starts out on the
hefty side before adding even one piece of gear.
As
far as styling, the LaLa Laptop bag seems to have quite
possibly been inspired by such
famous designers / brands as Marc Jacobs, Balenciaga, and COACH. For
those of you that are wondering, no, I didn't come up with those
references on my own, Judie helped me out… She pointed me to
different online stores carrying their bags and I definitely saw
similarities with this bag.
Ok, enough about other
bags, let's focus on this one with a tour of its features. First of
all, it's made entirely of leather (except for the satin-like material
lining used in the interior). It looks and feels like a high quality
leather product. On the front (I'm guessing it's the
front…), there is a business / credit card holder for 4 cards. I
don't think anyone would use these slots for their credit
cards, and I wouldn't even use them for business cards, since the slots
are not protected from the rain. Below the card holder is a magnetic
snap 3Lx1.5Wx4.25H compartment that is large enough for items like small mobile
phones, an iPod, rolled up cables, AC adapter, etc. There is a matching
compartment on the opposite side of the bag face. A tiny faux pocket is
sewn on the outside of these compartments. In the upper right
corner of the bag front there is a zippered 3Lx1.25Wx2.5H square
compartment. Next to it is a metal loop that you can use to
clip your keys.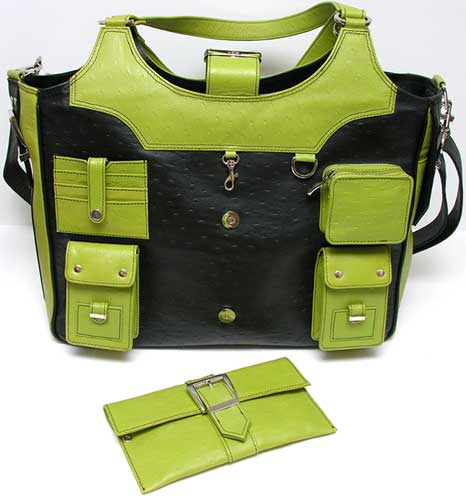 The most unique feature on the
front of the bag is the detachable clutch purse. Connected by a spring
loaded clip and 2 magnets, this little zippered purse is 8.5Lx4.5W in
size. A slide in hand strap is located under the magnetic flap. This
little purse can't hold much gear. It just has one zippered pocket, but is a nice accessory to take with
you to lunch when you don't want to carry the entire bag with you.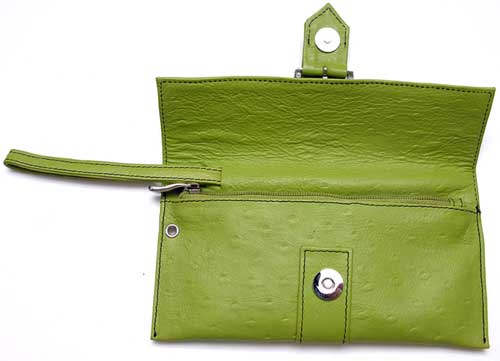 Never miss one of our posts again. Sent MON, WED, and FRI with the latest gadget reviews and news!
I would like to see this little clutch purse a bit larger and to be
connected INSIDE the bag instead of on the outside. Even with the clip
and 2 magnets, it just feels a bit scary to have your billfold
hanging on the outside of your bag like that.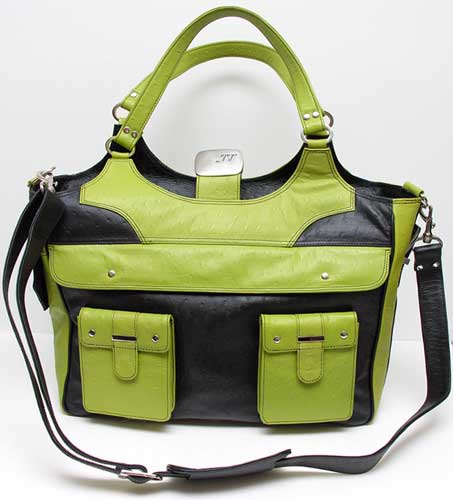 The back of the bag has a large two magnet
flapped pocket, that is spacious enough to hold a standard sized magazine.
on the outside of that pocket are 2 4Lx1.5Wx4.5H compartments that are held closed with one magnetic snap.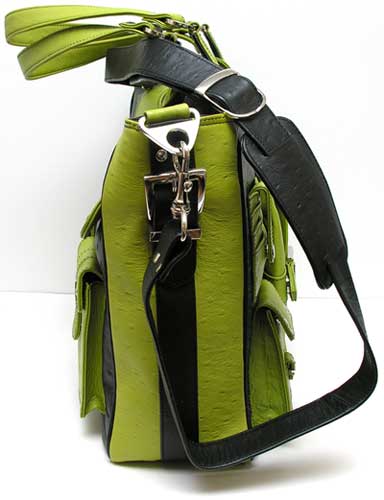 The
left side of the bag has a hefty metal attachment point for the
included black leather adjustable shoulder strap.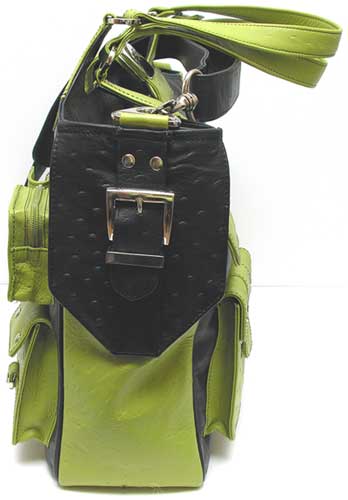 The
right side has a matching attachment point as well as a deep 3Wx8.5H
pocket under the belt buckle.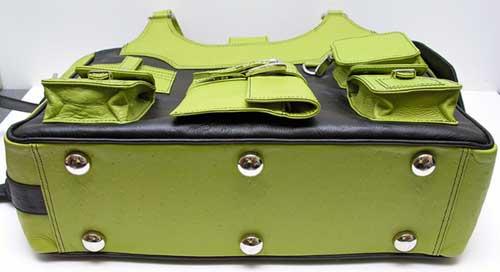 On
the bottom of the bag there are 6 metal button feet that allow the bag
to stand up on a flat surface. This is a big deal to me, I hate having
a gear bag that doesn't want to sit upright.
Ok, now
let's take a look at the interior of this bag.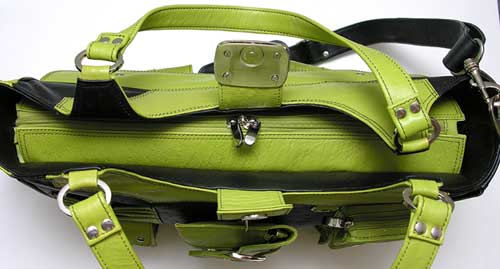 The main compartment is accessed by unzipping 2
zippers. All the zippers used in this bag have thick chunky pulls. The
zippers themselves could be a little smoother. It might just be that
they need to be broken in though…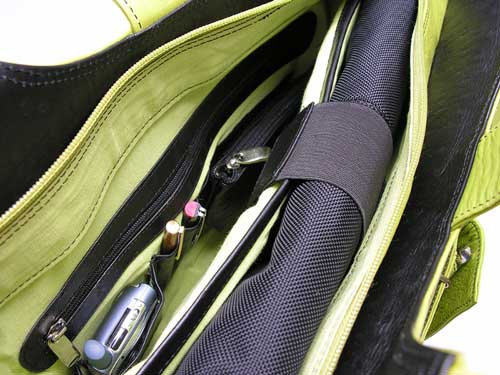 After
you unzip the main area, you will see that it is divided into two large
sections. The section to the front of the bag is a padded pocket for
your laptop. In the picture above, you will notice that I have my laptop in a sleeve. The laptop area can accommodate a computer approximately 17 inches wide by 8.5 inches deep. A wide Velcro strip secures the laptop pocket. On the back wall of the bag, there is a zippered pocket with a smaller open pocket (my Treo 650 is pictured in this pocket), 3 pen pockets and a removable small zippered pouch.
Besides the detactable leather shoulder strap, this bag has 2 non-detachable straps. Using both kinda gets in the way as the permanent straps just flop around. In my opinion, two sets of straps is one too many. Either make the permanent ones longer, or just use the shoulder strap.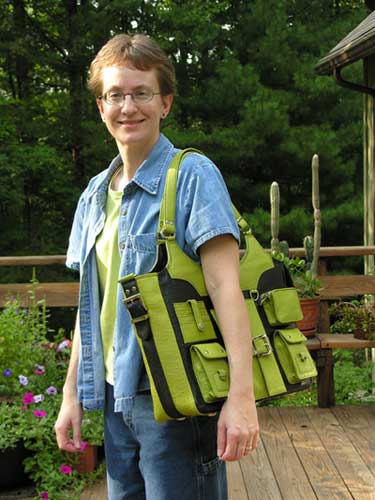 For reference, I am 5'5″
If you like to wear a bag under your arm like the picture above, the pockets on the outside of the bag may get in your way. Also, if you have your laptop in the bag while carrying it in this manner, it is going to feel really heavy.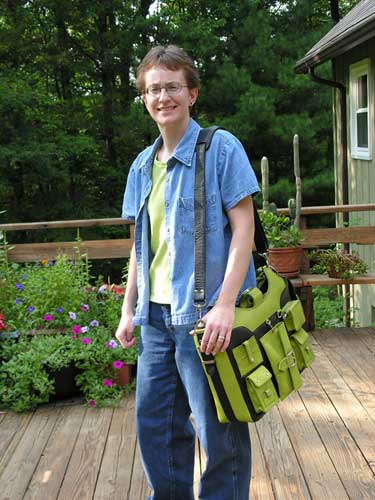 Carrying the bag in this manner is more comfortable to me, but the extra set of straps tend to get in my way.
Like I said before, I'm no expert when it comes to style. But, I think I know what makes a good gear bag. The LaLa Laptop bag has some things going for it, and some things that could use some improvements. The good points are that it is made really well and has a lot of storage options. The things that could stand improving are the straps, and locations of some of the pockets. I think a better location for the clutch purse and business card slots would be the interior of the bag. I guess I should also mention the price. This bag isn't cheap. But if you want to be fashionable, you should already be used to that caveat. All that said, I'll be anxious to see the next version of the LaLa Laptop bag.
Price: $455.00 (as reviewed)
Pros:
Stylish
Lots of storage
Removable clutch purse
Cons:
Heavy
2 sets of shoulder straps
Spendy
Product Information
Price:
435.0
Manufacturer:
LaLa Laptop
Pros:

Stylish
Lots of storage
Removable clutch purse

Cons:

Heavy
2 sets of shoulder straps
Spendy