We use affiliate links. If you buy something through the links on this page, we may earn a commission at no cost to you. Learn more.
Here's a nifty little gizmo for all the electric guitar players out there, who also happen to be Gadgeteers. The JamPlug FM from DVForge is a module that can turn an FM radio into a guitar amplifier. Those of you that do not have any experience with electric guitars should know that playing most solid body electric guitars without an amp, yields little if any sound. That means if you want to play your instrument outside, take it to a party, take it on a trip or even take it into another room, you'll need to have an amp with you. Amps can be heavy and expensive! The JamPlug FM is small enough to fit in your pocket or guitar case, and won't break most banks.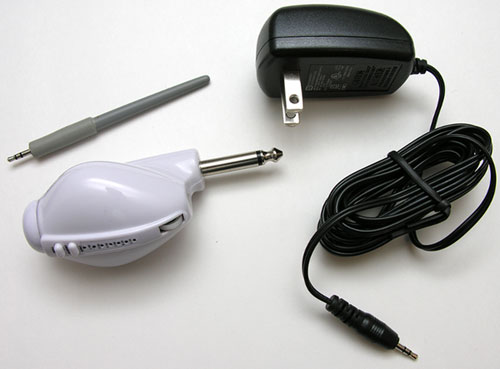 Hardware Specs
Width= 1.2″
Length= 6.25″ (plus antenna length)
Height= 1.8″
Stations= 6 FM
Power= 120VAC, 60Hz
Battery= Internal rechargeable
Antenna= removable, uses 3.5mm miniplug
Package Contents
JamPlug FM
Removable antenna
AC Adapter
The main body of the JamPlug FM is constructed of white ABS plastic. It feels relatively rugged and can probably withstand normal abuse.

Shaped sort of like an egg, the JamPlug FM has a standard sized 1/4 inch instrument plug sticking out on one end, and a jack for the included antenna on the other end. This same jack is used by the AC adapter to charge the internal battery. The battery will power the JamPlug for several hours on one charge.

On the top of the JamPlug FM is a volume dial, FM selector LED status panel, power switch and channel selector switch. Pressing the channel selector switch will cycle through the 6 available FM channels (87.7, 87.9, 88.1, 88.3, 88.5 and 88.7).
To use this product, you just plug it into the jack on your guitar, press the power button, select the FM channel you want to transmit over, turn on your FM radio, set it to the same channel as the JamPlug, adjust the volume knob on the JamPlug, adjust the knobs on your guitar and start strumming. Simple. Well sorta…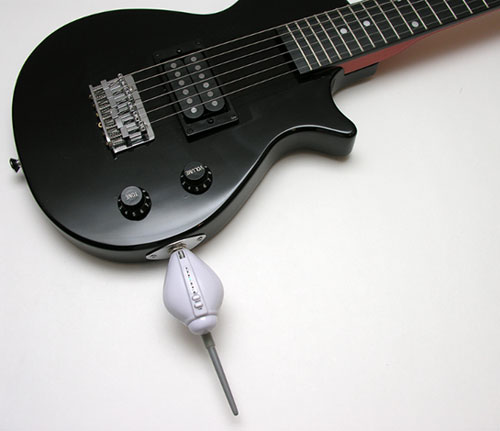 When DVForge asked if I would be interested in writing a review of this product, I figured it would give me a great excuse to buy an electric guitar, since all I had was an acoustic one. Not wanting to spend a lot of cash, I opted to buy a mini Les Paul style travel guitar from eBay. If anything, it would be fun to practice with. The first time I tried to use the JamPlug FM, I looked around the house for a portable FM radio and came up with a cheapo battery operated mini boombox with a manual channel selector thumb wheel. No matter how I tried, I was unable to get any guitar sounds to come out of that radio. Then I tried transmitting through the JNC Cube Digital Audio Player that I recently reviewed and had much better success. My third test was to take the guitar and JamPlug out to my truck to try transmitting over that radio. Again success.
Now you're going to have to understand that sound quality through the radio isn't going to be near as good as through a good amp. Depending on how far away you are from the radio, you will hear static along with the strumming. Even when you are extremely close to the radio, changing position can effect the sound. This depends a lot on the frequency you choose to broadcast over and if that channel is actually used by a strong radio station in your area. This could be a real problem in large cities. Lucky for me, I was able to broadcast on all 5 of the 6 channels.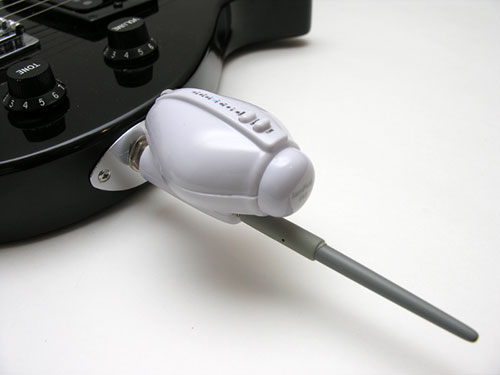 The only other problem that I see with this product depends on the location of the jack on the guitar. As you can see with this Les Paul style guitar, the JamPlug sticks straight out the side causing it to get in the way if you want to play the guitar in your lap.
The JamPlug FM is a handy item for any electric guitar player to keep in their guitar case. It makes traveling with your instrument a little easier for those times when a full size amplifier just isn't necessary or practical.
Price: $49.99.
Pros:
Turns an FM radio into an amp
Easy to use
Fits in your pocket, gear bag or guitar case
Cons:
Only 6 FM freqs to choose from
Hard to use with analog radios
Product Information
Price:
49.99
Manufacturer:
DVForge
Pros:

Turns an FM radio into an amp
Easy to use
Fits in your pocket, gear bag or guitar case

Cons:

Only 6 FM freqs to choose from
Hard to use with analog radios