We use affiliate links. If you buy something through the links on this page, we may earn a commission at no cost to you. Learn more.
I first saw one of these things on
display at the local fair. They were asking $50 to $150 for sets like
this, and I thought they were REALLY cool, but not $That$ cool. So I
decided look them up on Ebay later that day and took some pics with my
camera phone (I'd never remember anything without my camera phone!).
And much like a lot of novelty items, sure enough, there was a
mess of them available on Ebay, so I went ahead and bought one.
Great price too, just $1…. and $22 shipping. Again, pretty much what
I expected out of a novelty item on Ebay.
Regardless of the inflated shipping, I still think I got a good deal at
$26 shipped. It showed up 4 days later in a slightly abused box. The
UPS man, despite the box clearly both showing glass and reading
"FRAGILE", decided to throw me the box rather then take the extra 10
steps to my door. Thankfully, the thick foam inside the box kept the
contents nice and intacted. This is rather amazing considering how
fragile and heavy the glassy ceramic material it's made from is. Here's
a picture what you get inside the box: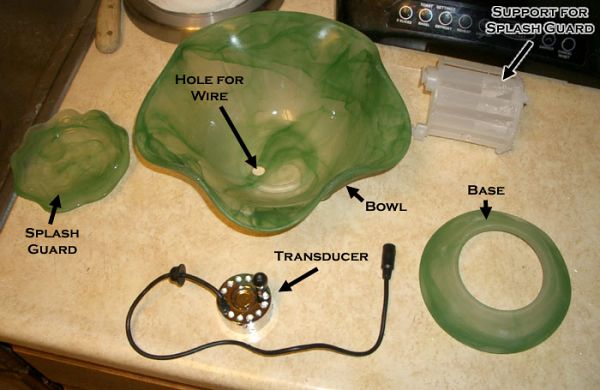 It has instructions, but they aren't really necessary. Clearly, the
Transducer wire goes through that hole in the bowl, and then the wire
slips out through a tiny notch in the base. Pushing in that rubber plug
was a pain, but otherwise it easy to assemble. Out of the 5 minutes it
took to put it together, getting that rubber plug on the wire to fit
into that hole took up nearly 4! Here's what the transducer looks like
in the bowl: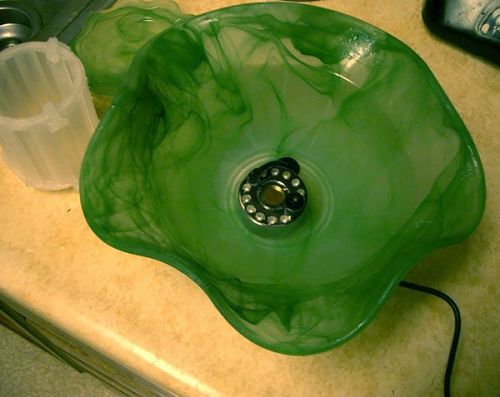 And then the Splash Guard support….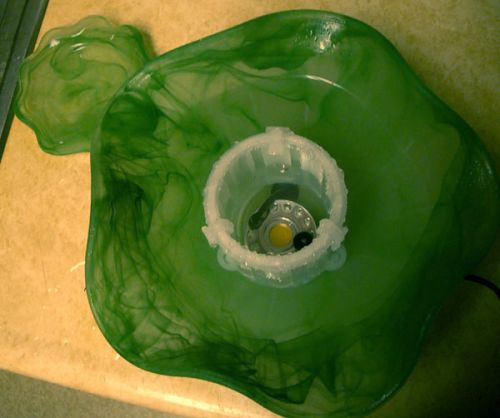 That Plastic thing helps to prevent splashes from the sides, as well as
hold up the Top Splash Guard over the center. And believe me, you'll
NEED this high amount of splash protection, because this thing is going
to literally blast water into vapor.
Never miss one of our posts again. Sent MON, WED, and FRI with the latest gadget reviews and news!
You might notice that there's a ring of tiny LED lights around the
Transducer's body. These produce a nice lightshow. The controls allow
you to setup these lights to do all kinds of things. It has 18
settings, and the lights are in Blue, Red, and Yellow, so you can get
all of the colors of the rainbow if you want to mess with the settings
enough. Or you can just turn them off. It's cool, if you are into kinda
spooky, new-age lighting. When turned on it makes the whole thing looks
very Sci-Fi-ish.
Now, here's a word of warning. Just as that little metal hockey puck
can turn water into vapor, it could also turn your skin and blood into
sticky vapor. Needless to say, don't try to touch it or hold it well
it's working. In the bowl it's perfectly harmless, you can't even feel
or detect the vibration. I believe the only part that moves is that
tiny black thing sticking out of the top, but MAN does that thing move.
According to the information I found, it vibrates at 1.7 MILLION times
a second! You can hear a range of between 600 to 22,000 vibrations a
second, so this is EXTREMELY high. So high in fact that water, trying
to keep up with the vibrations of the Transducer, gets blasted straight
into a cooling vapor. As an extra layer of protection, the Transducer
will only work when submerged in water. I believe the only way you can
get hurt by it is if you reach into the bowl and stick your finger on
the Transducer well it's operating. You don't need to worry about
touching the bowl or any other part of the device. Vibrations that high
in frequency only travel a few millimeters, as I vaguely recall from
science class. So you would have to put your finger directly on the
Transducer well it's operating before it would hurt you.
Here's what all of this looks like assembled and turned on: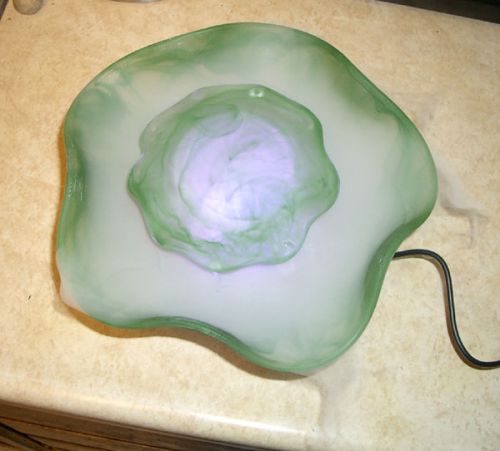 And here's a Side View: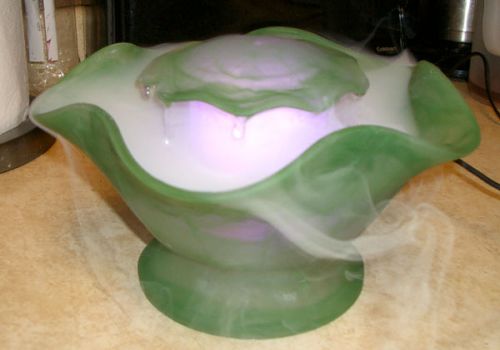 I've got to say, this thing looks SUPER COOL when it's turned on. It
doesn't make a sound, other then the tiny trickle of water that
splashes against the top and sides of the splash guards. It's both
soothing and looks really cool. That Vapor you see coming out is very
cool, almost cold. I don't know if this is because of how it's made or
just simple evaporation. But if you'd like a nice cool mist on a hot
day, this thing delivers! You can also use it to spread around aromas.
I added a little vanilla, and it works well as spreading the smell
around. Those vapors you see are VERY light, so they won't get your
stuff wet if you have papers nearby. All of that vapor you see in the
photo is actually less then a 1/10 a drop of real water. It takes
several hours for the Transducer to drain a bowl that size, in which
time it produces TONS of cloud like vapor that quickly dissipates into
the air. You could use this as a nice room humidifier. The vapors are
cold though, so they do tend to descend down to the floor unless your
ventilation pushed them around the room.
Just for fun, I thought I'd see what this Transducer could do outside
of all of that green ceramic stuff. You might want to get one of these
just for the fun of playing with the Transducer itself. It's REALLY
cool! Here's what the transducer and parts look like on their own.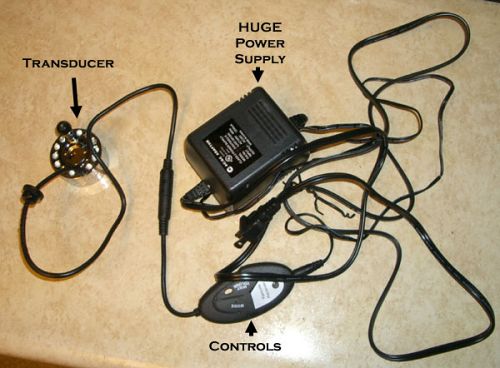 The Transducer must use alot of power, because I haven't seen a power
brick that big since my Commodore 128 computer. You could kill a guy
with that thing!
Just as an experiment, I put the Transducer into a small disposable
plastic.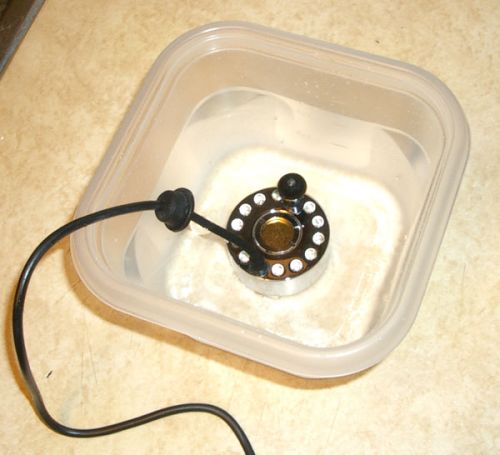 And here's the Transducer after I switched it on: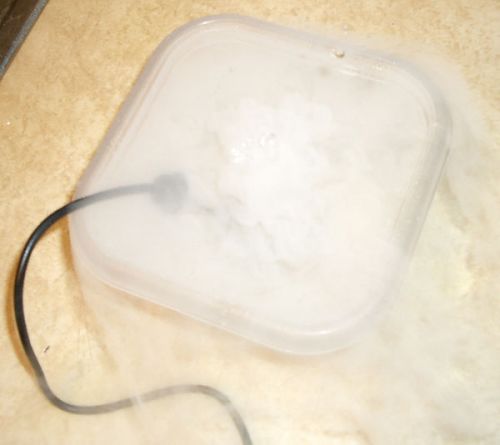 Those splash guards in the kit are REALLY are necessary if you plan on
using this in the house. Water spit up all over the place during my
test, and drenched an air about a 1 foot area around the bowl I was
using. It got my counter pretty much soaked in the 20 seconds I had it
turned on. The amazing part though is just how fast it turns water into
vapor. Here's a link to a video showing my test.
mist-of-dreams.avi
(This video is in Divx
format, you'll need Divx installed to view it)
According to what I've read, the Transducers will eventually burn out
if you leave them on constantly for more then 5 or 6 months. The
cheapest replacement Transducers on Ebay I found where for 2
Transducers for $30. They might be cheaper, but that's the going rate
I've found.
I've heard you can put these things directly into a fish tank, although
I dunno what long term effect it would have on the fish. It's too bad
they don't make these things battery powered and encased inside a small
protective ball. Kids would have TONS of fun with these things in the
pool and bath. As it is now, it's more of an adult item, since there's
nothing to stop you from touching the Transducer directly well it's
running. Maybe somebody that makes these will read this and get an
idea… Hint-Hint!
Anyways, for $30 it's ALOT of fun and makes a cool little science toy.
You can use it as a Room Humidifier or Aroma Do-hickey. You're kids
could probably make one heck of a cool science exhibit out of it too.
So I think it's well worth the $30 it cost me. But I dunno if it's
worth alot more. The Transducer itself burns out after awhile, and most
of the cost is the Transducer, running $15 to $25 a piece. You can put
these in metal hockey pucks into anything, so if you don't like those
ceramics bowls, you might be better off just buying a couple of
Transducers and putting them into whatever bowl you have on hand.
6/29/05 – Update from themog
I have played with these little foggers quite a bit have learned a few
things about them over the years. Max has asked me to write up a quick add
on to his review and share some of what I know.
Before we begin, there is one minor correction to the review. That little
post on top is not actually the emitter. The emitter is the flat disk in the
middle of the unit. That post is the water sensor that turns the unit off if
the water level gets too low. I believe that it uses an ultra low current
and it is certainly safe to touch.
From the video he shows this is hard to spot as the transducer tends to spit
water in random directions when it is not immersed under an inch or so of
water. You can move the unit around to try and reduce the spitting, or even
tilt it at an angle if you have some stable way to prop or suspend it. If
the water is deep enough the splattering will go away entirely and you still
get almost as much vapor spray as when it is in shallow water.
If you need to adjust the position of your mister you can do this while it
is turned on so you can see how well it works in different positions. While
the frequency that it vibrates at is certainly high enough to do nasty
things to flesh, it is not very strong so it does so very slowly. Should you
accidentally put a finger on or slightly above the disk while it is running,
you will certainly know as you will feel a strong buzzing sensation, but you
will also have plenty of time to pull away before any noticeable damage is
done.
That being said, absolutely DO NOT HOLD YOUR FINGER OVER THE DISK! If you
just let it brush you then it is no big deal, but if you do let it jet on
one part of your hand long enough it will cause a rather nasty injury. To
your muscle tissue it would be less than a mild bruise, but since the signal
is transmitted through your body like sonar transmits through water, your
nerves have no protection from it. If you have ever managed to bruise a
nerve, like banging your funny bone only much harder, then you know what I
am talking about. By the time you feel any pain the damage has already been
done and it might take a day or two for the bruise on your nerve to heal.
NOT FUN!
I can also attest to the fact that they do last an incredibly long time, if
treated well. I have had a couple fail on me in two different ways. Both of
them were entirely my fault. The first is that the water sensor can
eventually oxidize if you keep it in water with a dissimilar metal. In any
water other than perfectly distilled water there are enough free ions to
conduct an electrical current. These free ions will transfer between the two
objects, transporting molecules one by one and corroding both metals. Some
water pumps that are used in fish tanks or decorative ponds and fountains
have metal impellers or other pieces that are exposed to the water. This is
what happened to me.
Eventually the corrosion will block the switch's signal and prevent the
mister from turning on. At this point you can usually just buff the sensor
to fix the problem, but it can be a real pain to get it clean enough and if
you don't take out the other metal object from the water then it will just
happen again.
The second thing that can kill one of these is heat. Max was quite right
that the mist does indeed feel cold because of the cooling effect from
evaporation. Actually, the transducer puts quite a bit of energy into the
water in order to blast it into mist. As the mist evaporates that energy
dissipates, but if the mist is kept in an enclosed area, the heat will build
up as the water falls back into the reservoir. If you do something really
silly, like put a heating mat under a water fountain in a terrarium, and
then put the transducer inside of a small chamber in that fountain, it will
heat the water up really quick. Twice I managed to kill one of these things
in just two days each by doing just that. Thankfully I caught on the second
time around.
One thing that I really don't understand about when you cook these things to
death is that it doesn't actually hurt the transducer. Instead it destroys
the power supply. If you manage to cook one, and you replace it with an
identical one, keep the transducer part from the original and use it as a
spare.
The last way that I know that these can fail, and it is something that I
have never managed to do, is to wear out the disk that does the actual
emitting. If you leave one on for months (or years) straight, it will
eventually burn out the disk. However you can get replacement disks for much
cheaper than a full unit. My local craft store has replacement disks and
special keys that you use to twist off the cover for about $5 each. My local
pet store also stocks these misters and can order the replacement disks as
well. So check your local craft and pet stores before buying a new unit!
There are several different models of misters like this made by different
companies. Some have lights like the one Max used for the review, others do
not. Some have different types of switches to turn them on when you immerse
them in water. Some are stronger or weaker than others. I do not know if
they all use the same size of replacement disks, but so far I have only seen
one size of replacement for sale. The power supplies from one brand to
another are always different.
In the forums, Max also pointed out a small red light that you can briefly
see on the sensor post. It only appears when you turn it on and then is
quickly covered up with the big cloud of fog. My model doesn't have that red
led on it as I usually get a cheaper model with out the lights and remote
control switch on the cable. From watching the video I suspect that it is a
power indicator. If it were set on the counter instead of immersed in water
and then turn it on, then it should light up. Since it will not activate
outside of water, or another conductor for the switch, that little red light
would be your only way to know if the unit was on when the surrounding LEDs
are turned off. The model that I use has a larger red LED on the side that
serves the same purpose.
Price: Around $30 from Ebay
Pros:
Expensive
Very Sci-Fi-ish!
Looks nifty
Useful as a humidifier and for aroma therapy
Cons:
Transducer burns out
Could be dangerous to touch
Product Information
Price:
30.0
Pros:

Expensive
Very Sci-Fi-ish!
Looks nifty
Useful as a humidifier and for aroma therapy

Cons:

Transducer burns out
Could be dangerous to touch