We use affiliate links. If you buy something through the links on this page, we may earn a commission at no cost to you. Learn more.
Name: Michael M.
Location: New York, New York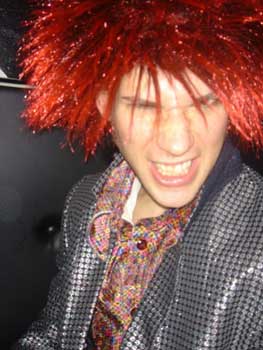 I think I've got a problem.
I'm waiting for the day that my loved ones invite me to a sparsely decorated hotel conference room to confront me about that problem.
I have a gadget problem, and it's gonna take a whole lot more than some hackneyed intervention to get me to stop. The problem is further exacerbated by the fact that I'm jamming the whole thing into a 350 square foot studio apartment with two inhabitants in midtown Manhattan.
I dream of convergence, where all my little minions speak to each other in the same language; every whim fulfilled instantaneously by a nodal network that bends and balances to turn my human input into tangible satisfaction.
I'm almost there.
I've spent the last few years putting things together, finding the best matches and making a system work. And while politics and economic competition have made it a relatively challenging task, I have managed to building a system to make this small space an efficient end point for information, entertainment, work, and convenience.
Additionally, I've set up the system so that components of the information, entertainment, work and convenience can be picked up and taken into the world outside…
So without further posturing, I present FUTUREDOME!

As I mentioned before, space in my place is limited, so I've divided things into three "zones."
First Zone: The Desk
I've got a Mac Sawtooth G4 that's well past five years, but I've upgraded it enough to keep it running smoothly and have it up to the standards of the business I'm in. Over the years, I've upgraded the original 450 MHz processor to a 1 GHz, the memory to 512 MB, the GPU from an ATI Rage Pro 128 to an ATI Radeon 9800, the DVD-ROM to a DVD±RW DL, and added Firewire and USB 2.0 ports and an M-Audio Revolution 7.1 sound card via the PCI.
On the monitor front, I have a 22" Cinema Display as old as the computer and an S-Video cable that goes from the graphics card to the TV (more on that later!).
Firewire:
– Six port Belkin hub
– 40GB 3G Apple iPod, with upgraded battery
– Three LaCie D2 120 GB hard drives for personal projects
– Formac Studio Digitizer With TV Tuner; leads in from the receiver on the stereo, so I can capture just about anything I play though my stereo system. I keep it unplugged most of the time, though, because it interferes with the other FireWire video devices, and Formac refuses to upgrade the software to address these issues. Jerks.
– Any two LaCie D2 drives from the main company I work for; when I fill up one and finish a project, I take it out of the mix, and they send me another one.
– Sony DSR-11 DVCam VTR, also from work.
– Apple iSight webcam, mounted on top of a MacMice SightFlex (looks great on one side of the monitor and the MicFlex on the other side).
USB 1.1

On the desk:

– Two 7-port hubs and one 4-port hub, stacked, living behind the monitor serve as the main junction for all the connections
– Logitech Cordless MX Duo Keyboard (the mouse has been taken out of the mix in lieu of an upgrade)
– Logitech Cordless MX1000 Mouse (said upgrade)
– D-Link Bluetooth Transciever
– Contour ShuttlePro
– M-Audio Oxygen8 Two-Octave keystation
– Wacom Graphire Tablet
– HP 2410 Scanner/Printer/Copier
– Keyspan Digital Media Remote
– MacMice MixFlex Microphone
– Griffin Technology iMic (for easy access "front" connections)
– Griffin Technology PowerMate (with a cool little hack that makes it pulse when new e-mail arrives)
– Sony Memory Stick Pro/Duo/CF Reader
– Dymo LabelWriter 330
– One floating cable to make connections with devices that aren't tied down
A cable feeds around the room and under my bed to another 4-port hub:

– Logitech Cordless Optical Trackman Trackball (for using the TV as a monitor)
– Logitech RumblePad wireless controller (to play games on the TV)
– One extension cable, just in case
USB 2.0:
– Sony T1 5.0 MP camera
– Sony Memory Stick Pro Reader
Audio:

– Built-in audio jack feeds to a pair of Sony TMR-RF960R wireless headphones
– Analog audio from the Revolution feeds to a JBL Invader 4.1 speaker set
– Digital audio from the Revolution feeds to the stereo
Also living on the desk:
– Sony Clié UX50, which syncs via WiFi
– Sony Ericsson S710a, which syncs via Bluetooth
– Sony Ericsson CS-25 Speakerphone/Charger
Second Zone: The "Home Theatre"
– Sony KFWE610 60" Rear-Projection LCD HDTV
– Sony PS-LX350H Turntable
– Sony STR-DE995B 5.1 Receiver
– Sony DVP-NC685V 5-Disc DVD/SACD Carousel
– Sony MXD-D40 CD/Minidisc Deck
– Sony TC-WE675 Dual Cassette Deck
– JVC HR-S5902 S-VHS Deck
– Sony PlayStation 2 (with Ethernet attachment)
– Microsoft XBox
– Scientific Atlanta Explorer 8000HD PVR (Time Warner)
– Inday RGB4X-R Component Video Switcher (routes the DVD Player, XBox, and PS2)
– Inday DA4X-R Digital Audio Switcher (handles the audio for said devices)
– Netgear four-port Ethernet router (Mac, PS2 Online, XBox Live)
– Toshiba cable modem
Third Zone: The Bed
– Oregon Scientific RRM968PA Atomic Projection Clock/Radio
– Sony PSP
– Intec DockIt (Where the PSP Lives)
– Nintendo DS
– Dragon Cyclone Charger Stand (very cool charging device for the DS)
– Logitech Cordless XBox Live Headset
– Logitech MobilePro Bluetooth Headset
– Sony Ericsson CS-20 Speakerphone/Charger
– Sony SRS-Z1 Active Speakers (connects to the radio and one floating cable to connect to PSP or DS)
– Two Logitech Cordless Precision XBox controllers
– Two Logitech Cordless Action PS2 Controllers
– Harmony Remote 768 (to rule them all!)
– Apple Bluetooth Keyboard
– Girlfriend's 20 GB iPod, Clie N710 and Samsung phone
– Previously mentioned Logitech Trackman and RumblePad
Various odds and ends:
– Sony F717 5.1 MP Camera
– Sony PD-150 DVCam Camera
– Canon A1 Digital Hi8 Camera (busted, bad power source, but "on display")
– Kodak 16mm Cartridge Loader Camera (late fifties)
– Bell & Howell 16mm Camera (late sixties)
– Keystone 8mm Camera (late fifties)
– Emdeko/Mansfield 8mm camera (mid sixties)
– Rovere 16 Cartridge Loader Camera (mid fifties)
– Sony ECM-959A Stereo Microphone
– Audio Technica AT835B Shotgun Microphone
– Sony MZR3 Minidisc Recorder
– Sony MZ-EP11 Minidisc Player
– Griffin iTrip
– Belkin Digital Camera Connector For iPod
– Various Tripods, booms, batteries, cables, headsets, monkeys, cases, etc.