We use affiliate links. If you buy something through the links on this page, we may earn a commission at no cost to you. Learn more.
Product Requirements:
Mac OSX, Windows 98SE or Above
By now, I would guess that many of our readers own a portable mega-gigabyte
digital music player on which they have stored much, if not all, of their music
collections. However, I would be willing to bet that some don't always
want to bring that player along every time they go out. Whether because the
device is too large to comfortably carry or just because it can be a hassle to
tote along yet another item, sometimes even the most portable player will be left
behind.
For those who only want to listen to music as they get from point "A" to
point "B" or who want to travel as lightly as possible, there are many small
flash-based music players available these days. However, most of them require
their owner to carry or wear yet another gadget – however small. TechnOtunes
has found a way to consolidate a music player into an item that hardly anybody
will leave home without – their watch.
Available in several fashionable styles and colors, TechnOtunes offers six
analog and one digital versions to choose from. For this review, I was sent
model TT1684BKBK, which is basically a round
analog watch with a black
face and black leather band. The black dial has numbers at the six and twelve
positions, with luminous green bars and hands. The dial also has a subtle carbon
fiber effect, which is bets shown in the dark picture on the right.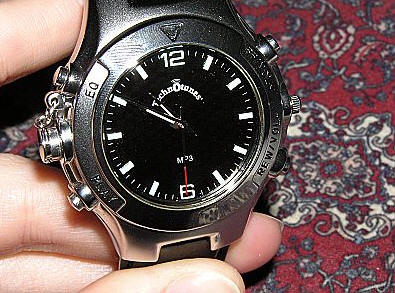 The TechnOtunes watch comes in a nice display box which is suitable for
gift-giving…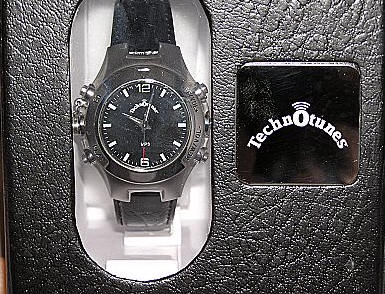 Included in the box are the: TechnOtunes MP3 Watch, user manual, USB 1.1
retractable sync & charge cable, retractable stereo earphones, travel AC
adapter, device driver and user manual on CD and the warranty card. That's quite
a lot of kit!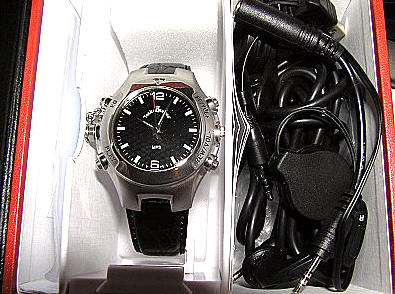 The watch has a stainless steel case which measures 2" (5.1cm) tall (from lug
to lug) by 1.9" (4.7cm) wide by 0.6" (1.5cm) thick, and it has a nice heft of
2.5 ounces (73g). A replaceable black leather band is included.
Hardware Specifications
Memory Unit: Built-in 256M Flash Memory
Port: 4 Pin USB round port
Battery: Built-in Hi Li-ion rechargeable 150mAh/3.7V battery
Time Charge: Up to 3 Hours and up to 6 Hours for Initial Charging
Battery Life: Approx 10 hours playing time when fully charged
USB Transmission Rate: USB1.1(Maximum 5Mbps)
MP3 Compression Rate: 32Kbps to 256Kbps **Analog watches will only play the
MP3 format. Digital watches with the LCD screen will play both MP3 and WMA
formatted songs
Output Frequency Rate: 20Hz to 20KHz
Earphone Output: 4MW+4MW (16Ω)
Water Resistance: 3-10 ATM
Indicators: LED
The right side of the watch has two buttons straddling the pull crown. The
top button is for Fast Forwarding and Volume increase, while the bottom button
is for Rewind and Volume decrease. Rewinding and Fast Forwarding are
accomplished by a quick press to the button. Volume increase and Volume decrease
are accomplished by pressing the button and holding for a moment, until the
desired result is achieved.
Time is set in the standard way, by pulling out the crown and adjusting
accordingly.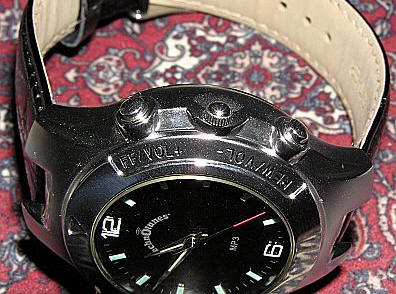 The left side has two buttons surrounding the canteen covered port in the
center. The top button is for the Equalizer, and the bottom is marked Play. The
Play button must be pressed and held for a couple of seconds to engage; this
helps to avoid accidental presses. The port that the canteen covers is used for
syncing and charging the watch – as well as being the plug for the included
headset.
When pressed, a bright red LED on the immediate right of the "6" will glow
momentarily, a beep will sound, and then the music will start. A subtle green
LED on the immediate left of the "6"  will blink while music is playing.
Music is paused by briefly pressing Play again; a beep will sound, and the music
will stop. Music is resumed by pressing Play briefly. If you hold Play for the
usual couple of seconds, then the song will start again at its beginning. If the
player is paused for longer than ten minutes, it will shut off. The player will
also shut off automatically should the headset be removed.
There are actually five EQ settings: Normal, Pop, Classic, Rock
and Jazz. While there is no indicator of which setting you happen to be in at
any given time, there are distinct differences between the results. I was very
satisfied with these presets, and must say that this player sounds as good or
better than any I have tested to date.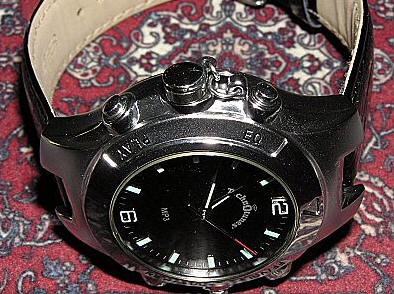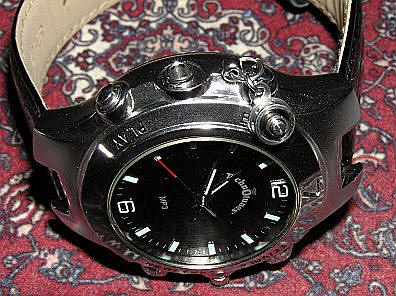 The left picture shows the
canteen on the port, right shows the port exposed.
I would like to touch upon the canteen covered port for just a moment, as I
think it is quite ingenious. Included in the box are various items which utilize
the same plug, doing away with a need for multiple ports.
First, there is a retractable sync and charge cable, as well as an AC adapter
suitable for when traveling. The watch's internal battery can be charged by
either method. As the watch charges, the red LED will glow. Upon completion, the
green LED will glow. I really like that there was such an obvious indicator.
Should the red light begin flashing while music is playing, it means that the
battery is low – the user will have about five to ten minutes of music left
before the watch shuts itself off.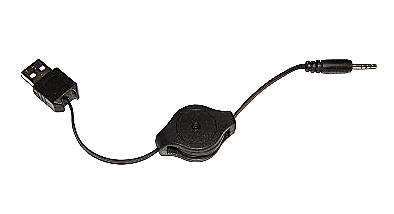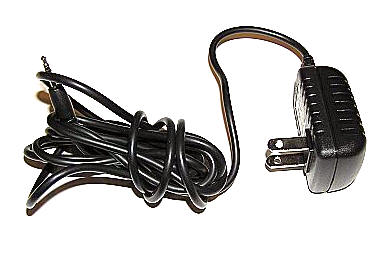 A retractable headset is also included. While I love the idea of it, I didn't
like the fit of the buds in my ears. This was no big surprise, though. Sound
through the headset was not bad, however. I should mention here that the
included headset does not use the typical 3.5mm mini-plug that just about any
other would.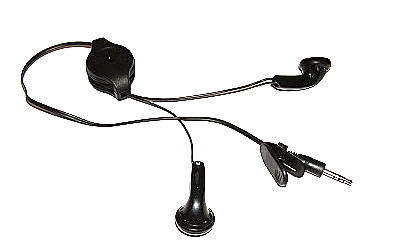 So that you can use your favorite headset in it's place, an adapter dongle is
included. This plugs directly into the port, accepting a 3.5mm plug in it's
female end.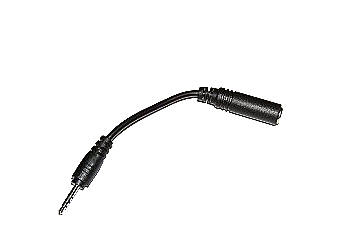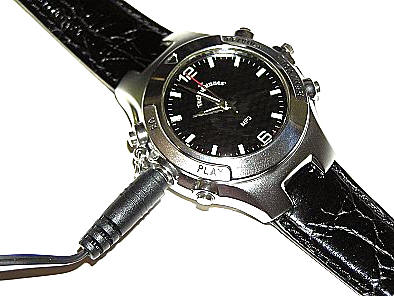 When worn, the watch does not seem much bulkier than any other unisex fashion
watch. I actually like the lines, though I am typically a square-faced watch
wearer. Here, you can see the dongle hanging from the watch. When wearing long
sleeved shirts, I was able to avoid appearing "wired" by running the cable up my
shirt sleeve to the neck opening – where the headset could be conveniently
clipped to my collar.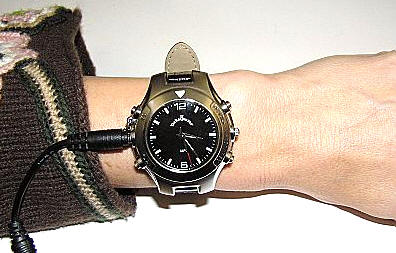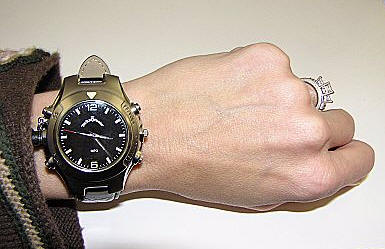 Setup on the computer is such a no-brainer. No driver is needed if the user
has a more recent OS, but there is a Windows 98 driver included on the CD that
accompanies the watch. When plugged in through a spare USB port, the watch is
immediately recognized as a "Removable Disk." However, unlike most disks, this
one is recognized as being for music, as evidenced by the Music Tasks menu to
the left side of the window.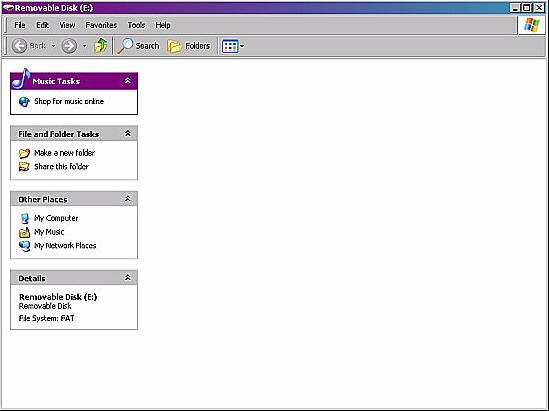 256MB is a larger size than many portable Flash players, but it still isn't
huge. I found that it would hold 28 songs, with all but three recorded at
320kbps.This translates to almost three hours of music. If you use a lower MP3
setting, you will most likely be able to get a few more songs loaded.
Transferring songs is done with a simple drag and drop; however it is a bit
slow, as everything is done with USB 1.1. The good news is that since you are
only transferring 30 or so songs, it really only takes just a few minutes to
load the player.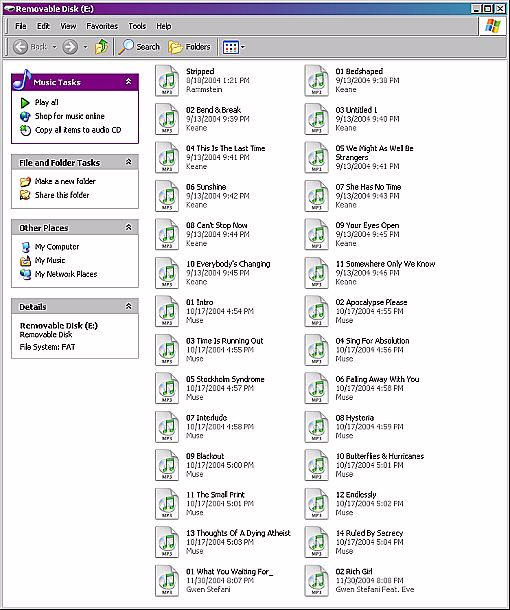 Songs once transferred to the watch will play in their transferred order – so
if you want to listen to a couple of CDs, you simply transfer them in the
correct order. If you want the music shuffled, you'll have to sort them from the
computer by arranging them by some choice such as "size", "name" or "date
modified". Of course, once the music is on the watch, there is no display screen
so you won't be able to check and see song titles or artists on the fly. I don't
really consider this a con, but some might.
Conveniently enough, since the watch operates as a separate drive when
plugged into a host computer, music can be played from this drive while the
watch charges. Once of this watch's hidden talents is that MP3s are not the only
media that can be stored on its flash drive. Data files can also be stored or
transferred, which makes the watch doubly useful in my opinion – especially if
you are one that has to bring files back and forth between two computers at
home, at work, or at school.
If you have been looking for a way to carry a couple hours of music with you,
without carrying an extra device, then the line of 256MB MP3 watches from
TechnOtunes definitely deserves consideration. The watches are fashionable,
functional, and they don't disappoint.
Price: $199 (includes free shipping)
Available with black, pink or blue leather band or with a silver metal band.
Pros:
Can be used to hold either music or other files
Watches are fashionable
Sound is excellent
Various EQ settings to choose from
Retractable mini-sync style USB sync/charge cable included, as well as AC travel
charger
Cons:
USB 1.1 makes for slow transfer
Product Information
Price:
199.0
Manufacturer:
TechnOtunes
Pros:

Can be used to hold either music or other files
Watches are fashionable
Sound is excellent
Various EQ settings to choose from
Retractable mini-sync style USB sync/charge cable included, as well as AC travel
charger

Cons:

USB 1.1 makes for slow transfer