We use affiliate links. If you buy something through the links on this page, we may earn a commission at no cost to you. Learn more.
Product Requirements:
Device:
3rd Generation iPod with Dock connector
Apple's super popular iPod is the only digital music player on the market that I know of, that has spawned not only a huge fan base, but also a profusion of accessories. As a person that has owned a 3rd generation 30gb unit for over a year now, I still find myself excited to learn about every new case and gizmo available for it. Griffin Technology, known for the iTrip FM transmitter has come out with another iPod widget. This time it is the iTalk, which is a voice recorder module compatible with 3rd gen units (those with the Dock connector).
The iTalk is a small 2.4" x .84" x .62" (61 x 21 x 16 mm) white plastic blob that snaps securely into earphone / remote jack on top of the iPod. Requiring no batteries of its own, the iTalk pulls its power from the iPod itself and powers on as soon as you plug it in.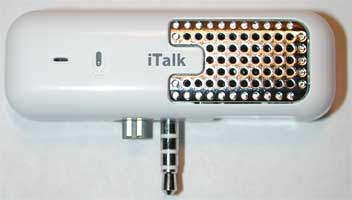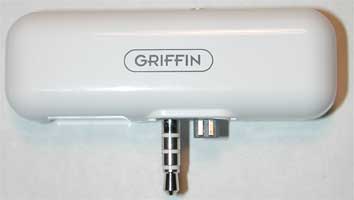 A small 16mm mono speaker is located on the front of the module, along with a microphone and red status LED. The top of the iTalk has a 3.5mm jack that functions as either a headphone/output or external mic input. The iTalk will switch the function of the jack from input to output automatically depending on what you plug into it.
As soon as you plug the iTrip into the iPod, it will automatically start the Voice Memo application. You can then press the Play/Pause button to start a recording or Cancel.

While recording, a simple digital clock counts down the hours, minutes and seconds. The status LED on the front of the iTalk will glow red. Pressing the Play/Pause button will pause the recording. Pressing it again will resume. Pressing the Menu button will save the recording. One thing I would like to see is some sort of status telling you how much time you have left to record.

Recordings are named with a month / date and time stamp and are available for playback though the built-in speaker or through headphones. Playing through the speaker is a so-so experience. It's nice to have the speaker available, but the quality really isn't all that great. I guess a person shouldn't expect that much from a small mono speaker though… One annoyance I noticed right away was that the speaker would play a static / interference type of sound at the beginning of every recording. I think it has to do with the hard drive inside the iPod spinning up initially. You don't hear this sound when listening to the recordings through earphones.
It's important to note that the built-in speaker not only plays the recorded voice notes, but also any digital music files stored on the iPod. Like I said, the quality won't impress you enough to listen to all your music this way, but it's handy if you want to let a friend listen to something without having them put on your phones/buds … eew!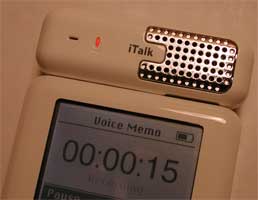 Griffin says that the microphone can pick up sounds up to 100ft away. I guess if they are yelling it can… I found the iTalk to work just fine in a close setting. For example, I recorded a mtg at work where 8-10 people were standing around an 8ft table talking. I placed the iPod/iTalk on the table at one end. It was able to pick up the people talking at the opposite end, but I have doubts that it would be able to do that great at double that distance.
Another feature that the iTalk adds to the iPod is the ability to use the speaker as an alarm feature. While the iTalk is plugged in, the Alarm feature has a new option to choose from beep or any playlist on your iPod. You can't actually choose a specific song like the instructions lead you to believe…
Ok, now for the strange part (at least I think it's strange…). As soon as you dock/sync your iPod with your Mac or PC, it moves the Voice Memos to iTunes on your computer and puts them in a new Voice Notes category. "Moves" as in deletes them from the iPod… Does anyone else find this strange? I would have no problem with copying the files to the iPod, but removing them is another matter. Hmmmm…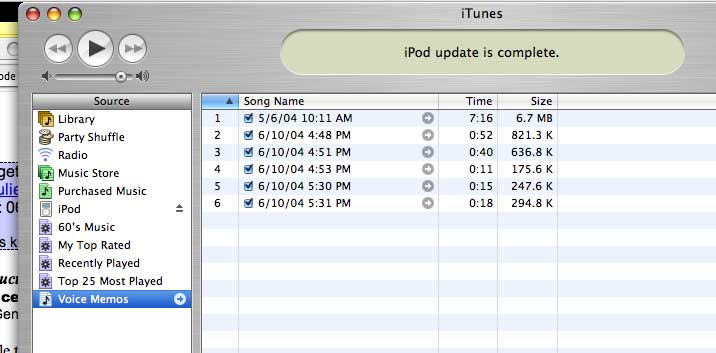 From inside iTunes, you can see the length of each file and the storage it requires. Right clicking on a recording and choosing Get Info shows you even more details about each recording. Anyone surprised that .WAV is the format used to record?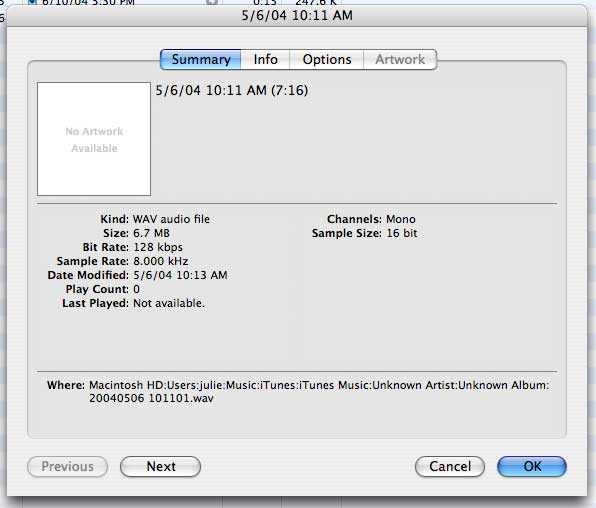 It's also important to note that the bit rate, sample rate and sample size settings are fixed, and not user customizable.
The iTalk is a handy accessory to have for your iPod. It turns your digital audio device into a decent voice recorder, capable of recording meetings, classes, personal notes, etc.
Price: $39.99
Pros:

Simple to use
Doesn't require batteries
Adds functionality to the alarm feature
Cons:

Voice recordings are moved from the iPod to iTunes upon syncing
Built-in speaker is only so-so
Product Information
Price:
39.99
Manufacturer:
Griffin Technology
Pros:

Simple to use
Doesn't require batteries
Adds functionality to the alarm feature

Cons:

Voice recordings are moved from the iPod to iTunes upon syncing
Built-in speaker is only so-so