We use affiliate links. If you buy something through the links on this page, we may earn a commission at no cost to you. Learn more.
When I recently decided to sell my Olympus
C-700
Ultra Zoom and upgrade to
the
C-750, it didn't occur to me that the new camera would come with a neck
strap, instead of the wrist strap I prefer to use. Once the problem was
realized, I thought that swapping out the neck strap for my older wrist strap
would be a possibility. But alas, differently sized brackets with differently
envisioned purposes made that impossible.
A bit of web searching showed me that cheaply made braided loop wrist straps
are plentiful. The challenge is finding a camera strap that has a bit of
substance, doesn't cost an arm or a leg, yet is made for the wrist and not for
the neck. Believe it or not, that type strap is not easy to find.
Eventually, I finally stumbled across a small website for a company named
ProStrap. When I asked Mitch Ray to give
me a little bit of background info about his product, he responded, "You
might have guessed, the ProStrap was developed out of necessity, as most
products often are. After purchasing a new Nikon 990 a few years ago, I became
very paranoid about dropping it and was disappointed to discover a wrist strap
was not supplied with my expensive new toy. Eventually, the inevitable happened
and I dropped my camera while running to take a quick photo at the airport. I
was extremely upset by this and vowed not to buy another camera until I
purchased a nice wrist strap. Surprisingly, there were not any to be found. To
make a long story short, I proceeded to make my own and received so many nice
comments about it … ProStrap was created. Dozens of focus groups later, we
have a comfortable wrist strap that is strong enough for larger cameras carrying
heavy lens attachments and a smaller version which will fit any of the digital
cameras on the market today."
What first caught my eye was that this company offered straps that would not
only fit cameras that need the thin loop style, but also cameras like mine that
are made to accept the wider belt style – like you would find on a neck strap.
Once you made a decision on which type attachment was preferred, all of the
straps feature a 1 ½" wide suede lined wrist
strap which can be tightened or loosened by adjusting a metal slider.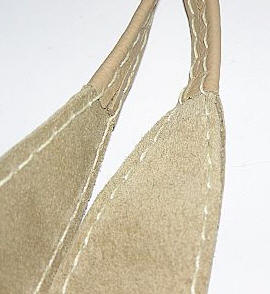 The body of the ProStrap, not including any means for camera attachment, 
is 14" long, or when doubled – 7". This is plenty of length to accommodate even
the largest wrist. But those with smaller hands will especially appreciate the
metal slider which allows a snug and secure fit once their wrist is in place.
The style of metal slider and the color is determined by which
model ProStrap you order. For security as well as aesthetic reasons, I liked the
idea of a belt style, which utilizes the whole side bracket on my camera.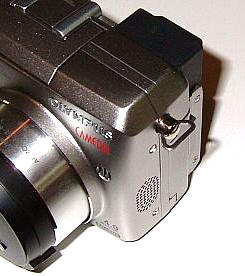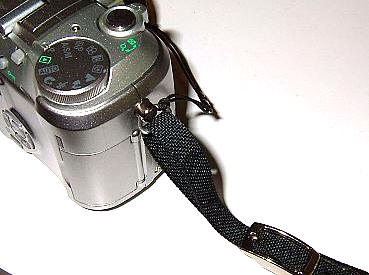 Steve had recently got a
Fuji F-700, which must take a loop style. The strap
included with his camera was this cheesy specimen…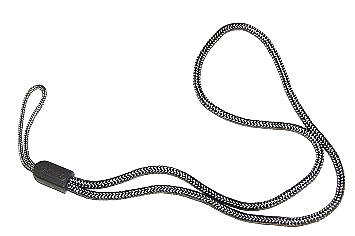 Typical flimsy braided strap with even thinner loop for the
camera
The kind of strap that offers no size adjustment and which one doesn't really give thought to until such time
as one is
leaning over the edge of the Grand Canyon and realizes how many other cameras
have been accidentally flung from their owners' wrists. Seriously – I saw
several lying broken on the rocks!
Obviously both Steve and I could benefit from our own ProStraps. I was
fortunate to receive both a loop and belt style…
The loop style that I received most closely resembles the
New York. The
reason I say resembles is because the product pictured on the site does
not appear to have the noticeable stitching that the model I received does.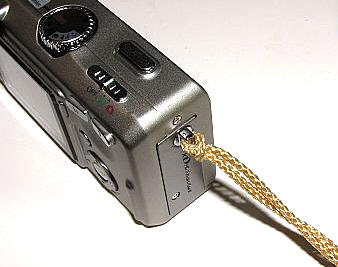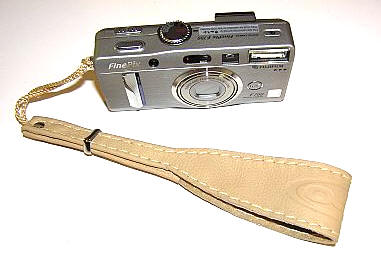 Note that the loop of the ProStrap is almost as wide as
some wrist straps! Because of that, there is a thin plastic guide to help easily
thread the loop through the camera's thin  bracket
With that in mind, I'll give you a quick run down of the various loop styles
available: The New
York is available in black, blue, red, gray, burgundy and tan, the main
difference between the New York and the other two loop strap styles – the
Miami and the
Texas – are the
colors and textures of the leather used and the style of sliders. The New York
uses a simple nickel slider, whereas the Miami uses and "art deco" style and the
Texas uses a "western" style. The New York features "sophisticated looks with a
sleek leather finish," whereas the Miami uses a "cool golf leather for
ventilated comfort." The Texas has "strong cowhide leather
with rugged good looks." The Miami is available in black or gray, the Texas in
black or brown.
The Belt Style
Strap, which is now a permanent feature of my Olympus, is available in
black. It features a smooth nickel buckle and slide, and will fit any camera
that can accept a ⅜" strap. For added security, it
utilizes a continuous nylon core (the buckling strap) throughout its entire
body.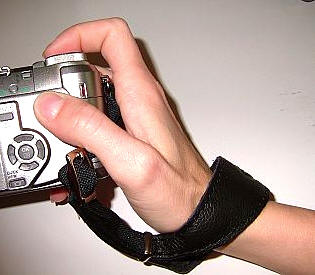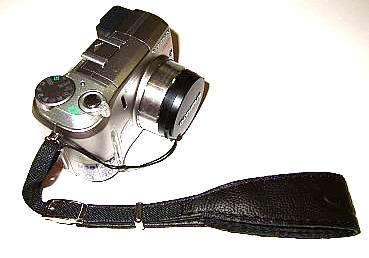 I love the fact that the strap is so wide and that the slider is adjustable.
I can't emphasize enough that I have never felt so secure when
holding any camera on my wrist, as I do when I use the ProStrap. I
truly wish that I would have had this strap – and this camera, for that
matter –  when I was on Spring Break this year. The vacation gods must have
been watching over me because I barely managed to not drop my camera
several times when I was precariously perched overlooking the Grand Canyon and
the ancient ruins at Mesa Verde. The only way my camera could have possibly gone
over any of those cliffs, had I been using a ProStrap, would have been with my
arm attached…a scary but unlikely thought considering the way Steve was
holding on to me as I took my shots.
I can not recommend this strap highly enough! If you use a digital
camera and you prefer a wrist strap, then you owe it to yourself to get
the ProStrap – this purchase is a no-brainer. Not a single camera of mine
will ever again be without one, neither should yours!
Price: $14.99 for the Belt Strap Style, other
styles start at $9.99
Pros:
Secure and comfortable straps available for both loop and belt style cameras
Simple and elegant design
Multiple styles and colors for different tastes
Cons:
NONE
Product Information
Price:
14.99
Manufacturer:
ProStrap
Pros:

Secure and comfortable straps available for both loop and belt style cameras
Simple and elegant design
Multiple styles and colors for different tastes

Cons: