We use affiliate links. If you buy something through the links on this page, we may earn a commission at no cost to you. Learn more.
Just to give a quick overview of myself, my name is Aaron Geller and I am high school student in Toledo, Ohio, which is in the USA. Around 9 months ago, I came across the website www.convergentech.com which featured the EZPAD for about $800. I was swaying in-between the DoCoMo Sigmarion III and the
Moreio EZPAD. The EZPAD cost $300 more than the Sigmarion's $600 price tag. Unfortunately it was in Japanese and went up to $900, the same as the EZPAD. So a few weeks ago I cashed in my money and bought the Moreio EZPAD.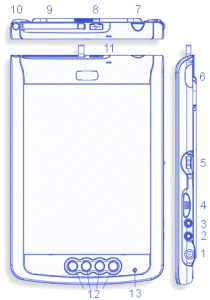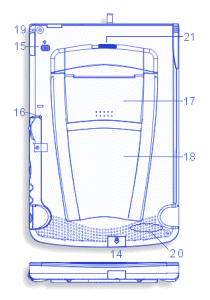 Hardware Specs:
Model: EZPAD
OS: CE .Net 4.1
CPU: StrongARM SA-1110 -206MHz (233MIPS)
Companion Chip: Intel SA-1111
Display: 8.4" TFT, 65k colors, SVGA, Landscape and Portrait mode available, touch display
Memory: 64mb RAM and 16 MB Code ROM with 32MB Data Flash
Expansion: USB Host x 1 (Type A), Slave x 1 (for PC Sync.), CRT Out, Type II PC Card Slot, RS-232 Port, Baud Rate up to 115.2k BPS, IrDA.
Audio: Microphone (Stereo Phone Jack x 1), Speaker (Built-in Type, Mono, 1Watts x 1), Audio Out (Stereo, Phone Jack x 1)
Battery: Li-polymer Pack with 4hr-battery life (under worst conditions)
Dimensions: 9.0 (L) x 6.0 (W) x .67 (H) (230 mm x 154 mm x 17 mm)
Weight: 1.65 pounds (750g)
Buttons: four User Definable Function Keys and 1 Power/LED button
These photos give somewhat of an idea of how big or rather small this machine is. It weighs as much as big can of beans (at least in America). I will keep the discussion on its size brief. The display is 8.4" diagonal compared to the standard Pocket PC screen size of 3.5" to 3.8". The EZPAD also boasts an SVGA screen that is larger than the Toshiba e805 4" VGA screen. The upper right picture illustrates its size compared to my WLAN card.
Never miss one of our posts again. Sent MON, WED, and FRI with the latest gadget reviews and news!
Software:
Desktop
: Starting screen for Windows CE .Net

Microsoft WordPad
: a simplified version of MS Word that lacks tables and other complicated features. WP has basic capabilities such as find, replace, outlining, printing support (via USB), insert symbol, basic formatting, and zooming.

Pocket Internet Explorer 5.5: This is the equivalent to IE 5.5 on your desktop PC. It has basic setup options such as basic security, setting the home page, adjusting the connection, displaying images and sounds, and clearing the cache. One basic feature absent from the PPC but included with CE .Net 4.x is that PIE has a progress bar that shows how much of the web page has loaded. I remember staring at my little iPAQ 5550 screen wondering and saying in my mind "Are we there yet?"

Command Prompt (DOS)
: This by far is one of the oldest Operating Systems still in use. I do not use this program a lot, but there is a ton of promise and hope for developers by including this program. It does most of what DOS does on your desktop except when I type "EDIT"; it does not seem to recognize that command.

Inbox
: This is the equivalent of Inbox in MS Outlook. I have not used this program with the EZPAD, but the PPC version was very pleasing for my taste. For those of you who do not know what this does, I will give a brief overview. If you own a site or know your e-mail provider's server, then you can have your e-mail downloaded to your device. There are three basic ways; wirelessly, ActiveSync, and by use of wired modem.

My Computer
: This is the CE .Net file explorer. My Computer has all the basics you would most likely expect from a file explorer. You have three different types of views that are large icons, small icons, and list view, which shows the file details. The file explorer lets you access network shares and search for files on your device. This is similar to the file explorer included with Windows Mobile.

Solitaire: This is a self-explanatory game. Just a quick little note, Solitaire has been on every Windows version ever made and Windows CE would not be complete without it. The bottom
right screen shot is one of solitaire you do not see very often. If you press Ctrl and hold Shift and while doing that start a new game, it will set it in a way that aligns every card. By doing this, you can cheat Solitaire and beat it in 2min or less.
Settings Panel
: Nothing too special here. This is where you tweak your device and configure options and other boring "things". There is one nice thing to this little menu, you can personalize your device. Just like every version of Windows, you can change colors of all types of items and even the desktop image. I'd give Microsoft two thumbs up for finally integrating this little application into the device without need for 3rd party companies.

Remote Desktop (RDP):
This perhaps is one of the most important applications that a true titan of the electronic mobility would use. What this little gem does is let you log onto your Windows XP computer at home and remotely access it. My high school has an 802.11b connection and a central server. When I go there every day, I am able to plug in my WiFi card and access the Internet as well as my computer account. In order to best describe this, let us just say it is a smart display; it behaves like a wireless monitor. I am going to include only one screen shot because it looks just like your computer screen.

Run
: This another basic program. You type in the name and it executes it. This program is self-explanatory so I'm not going to discuss this.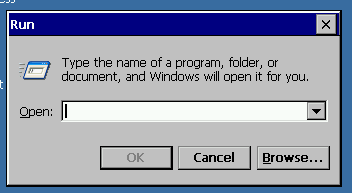 Quick Setting
: This is another setting panel type application. You can modify the settings on your EZPAD. The photos should explain most of the program.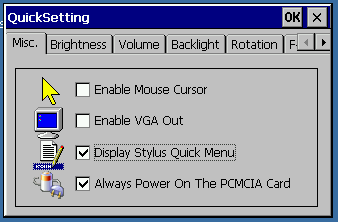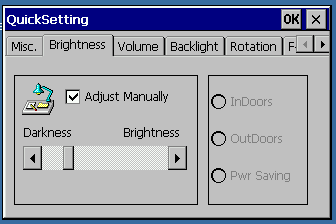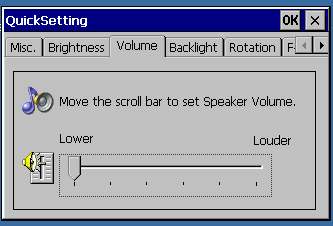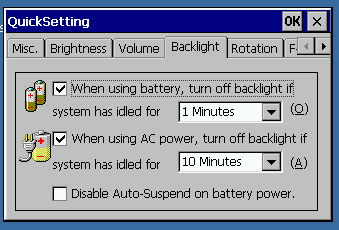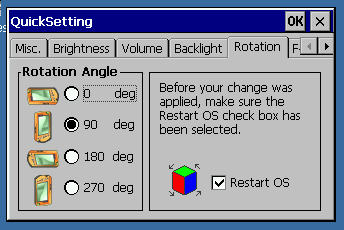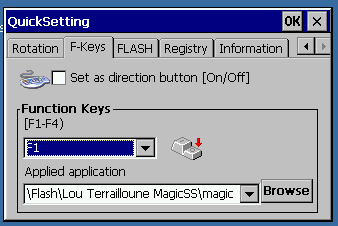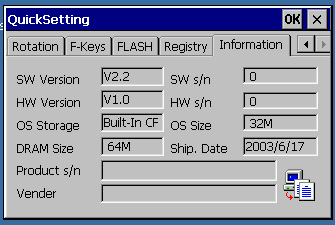 Free Cell
: I have never used this so I cannot really comment on this. The only thing that I do know about this, is that it is another solitare card game. If you look in the help section, you will probably be able to find instructions on how to play Free Cell.

Infrared Transfer
: I do not use this either, but I believe it is for synchronizing via IR and transferring files.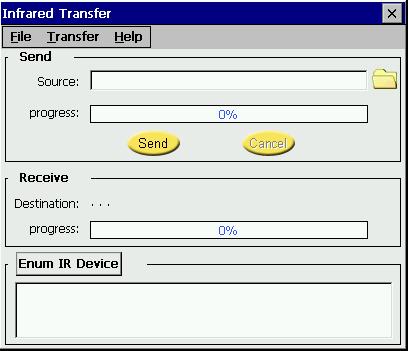 Keyboard
: There are four ways to input text. You can use transcriber, USB keyboard, a small soft keyboard, and a large software keyboard. Most USB keyboards should work with this along with a USB mouse. I am sure that there is an input option that will suit your needs.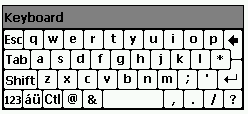 Pocket Paint
: This does not come with the EZPAD but you can download it from MS free. PP is like "Paint" for the desktop. You can do very basic painting and you can use 16 different colors. PP does have a lot in common with "Paint", so you can do decent drawing. None the less, do not expect to make pictures equal to that of Adobe Photoshop. When you look at the screen shot down below, you will see some of your options and no, that is not the Internet. That is a photo of the internet and yes there is a difference.

So now, we have just finished the software section. Let's move onto some of the unique features of this incredible device.
USB
: A few months ago when I came upon this device, I noticed that the technical specs mentioned USB host. I saw many great opportunities and USB concerning expansion. The support for USB is quite good considering my needs. I am able to use a stick drive, flash card drives, keyboards, printer, and mouse. I am sure you can do more, but I have not attempted to do so yet. There is only one USB host port so you will need a hub, which will set you back around $15-$30. When you attach a mouse and a keyboard, you will have then created a full computer without full software compatibility. If you have a wireless network at home, you can use RDP and then it will really function as a full desktop. The only downside is that it can be a little slow at times due to the 206mhz CPU. Overall, it functions well as a desktop and there are more pluses associated with it than minuses.
Printing has to be one of the best features of this device. I have run across this a lot in the Pocket PC arena. This is the scenario: I am entering class and I just now remember that I have to turn in my paper today. Fortunately, I have the document saved on my handheld and now I am going to print it off my iPAQ. This is where my heart bursts, there is no way for me to print it off. Now, with the EZPAD, I can just run to a printer. Then I plug the USB cable to my device and into the printer. Boom! The document is printed and I still have my high grade for the class. You can print from other apps besides Word and one of these is Internet Explorer.
The use of the USB port for storage is by far one of the best means to do so. You can get a USB hard drive and attach it to the machine or you can just plug in a USB stick and it works just as well. I use a USB stick with it all the time and it works like a charm the entire time. The data write speed is not the fastest, but still respectable for a machine of its kind. I have not been able to use a USB hard drive, but the problem with it, is that you may need a mass storage driver. The drivers should not be too hard to find. Another possibility is getting a USB adapter so that you can plug in you CF or SD storage card.
Battery: The battery is not as good I thought it would be. I have used the iPAQ 3950, 5450, and 5550. The battery life for the iPAQ is around 8hrs or higher. If I use the EZPAD for web surfing, I may run the battery to 0% after about 2.5 hrs, which is not too bad. The battery is rated at 4 hours in the most extreme circumstances which usually mean high brightness and playing music or video non stop. I am not having too many troubles at all with the battery and if I need to, I can go and buy an external battery that gives me double the battery life for $100. In most cases, the battery is fine for the average consumer. When I am at my high school, I only need to charge it a little here and there and everything is all right. To wrap up the battery overview, the battery is just fine for average use.
Form Factor: The device is actually small considering its mammoth display. On the right side, from bottom to top, we have the power jack, microphone, headphone jack, VGA out/ USB slave, scroll/ action button, and the IR port. The top contains the PCMCIA slot, eject button, USB Host, LED/ power button. The left side has the styli silo. The front contains four F buttons that can function as programmable buttons or directional buttons. The EZPAD is much smaller than it actually appears to be. The best way I can describe it as a Bible that you find in hotels, but as thin as an iPAQ 2215. You can actually store it in a bookcase, I am storing mine right now in a Bible case, and it is working quite well.
Display: Now this is where the EZPAD really shines. It possesses an 8.4" diagonal screen. The screen is 800 by 600, which is more than adequate for web surfing and other browsing needs. Most PPC users who browse the web tend to want better and better browsing capabilities when they know they just will not get the perfect browsing experience. The brightness of the display is enough for most users. Even in the dimmest light, it still performs. The display is a TFT, so you know it has a fast refresh rate. The TFT does not insure fast video though. The EZPAD is terrible at playing Window Media and AVI files. I was really in shock by that since they had Pocket PCs with 206mhz that ran video just fine. I heard that mpeg4, runs quite smoothly. For every pixel on the PPC display, the EZPAD has about 7-8 pixels. The individual pixels are crisp and able to display 65,000+ a piece. The actual display has a smooth papery feeling, but lacks pinpoint sensitivity. It is accurate, but not as accurate as my old iPAQ 3950. The brightness is about as high as most Pocket PCs. The EZPAD includes a VGA out port. The VGA out port allows you to do Power Point Presentations and output the display to a regular computer monitor. The VGA out cable is included with the device. It makes very good with presentations and saves you the load rather than carrying a heavy laptop. It just will not play video's with Power Point obviously.
Software Bundle: There is not much of any software included at all. The EZPAD comes with a CD that includes shareware and freeware titles. A good deal of Hand Held PC 2000 programs should work. In addition, Windows Mobile software may work as well, though it is less likely. This is more closely related to an HPC than a Pocket PC. I am not totally sure about this, but I believe that software that runs on the Nexio s160 may also run on the EZPAD. If you have any questions about software compatibility or want me to test drive a program, e-mail me at [email protected]
Conclusion: I believe this is a device for those require some of the most advance mobile computing. If I had a say in the build of the device, I would build a longer stylus although the stylus is more than most people will need. In fact, the stylus is as long as regular pens but not quite the thickness. I would also like to add in a 400mhz CPU and 128mb of RAM to boot. The price is a bit steep as well, but you must take into consideration of the size and functionality of the machine. One minor complaint is that screen is not transreflective. Overall, this device would receive a 9.5 out of 10 if it were to cost only $800 instead of $900.
Pros:
High Resolution Display
8.4" screen
Built in PC Card slot
USB Host
Fairly Decent Price
An almost all in one package
32mb of Flash ROM
Small size
Cons:
Only 64mb of RAM
Larger than a Pocket PC
Only 206mhz