We use affiliate links. If you buy something through the links on this page, we may earn a commission at no cost to you. Learn more.
Product Requirements:
Device:
Palm Tungsten|T PDA
The Palm Tungsten|T is actually one of the few PDAs that comes with a fairly
decent stylus right out of the box. In fact, about the only way an after-market
styli manufacturer could improve upon the stock design would be by including a
built-in ball-point pen – which is exactly what you will find in the
P-i-v-o-t 3in1
Stylus.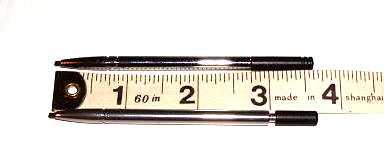 Top to bottom: P-i-v-o-t stylus,
stock stylus
The P-i-v-o-t starts with a metal telescoping shaft, just like the original
stylus does, but instead of being spring loaded it requires a pull-out motion.
Both styli are approximately 3.75" long when closed; but upon opening, the
P-i-v-o-t expands to 5" while the stock stylus is just under 4.25". The extra
length of the P-i-v-o-t actually does make the stylus a little more comfortable
to hold during extended graffiti writing sessions.


Top to bottom: P-i-v-o-t stylus,
stock stylus
Under the stylus's black plastic end cap is a medium black ball-point pen.
While you probably wouldn't want to write a long letter with this particular
pen, it is perfect for jotting down quick notes and ideas. The black soft nylon
stylus tip is smooth, not too pointy, and glides across the T's screen.

Overall, I think that the P-i-v-o-t is a welcome accessory for the
Tungsten|T. If you need the versatility of a stylus that can jot paper notes
too, then you ought to give this stylus replacement a try.
The P-i-v-o-t
3in1 Stylus is available from
Mobile Link Technology,
and other retailers.
Price: $12.99 includes overseas postage
Pros:
Adds a ballpoint pen a longer (more comfortable) version of the stock stylus
Priced right
Cons:
None
Product Information
Price:
12.99
Manufacturer:
Mobile Link Technology Ltd
Pros:

Adds a ballpoint pen a longer (more comfortable) version of the stock stylus
Priced right

Cons: