We use affiliate links. If you buy something through the links on this page, we may earn a commission at no cost to you. Learn more.
Name: Patrick Rozijn
Location : The Netherlands
Hobbies : Cycling, fitness, gadgets, reading, movies, SCFI
I am System Engineer and my work area is in Networks (LAN/MAN/WAN) and MS
Exchange.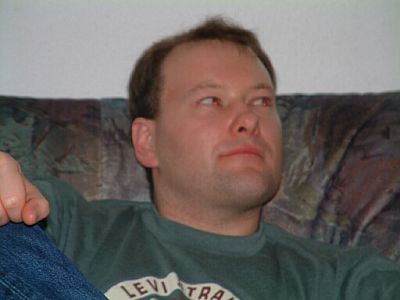 My portable gadget craze began 20 years ago when I bought my first handheld
computer. A sharp PC 1350 with memory expansion slots and a 4 line dot matrix
display with graphics capability. I had a lot of fun with it. I later sold that
model and upgraded it to the Sharp PC 1500A with a 4 color plotter unit. I still
have it but I haven't used it for 15 years. My use of small portable computers
went quiet for a while when my father bought a 80286 IBM compatible pc in 1988.
I still bought small portable gadgets like walkmans and Discmans but on the
computer front it was quiet. Then suddenly in 1997 I saw a co-worker with a
Psion 3C. I was intrigued by the capability of the small device and bought a
Psion Siena. I disliked the keyboard immensely and exchanged it a few days later
for the Psion 3C. My computer gadget craze went in overdrive after that. I was a
big fan of Psion for a while but lost my faith in them and switched allegiance
to Palm and Microsoft. I do alot of data entry on my device so I prefer a built
in keyboard. I tried alot of palm sized devices but they just don't work for me.
I always tell myself maybe the next palm size device will be different but
…… So I bought a Jornada 720. It works great and I have plenty of space for
all my music, data etc. I bought a Toshiba PC card 2Gb harddisk and a 128 Mb CF
card for it.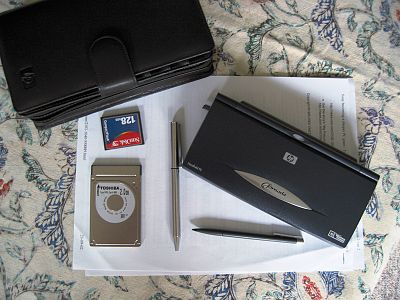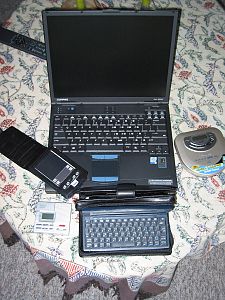 My list of handheld computing devices:
Sharp PC 1350
Sharp PC 1500A
Psion Siena (sold)
Psion 3C (2Mb) (sold)
Psion 3A (256Kb) (bought it cheaply second hand and used it for backup) (sold)

Psion 5 (sold)
Psion 5MX (sold)
Psion Netbook (sold)
Psion Revo (sold)
Palm III (sold)
Psion 5 MX (sold) (just had to have a keyboard back)
Palm III XE (sold)
Casio E-115 (sold)
Casio E-125 (sold)
Handspring Prism (sold)
Casio E-200 (sold)
Sony Clie PEG-N770 (still own)
HP 720 Jornada (still own)
The gadgets I currently use alot are my laptop from the office (EVO600C), my HP
720 and my Canon S40 camera.
Never miss one of our posts again. Sent MON, WED, and FRI with the latest gadget reviews and news!
As a good Gadgeteer I already have my next purchase lined up. A Sony CLIÉ NX70V
with built in keyboard to replace my 770.