We use affiliate links. If you buy something through the links on this page, we may earn a commission at no cost to you. Learn more.
Product Requirements:
Device:
PC with USB port, or Mac with additional software
I've always wondered how the other half lived.
I've been a Palm man since 1997, when the Palm 5000 caught my eye and (with a slight departure into the Newton OS), I've been loyal to that OS. However, there were times when the allure of the Pocket PC got to me…I see some of the awesome games that are available, or imaging life with a multi-gig microdrive holding more than a fleet of 128 meg memory sticks.
What would that kind of life be like? For $200 (after rebate) I'll give it a try!
Yup, I'm talking about the new Dell Axim, or the
Pocket PC answer to the Zire…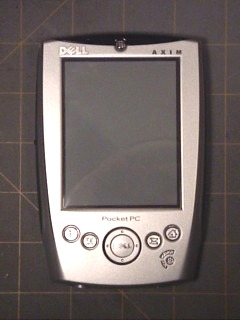 Hardware Specs:
Processor: Intel X-Scale 300MHz 
Memory: 32MB SDRAM, 32MB Flash Rom 
Display: 3.5 Reflective 320 x 240 16-bit Color-TFT (QVGA)
Audio: 3.5mm Stereo Mini Jack 
Power Input AC100-240V, Output DC5.4V 2.41Amp 
Battery: Lithium-Ion Removable/Rechargeable (1440mAh standard, 3400 optional) 
Size: 5.0 x 3.2 x .71in (128 x 81.5 x 18mm) 
Weight: 6.9oz (196g)
To be honest, my expectations were pretty low as I waited for the Axim to arrive. When the package was finally delivered to my door, I was pleasantly surprised with the device.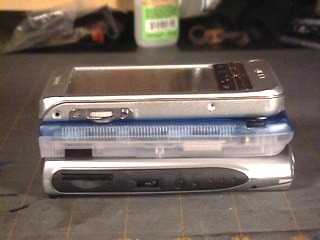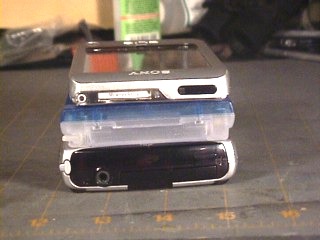 [Top to bottom: Clié T615, Visor Deluxe, Axim]
Sure, it is a little large when compared to the new iPaq
1910, and very large if the Tungsten is taken into account, but not that much larger than the
Visor. The device is a sturdy one, passing Julie's creak test without missing a beat. The sides of the PDA are lined with rubber, making the fit in hand quite nice.
This device has both SD and CF slots, meaning there are a heck of a lot of possibilities to your gadget load out. You can store extra data/applications in the SD slot while the CF is taken up with any of a number of wireless protocols. Sadly, there was no built-in Bluetooth, but what do you want for $200???
Because I purchased the cheapie version (there is a bumped-up version with 400Mhz, 64MB RAM, 48MB of ROM, and a cradle for an extra C-note) the box (which was just the shipping container, no pretty full color packaging to cherish for years to come) contained just the PDA, charge cable, sync cable, a case (Velcro-closure, without belt loop) and CD and manuals.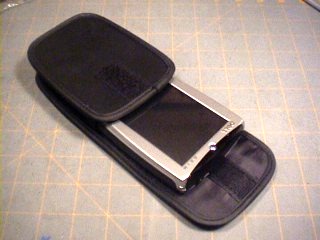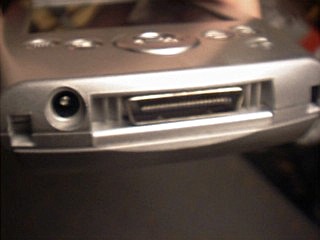 Eh, you get what you pay for…No problems there…
The batteries are of a sealed design that snaps into the back. Real kudos need to be given to Dell here, as I cannot think of a rechargeable PDA that offers a method to quickly replace the battery. If one opts for the model with the charger or purchases one separately ($50), there is even a slot to charge a separate battery.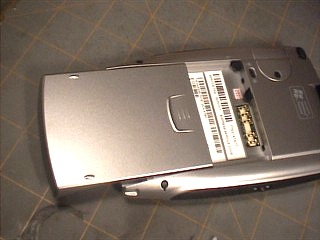 And I though I was a power user…
The standard Pocket PC buttons are present on the front of the device, all of which worked fairly well (though more force than I thought appropriate was needed to activate them) except for the D-Pad.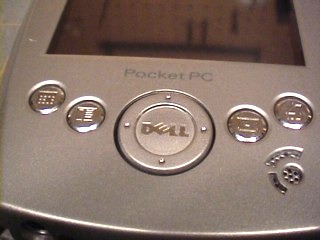 Okay, why did I really decide to jump the Palm ship here??? Sure, it was the games. Ever since I saw screens of FADE, a small voice in my head was screaming for a
Pocket PC. Granted, that style of adventure game has no use for the D-pad, but others require it, and it was that little piece that most seriously let me down.
First off, the sensation of the pad was a quasi exercise in terror. Maneuvering the pad brought about a series of clicks and groans that made me believe that I had broken it. Never did I manage to get the D-pad button press to work (which left me unable to fire in one of the many demos I loaded on the Axim), and it would often lock to the left or right. Apparently, there is a software fix in the work for this situation, but there are little details at the moment.
Luckily, as I found out, there using the D-pad is not a necessity in 90% of Pocket PC
interaction, and the situation only presented itself when playing games.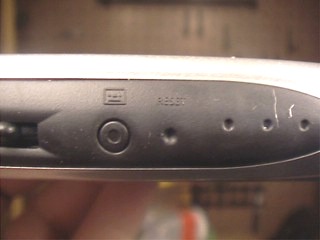 The left side of the device features the RECORD button (re-mappable, thankfully) and a jog tab. I think that the same folk where farmed out the task of the D-pad had something to do with this jog item. It too would snap and creak as I was using it, and I half expected the little guy to break off in my hand at any moment. Luckily, it never did, and I had little need to jog with this device (though I did nothing with e-Books, the main use for the jog on my Clié).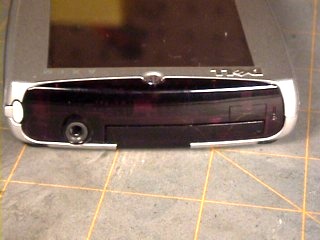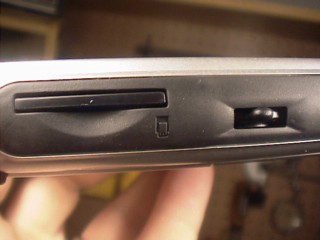 CF slot, IR port and Headphone jack are placed on the top of the unit (there is a cover over the CF port). I have no CF cards or peripherals and was not able to test them.
The power button is set into the top of the screen and will flash when there is an alarm or glow when the charge is full. Occasionally, the button was a little hard to activate, but I that made me feel good due to the fact that if my little fingers were having that much trouble, no miscellaneous jolt was going to power the device on.
It may seem that I hated this device, but there were many items on it that I really liked, and the stylus was one of these items. I know…I have never purchased a PDA that shipped with a stylus that was worth a darn, but it would seem that Dell has done the unimaginable. There is nothing truly special about it, but it feels natural in my hand, it weighted decently (though is made of simple plastic) and insertion and removal are quick, easy, and it never even hinted at falling out of the PDA.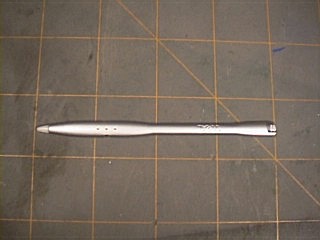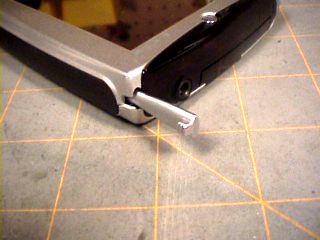 All right, that just about covers the exterior of the device. Once it is powered on, everything seems to be a standard
Pocket PC affair. Sync with Word, Excel and Outlook – you folks know the drill, right? Included software was a little on the sparse side, but there is a full-function presenter included with the package.
I really liked the quality of the screen, though it was a little dark in some applications. Resolution is standard, but the colors displayed were quite nice. Even though my NR has almost twice the resolution, the Axim screen actually seems a little sharper, and the colors much more vibrant.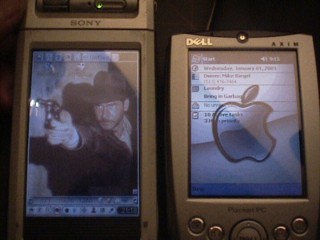 Video performance was somewhat hit and miss. I loaded up some .wmf files from my hard drive and viewed some very choppy playback for anything over 100 bits per second. Having limited experience with
Pocket PC and Windows Media, I cannot say whether this is a normal situation or not. Performance in games that contain a large degree of 3D and particle animation was somewhat hit-and-miss. Interstellar Flames ran just fine, but X-Ranger and Mini Trans-Canada were largely unplayable.
As some of you out there may know, I am a Mac person (I'm willing to play nice, I hope you'll do the same). I used my PC at work to sync programs and such, but wanted to point out that there are ways of connecting the
Pocket PC to the Mac. The first is from PocketMac, and a recent announcement was made at MacWorld that
MarkSpace (producers of the Missing Sync for Clié-Mac connections) will also be working on a
Pocket PC conduit.
Fear not Mac lovers, you can use a Pocket PC with your machines – at least until Apple gets a new PDA on the market (and I am not holding my breath on that on!!!).
So, what does it all mean??? The Axim X5 is a pretty decent Pocket PC for the money, but I am not giving up my
NR just yet. However, if I had not already dropped $500 on my Clié, the Axim might be an interesting alternative – and the money that I would save would get me a CF drive and lot of games!!!
Price: $249.00
Pros:
Price
Great battery life
CF and SD card slots
Stylus you can take home to meet Mom
Cons:
D-Pad unresponsive
Jog tab not up to snuff
Video performance uncertain
Product Information
Price:
249.0
Manufacturer:
Dell
Pros:

Price
Great battery life
CF and SD card slots
Stylus you can take home to meet Mom

Cons:

D-Pad unresponsive
Jog tab not up to snuff
Video performance uncertain