We use affiliate links. If you buy something through the links on this page, we may earn a commission at no cost to you. Learn more.
My first DVD player review was the NextBase unit from
Merconnet.com. That was last summer, and
I've been using it ever since. A very small and portable player, it worked great
and didn't take up much room at all on my entertainment center. I was surprised
when Merconnet contacted me a few week ago to tell me that they had a newer
version of the NextBase that they wanted me to review that was even smaller than
the original. Of course I was curious and anxious to check it out. Let's take a
closer look.
Hardware Specs:
Dimensions (W x H x D): 6.5 x 5.5 x 1.2in (165 x 138 x 30mm)
Unit weight: 21.8 oz (619g)
Disc physical format: 12cm/8cm
Compatible with DVD/DVD-R/CD/HD-CD/SVCD/VCD/CD-R/CD-RW
Optical Dolby Digital (AC-3)/ DTS/ LPCM digital audio output
Built-in Dolby Digital (AC-3) and DTS dual decoder down-mixed to two channels
analog audio output
Video output: Composite/s-video
Multi-region
Wow, I thought the first NextBase that I reviewed was small… This new model
isn't much wider than an actual DVD disc! You shouldn't have a problem finding a
spot for this player.
This is a solid little unit that has a quality feel to it. Made of plastic
and metal, it is actually heavier than the original model which is physically
larger. The extra weight helps to keep it from sliding around when opening,
closing it or pressing buttons.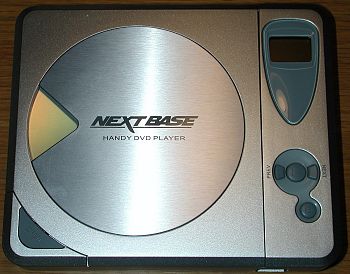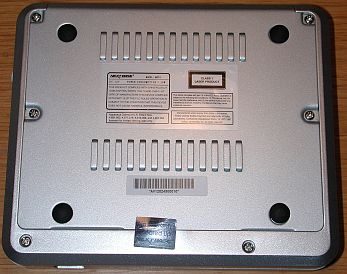 The bottom is made of metal and has numerous heat vents to keep the unit cool
when it is running or in standby mode. Unlike the first NextBase that I
reviewed, this one does not get very warm when left powered on.
The face of the player has five buttons and a small LCD display. Four of the
buttons give you your basic Play, Next Track, Previous Track,
and Stop functions. But just to kick things up a notch, the plastic
around the button arrangement lights up in blue when a button is pressed. Not
extremely useful, but nifty all the same.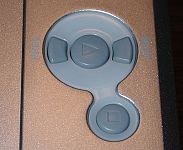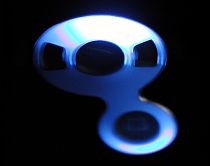 The LCD gives you a little info to let you know what type of disc is in the
player: MP3, DVD, or SVCD. It also shows the elapsed time while playing a disc.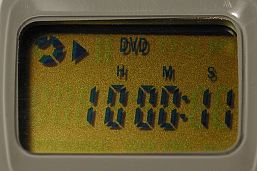 The fifth button is the Open button for the cover. I like that the
cover just doesn't pop open with a snap, but rather it lifts slowly to the open
position. I found discs to be easy to insert and remove as you would expect.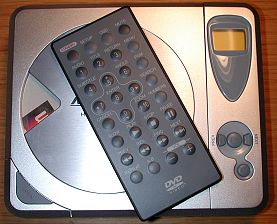 The remote that comes with the NextBase 2 is thin and light. Too thin and
light if you ask me… It's a membrane style remote… No physical buttons, just
bumps that you press for the functions. It runs on a coin cell battery (CR2025)
which isn't as convenient as a remove that runs on AA or AAA batteries.
On the left side is the Power switch that you have to manually slide to ON or
OFF. The opposite side of the unit has an earphone jack and a volume dial. The
earphone jack allows you to use the NextBase as an audio CD player or to listen
to movie audio thru earphones.


The front of the unit has the IR port and the back has the video outputs. A
composite cable (Red, White, Yellow) is included with the player. You can also
use S-Video, or Optical Digital output but you will need to purchase your own
cable. I used the
composite cable and hooked the NextBase directly into my
ReplayTV's Line1 input jacks.


Once you have the player hooked up, you can turn it on and pop in a DVD. You
will then be greeted with the menu for the movie that you've loaded. You can
also press the Setup button on the remote to modify a variety of
settings. Below you can see some of the different options available to you. I
left all my settings at their default values for the review and found the
picture and sound quality to be very good thru my old Magnavox 27in TV and Denon
stereo.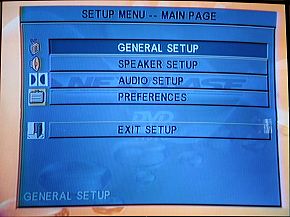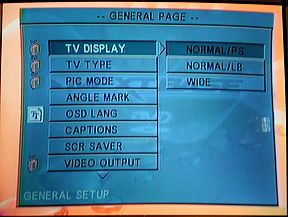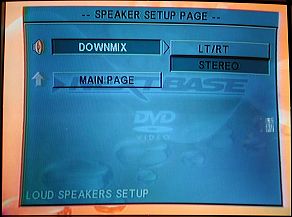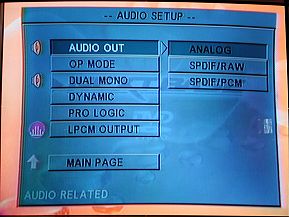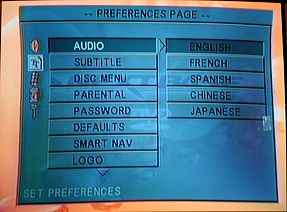 During the review period, I watched about 6 movies. All of them were brand
new and had never been played before. I noticed that I would have problems on
almost every other movie with them pausing here and there for a split second. At
first I thought I might have bad DVDs, but it happened on at least 3 of them,
which seemed to be too much of a coincidence. I was almost ready to pull my hair
out, when I popped out the DVD and blew across the laser eye inside the player.
I know this probably isn't a very good practice, but it seems to have solved the
problem.
In addition to playing regular off-the-shelf DVDs, I decided to try out a few
other types of discs on the player. A friend of mine who built his own PVR
(Personal Video Recorder) computer, burned me two copies of an episode of the TV
show Angel in his DVD writer. One disc he burned in DVD format on a DVD disk. It
worked and played great. The other copy he made as a VCD on a CD-RW and it
didn't work worth a hooey. The audio didn't seem to match up with the picture,
and the picture was blocky. He gave this same VCD to another person and it did
play correctly on their DVD player. Since this player is supposed to be able to
play VCDs, I'm not sure what went wrong…
For another experiment, I burned various image files and audio files on to a
CD-R via my Fujitsu Lifebook. I copied the files to the root of the CD-R as well
as to folders that I created. I took the CD-R out of the notebook without
'closing' it for further writing. The NextBase 2 was able to read it just fine.
Popping it in the player caused it to display the file and folder hierarchy as
shone below.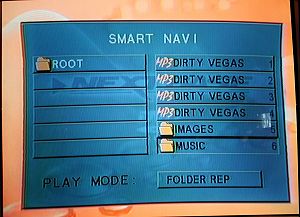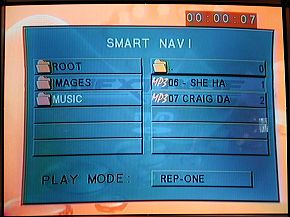 As you can see, file names are truncated. But unlike the first NextBase
model, files did not appear as multiple segments.
MP3s sounded great thru the stereo. By default, all the files in the current
folder would cycle thru one at a time and then repeat. While playing, a timer
would display at the top of the screen.
I also wanted to try out the image viewing features of the NextBase 2. I
think this was the feature that actually impressed me most! I copied 50 or so
pictures from my Arizona vacation to the
same disc that I copied the MP3s to.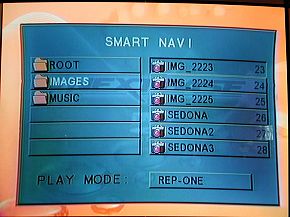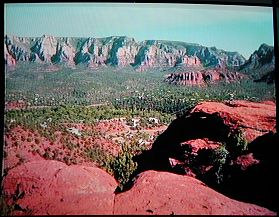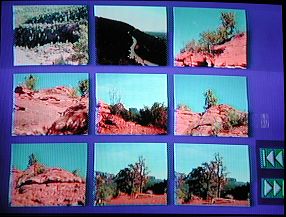 Clicking on an image file causes a slide show to start. The image quality on
my TV was great! I was really surprised. Using the remote, I could even rotate
an image on the screen and it would remember the orientation the next time it
came back around to display it. You could also view the images in thumbnail mode
with 9 on the screen at once.
If only it could play music in the background while displaying the pictures,
it would be perfect ;o)
The NextBase 2 is a great little DVD player that would be perfect for anyone
that is cramped for space, or likes to take a player with them when they travel.
It's easy and fun to use and is currently my only player.
 
Price: $179.00 (Merconnet offers free shipping to
the US and Canada along with a car adapter kit)
Pros:
Very portable
Great picture
Excellent JPG viewer
Can double as an audio CD and MP3 CD player
Cons:

Membrane style remote uses coin cell batteries
Had some pausing problems
Product Information
Price:
179.0
Manufacturer:
Vaja
Pros:

Very portable
Great picture
Excellent JPG viewer
Can double as an audio CD and MP3 CD player

Cons:

Membrane style remote uses coin cell batteries
Had some pausing problems