We use affiliate links. If you buy something through the links on this page, we may earn a commission at no cost to you. Learn more.
Late in October 1999 I bought a G3 PowerBook. Wanting something to protect my
beautiful little laptop I ordered one of the early "Meta" bags from Spire. The
Meta had its faults, but was for the most part an excellent bag. In June 2002 I
retired my trusty G3 and got myself an 800Mhz Titanium G4. At first I thought I
could stick with the Meta, but the "Boot," Spire's laptop sleeve was the wrong
shape for the G4. I could have ordered a different sized boot from Spire, but
then thought about a new bag. The Meta had been all over the globe with me and
was starting to look a little untidy. Besides, I really like gadget bags and one
more in my collection wouldn't do any harm. So, the obvious first step was to
look online at bag reviews. PowerBook Zone's bag links were very useful, and of
course there was the Gadgeteer.
What does a reasonably equipped techno weenie carry?
After looking at what was available I thought I'd review my needs. I lug around
a pretty consistent set of gear and most of this is in the picture below: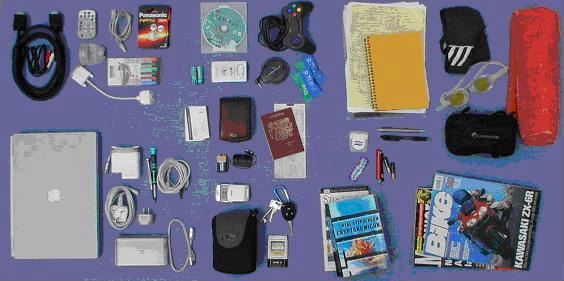 I'm a lecturer, so besides the G4 and its cables and power adapters I usually
carry some presentation hardware: video and audio cables,
Keyspan Digital Media
Remote (DMR) spare batteries for the DMR, and OHP pens. Having once had my hard
drive fail the evening before a major presentation I'm paranoid about backup
hardware. CDs and DVDs are all very well, but I won't go anywhere without my
external Firewire hard drive, cables and a couple of screwdrivers so that if
necessary I can fit it into the G4.
I sometimes lecture overseas, and so entertainment for long trips comes in the
form of a couple of game CDs with Gravis USB Gamepad, an MP3 player, a novel and
some magazines. Also in there is my swimming kit and a washbag. My Palm Vx is in
its Vaja wallet case and next to it is a Brando emergency charger and battery.
Other obvious stuff includes tickets, passport, cell phone, keys, business
cards, earplugs, dental floss, gum a small torch with batteries, pens, a notepad
and some paperwork.
When I lecture abroad I usually have time for a little tourism, so my Nikon
Coolpix is in its case and it sits alongside a compact flash card adapter. I
also take a guidebook.
My Swiss Army knife used to be part of the collection, but after 9/11 it's a
difficult item to carry in cabin baggage.
What about looks?
When I teach undergraduates at my university, dress is pretty casual, but when
I'm lecturing to executives I usually dress a little smarter. So a requirement
of the new bag was that it should look OK with a suit. Another requirement was
that the bag should not look like a big, heavy rucksack – check-in clerks where
then less likely to weigh it. The final requirement was that the bag fit easily
in overhead lockers and under-seat spaces on aircraft.
The Empire Builder – description
The Empire Builder is made by Tom Bihn. The bag more or less has the look I
wanted. Its fine with a suit, and looks pretty much like any other laptop bag.
However, it's the detail that marks out the Empire builder as a serious and
different bit of kit.
My Empire Builder is black Cordura with some silver detailing inside. It also
comes in silver / black with a red interior. Its 17" x 12.75" x 7" (430 x 325 x
180mm) and (including the "Brain Cell" laptop protector and shoulder strap)
weighs just under 5lbs (2.3kg).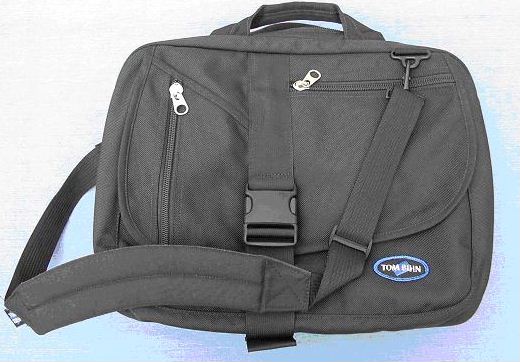 On the outside of the front flap of the Empire Builder are two zipped pockets,
and one angled and unzipped pocket for tickets etc. The flap is secured by a big
clip-buckle fixed at the top but adjustable on the lower side.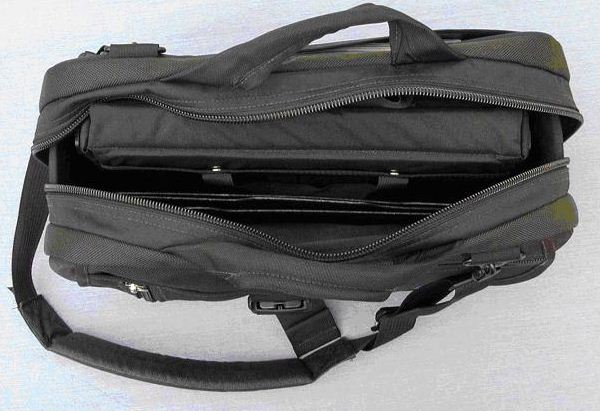 The main compartment is sealed with a heavy duty zip and inside is the removable
laptop cell the "Brain Cell.' Next to the Brain Cell are three rigid dividers
for protecting and separating paperwork. On the back is a compartment for
magazines or a newspaper.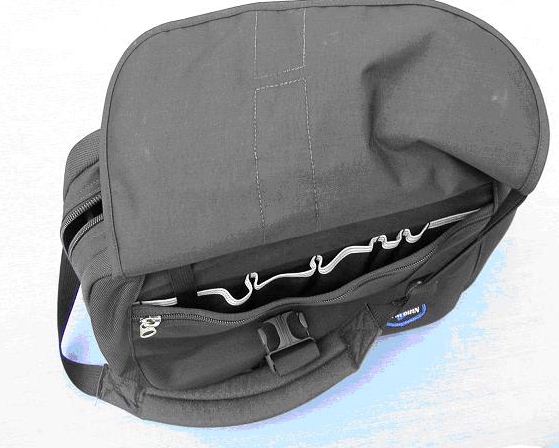 Under the flap is a large zipped pocket and behind this are some pockets for
bits and pieces, as well as a lanyard for attaching keys. Between the small
pockets and the zipped pocket is a huge void that could swallow up a lot of
stuff.
Both the Brain Cell (available in different sizes for different laptops) and the
shoulder strap must be purchased separately.
The shoulder strap has a rubberized shoulder pad and is adjustable at both ends
so that the position of the pad can be changed.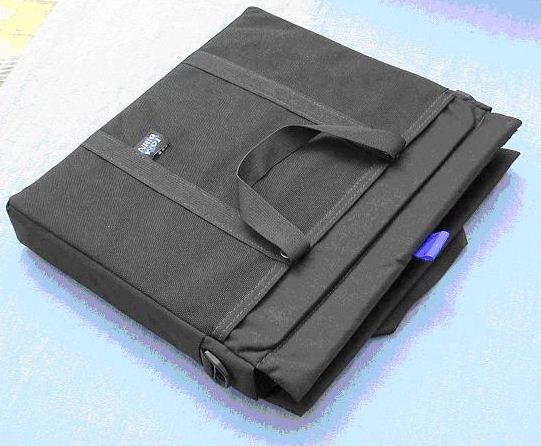 The Brain Cell is a small bag by itself and has its own carry handles and eyes
for attaching the shoulder strap. There is also a large pocket that could hold a
magazine or two. The Brain Cell looks, at first glance just like a rugged padded
cell. However, on closer inspection an interesting feature is revealed.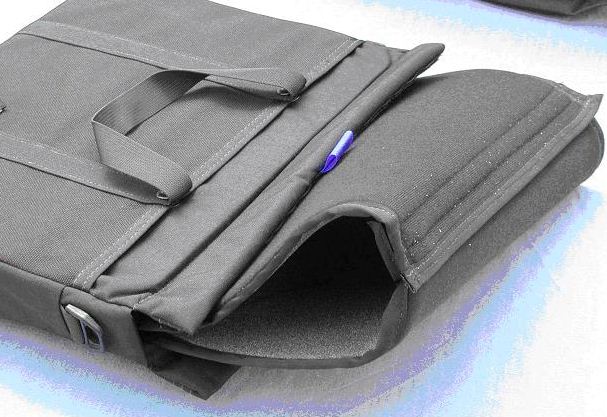 In the picture above I've pulled out the lining of the Brain Cell. The lining is
soft and stretchy and acts as a suspension cradle for the PowerBook. The cradle
hangs inside a more rigid "box" made from foam padding and some tough plastic,
the whole lot being covered in Cordura.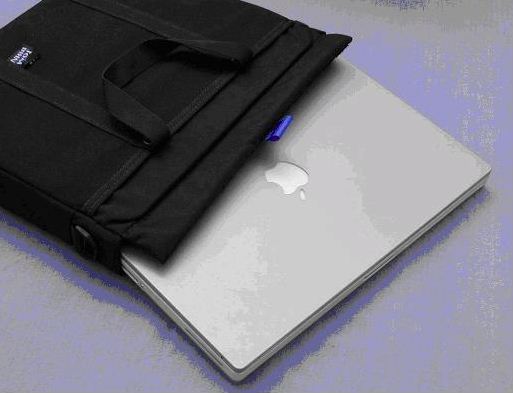 The G4 fits perfectly into the cell and is secured with a long run of Velcro;
the only Velcro in the bag in fact. In turn the Brain Cell clips into the Empire
Builder with four metal pop studs.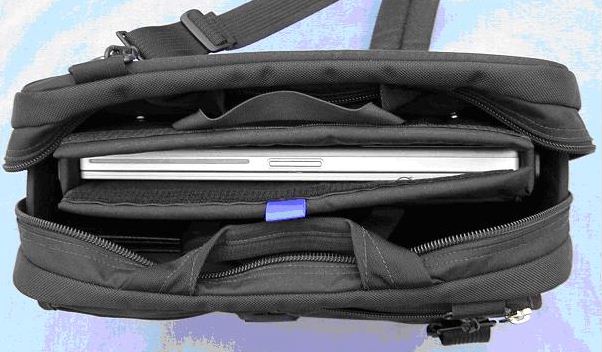 Assessment
So much for the descriptive bit, so what do I think of the Empire Builder?
Build quality is excellent, this bag is very tough and should last a long, long
time. The YKK zips are very beefy and everything is neatly stitched together.
Not only is the Brain Cell there to protect the laptop, but there is also thick
padding on the walls of the main bag. This latter feature also helps to give the
bag a more structured look than the more "floppy" messenger bags. What about all
my stuff? Well, as the following shots show, the Empire builder swallows
everything up with room to spare.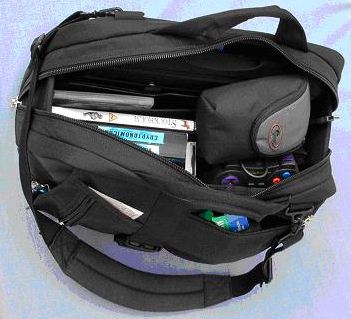 The swimming kit and wash kit are under the books, camera and Gamepad. (In case
anyone is scandalized at the thought of my wet swimming kit next to all this
electronics, never fear – I wrap it up in a supermarket carrier bag – not very
gadgety, but practical and cheap.) The rigid dividers do a great job of
protecting documents. Three are supplied with the empire builder but you can
order more if you like. The magazines are in the back pocket and the Palm
wallet, tickets passport etc are in the pockets on the outside of the front
flap. Passport, tickets boarding pass etc are in the unzipped pocket for easy
access while boarding aircraft, and when I've finished with these they slip into
the vertically zipped pocket for security.
Under the flap we have some items in the small pockets and the rest just chucked
into the two "voids."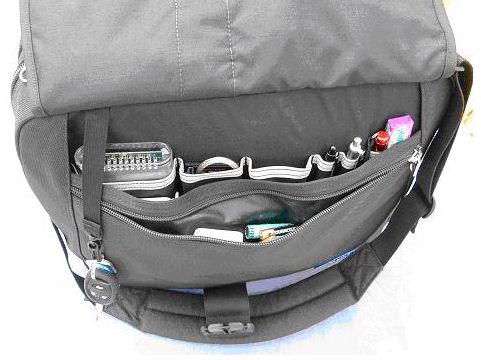 Here is what it looks like on my shoulder: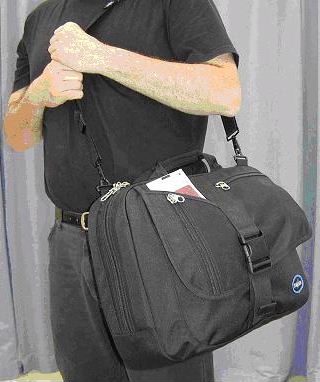 I'm 6'2" by the way – I think this bag might look a bit odd if you are of small
stature.
Is there anything wrong with the Empire Builder?
• Well there is no padding in that front flap, so my precious hard drive, cell
phone and anything else in those neat little front pockets is protected only by
a couple of layers of Cordura.
• Some features of the Empire Builder are not so accessible for lefties. I'm
assuming here that if you are right handed, then like me you would carry this
bag on the left shoulder, leaving the right hand free to drink beer, scratch
your ear, wave … etc. If you are a lefty then the bag sits on the right shoulder
with that ticket pocket, and the key lanyard round towards your back and not so
easy to access.
• While I wanted a reasonably conservative exterior look, I really wanted loud
fabrics on the inside. This would look cheery, and also allow me to find all
those little bits and pieces; chewing gum pieces, raisins, spiders … etc. that
get lost the dark black Cordura voids. (the silver / black version of the Empire
Builder has a nice red interior, but it was not available with the plain black
outer).
• The Tom Bihn logo is not up to the same standards of aesthetic design as the
bag overall. The little blue logo looks like a boy-scout badge. I don't mind
logos per se, credit where credit is due and all that, but this one's a bit
cheesy. I think I'll cut it off.
• When the bag is full of all my junk the grab handles are a little
uncomfortable. The bulk of my stuff forces the handles apart, and this tends in
turn to force the fingers and thumb apart: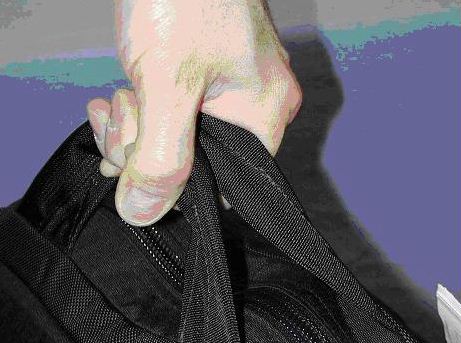 Tom Bihn could have put a piece of something to wrap around these handles and
hold them together. This would have been fiddly, but would save the hands. You
might think that if there is that much weight of kit here then that's a perfect
opportunity to exploit the shoulder strap. However, the shoulder strap is not
always a good option as it tends to ruck up the shoulders of a suit, and with a
heavy load can hurt a little. Tom Bihn's shoulder strap is as comfy as they
come, but we are talking 24lbs here (that's 19 lbs of gear plus around 5 lbs for
the bag).
The bottom line
The Empire Builder is expensive but extremely well-made. I really like it. Its
got loads of space and is as tough as they come. It looks great and at the end
of the day, does exactly what I want it to do.
 
Price: $130.00 for the bag
$50.00 for the brain cell
$18.00 for the shoulder strap
Total: $198.00
(p.s. if you import one of these to the UK you will have to pay about $80.00
worth charges – VAT, duty admin charges – arrrrgh!!)
Pros:
Conservative looking but innovative and practical bag
Excellent protection for your laptop
Extremely well made
Can carry loads of gear – your back will fail before the bag does
Cons:
Very, very expensive
Handle uncomfortable when bag is full
No padding over front compartments
Gloomy interior
Product Information
Price:
130.0
Manufacturer:
Tom Bihn
Pros:

Conservative looking but innovative and practical bag
Excellent protection for your laptop
Extremely well made
Can carry loads of gear – your back will fail before the bag does

Cons:

Very, very expensive
Handle uncomfortable when bag is full
No padding over front compartments
Gloomy interior