We use affiliate links. If you buy something through the links on this page, we may earn a commission at no cost to you. Learn more.
Product Requirements:
Device:
Any touch-screen PDA
For those of you that don't want to use the thin stylus that fits in your PDA's
silo, finding a good multi-pen that includes a stylus tip just makes sense. Like
every other thing in life, there are many different choices that you can make
when deciding which multi-pen you will use. Design, price and number of tips are
just some of the factors you will need to consider. Sometimes it is hard to find
a stylish and functional multi-pen that isn't too expensive. For those of you
that are looking for a pen that falls in that category, you might want to take a
look at the
Next Pen Ultra Carbon Fiber Twin.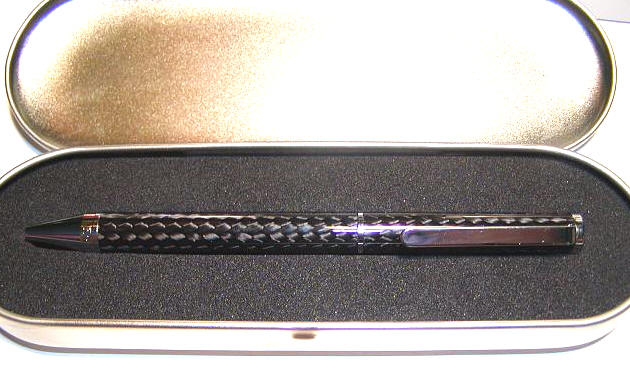 As the name implies, this Next pen has two tips, a black ballpoint and a
white stylus tip. What separates this multi-pen from other dual tips is the use
of woven carbon fiber for the entire length of the multi-pen's barrel. This
creates an optical illusion effect of depth and texture.

Unfortunately, it is almost impossible to get a picture that truly shows the
3-D effect of the weave.
All of the trim on this multi-pen is done in shiny stainless steel, but it is
not too flamboyant, in fact – the overall effect of this writing implement is
nicely in the middle of using a boring solid black pen and using a more gaudy
European metal pen. There is just enough "flash" to this multi-pen that keeps it
from being too conservative, yet it isn't so wild that one would be
uncomfortable using it in a corporate setting.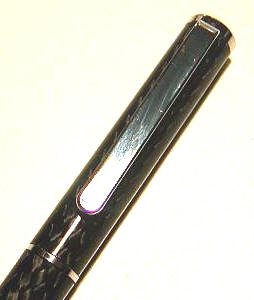 There is no decoration or obvious branding on this multi-pen, except for the
very discreetly engraved "nextpen" logo on the stainless steel bottom edge.
Your desired writing tip is selected with a simple twist of the barrel. This
is my preferred method of tip selection. While there is no mark to indicate
which tip you will receive when twisting the barrel, since there are only two,
it is not a major problem if you select the wrong tip to move to the correct
one.
The black ball-point is a standard multi-pen refill size, so it will be easy
to find replacements. While this pen wrote with a more fine line than I would
usually use, the flow was sufficient and black enough that I didn't mind.
The white stylus tip is slightly rounded, and I found that it wrote equally
well on screens with or without protection.

This pen measures 5.5" (13.9cm) long, and it is .4" (1.1cm) thick for the
length of its barrel. It is quite comfortable in hand for extended periods of
writing, and based on the use I have given this pen during this review period, I
feel that it should hold up nicely in extended daily use.
The Next
Pen Ultra Carbon Fiber Twin is available at
Stylus Central and other retailers.
Price: $19.95

Pros:

Intricate Carbon Fiber design is beautiful and interesting
Smooth and easy action to select writing tip
Cons:

None
Product Information
Price:
19.95
Manufacturer:
Stylus Central
Pros:

Intricate Carbon Fiber design is beautiful and interesting
Smooth and easy action to select writing tip

Cons: