We use affiliate links. If you buy something through the links on this page, we may earn a commission at no cost to you. Learn more.
Product Requirements:
Device:
Compaq iPAQ 3100, 3600 series Pocket PCs
54K driver
PDAs can make great game machines because they are small enough to take with
you almost anywhere for mobile fun. Even though the Compaq iPAQ 3100 and 3600
series Pocket PCs already have a nice built in joy pad, sometimes having a real
full sized game pad is preferable for that true gaming experience.
Be Interactive has such a joy
pad called the Zeta Controller. Made specifically for the Compaq iPAQ 3100 and
3600 series Pocket PCs (3800 series and HP Jornada 560 series versions to be
available also), this is a PC style game pad shape that we're all familiar with.
The device itself is a sturdy grey plastic horizontal pad reminiscent of the
Gravis game pad for PCs. On the left side of the Zeta is a familiar 4 way T
directional pad, and on the right are 4 function buttons. A 20" cable with an
iPAQ serial connector extends from the pad. Holding and using the controller
feels familiar and comfortable and doesn't interfere with expansion sleeves.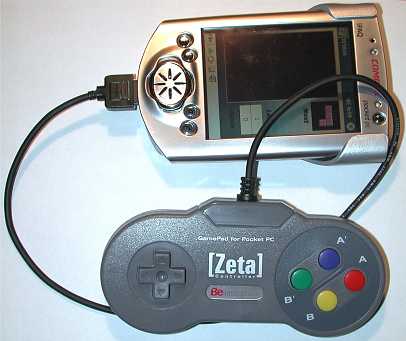 A CD is included that contains the required driver file and a Tetris game so
that you can get up and running with this game pad as quickly as possible.
Installing the small driver is quick and painless. Once it is installed, you
just tap on it to enable it. A small game pad icon then appears in the bottom
right corner of the Today screen. Tapping on this icon allows you to change
several settings.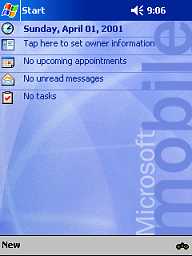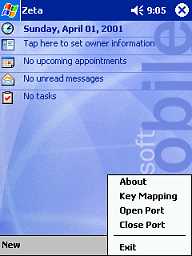 You can open or close the port which is analogous to enabling and disabling
the game pad. In the settings dialog, you have several options. You can change
the orientation of the game pad. This is very important if you play games that
rotate the screen such as Snails. If this option wasn't available, the
directional button presses would not match up with your desired direction. You
can always tell the orientation that you have selected by the orientation of the
Zeta icon in the task bar.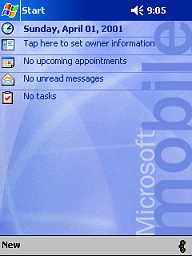 You can also change the controller to a 4-way or 8-way controller. This
allows you to get around the double key press issue that iPAQs have. Depending
on the game that you want to play, you can also map the 4 buttons on the right
side of the pad to the hardware buttons on the iPAQ. For example, if you wanted
to map the green button to the Voice Recorder button, you can do so. The only
problem is that you have to figure out the strange naming convention that they
gave to each of the hardware buttons. Below you will see how the buttons are
named. I happened to find this image on their website. The documentation that
came with the Zeta was void of this important information.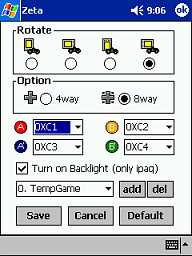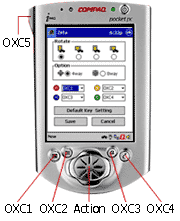 It's good to point out, that the driver does not need to be manually disabled
in order to sync with the cradle. I left the driver enabled and didn't have any
problems.
Using the Zeta to play games on the iPAQ almost made the Pocket PC feel like
a console game machine! I had more fun playing games with this game pad than I
have had in a long time. I was able to get farther and do better than I ever had
also. I really had a lot of fun testing it out. Of course there is one gotcha
with this device (isn't there always?)… The problem is that because you need
to hold the game pad with your two hands, there isn't an easy way to also hold
the iPAQ while you're playing. Sure, you can lay it on a table, but that really
doesn't give you the best viewing angle… I tended to just lay the iPAQ in my
lap as I played, but that really wasn't the greatest solution either. I did
finally find an item that did help me out with this problem: the
PDA Pivot.
If you are looking for real game playing feel / action, this game pad
certainly will give it to you! It's an inexpensive way to turn your little
Pocket PC into a great game playing console device. 
Price: ~$15.00 US (have to order it thru the Korean
site)
Pros:
Fun!
Doesn't require batteries
Do not require you to manually disable driver in order to sync with cradle
Cons:
Awkward to hold iPAQ and Zeta at the same time