We use affiliate links. If you buy something through the links on this page, we may earn a commission at no cost to you. Learn more.
Product Requirements:
Device:
Palm m500 series, Palm m100, m105, Palm III series,
VII series, and V series.
Handspring Visor, and Prism
Sony Clie (Except T series)
Of all the different PDA accessories on the market today, I would have to say
that styli are probably the most popular. There are big styli, little styli,
styli with multiple tips, and even styli that are made of solid sterling silver!
Variety is truly the spice of life and as such, it's always fun to find one that
is just a little different than most.
The Cross MicroPen is just that, a micro
sized retractable pen and PDA stylus combo which is available in a choice of
four colors: Blue, Black, Silver and Orange.  This is a slim stylus that
can fit into quite a few PDA stylus silos.

Even though this is a slim stylus, it has a nice weight and balance that to
it that makes it comfortable to write with.
Specs:
Length 4" (101.60 mm)
Diameter 0.185" (4.70 mm)
Weight 0.282 ounces (8 grams)
When I first opened the package, I was surprised to see that it was the black
ballpoint pen tip that was extended when twisting the top cap. I was expecting a
stylus tip to appear and I thought that maybe this wasn't supposed to be a
stylus at all, but just a mini pen. Then I looked more closely at the cap and
saw the unprotected black stylus tip. This, in my opinion, is the one big
'gotcha' of this product… the stylus tip does not have a cap to protect it
when it is not in use.

The polymeric stylus tip has been patented for "pen-on-paper" feel. It doesn't
really feel any different to me than most other styli tips though. It writes
just fine on all of the PDA screens that I tested it with. The only problem that
I found was the fact that the top fin tended to obstruct my tapping and writing view while
using it.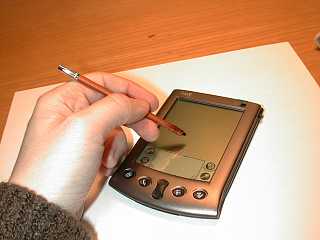 The ballpoint pen portion of this writing instrument performs as expected. The
fine black ink tip wrote smoothly on paper without skipping.

The body of the stylus has a thin rubbery coating that gives it a soft feel,
while a chrome end barrel gives it a classy look. This barrel can be unscrewed when
you need to replace the ink cartridges.
The MicroPen is not marketed as a replacement stylus for any one specific PDA.
Instead it can be accommodated in a several different ones. I had a chance to
test the MicroPen with the following PDAs: Palm IIIc, III, V, m100, m505, and
Visor Prism. The fit varied from PDA to PDA.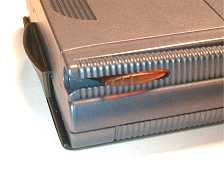 Visor Prism – Fits fine, but can actually be pushed all the way into the
silo. Secure fit. Won't fall out.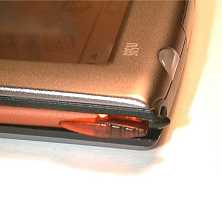 Palm m505 – Fits fine, but stylus tip pokes out the top of the silo a tiny bit.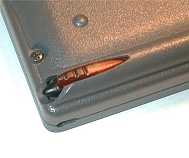 Palm III – Great fit.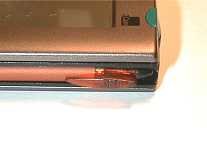 Palm V – Great fit.
Palm m100 – Fits but isn't as snug as in the other PDAs. A good firm shake causes
it to go flying.
Palm IIIc – Great fit.
Overall, this is an ok small stylus. Personally though, I would take the
ballpoint pen out of it and replace it with a stylus refill. But that's me. ;o) If you
are interested in a slim stylus that will fit in your PDA's silo and will also
double as a pen, you might just find the Cross MicroPen to be the right one for
the job.
This stylus is available at
StylusCentral and other fine stores.
Price: $15.00 (Lifetime Mechanical Guarantee)
Pros:
Fits a variety of PDAs
Attractive
Good writing (ink) action
Cons:
More pen than stylus
Stylus tip not protected when not in use
Product Information
Price:
15.0
Manufacturer:
Cross
Pros:

Fits a variety of PDAs
Attractive
Good writing (ink) action

Cons:

More pen than stylus
Stylus tip not protected when not in use