We use affiliate links. If you buy something through the links on this page, we may earn a commission at no cost to you. Learn more.
Product Requirements:

Desktop:
Windows PC for syncing application
How would you like to shrink your PDA down to the size of a keychain? Or even
better, how would you like to actually turn your PDA into a keychain? Sound
interesting? That's what I thought when I first heard about the Magic-i Keychain
Mini Databank from Merconnet.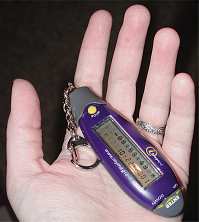 The Magic-i is a 3.75 x 1.25in (9.5 x 3.18cm), 1.1oz (31g) plastic fob with a
2 line LCD that runs on 2 L1154 coin cell batteries. User input is achieved with
2 buttons. A round yellow rubber On/Off/Mode button which is located at the
keychain end of the device and a unique hard plastic twist and press button
which is located at the opposite end. On the back of the module is a small 'eye'
which allows it to receive data from your PC… more on that later.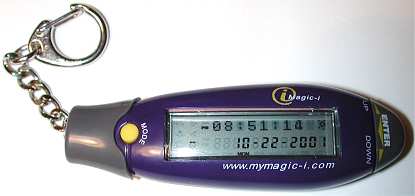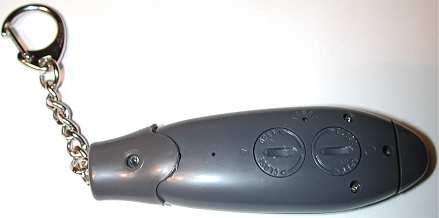 The On/Off/Mode button is easy to press with a fingertip or fingernail.
Pressing and holding the button for 3 seconds will turn the device off. Repeated
pressing of this button will advance you through the different 'programs'
available on this device:
Clock
Phonebook
Birthday Reminder List
World Time Clock
Alarm Clock
Fortune Teller
Lucky 7 Slots Game
Reminder
The default mode of the Magic-i is the Clock. Every time you turn the device
on, it will show you the current time and date.
The Phonebook feature allows you to store up to 120 names and phone numbers.
Each name can have a maximum of 10 characters while phone numbers are in the
XXX-XXX-XXXX format. Each entry can also have a birthday associated with it.
Numbers can be added, edited and deleted.

Input is done via the twist and press button at the end of the Magic-i.
Twisting the button up and down will cycle back and forth thru the alphabet or
number list. Pressing the button in is the equivalent of pressing an Enter key.
Surprisingly, this input method works pretty well. It is quick and easy. The
only bad thing about this method is that you can't backup if you make a mistake.
You have to continue entering a record and can then go back and edit any
mistakes that you might have made.
Having a 10 character restriction for the name field is very limiting. As a
result, you will rarely be able to enter both a first and last name. I resorted
to just using the first name. Luckily the names are alphabetized automatically.
You can not however do any type of searching on the Magic-i. You can only scroll
up and down thru the list of names/numbers using the twist button.
The worst part about manually entering data is the fact that every time you
press a button, or twist a button, the Magic-i will beep. This can get very
monotonous when you are trying to enter quite a few names and numbers. But, it
gets worse… Every time you enter a birthdate, you must sit thru a very
annoying rendition of the Happy Birthday tune. The first time this happened to
me, it startled me so much that I almost dunked the Magic-i in my mug of tea in
order to get it to shut up! It would be so nice if there were a way to suppress
all audio…
If you don't want to input your names and numbers manually, you can 'sync'
them from your PC to the Magic-i. This is done by downloading a small executable
(187K) that uses a flashing block on the screen to transmit data to the module.
It is very similar to the way that Timex DataLink watches transmit data. With
this small application, you can type in names, phone numbers and birthdates into
your PC. You then hang the Magic-i from a small stick-on hanger (included) so
that it is aligned with transmitting area. After that, you click the SEND button
to transmit, make sure the Magic-i is in download mode and the flashing will
begin. I entered 5 names, and numbers on my PC and it took approximately 50sec
to transmit them to the Magic-i. Certainly not blinding fast… but it did work.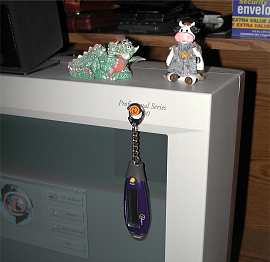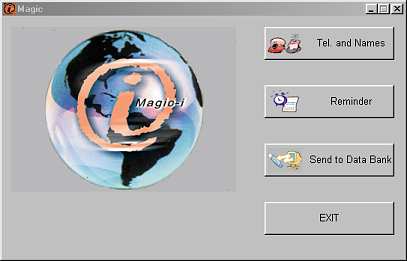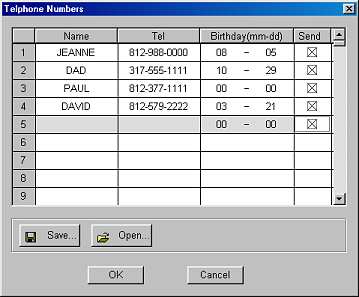 The World Time Clock allows you to scroll thru a listing of 100 cities and
their corresponding current time. If the city happens to observe day light
savings time, a small DST is displayed on the LCD next to the city.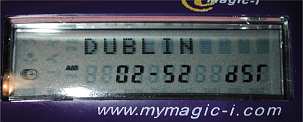 The Alarm Clock gives you the ability to set one alarm to go off at a certain
time every day. You can not associate a date with this alarm. When the alarm
goes off, it turns the Magic-i on and plays a little tune until you press a
button.

Of course, no PDA would be complete without a couple games to keep you
amused. The Magic-i has a Fortune Teller and Lucky 7's game that will keep you
entertained for about 2 minutes. The Fortune Telling program asks your birthdate
and then gives you a bar graph of your Health, Love Life and Luck stats. I think
it's actually computing your biorhythm but I could be wrong… It's slightly
cute, but of course it has to play an annoying tune while displaying the graphs.
The Lucky 7's game is basically a one armed bandit, slots style game. Three
numbers flash on the LCD. If some of the numbers match, you win money. If they
don't match, you lose money.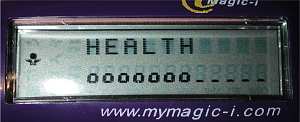 The Reminder message feature is a date linked reminder that displays every
time you turn on the device. You can't set the reminder directly from the
Magic-i. You have to set it thru the PC application. You enter a 10 character
reminder, the date and you get a choice of tunes to play. The tunes you pick
from are the Happy Birthday Song, The Titanic theme song and a Turkish tune.
I'd really like to know where they came up with their repertoire!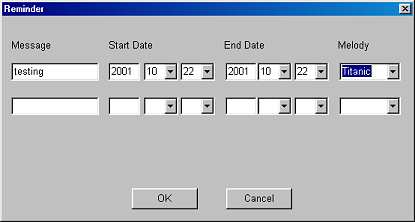 The Magic-i is an inexpensive little PDA-like gizmo that can store your
important phone numbers while doubling as a keychain. If you already have a PDA,
I doubt if this device will be of much use to you. But, at $19 it would make a
nifty gift for a child that has always wanted a PDA.
Price: $19.00
Pros:
Easy to use
Cheap
Fun for kids
Cons:
Annoying tunes and sounds
10 character name limit in phone book
Product Information
Price:
19.0
Manufacturer:
Merconnet
Pros:

Easy to use
Cheap
Fun for kids

Cons:

Annoying tunes and sounds
10 character name limit in phone book