We use affiliate links. If you buy something through the links on this page, we may earn a commission at no cost to you. Learn more.
Product Requirements:
Device:
Palm V/Vx
H101HackV12E.prc – Hackmaster extension 4k
H101V12E.prc – Control Panel 7k
Keyboards for PDAs have become extremely popular lately. The Stowaway
folding keyboard is pretty much king of the hill at this point in time, but other interesting input
solutions seem to be popping up every day. I recently reviewed the Cirque
PDA Pocket Keyboard and will be doing the PDA Type 'N Go review in a couple of
weeks. With the exception of the Stowaway, 99% of the other devices are non
standard sized keyboards. This is an important issue for a lot of people, myself
included. If I can't actually touch type on a keyboard, it won't do me (personally)
any good.
Luckily, there's another full size keyboard solution available. TAPSPRING
has created the HATcker 101 module for the Palm V/Vx. The HATcker isn't a
keyboard. It is a module that adds a standard PS/2 port to your Palm that you can
plug a keyboard into. It is different from other keyboard devices because it
doesn't plug into the hotsync/serial port. Instead, it utilized the infrared port
on the top of the PDA.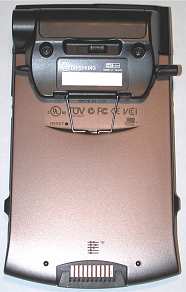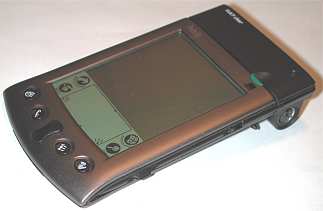 The HATcker is really a cool little module. It's made of black plastic and
has been designed to look like an extension of the Palm V/Vx. It sits in the two
stylus silos on the sides of the PDA. Two hollow rails with slots are included
to fit in the stylus silos. You can string a cord (not included) thru the slots
so that you can wear the Palm / HATcker combo around your neck if you wish… A wire bracket snaps into the slot in the back of the Palm V/Vx and
holds the HATcker securely to the top of the PDA. There is actually no electrical
connection with the Palm at all. All communication is done via the IR port. All
beaming functions are still operable while the HATcker is attached to the Palm
V/Vx.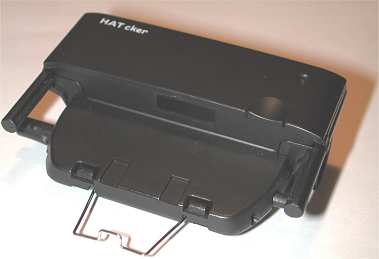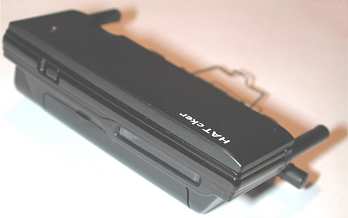 Because the stylus silos are blocked while using this module, TAPSPRING was
kind enough to design a stylus holder into the HATcker. They even included a
short black brass stylus body that you can use with the two screw off ends on
the original stylus. This makes for a pretty small styli, but it does work just
fine.
The module has a red LED on the front that blinks as you press keys on the
keyboard. A small On/Off switch is located at the top of the device. 
The unit is powered by one AAA battery and is rated for approximately 30hrs
of continuous  use, or 1 month of normal day to day use.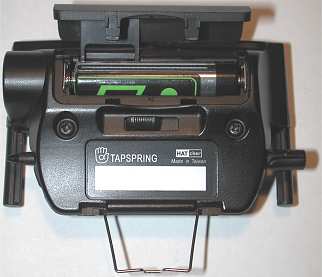 In order to use a PS/2 keyboard with your Palm, you must first install 2
small files. One is a Hackmaster hack (4k) and the other is a Control Panel (7k)
for the keyboard. The hack gives you a listing of the key mappings that are
available. Some of the mappings are: Alt+1 – Home, Alt+2 – Menu, Alt+3 – Calc,
Alt+3 – Find, etc.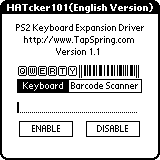 Unfortunately, you can't change any of these mappings. It would have been REALLY
nice if you could assign actions to the function keys on a standard keyboard.
For example, press F1 to launch WordSmith or press F2 to launch BeamBox. Maybe
they can add this feature to a future version of the hack.
It should be noted that there are quite a few foreign language versions of
the drivers available. At this time, you can download English, German, Japanese, Chinese (Big-5, GB), French, Italian, Russian, and
Spanish versions.
The other file that has to be installed is the Control Panel. It allows you to enable to disable the keyboard or barcode
scanner. Yes, you can plug in a bar code scanner into the HATcker also. But,
because I do not have or know anything about barcode scanners, I did not review
this feature of the device. Once the driver is enabled, you can start typing.
I tried the HATcker with 3 different PS/2 keyboards. A Microsoft Internet
Keyboard with both a USB and PS/2 connections, The Flexboard
rubber keyboard and an IBM Intellistation PS/2 keyboard. The only one I had
problems with was the Flexboard. It pretty much freaked out and wanted to type
all by itself without me even touching it. The other keyboards worked great
though. I
could type as fast as I wanted and the text printing on the screen kept up with
me just fine. I also didn't have any problems with skipping or double letters.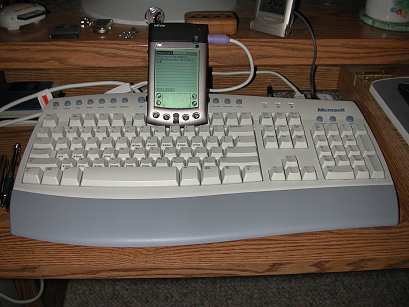 Even though I really like the Stowaway keyboards, I do prefer the feel
of a standard keyboard because that's what I use all day long. The HATcker is
actually less expensive than a Stowaway and more portable if you are only
going to use it in situations where you will have access to PS/2 keyboards. It
won't do you any good on an airplane for example… unless you happen to drag a
full size keyboard with you onboard! 
Some of you might have an idea that since the hotsync/serial connector is
open, that you might be able to use a modem while also using the HATcker.
Unfortunately, you can't. When the HATcker is in use, it is using the IR port
which makes the serial port busy. This is a real bummer! And this also brings me
to my only real complaint. And that is that you have to disable the keyboard in
order to hotsync. Unfortunately the driver can not automatically sense when a
keyboard is plugged into the HATcker.
There are a couple extra features that make the HATcker more attractive than
other keyboard solutions. It can become a TV remote control with the
installation of an optional .PRC. This software has built in support for more
than 200 television models. I was able to control my Magnavox TV from up to 10
ft away. The software doesn't support any macros or advanced features. Basically
it can just change channels, adjust the volume and power on and off. There is also a do-it-yourself project that you can do to build a remote control
http://www.pdapex.com/eg/info/rf.htm.
And then there is the bar code scanner capability. So as you can see, the
HATcker is a unique module with several features that will make it attractive to
a variety of users.
Price: $61.95 thru Kagi
Online
Pros:
Adds a PS/2 port to your Palm V/Vx
Works with virtually any PS/2 keyboard
Self powered
Cons:
Can't hotsync while keyboard driver is enabled. 

Product Information
Price:
61.95
Manufacturer:
TAPSPRING
Pros:

Adds a PS/2 port to your Palm V/Vx
Works with virtually any PS/2 keyboard
Self powered

Cons:

Can't hotsync while keyboard driver is enabled.