We use affiliate links. If you buy something through the links on this page, we may earn a commission at no cost to you. Learn more.
Product Requirements:
Device:
Palm III and Palm V series PDAs
The Floating Point
stylus by LandWare, is a Palm III /
Palm V stylus replacement with a special twist: a pressure-sensitive (i.e. spring-loaded) tip, which, according to
LandWare, simulates writing on a pad of paper with a pen.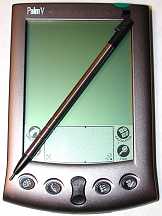 Palm V Series Floating Point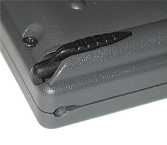 Palm III Floating Point
I am extremely impressed with my Floating Point. Upon first glance, it looks like a regular stylus. The one I am reviewing is for the
Palm III form factor; it fits in the stylus silo perfectly. The first thing I did was write some graffiti in MemoPad. I immediately noticed the Palm
recognizing my writing better than it did before, there were hardly any mistakes during my trial (writing the alphabet), and usually
I make two or three during that test. It just feels great on the screen.

Another feature of the pressure-sensitive tip is screen protection. Varying writing implement pressure is very common among us
humans, and the Palm screen doesn't like it. With the pressure-sensitive tip, the Palm's screen is always under the same amount of pressure,
regardless of how hard you press, unless you really poke the screen with the thing. Aside from the pressure-sensitive attribute of the tip, the
actual plastic material it is made of feels much softer than the stylus tips that companies like PDA Panache use. I feel safe using this stylus.

The actual quality of the stylus is rather nice. It has a metal body, a screw-in plastic reset pin on the top, and a screw-in plastic
pressure-sensitive stylus tip on the bottom. When I first picked it up, I sort of wished that it had some more weight to it, but then I remember
some other Palm III form factor styli that I've used, many of them just flew out of the top of the device at times, due to their heavy weight. At
this point, I am completely comfortable with the weight.

Never miss one of our posts again. Sent MON, WED, and FRI with the latest gadget reviews and news!
Every good review should list at least one negative point of the subject. This is a hard thing to do for the Floating Point. The only
slightly negative thing I noticed was a small amount of some kind of silver-paint-like material inside the top of the metal body, where the
reset pin screws in. I was able to take the top off and wipe it off, but I'm wondering if maybe the metal body is painted and it doesn't look like
this in its natural state? I've had a few painted stylii before, and they all ended up chipping. The body on the Floating Point, however, does not
feel painted, which makes me wonder what that stuff was.
Price: $13.95 (limited time offer, apparently)
Pros:
Noticeably increased graffiti recognition
Nice feel
Increased screen protection
It says LandWare on it
Cons:
Slight amount of metal-paint-like material inside end of stylus where
reset pin screws in
Product Information
Price:
$13.95
Manufacturer:
Adapture
Pros:

Noticeably increased graffiti recognition
Nice feel
Increased screen protection
It says LandWare on it

Cons:

Slight amount of metal-paint-like material inside end of stylus where
reset pin screws in