We use affiliate links. If you buy something through the links on this page, we may earn a commission at no cost to you. Learn more.
Product Requirements:
Any touch-screen PDA
The Lamy 2000 4-color
Ball-point, available at Stylus
Central, is a multi-pen with a timeless appearance. I was surprised to
discover that the design was actually made in 1966, with the introduction of the
Lamy 2000 fountain pen. Because I was not very familiar with the Lamy name, I
checked out the Lamy
homepage. I learned that Lamy is a German, family run company, and that Lamy is
considered one of the premier European writing implement manufacturers.
This multi-pen appears simple enough when you first look at it, and it would be
easy to dismiss it as such. However, if you take the time to really study the
Lamy, you'll find that it is actually an amazing piece of equipment; one in
which an incredible amount of fore-thought and planning has been instilled.
When looking at the Lamy, you will first notice the brushed appearance of the
black and silver barrel. It is similar to a smooth bark, or a grainy piece of
parchment. In fact, the Lamy is virtually identical to the recyclable packing
paper
that holds it in its reusable aluminum presentation case.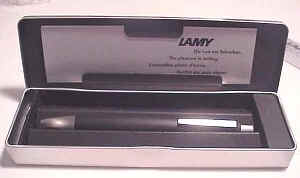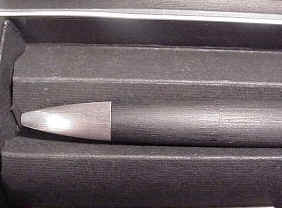 In reality, the barrel is made of a combination of Makrolon (Lamy's special
brand of plastic – as best I can ascertain), reinforced by fiberglass and
accented with brush finished (matte) stainless steel. This creates a solid pen,
that should be virtually indestructible in your briefcase or pocket.
At the top of the Lamy is a single clicker which will expel your desired
writing tip, depending on which way you are holding the pen. Unlike other
multi-pens which have each available tip's color written on the barrel of the
pen, the Lamy uses a simple slash of color: Red, Blue, Green, and the middle of
the clip to signify the black ink. I like this system, as it is very unobtrusive and understated.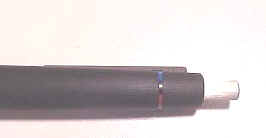 Stylus Central has included one of their multi-pen stylus replacement tips
so that you can decide which ink color you are less likely to use, and insert
the stylus tip in its place.
For those of you that are always pushing out the wrong tip (or so it seems,
anyway), the Lamy uses a wonderful identification system on the tip of their
ball-point inserts. There
is a wide band of the ball-point's color across it's tip. This makes it much
easier to keep from using green where you needed black, or blue instead of the
red. Of course the stylus replacement tip will always be simple to tell.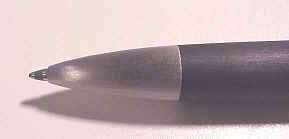 Tips are retracted by de-pressing the clicker.
One thing that I noticed right off about the Lamy, was that it was very easy
to always get the tip that I wanted on the first try. Wondering why that was the
case – I took the pen apart, and compared it with another multi-pen I have in my
queue. It appears that the Lamy has a disk that the tips plug directly into,
that is located at the middle of the barrel. I think that this may hold the tips
in place, better than your average multi-pen. Not once did I have to shake the Lamy
to "reset" it – the way you sometimes have to do with other
multi-pens. I believe that this is another example of Lamy's exceptional design
and attention to detail.
The spring operated pocket clip is made of solid stainless steel, and by
squeezing it's spring loaded end, it is easier to insert the clip on your
pocket.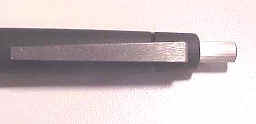 The Lamy multi-pen weighs about the same as a Mont Blanc ball-point, but
otherwise, the comparisons end there. Where the Mont Blanc is a showy
pocket-piece with lots of golden accents, and a width of .42″ (10.70 mm);
the Lamy is an unostentatious gentleman, with a width of  .48″ (12.17
mm). I was not surprised to find that this particular design was aimed at
"successful, middle aged men, who were image conscious," but that
"tended towards understatement"  The Lamy 2000 certainly meets
that requirement. I think that women will like it, also. ;0)
The Lamy fit very well in my hand, and it was comfortable to write with for
extended periods of time.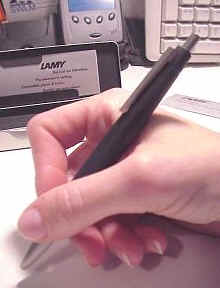 I was very impressed with the writing quality of the Lamy ink. It was smooth,
not too fine, and didn't skip. This was the case with every color ink.
The included Stylus Central tip is fast becoming one of my favorite styles of
styli.
It is neither too pointy, nor too rounded, and writes equally well on a PDA
screen with or without protection.
Personally, even though I am a woman, so not necessarily the original
intended target audience of this style Lamy, I think it is one of the more
quietly elegant pens that I have ever owned, and it's function is
faultless.
I'll end this review with a quote from the Lamy website: "The sign of
the commercial success and timelessness of this design is that these writing
instruments are still being sold today, more than 30 years later. As a result,
the LAMY 2000 has been included in almost every selection of German and European
design and in 1984 was awarded the Busse Long life design prize."
Price: $72 MSRP
Refills are available in Red, Black, Blue & Green
Pros:
Comfortable in hand
Very smooth ink
More colors than usually available in a multi-pen
Warranty
Cons:

Expensive
Small amount of typical multi-pen rattling

Product Information
Price:
$72.00
Manufacturer:
Lamy
Pros:

Comfortable in hand
Very smooth ink
More colors than usually available in a multi-pen
Warranty

Cons:

Expensive
Small amount of typical multi-pen rattling