We use affiliate links. If you buy something through the links on this page, we may earn a commission at no cost to you. Learn more.
Product Requirements:
Device:
All touch screen PDAs
The Rotring Trio Pen Essential is a budget priced multi-pen, available from Stylus
Central. With a list price of $15.99, it is difficult to be too picky about this multi-pen's performance; but because every dollar you spend should count, I'll give you my impressions of the pen.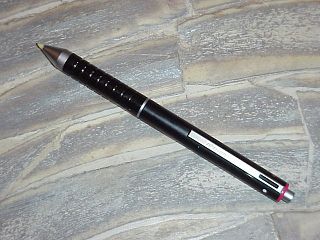 The Rotring Trio Pen consists of a black metal barrel, with a black plastic ridged finger grip near the bottom of the pen. There are the standard icons around the top of the pen: a white dot for the main writing pen (in this case, black ink), "0.7" for the mechanical pencil, and a red dot for a red ballpoint pen, which has been replaced with a yellow stylus. As with most multi-pens, you select the desired tip by rolling the pen until the icon for the tip you need faces you. At that point you push the button on the top of the pen, and your tip is ejected. To retract the tip, you simply press the black plastic lever that pops out of the silver metal pocket clip. This operation in itself is smooth and efficient.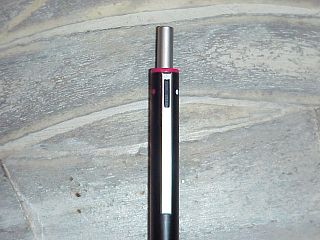 One of the things I first noticed about this pen is that when I picked it up, it sounded like it had something loose inside. This is with all of the "tips" retracted. To be fair, I have a Y&C Tri-Point pen that I paid $19.99 for at Office Max that rattles just as loudly. I found that once I selected and ejected a tip, the rattling was lessened. This seems to be a common thing about multi-pens, so the rattle shouldn't bother you too much.
Because this was ordered from Stylus Central as a pen/stylus combination, the red refill was removed, and they inserted one of their 99¢ Multi-Pen Stylus refills in its place. This stylus is much pointier than any I am used to, and I must say that I still have not become accustomed to its tip. That said, it does seem to write just fine on my Palm's screen, however, I am more comfortable
using it because I also use an adhesive screen protector.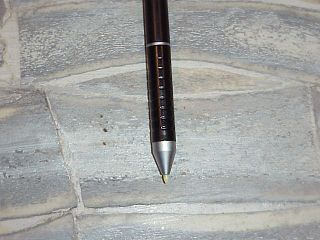 Now this is the one thing about this multi-pen that I am truly disappointed with – at any price: I have had nothing but trouble with the mechanical pencil. From day one, it has been cranky and surly. It seems that every time I feed some of the pencil lead into the barrel and have a good tip poking out, that when I go to write something the pencil lead will retreat back up into the lead barrel with just the slightest bit of pressure. This is frustrating, and has led me to not use the mechanical pencil at all.
Otherwise, I have been keeping this pen in my purse, and have used it fairly often. It is handy to have several different writing options available – if the mechanical pencil would work I could give it a whole-hearted "thumbs-up".
Never miss one of our posts again. Sent MON, WED, and FRI with the latest gadget reviews and news!
Price: $15.95
Pros:

Inexpensive
Convenient
Cons:

Pencil jams constantly!