We use affiliate links. If you buy something through the links on this page, we may earn a commission at no cost to you. Learn more.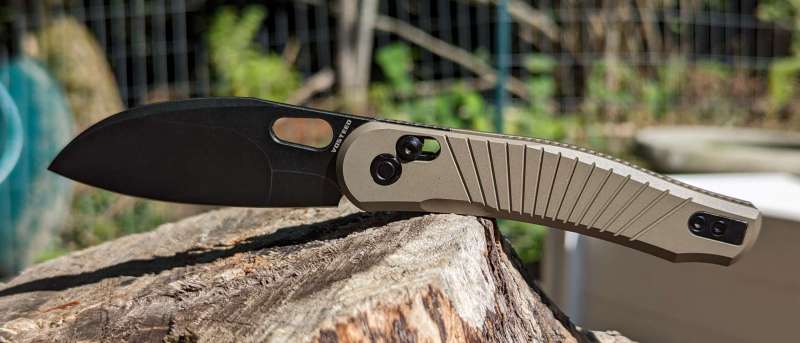 REVIEW – Rob Saniscalchi and Vosteed have teamed up to release the new Vosteed Morel knife. Let's check it out.
What is it?
The Vosteed Morel sports a 2.99" blade in N690 steel made by Bohler-Uddeholm in Sweden which is an excellent mid range steel offering superb corrosion resistance and ease of sharpening. Aerospace grade 6065 aluminum handles with a rock solid crossbar lock round out the package. There are six variations of this knife to choose from with different handle colors and blade finishes.
What's in the box?
The Vosteed Morel with brown handle and black stonewash finish blade
Tin, soft case with Velcro patch
Morel sticker, spare lock springs, cleaning cloth, support card
Hardware specs
Model: A1003
Blade Material: Bohler N690
Handle Material: 6065 aluminum (black, dark brown, white, light brown)
Blade Shape: Sheepsfoot
Blade Grind: Compound
Finish: Satin, Black coated stonewash, or Stonewash
Hardness: HRC 60 +/- 2
Lock Mechanism: Crossbar lock (adjustable tension)
Opener: Thumb hole
Overall Length: 7.25" or 184.03mm
Blade Length: 2.99" or 75.95mm
Blade Width: 1.15" or 29.18mm
Blade Thickness: 0.118" or 3.00mm
Handle Length: 4.26" or 108.08mm
Handle Width: 0.92" or 23.34mm
Handle Thickness: 0.49" or 12.47mm
Weight: 3.44 oz or 97.52 g
Pocket Clip: Stainless, reversible, tip up
Pivot: Caged ceramic ball bearings
Action: Manual crossbar lock
Designer: Rob Saniscalchi
Country of Origin: China
Design and features
The Vosteed Morel was designed with mushroom and outdoor enthusiasts in mind and therefore sports an uncommon but versatile 2.99" sheepsfoot style blade in N690 steel made by Bohler in Sweden. It's known for good toughness, corrosion resistance, and ease of sharpening.
The Vosteed Morel blade with thumb hole opening is similar to the RSKAOS and I was hoping like the RSKAOS it would also come with a flipper but it did not. When closed the blade nestles nicely in the handle and has a sleek profile but unlike the RSKAOS the Morel's thumb hole is slightly obstructed by the handle when closed so can be a little harder to access if you have gloves on or have larger hands.
Performance
The unique 2.99" sheepsfoot blade has a very usable edge with a tasteful compound blade grind. There's no jimping on the blade itself but there is on the steel liners which adds grip right where your thumb wants to rest.
The caged ceramic ball bearings on the pivot are buttery smooth and have zero play. The crossbar lock feels very solid and secure. The crossbar tension came in the highest tension position so I moved the springs to the middle spot so I could activate the lock with just one finger and now a quick flick of the wrist will open the knife easily. It was nice that they include two replacement springs as well.
The aluminum handles are ceramic powder coated and have excellent grip even when wet. I did find the very bottom of the handle corners have points that actually feel sharp when in the hand and I scratched my hand on it a couple times when clipped in my pocket. I will probably have to sand those points down just a bit. There's no lanyard loop because of the full back spacer which has full jimping.
The pocket clip is reversible so lefties rejoice. It sits in the pocket nicely and the cutouts on the side of the handle help keep it secure in the pocket as well.
What I like
Ceramic powder coated handles have excellent feel
Very usable blade shape
What I'd change
Add a flipper or expose more of the thumb hole or both
Final thoughts

I'm a big knife enthusiast but had never heard of Vosteed until a year ago. Since then I have reviewed quite a few of their knives and they have all impressed me. Their Raccoon Crossbar has been my daily carry along with the RSKAOS which is an all time favorite for me. The Morel has some great features with the powder coated aluminum handles being my favorite and I hope they use those in more knives but there are a few details that I think could use some refinement. The sharp points in the handle are easily fixed and may not even be noticeable for some people. The thumb hole opening works but they don't work as well if the handle covers it up. I would have loved a flipper to add fidgetability but overall at $99 the Morel is a great knife and I can't wait to see what the next collaboration between Vosteed and RS Knifeworks will bring.
Price: $99.00
Where to buy: Vosteed website
Source: The sample for this review was provided by Vosteed.