We use affiliate links. If you buy something through the links on this page, we may earn a commission at no cost to you. Learn more.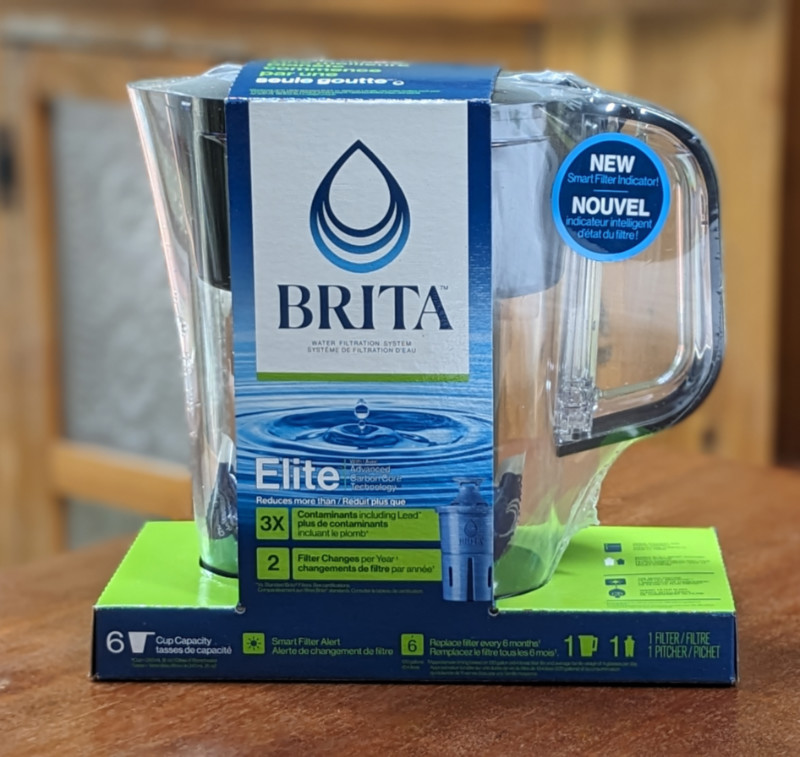 REVIEW – We've used another brand of pitcher-style water filter for years. We had a large, heavy one and it was aging, so it was PUR coincidence when this Brita pitcher came up for review. Our municipal water is great, so why do I filter anyway? In a word, chlorine. I like drinking water that doesn't remind me of swimming. How does the Brita Denali do with chlorine removal and is there a long wait for it to filter?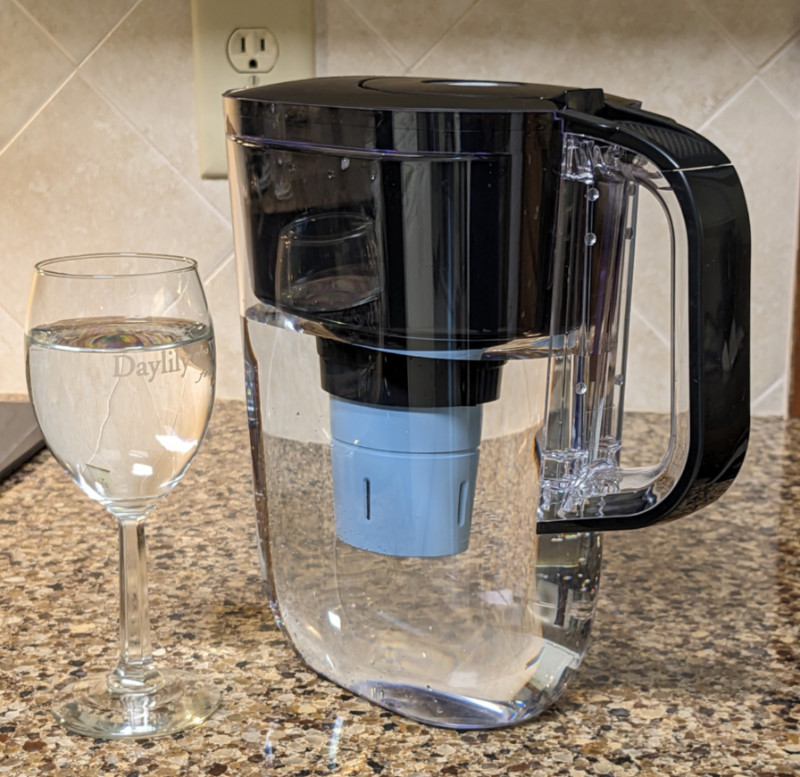 What is it?
The Brita Denali Water Pitcher with Elite Filter is a pitcher-style water filtering system suitable for countertop or refrigerator.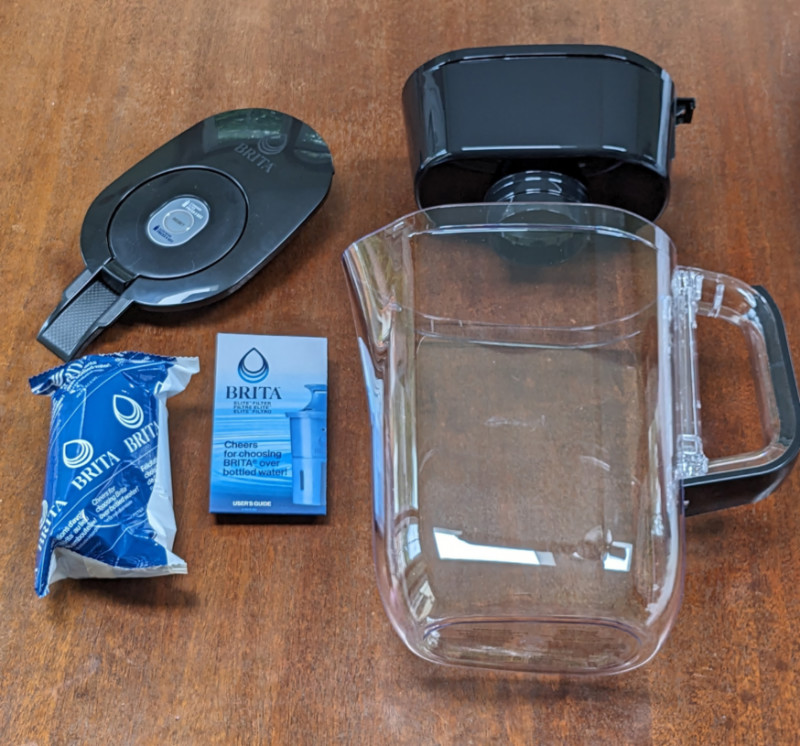 What's in the box?
Brita Denali pitcher
Brita Elite filter
Instructions
Hardware specs
1.5 quart capacity
Smart Light filter indicator
BPA-free plastic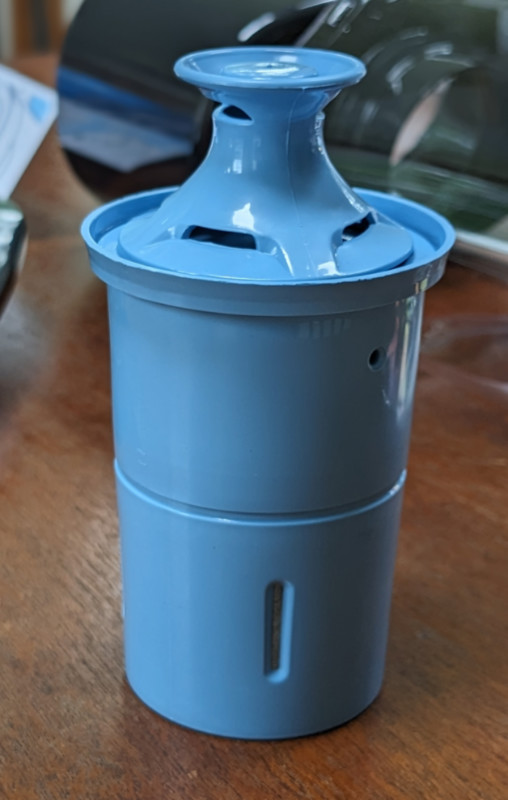 Elite Filter specs:
Fits all Brita® pitchers and dispensers (except Stream)
Brita Elite™ removes 99% of lead from tap water
2 filter changes per year; lasts 3x longer than Brita Standard Filters (based on 120 gallon filter life)
Improved flow for faster filtration
No pre-soak required and no black specks in water
Design and features
The Brita Denali Pitcher holds 6 cups of water. I was sent the black model but I don't see black as an option at the Brita website. It seems the black model is only available at Target for the moment. It looks good on our counter as we have mostly black appliances (as the home design experts gasp).
Setup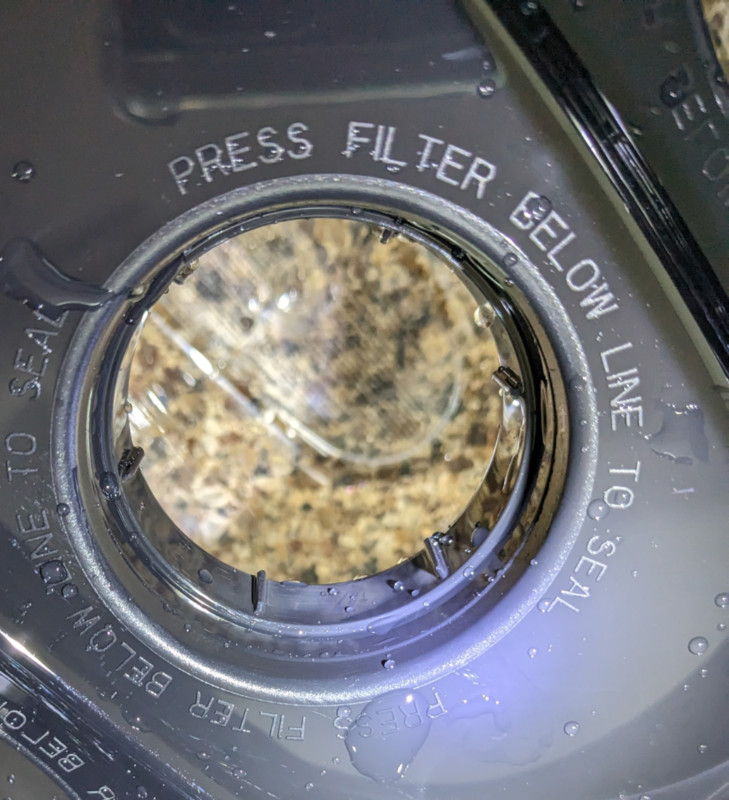 I first washed all components of the pitcher, rinsed the filter well, inserted the filter into the pitcher and added water. A firm press of the filter into the only place it can go, does the trick.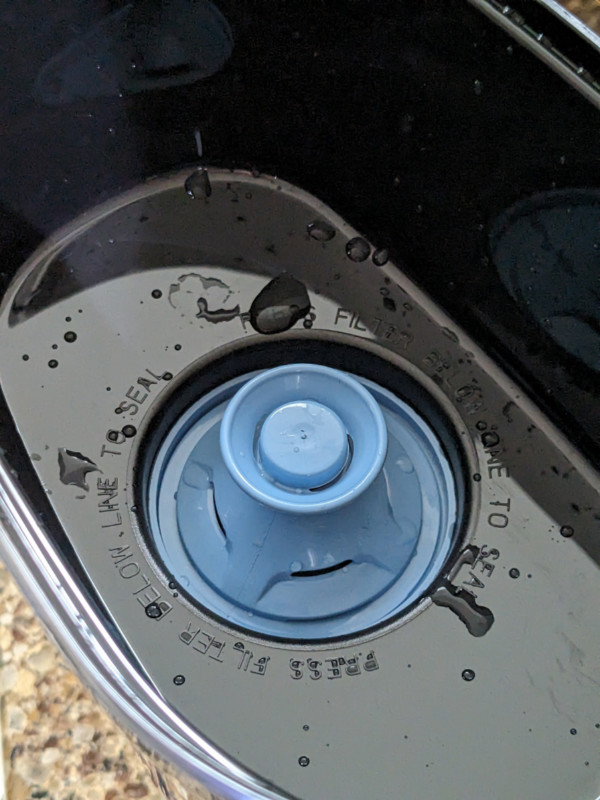 Full disclosure, I overlooked the directions from Brita to discard three full pitcher filtration cycles when a new filter is placed into service. I recommend complying with the instructions but there was no sediment in my filtered water and it tasted completely normal. Brita does not specify the reason for their direction to discard three pitchers of water. In January 2024 when I replace the filter I'll water plants with that gallon.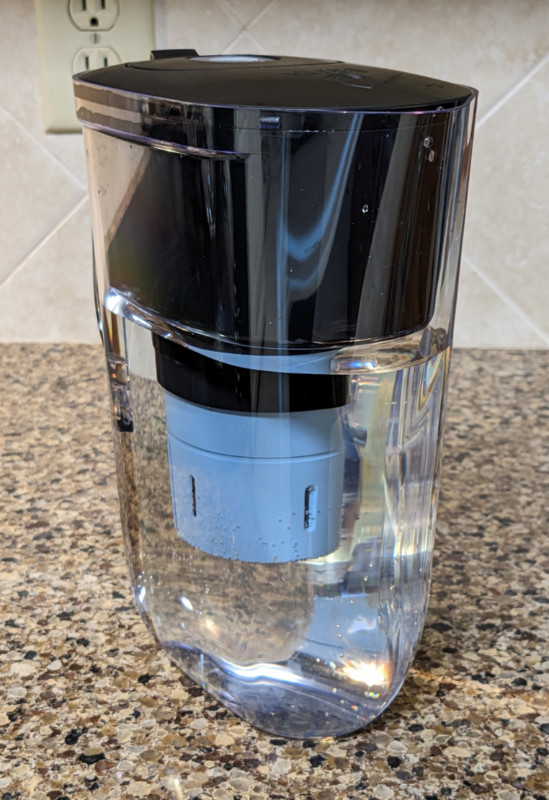 Performance
With an empty pitcher, it took 4 minutes 10 seconds to completely fill it. That seemed very quick to me and was faster than our former pitcher. One filling of the top water tank does not completely fill the pitcher, but that is no real issue, just continue until the pitcher is full.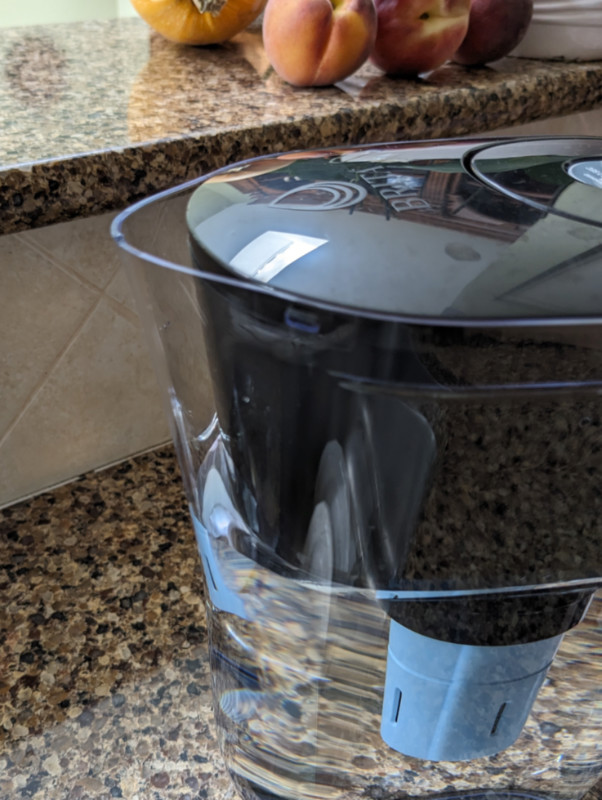 I was surprised to discover that the spout of the Denali pitcher leaves the filtered water open to the elements. Several Brita pitchers seem not to have a spout cover. Does anyone want their drinking water open to dust or whatever small thing might wander down the spout?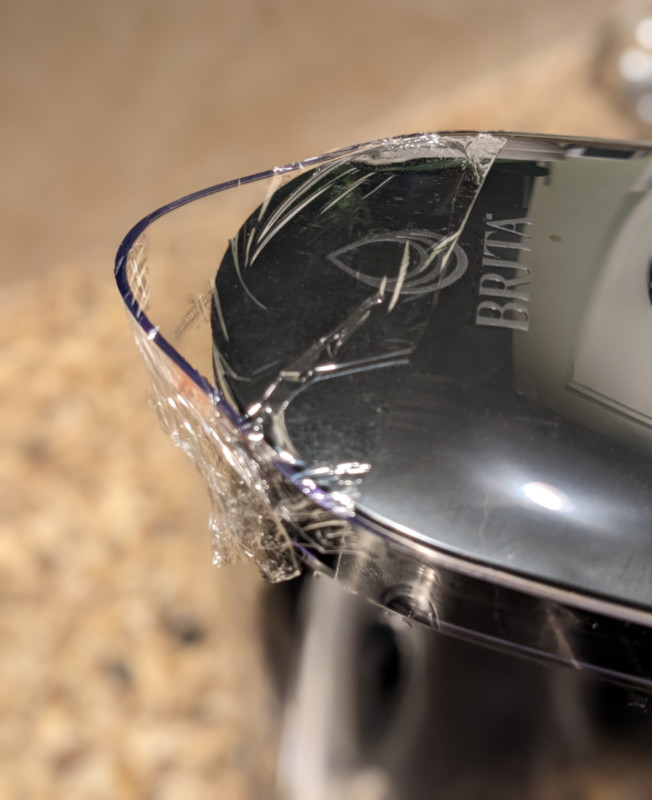 So, I had to cover the spout with plastic wrap, which is not a great look, and I hate having to even bother with what should have been provided by the manufacturer. The Brita 6 cup 'Space Saver' model has a cover over the spout. All models should have spout covers.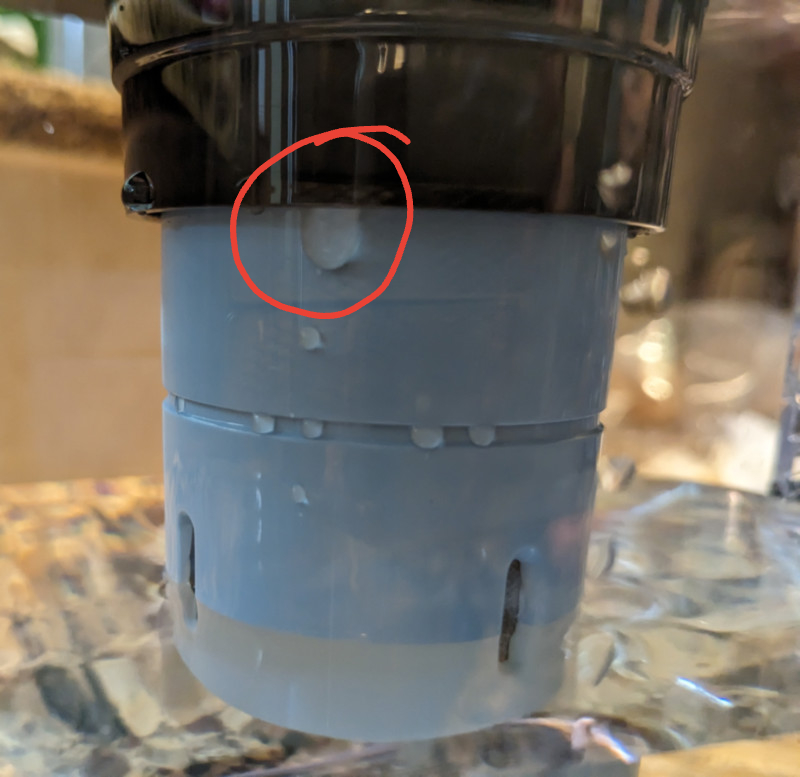 Approximately 20-25 drops of water per 6 cups filtered seemed to drip past the top of the filter at a point or two where the filter joins the water 'tank' part of the pitcher. We contacted Brita and what I'm seeing is a few drops of water coming from two vent holes near the top of the filter. Brita assured me only filtered water comes out of any opening in the Elite filter. I accept.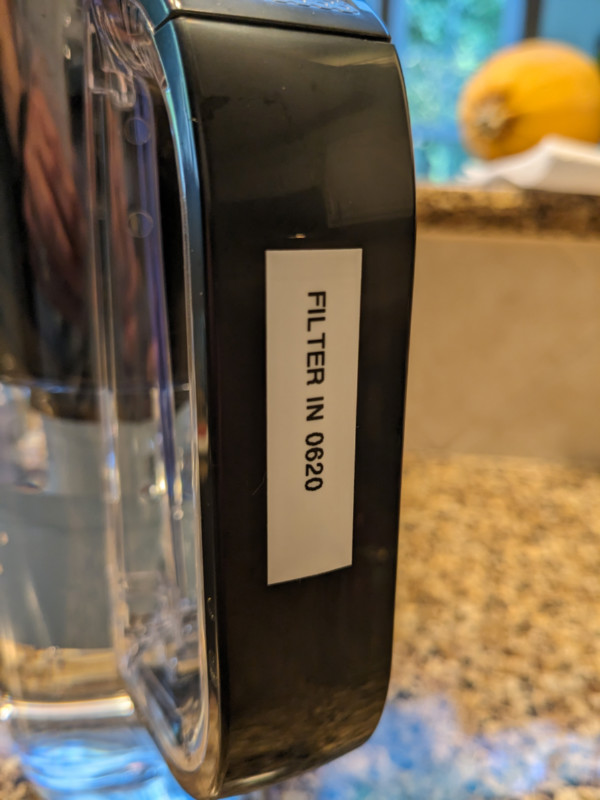 There's a reminder light on the top of the Denali filter to remind you when it's time to replace the filter. I prefer to put a date label on my pitcher(s) and go with that. Both are estimates, go with what you like, or use both to compare.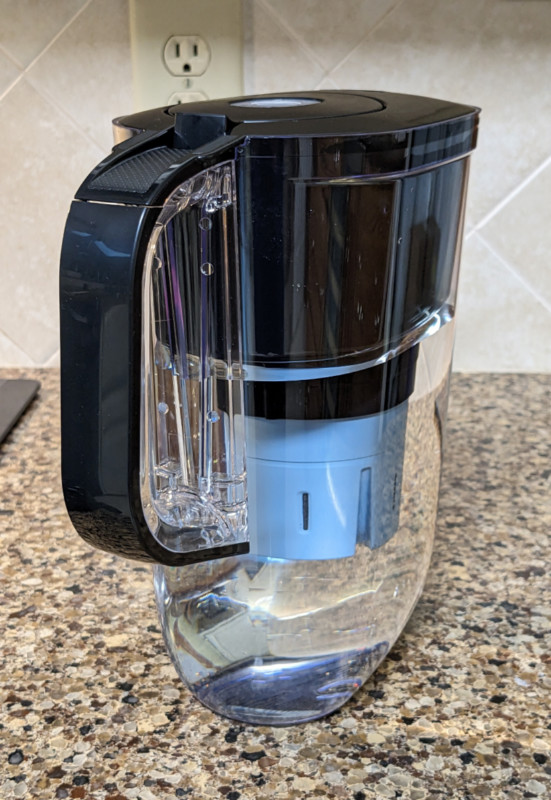 Water filtered by the Elite Filter water tasted great, and while I may be operating under 'confirmation bias' which happens when we get (usually buy) a new item, I think it tastes a touch better than the water produced through our older pitcher.
I put a new filter in our older pitcher, used it for a week, and then did a side by side, blind taste comparison of our old pitcher vs. the Brita Denali. Grandson Bennett and wife Kate were my test subjects. Both sampled an identical, clean 3 oz. glass of both waters labeled 'A' and 'B'. Only I knew which water was in which glass. Kate would have thought I put Brita water in the 'B' glass but for her I put Brita in the 'A' glass.
Bennett and Kate both slightly preferred the taste of the Brita Elite water over that from our older pitcher.  My conclusion had been the same.
The older filter pitcher we used held a lot of water (11 cups, I think) and as a result was fairly heavy when full. The top also popped off if husband had just filled it with water, and wife picked it up to pour water and didn't know it was in the process of filtering. Water spilled copiously over a large area when the top came off, so I learned to put an odd object on top of the filter each time I filled it with water. "Why is there a spoon on the water pitcher? Oh…, nevermind."
The Brita Denali top never came off if anyone tried to pour too early in the filtering process, but filtering was so fast, that likelihood was minimized. I tried pouring immediately after filling the Denali with water and couldn't get the top to pop off. The top of the Denali was appropriately snug. Three cheers for Brita's contribution to marital harmony.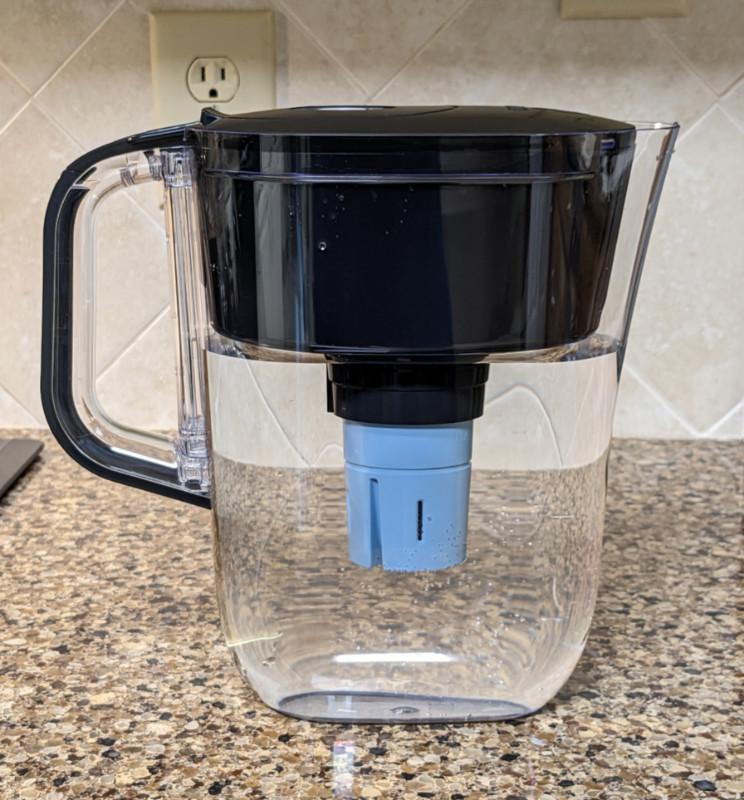 What I like
The water tastes great
Filtering was fast
The filter lasts 6 months! (or 120 gallons)
The quantity held by the Brita Denali was easy to lift and pour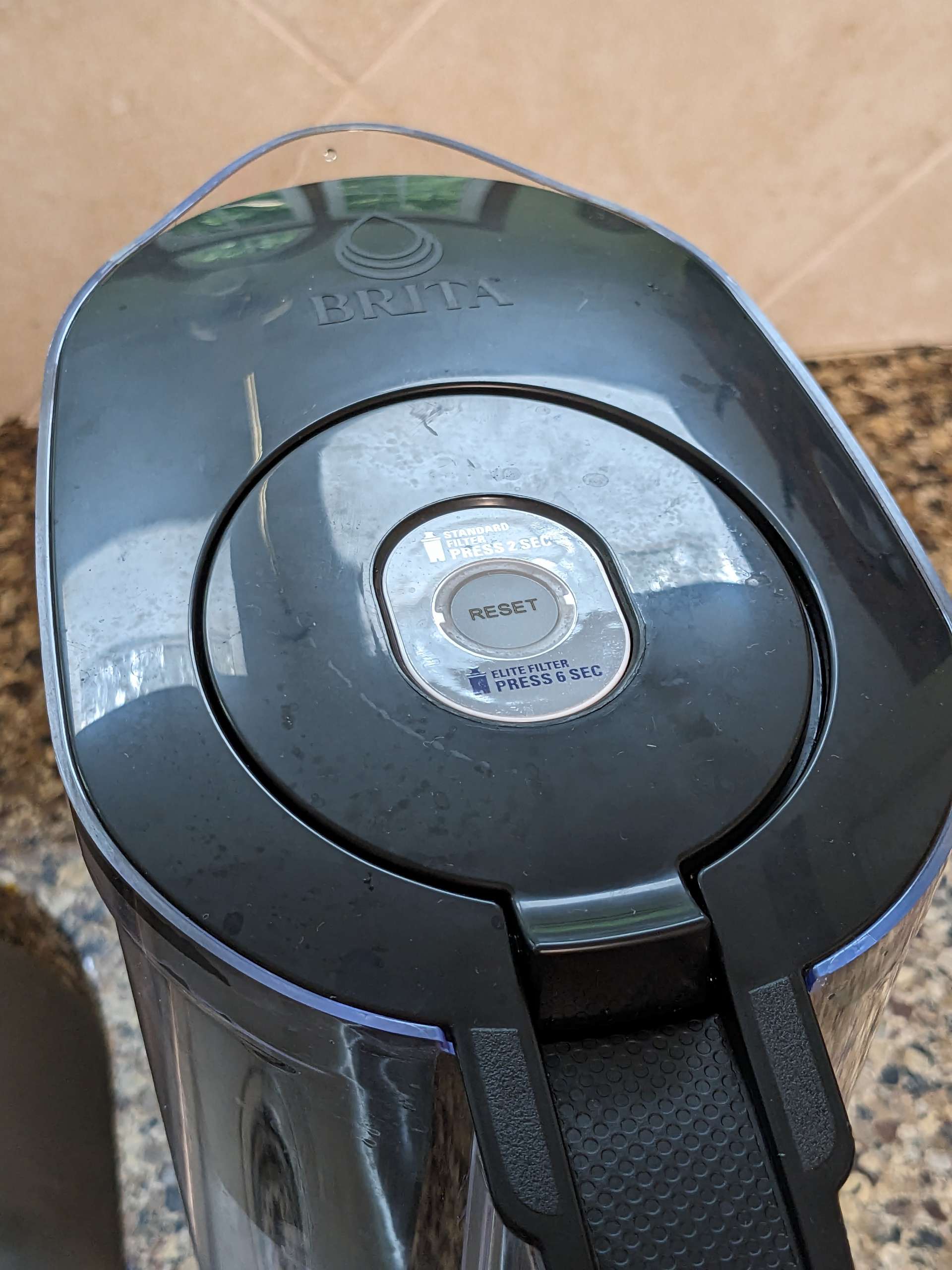 What I'd change
The pitcher spout should be covered
The black plastic became hazy after a couple weeks of use (see picture above)
Final thoughts
I really like the long filter life of the Brita Elite filter. The Elite filter is the star of this show. The Denali pitcher is easy to lift and pour and is comfortable to grip. If you don't mind the open spout of the Denali this could be the pitcher filter for you, but the Elite filter fits all the styles of Brita's pitchers except the 'Stream' model.
Price: Brita $35.99 (white), Target $32.49 (black), Walmart $32.37 (white)
Where to buy: Brita, Target, Walmart
Source: The sample of this product was provided by Brita.