We use affiliate links. If you buy something through the links on this page, we may earn a commission at no cost to you. Learn more.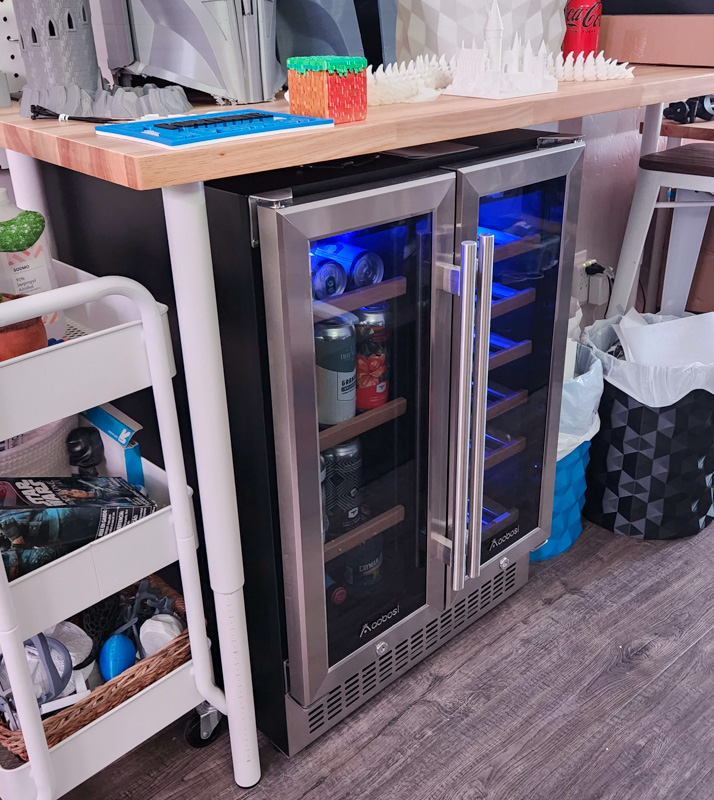 REVIEW – I've had a small mini-fridge in my basement office for years, which has been very handy for whatever cool beverage I want while working. Said mini-fridge is pretty cramped and the temperature is unreliable though, and the noise and form factor is not ideal. I hadn't even considered a higher end beverage cooler, but when I saw the offer to review the AAOBOSI 24″ wine and beverage cooler I jumped on it, hoping that this would be a better option.
What is it?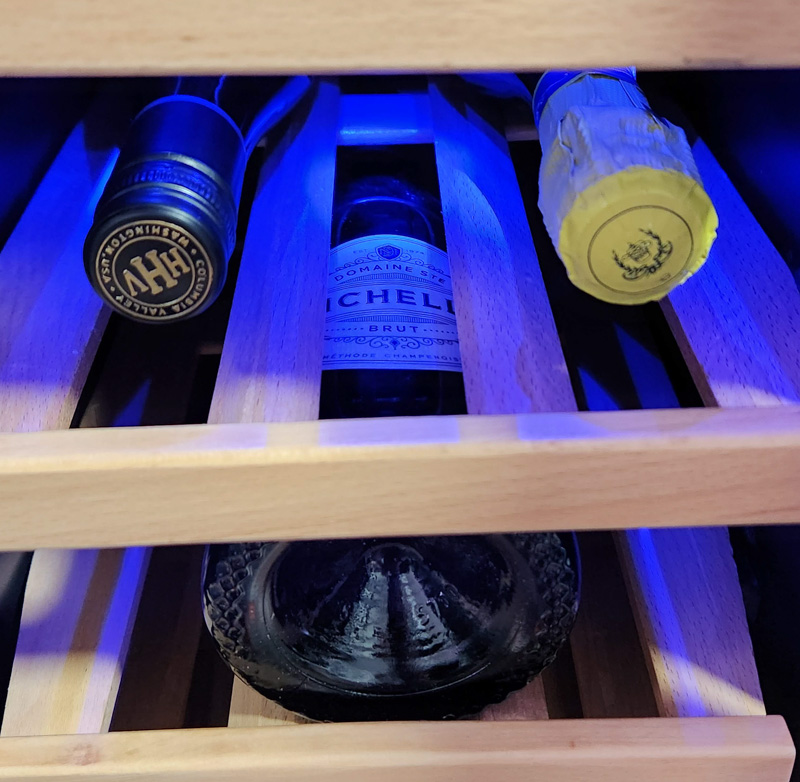 The AAOBOSI 24″ wine and beverage cooler is a stainless steel dual-zone beverage and wine cooler. Each side can be set to a different temperature for different types of beverages, and the wire shelves on the left side and wooden racks on the right side are designed to accommodate both cans and bottles. It also has a front-facing intake/exhaust system so it can be built into a cabinet or closet as long as the front is unobstructed.
What's in the box?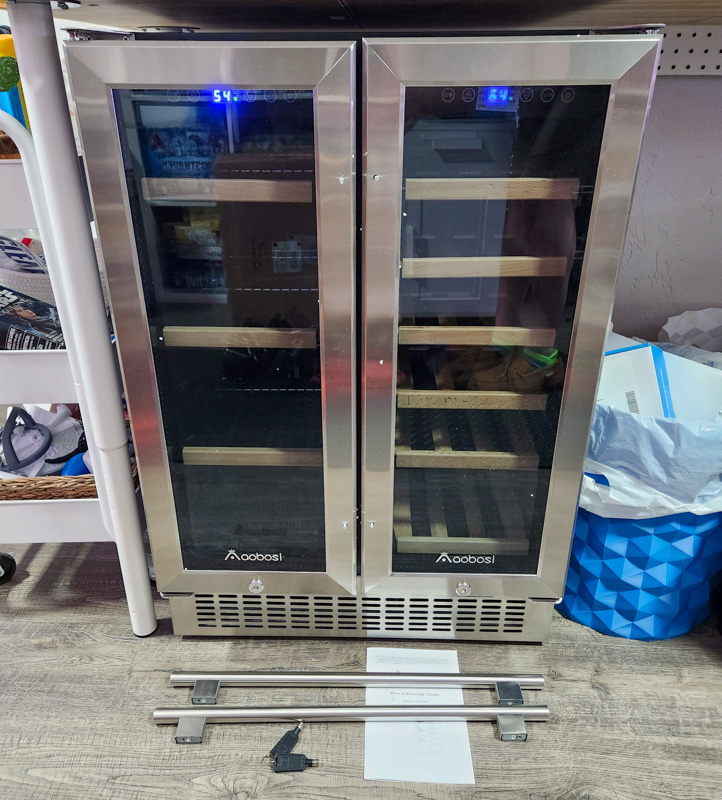 AAOBOSI 24″ wine and beverage cooler
Handles (x2)
Keys (x2)
Manual
Hardware specs
Power: 100W
Voltage: 115V
Dimensions: 23.4″W x 22.6″D x 32.3″H
Capacity: 57 cans and 19 bottles
Left zone (beverage) temperature range: 35.6℉-50℉
Right zone (wine) temperature range: 41℉-64.4℉
Design and features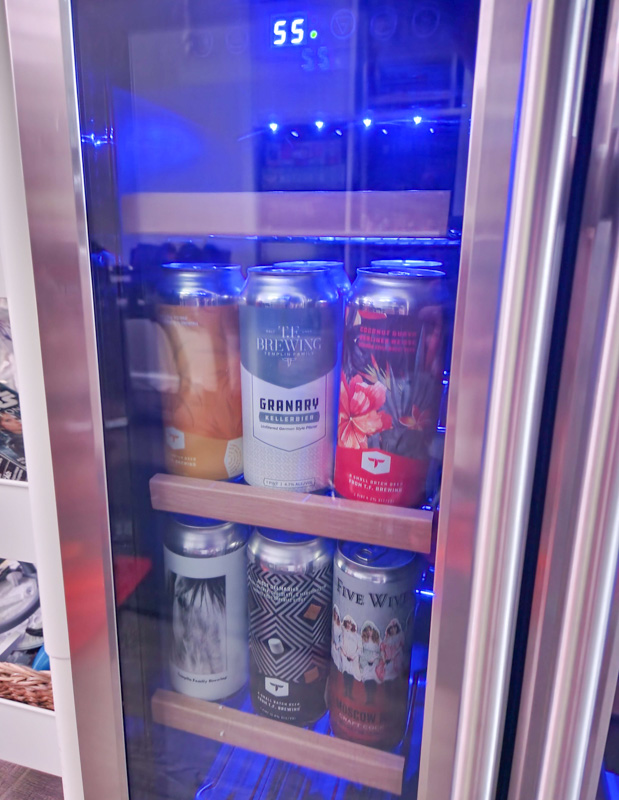 As shown in the picture above, the left side of the AAOBOSI 24″ wine and beverage cooler works well for tall cans (of course regular 12 oz cans fit as well). The doors are both glass, and blue LED lights illuminate the contents. An easily visible and adjustable temperature display is up top, and up to 57 cans fit into the left side. You can even store cans horizontally on the top shelf.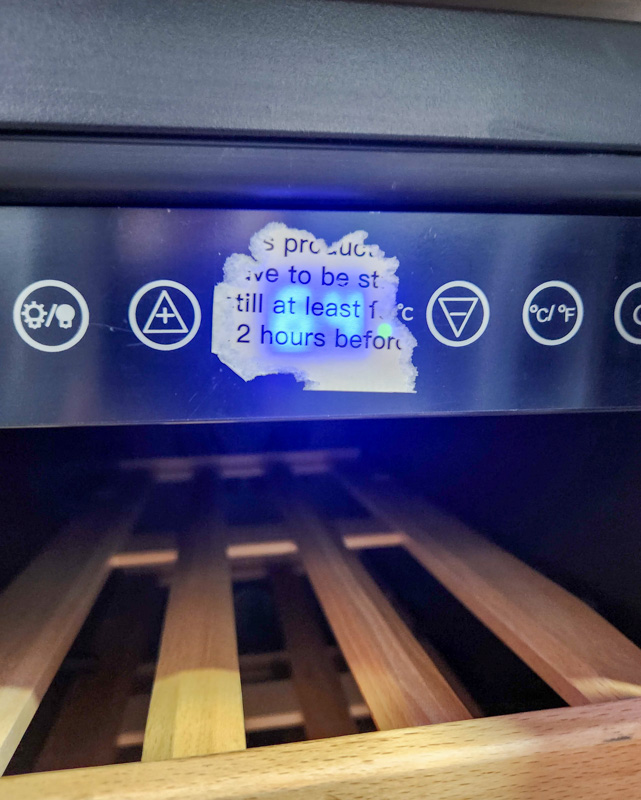 The right side is designed for bottle storage, and as you can see above, the label (warning the user to let the unit sit for 12 hours after delivery) has the worst glue possible. It took strong chemicals and patience to get all of the residue off, but once it's off it looks and works great.
The bottle shelves work well for standard wine bottles, but bottles that are slightly larger (like some champagne bottles) may be a tight fit, except for the lowest shelf, which has a bit of extra room.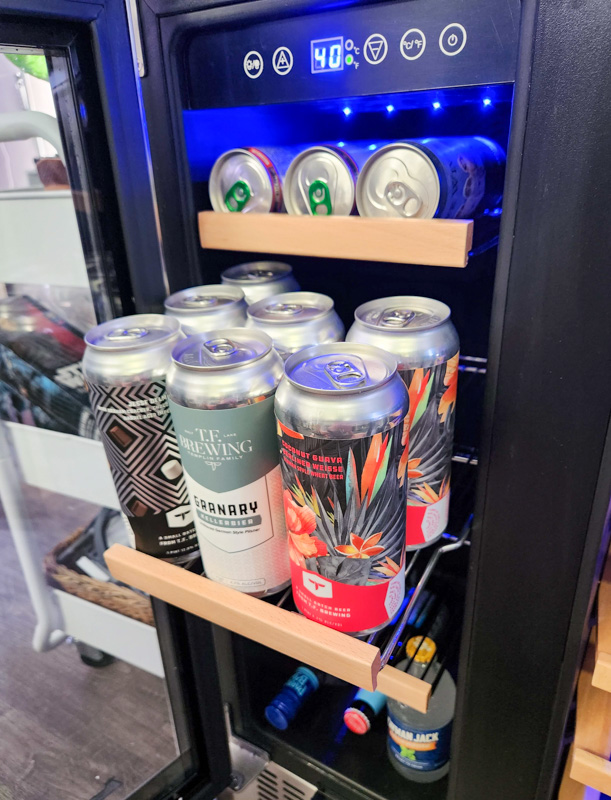 The shelves on both sides extend out fairly far and are deep, allowing for a lot of storage. They don't slide out very smoothly though, so use caution when pulling them out or you may have cans spill everywhere like I did several times.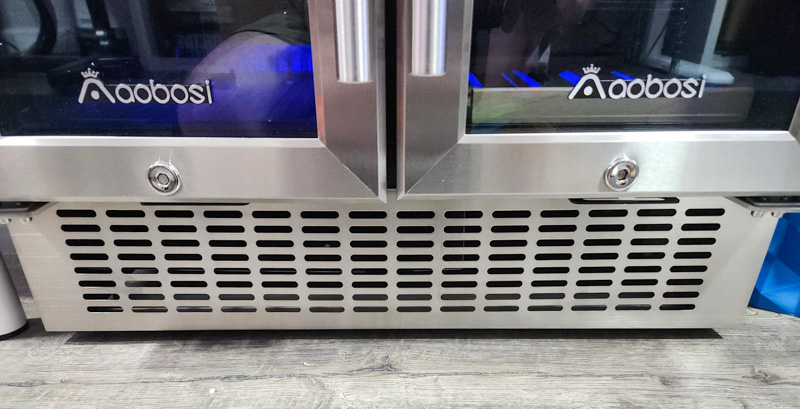 At the bottom of the unit is the intake/exhaust area at the bottom and the keyholes to lock the cooler. This front-facing air exchange design means you can build this unit into cabinets or other furniture as long as you don't block the air vents. One minor thing that you can see in the picture above: the doors are about 2 millimeters off from being level. This may have been due to rough handling of the box on the way to me, but I couldn't find any way to adjust this. I don't mind living with it, but it's something to watch out for.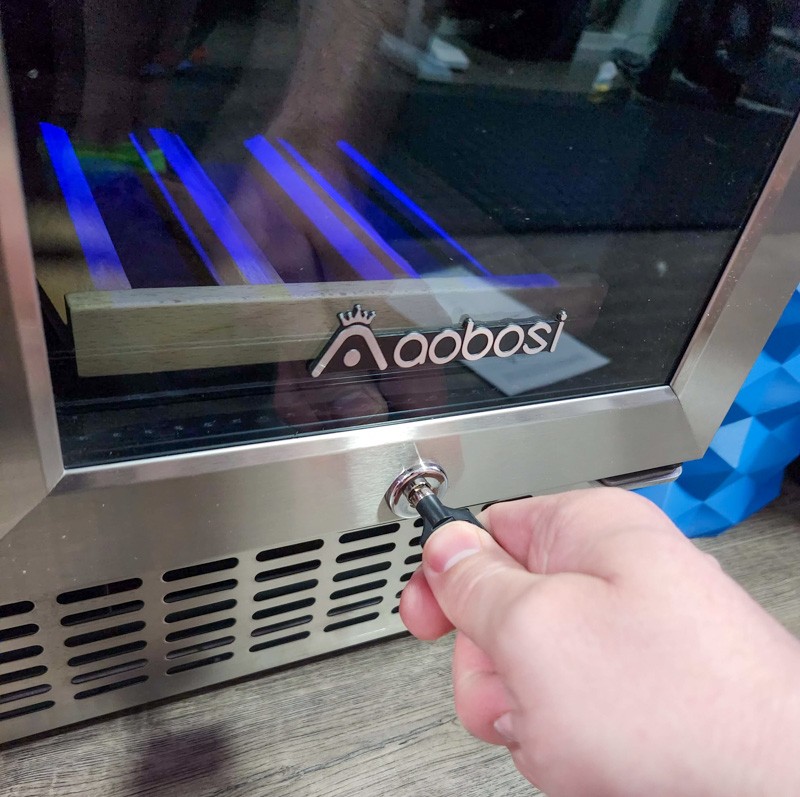 The "keys" are simple hex wrenches. This gives you a bit of security since most people aren't carrying around a set of hex wrenches, but it also isn't as secure as an actual key mechanism. I'm glad they included it though, it's a second line of defense behind my biometric office lock to keep minors out of the good stuff.
Setup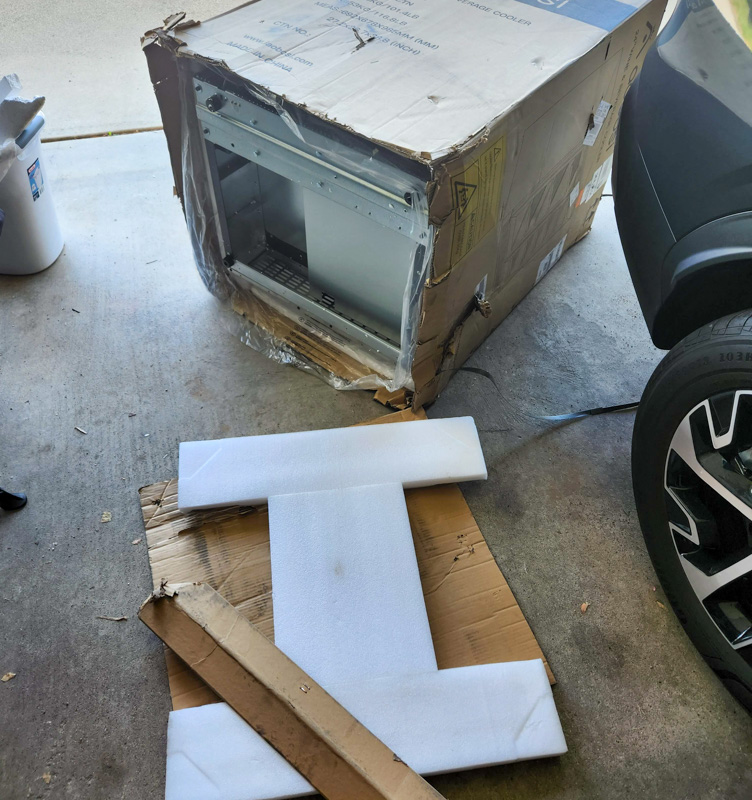 The AAOBOSI 24″ wine and beverage cooler arrived in a near catastrophic state (above). The UPS driver lost control of it while unloading it, and the already loose bottom of the box came entirely off. I assumed I'd need to arrange for a replacement to review it, but to my surprise, the unit was in good shape despite the sorry state of the box.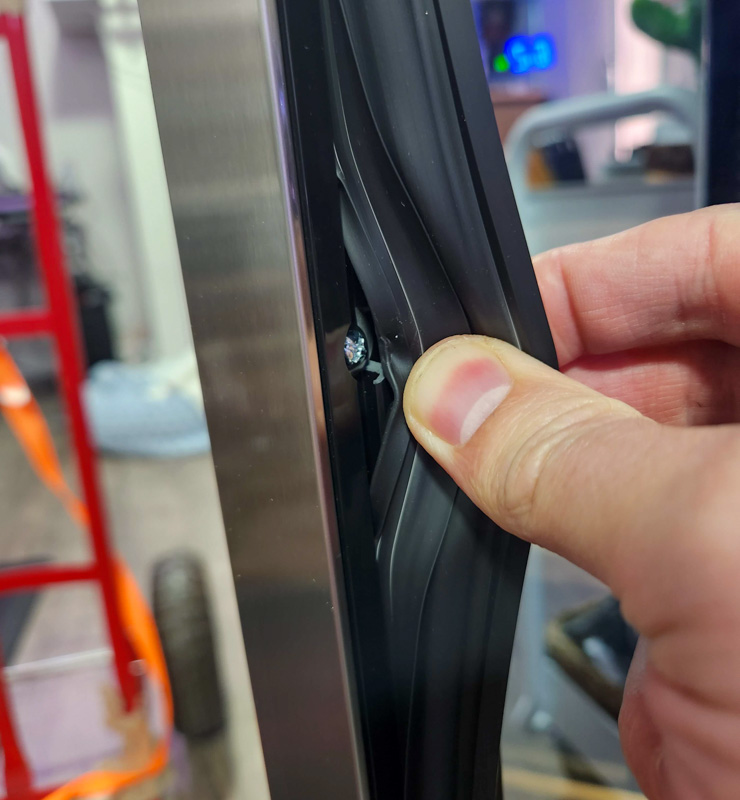 Besides leaving the cooler sitting upright for at least 12 hours (to let the refrigerant settle after transit), you'll want to install the handles. You have to pull the rubber seals back in 4 spots to insert the screws, and then simply screw those into the handles.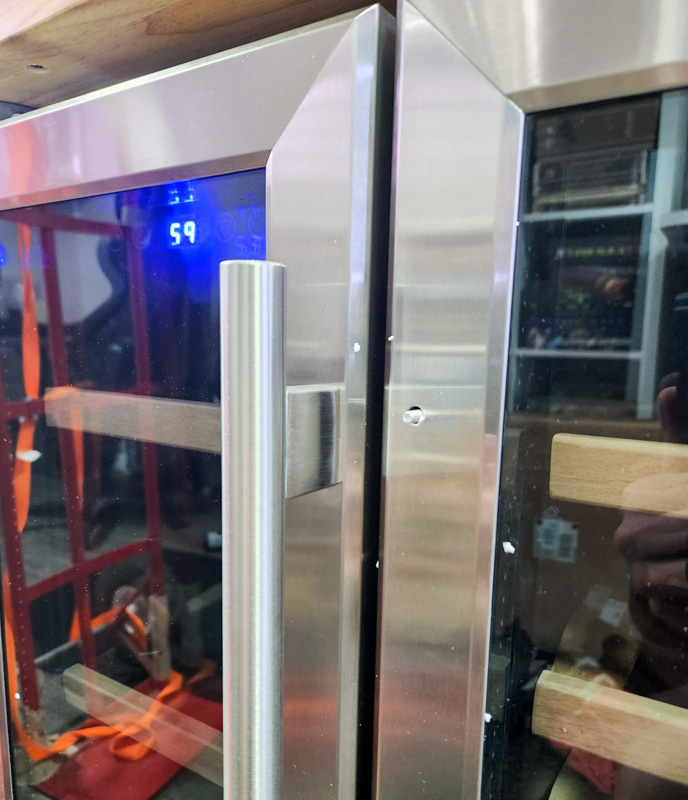 Performance
I set the left side of the AAOBOSI 24″ wine and beverage cooler to 40℉ and the right side to 52℉, and measured the temperatures of bottles and cans taken from different shelves. All of the ones I measured had been in the cooler for over 24 hours, and every single one was within 2℉ of the set temperature (nearly all of them were 1-1.5℉ higher than the set temp). I measured with two different kitchen thermometers as well as an infrared thermometer, and all were consistent.
In addition to the good thermodynamic performance, the overall noise that the cooler makes when running is much quieter than my previous cheap mini-fridge. Even though it's out in the main area of my office, it's low and quiet enough not to pick up on web meetings or annoy me while working.
What I like
Good consistent temperature performance
Lots of can and bottle storage
Attractive finish and LED lighting
What I'd change
The shipping box could be reinforced
Just a few more millimeters on the wine racks would accommodate other larger bottles as well
"wine snob" friends tell me that ideal wine bottle storage is at an angle rather than horizontal
Final thoughts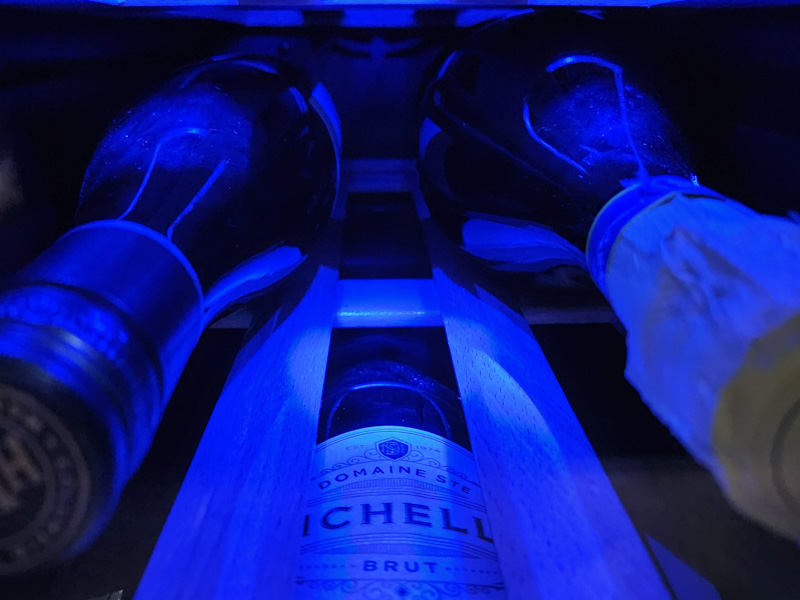 Time will tell for the long-term reliability and performance of the AAOBOSI 24″ wine and beverage cooler, but during my ~4 week review period I loved the look and performance of the unit. Having dual zone storage is a luxury I didn't know I would love, and the option to build this into a wet bar or cabinet in the future is nice as well.
Price: $999.00 ($749 sale at time of review)
Where to buy: Amazon
Source: The sample of this product was provided by AAOBOSI