We use affiliate links. If you buy something through the links on this page, we may earn a commission at no cost to you. Learn more.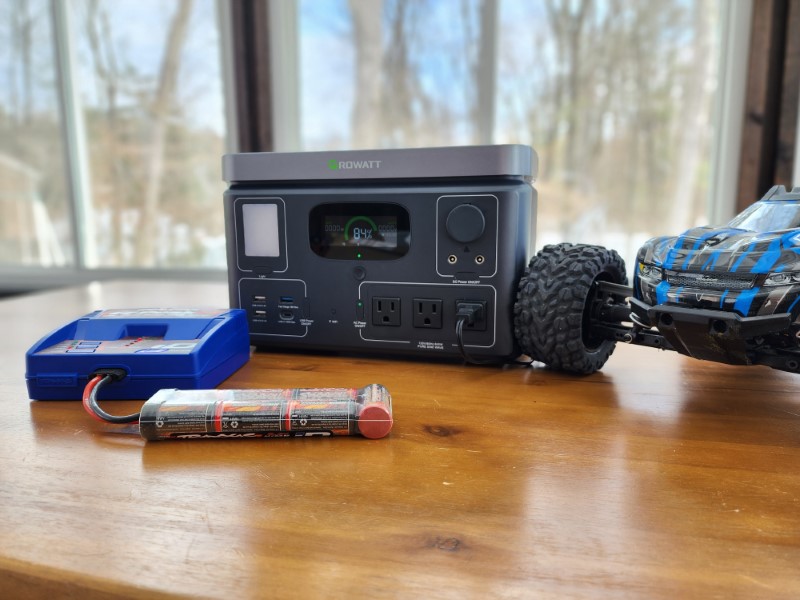 REVIEW – Needing power when you're off the grid can ruin an activity or adventure in a hurry (unless of course, the point of your adventure is to be off the grid).  Having a portable power station can keep you powered up whether camping, in the RV, at the airsoft field, running RC cars, or entertaining in the backyard.  The Growatt VITA 550 is a versatile, portable power station which will keep the power on wherever you are.
What is it?
The Growatt VITA 550 is a portable power station powered by LiFePO4 batteries.  The VITA 550 is the smaller power station offered by Growatt, with its big brother being the Infinity 1500.  These portable power stations are intended for use on the go, and have a smaller capacity and output capability.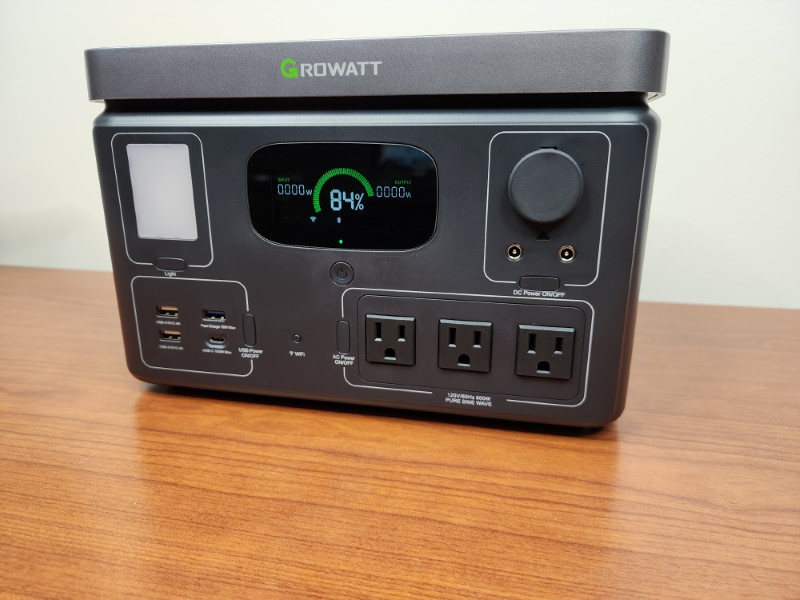 Growatt has been in the solar business for over a decade, with a global presence.  Headquartered in China, Growatt produces solar panels, portable battery systems, EV chargers, home battery systems, and more.

What's in the box?
Growatt VITA 550 Power Station
User manual
AC charging cable
Car charging cable
MC4 to XT60 solar charging cable
Solar panels are available for purchase separately from Growatt.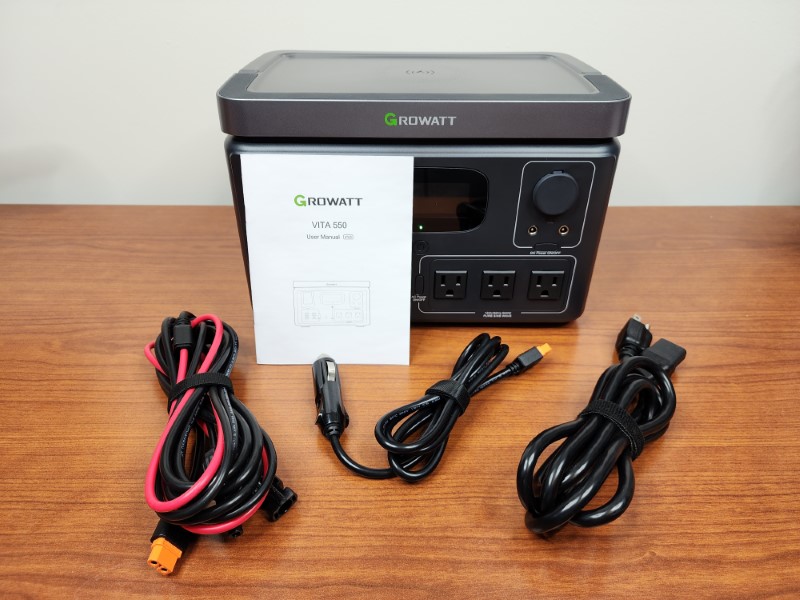 Hardware specs
Weight
17.82 Ibs/8.16Kg
Dimensions (LxWxH)

12.2 x 8.4 x 7.8in (310 x 213 x 197.5mm)

Battery Type
LiFePO4
Capacity
538Wh
AC Charge
120V/60Hz
500W for Fast Charge
300W for Normal Charge
Car Charge
12/24V, 8A, 100W Max
Solar Charge
12-24V, 10A, 240W Max
AC Output
120V, 60Hz, 600W
Surge 1200W
Car Outlet
1 x 12V/10A, 132W Max
USB-A
2 x 5V/2.4A, 12W Max
USB-A Quick Charge
1 x 5V/3.4A, 9V/2A, 12V/1.5A
USB-C PD

1 x 5V\9V\12V\20V, 5A, 100W Max

Wireless Charging
1 x 15W
DC 5521 Output
2 x 12V/3A, 36W Max
Warranty
2 years
Design and features
The Growatt VITA 550 has a typical 'box' design, with a carry handle, LCD display, and built-in LED light.  Aesthetically the VITA 550 has an understated appearance with a quality fit and finish.  While meant for outdoor applications, the power station is not waterproof and requires protection from the elements.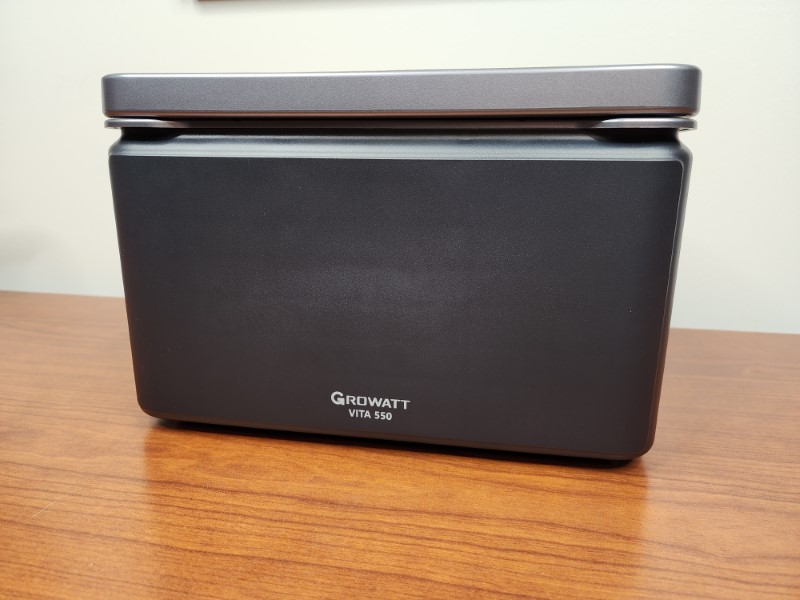 As is typical for modern power stations, the VITA 550 houses LiFePO4 batteries.  These batteries are preferred in this application over traditional lithium-ion batteries.  LiFePO4 batteries offer a longer lifespan and are inherently safer than lithium-ion batteries.
In optimal conditions, the Growatt VITA 550 is capable of fully solar charging in 2.5 hours with support for up to 240w of solar input.  From a wall outlet, the VITA can reach capacity in just over an hour and a half with its fast charging capability.  I don't have solar panels to check the validity of the solar charging claim but found my VITA 550 charged from the wall in just under the advertised time.
In addition to a mobile app, Growatt also supports the VITA 550 with a two-year warranty.

Setup
The Growatt VITA 550 arrived very well packaged, and at about half charge.  Pulling it out of the box I immediately noted the handle is a bit creaky, though this is the only fault I can find in the build quality.
Charging the power station is about as intuitive as it gets… plug it in!  It topped off rather quickly.  While plugged in to charge, the fan kicked on as expected.  The fan noise isn't silent but isn't excessive to the point of being bothersome.
The myGro application is required for some of the advanced features of the power station, but isn't required for normal usage.  Unfortunately, it requires an account to use, and I had some early struggles registering until I realized the confirmation codes were headed straight into my spam folder.  Connecting the VITA 550 was otherwise uneventful, and straight forward by following the prompted steps within the app.  Realistically, I don't foresee much need to spend time in the app as the LCD provides a great overview of the device status at a glance.
Performance
Over the past month, I've been able to put the VITA 550 through its paces, and have been generally pleased with the power station itself.  It was very timely in its arrival just prior to a winter storm where we lost power.  I used the VITA to power our modem and WiFi router up, and topped off our phone batteries.  This allowed us to work from our laptops without having to get our gas generator out for the duration of the outage.  By and large, it does exactly what it says it will on the tin.
A notable call out on the power station is that it will not provide pass through charging.  Meaning, while the VITA itself is charging, it won't power something else.  This is slightly mitigated by the quick charge capabilities, and ability to charge through AC, car or solar.  If you were planning on trying to use this as a UPS, look elsewhere.
The Watt+ feature works pretty well, though don't expect to power anything for long when pushing past the 600w ceiling.  This power station does best in service of low consumption devices – LED lights, battery charging, small kettle, etc.  It is always worth checking the power requirements of the devices you expect to use a power station for to help guide your decision.  If you have higher power needs, consider the Infinity 1500 by Growatt.
I really appreciate the added touch of the integrated LED light.  It won't light up your campsite, but is quite serviceable for task lighting.

The companion app myGro is, unfortunately, a whole other story (tested on Android).  Aside from the spelling and grammatical errors, the user experience is generally sub-par.  Small annoyances build up, such as the requirement to enter your country and accept the license terms every time you login – even if logging in via your Google account.  I have been unsuccessful in getting the WiFi functionality to work, so every time I wanted to connect to the power station I needed to do so via Bluetooth.  Normally not a big deal, but you essentially need to re-pair it every time in order to connect.  While in the app the only value added is the ability to tweak settings and enable the Watt+ feature.  The utilization data provided is all real-time, and I have not found a way to see historic data.  Regularly the app displayed a notification alert, but no notification was present on checking.
Fortunately, there isn't much need to use the app beyond initial setup and perhaps the occasional tweak to settings, but it's a shame the quality in execution of the product itself didn't carry over to the app.
What I like
Portability and feature set
Competitive price point
Thoughtful design
What I'd change
App experience is generally poor
Creaky handle
Pass through charging capability
Final thoughts
Growatt has a well-executed portable power station in the VITA 550, and is supported by a company that has been in the business for over a decade.  This power station will travel well, but is also capable of pinch hitting at home during a power outage.  The myGro app implementation cast a shadow on an otherwise excellent product, but fortunately, the app isn't required for normal use of the VITA 550.  On balance I would recommend the VITA 550 if its capacity and output will meet your needs.
Price: $459.00
Where to buy: Growatt and Amazon
Source: The sample of this product was provided by Growatt