We use affiliate links. If you buy something through the links on this page, we may earn a commission at no cost to you. Learn more.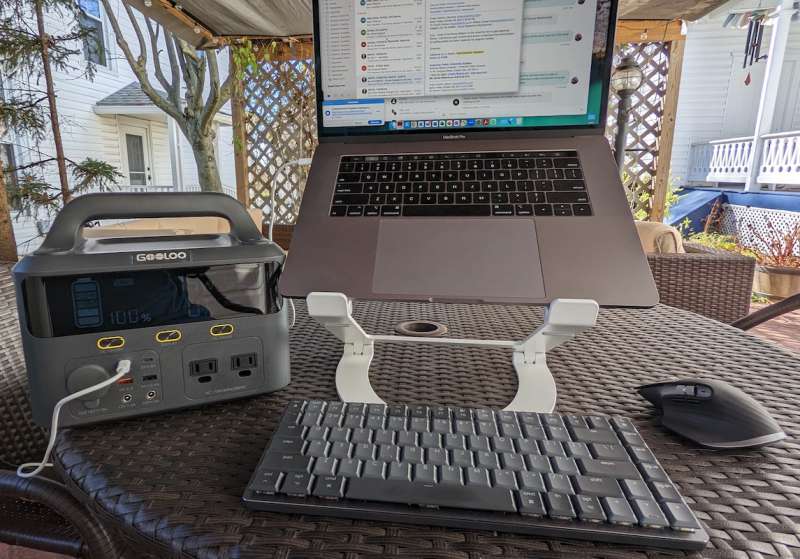 REVIEW – Portable power stations are becoming increasingly popular because they are incredibly useful.  Now they are available in a number of different sizes, to meet varying needs.  Some of the larger ones are upwards of 2000 Wh, but that's definitely not something you'd want to carry with you.  Those typically have wheels built in!  On the smaller end of things is the new GOOLOO GTX300 Power Station, at 300 Wh.  It's light, compact, and able to handle quite a number of chores, with features not found in other power stations at this price level.
What is it?
The GOOLOO GTX300 is a portable power station.  Not sure what that is?  It's a battery, DC to AC inverter, and solar charge controller all built into a tidy little box. You can use it to power both AC and DC items up to 300W, and charge just about anything.  GOOLOO is a company largely known for car jump starters, but they've recently branched out into power stations.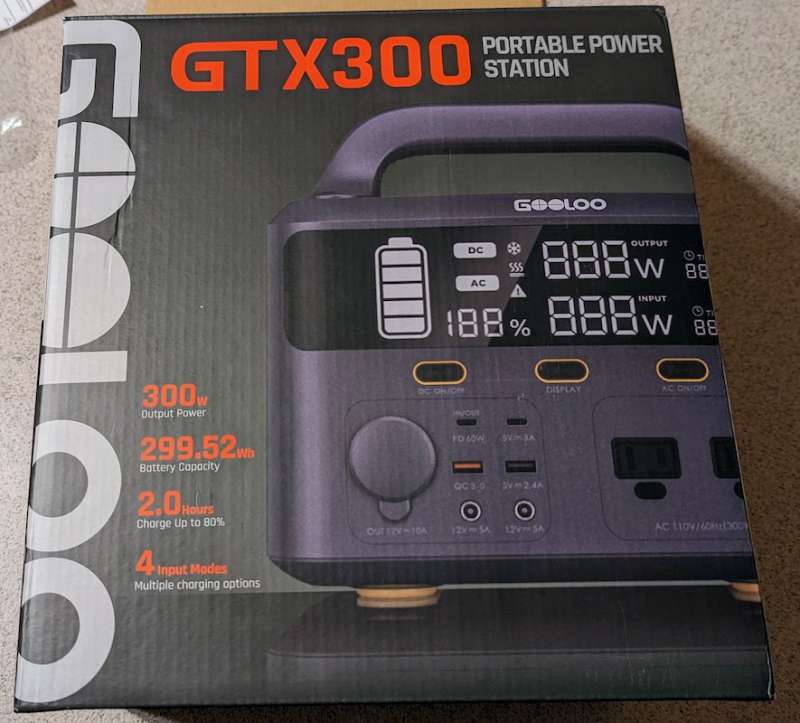 What's in the box?
GOOLOO GTX300 Power Station

Car cigarette lighter charging cable

AC Wall Outlet charging cable

USB-C to USB-C cable

Manual
Hardware specs
300 Wh lithium battery

Charging Times:

Wall charger and 60W USB-C; 80% in 2 hours, 100% in 2.5 hours

Car charger: 3 hours

120W solar panel:  3.5 hours

Display:  7 inch LCD screen, showing input and output wattage and time remaining

Battery Cycles:  >1000

DC to AC Inverter: 

300W continuous pure sine wave power and 600W surge

Output Ports

2 300W AC Ports (total 300W combined – not individual)

2 USB-C ports, one 60W PD in and out

2 USB-A ports

2 2V/5A DC5521 ports

1 12V/10A cigarette lighter port

Input Ports

USB-C 60W PD

Anderson plug from solar

DC7909 port for either car charger or AC-DC charger (both included)

Total input 12-30V, 120W max

Dimensions:  9.8 x 6.9 x 9 inches

Weight: 8.8 pounds

Solar Charge Controller Type:  MPPT

3-mode LED light
Design and features
The GOOLOO GTX300 has all the features you would expect a power station of this size to have.  You can charge and power things at the same time, which is especially useful if you are out in the boonies and are charging from solar panels (not included), but using it to power items such as a laptop, blender, or charging your phone or camera. It features both USB-A and USB-C power ports.  One of the USB-C ports is a 60W PD port.  This will power most laptops through all but the most demanding tasks, such as rendering video or playing extreme games. The DC-AC inverter is of the pure sine-wave variety, meaning it's safe for delicate electronics and for things with motors. Many low-cost inverters and power stations use a modified sine-wave inverter, which can affect the performance of some electronics.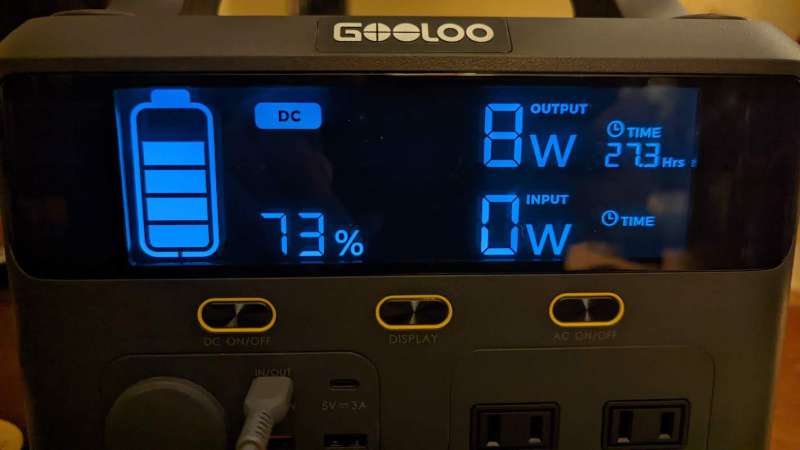 The layout of this unit is pretty simple.  The output ports are all on the front, and the input ports are on the rear.  The rear also features the LED light and the switch for that.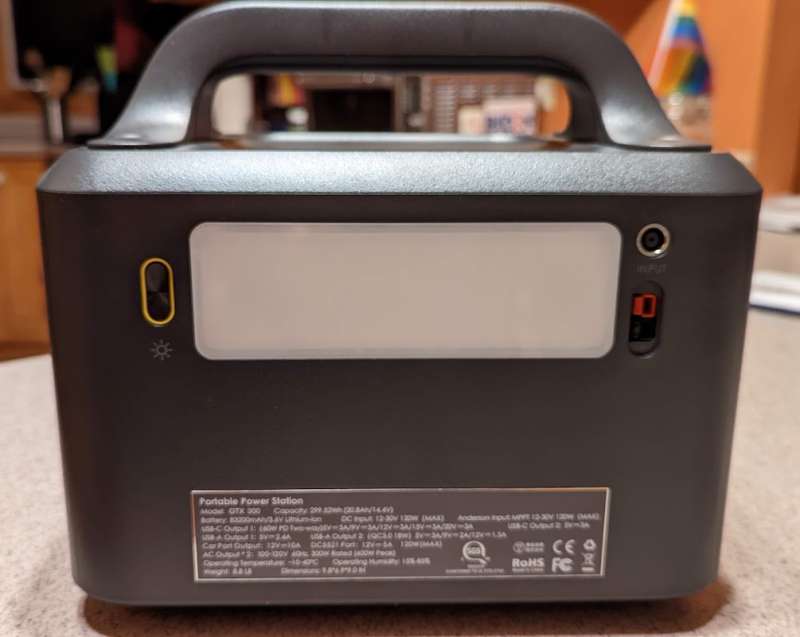 The top features a molded-in handle which is very sturdy and comfortable to use, and there are large rubber feet on the bottom.  The sides are mostly vents for the internal fan, which only runs when using AC loads, to cool the inverter.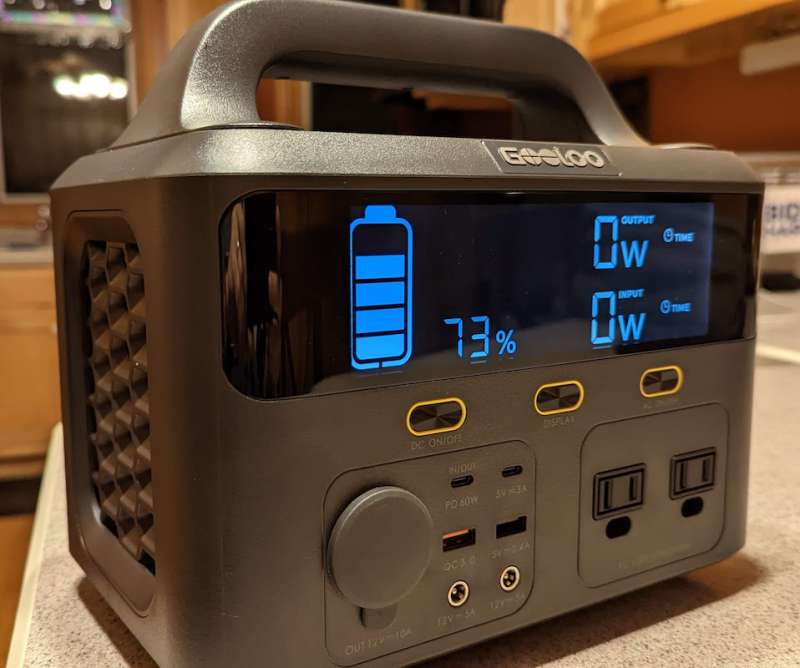 The charge controller is a MPPT (maximum power point tracking) controller, which is more efficient than the less-expensive PWM (pulse-width modulation) variety. This MPPT charge controller is at least partially responsible for the quick charge times on the GOOLOO GTX300. 
Performance
The GOOLOO GTX300 performs well. I tried both DC and AC situations, both powering devices and charging others.  The charge times are as advertised and the countdown provided on the display is accurate.  The run times for DC are also very accurate.  The run time for AC is not quite as accurate. In my testing, I plugged a 75W lightbulb into the AC port when the GTX300 was 100% charged, and it reported 4.5 hours of run-time available.  The actual run time was just 3:52.  This may be because the GTX300 thought the 75W lightbulb was only pulling 66W.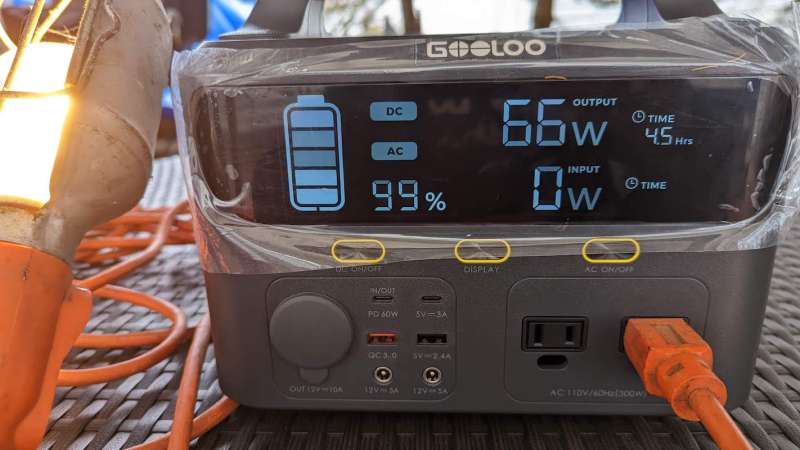 300Wh divided by 66W is 4.5 hours, which is what it estimated.  300 Wh divided by the true 75W gets you much closer to 3:52. So it seems that the output AC wattage measurement on the GTX300 is off by as much as 11%, with corresponding inaccuracies on the time estimates. 
Outside of the inaccurate output AC wattage measurement, I had two other small gripes about the GOOLOO GTX300 power station.  First, the printed text for the three buttons on the front is very faint and difficult to read in all but the brightest light.  These three buttons turn the DC output, AC output, and display on.  I eventually figured out which was which and was able to remember it, but they were difficult to see none the less.  This was true for all the text on the front panel, but you really only need to see the button labels on a regular basis.  My second gripe is that the display is a little tough to see in full sun.  Not a huge deal, and it probably shouldn't be in full sun for that long anyway.
What I like
Compact and light

Quick to charge

Big display, as long as it's not in full sun

All the standard inputs and outputs
What I'd change
Use a higher contrast ink for the text on the front

Make sure the output AC wattage measurement is accurate for better time estimates
Final Thoughts
Power stations (also known as solar generators) are now available in a range of sizes to fit just about any need.  At about a buck a watt-hour, this one falls right in line with most competitors.  But compared to some of those in the same price range, the GOOLOO GTX300 power station has a larger display, more outputs, and a higher peak output.  This one would make a great gift for anyone on your list who needs to power or charge stuff away from home!
Price: $299.99
Where to buy: Amazon
Source: The sample for this review was provided by GOOLOO.