We use affiliate links. If you buy something through the links on this page, we may earn a commission at no cost to you. Learn more.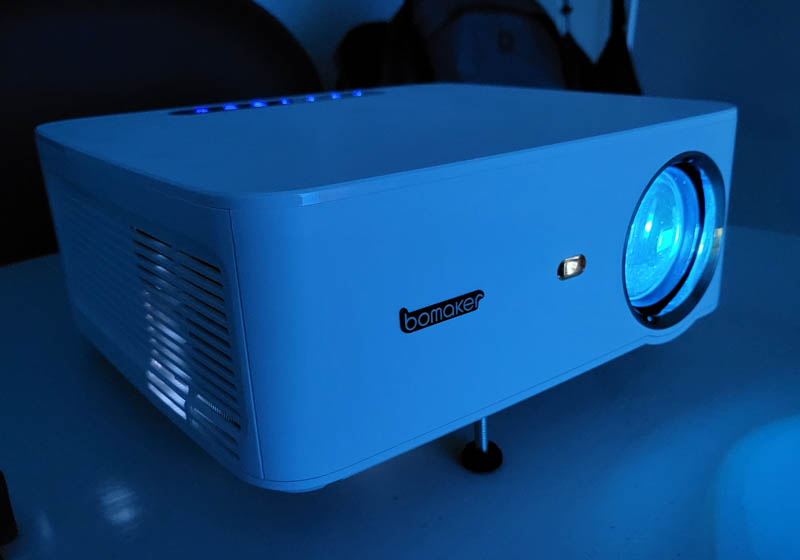 REVIEW – I've reviewed several DLP LCD projectors here, as well as bought a couple on my own for various purposes throughout my life. The Bomaker Cinema 500 Max projector has the best image quality I've seen so far in a sub-$500 projector, and overall I was pleasantly surprised with the features and performance, though I wish it had a full Google TV or Roku like operating system. Oh, and you can connect a portable Bluetooth speaker to it! That's new for me!
What is it?
The Bomaker Cinema 500 Max projector is a Digital Light Projection LCD projector, with a native resolution of 1080P. It can be displayed onto screens as small as ~40″ and as large as you want to go (though the larger you go the farther away the projector needs to be and the dimmer the overall picture will look). In a dark room, I found 80-120 inches to be the sweet spot. Bomaker advertises this as a low-latency projector suitable for gaming, which I'll definitely test out since many budget projectors are unplayable for action games due to painful input-to-display lag.
What's in the box?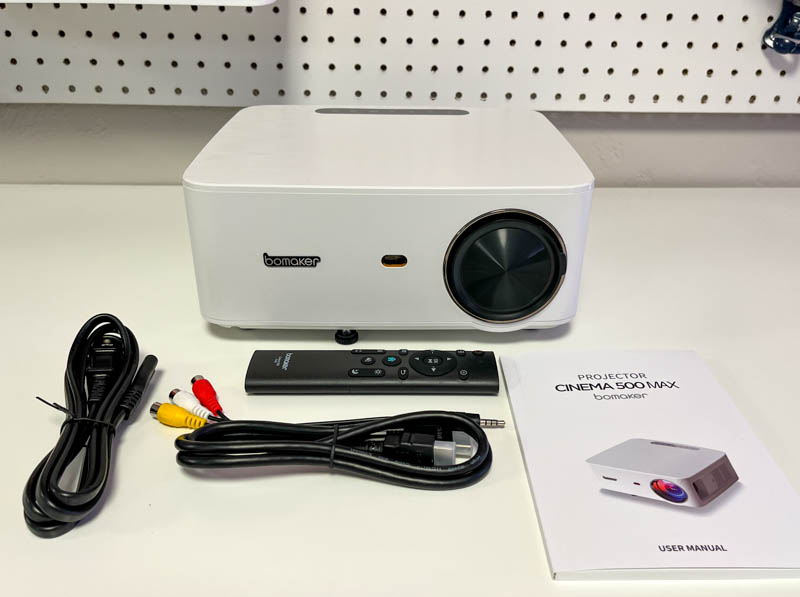 Bomaker Cinema 500 Max projector
IR remote
AV analog cables
HDMI cable
AC power cable
Manual
Hardware specs
Projector Type: DLP LCD (Digital Light Projection Liquid Crystal Display)
Projector Native Resolution: 1080P (1920 x 1080 pixels, Full HD)
Wifi: Dual-band (5G and 2.4G)
Bluetooth: 5.0
Chipset: MTK358
Four Point keystone correction
HDR10 decoding
Supports front and rear projection modes
Supports ceiling and standard rotation modes
45 decibel operating noise level
Design and features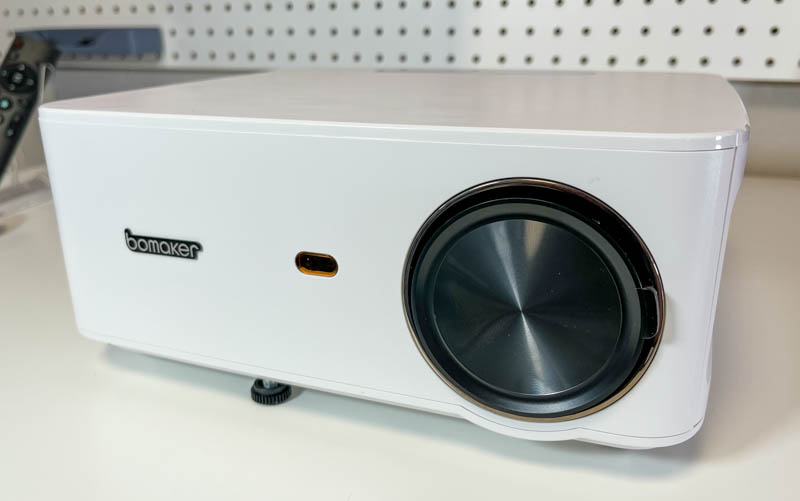 The Bomaker Cinema 500 Max projector is a square white box affair, very similar to most of my past projectors. It's almost all plastic, but feels like a decent plastic, and fit and finish were good. On the front is the "bomaker" logo, an IR receiver for the remote, and the lens (with the cap on).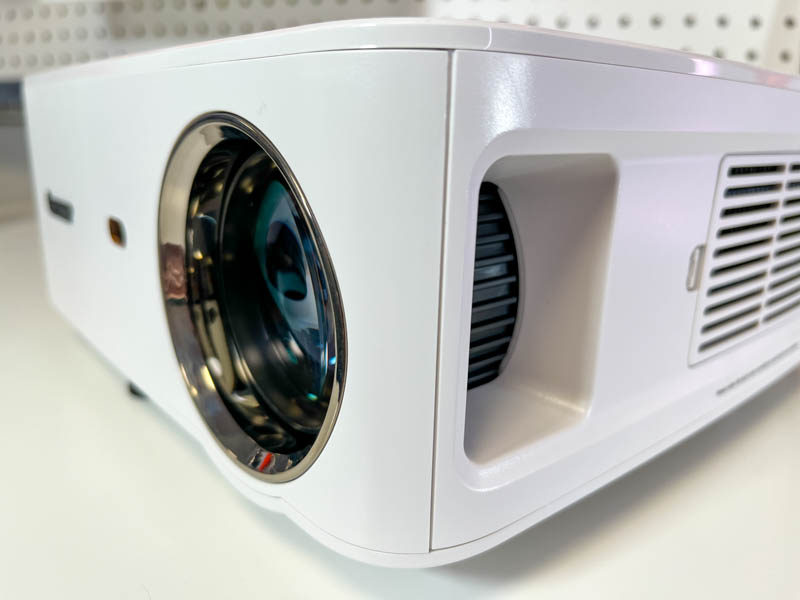 Above is the lens with the cap removed, and the focus dial on the side. Also visible is the removable vent filter, this is easy to pop off and blow dust away for occasional cleanings.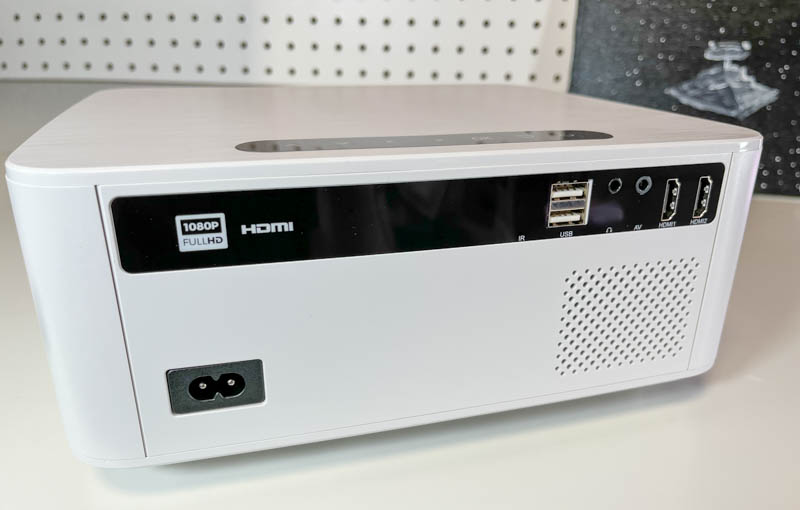 On the back side of the Bomaker Cinema 500 Max projector is the AC power connection, another IR receiver (so the remote can work from either side of the projector), two USB connections (these can be used to power low-power devices like a Google Chromecast or Amazon Firestick, or for media on USB storage devices), headphones or audio output, analog audio/video input, and two HDMI connections.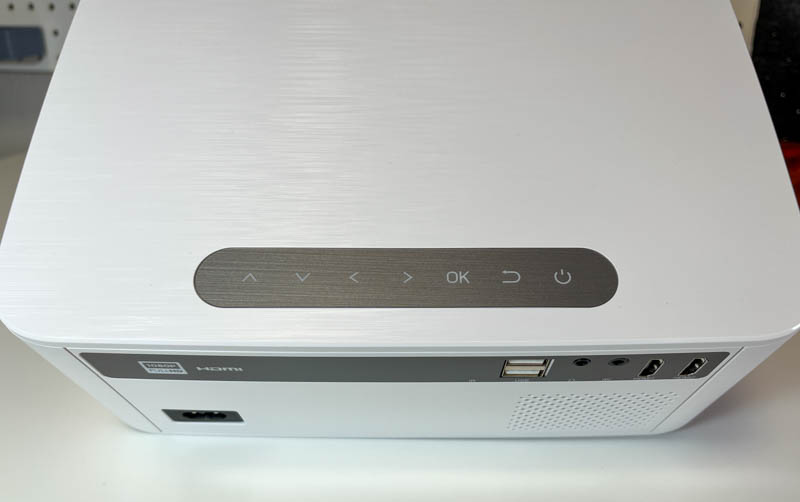 On the top of the projector are some capacitive buttons, so you can control the projector without the remote. These light up when powered on: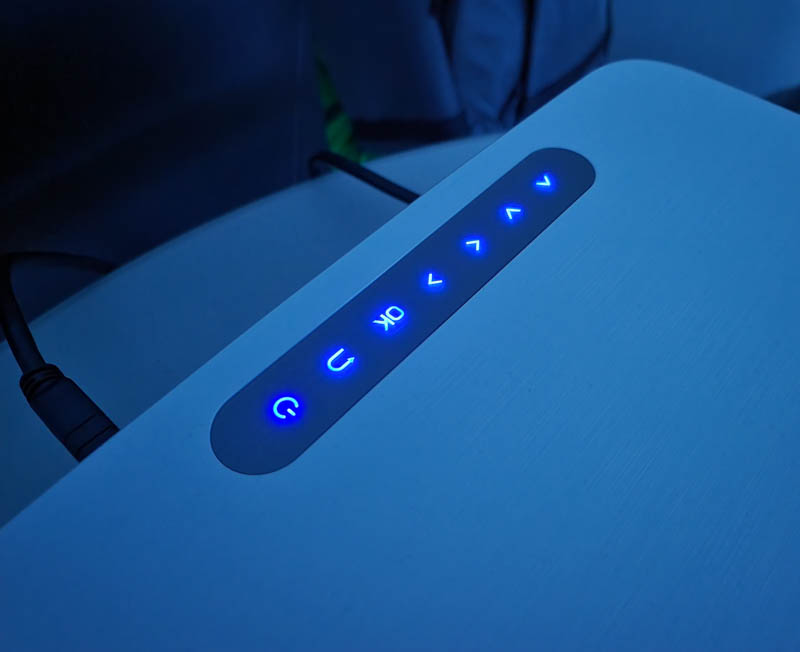 You can access menus and control volume from here if needed.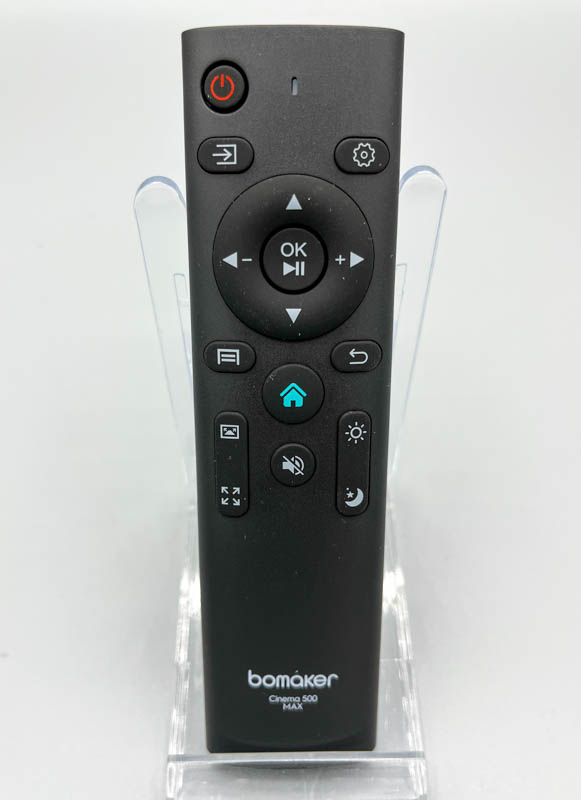 The remote does the job it's supposed to do. If I had to improve one thing here, I'd change one of the two longer buttons at bottom-left and bottom-right (currently set to adjust picture mode/brightness) and do volume there instead. As it is currently set up, volume up and down is arrow left and right, which is fine once you get used to it. I found that I could point the remote at the screen (out of habit), and the IR was strong enough to bounce back to the projector, I didn't have to point it behind me to adjust things.
Installation and setup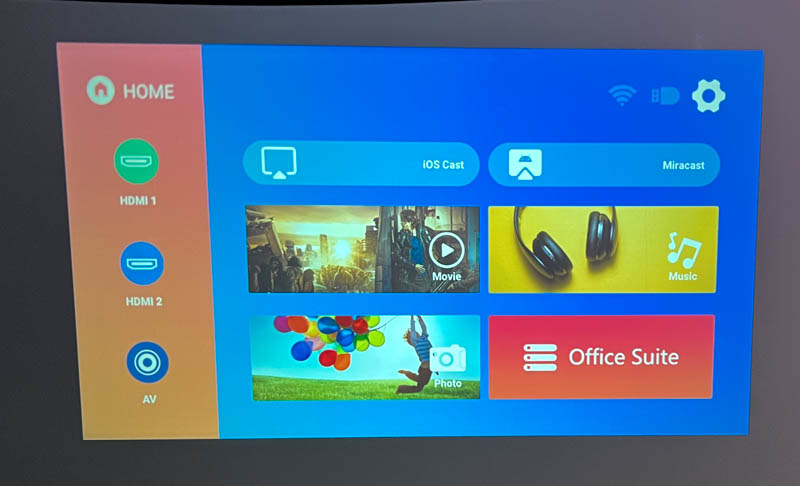 The above screen is the Bomaker Cinema 500 Max projector's home view once the projector boots up. The Movie/Music/Photo/Office options just take you to a file browser to view things on a USB storage device, there are no installed streaming apps and no way to add any, even though this projector is running a version of Android under the hood.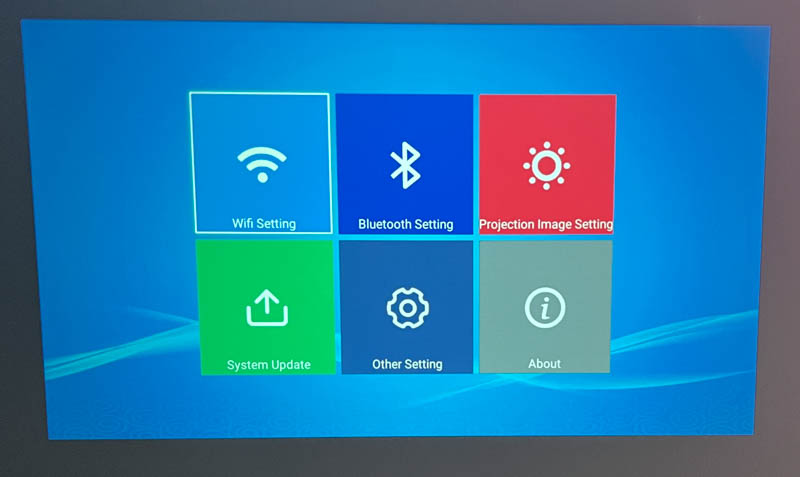 The settings menu, after connecting WiFi (the Bomaker Cinema 500 Max can connect to both 2.4 Ghz and 5 Ghz Wifi, but you'll want the latter for best performance if you're doing any screen mirroring), I checked for a system update, and applied it.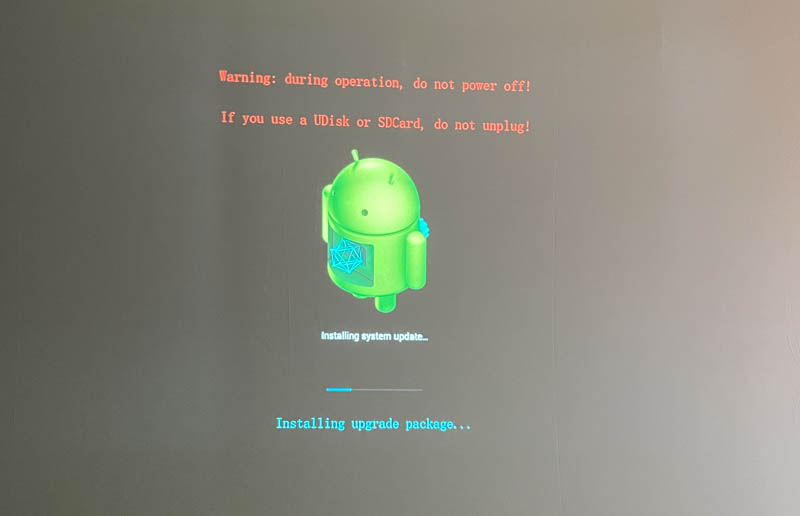 This was the screen shown during the update, revealing a vintage Android ROM update screen. The Bomaker Cinema 500 Max says it runs on Android 6, which is positively ancient at the time of this writing.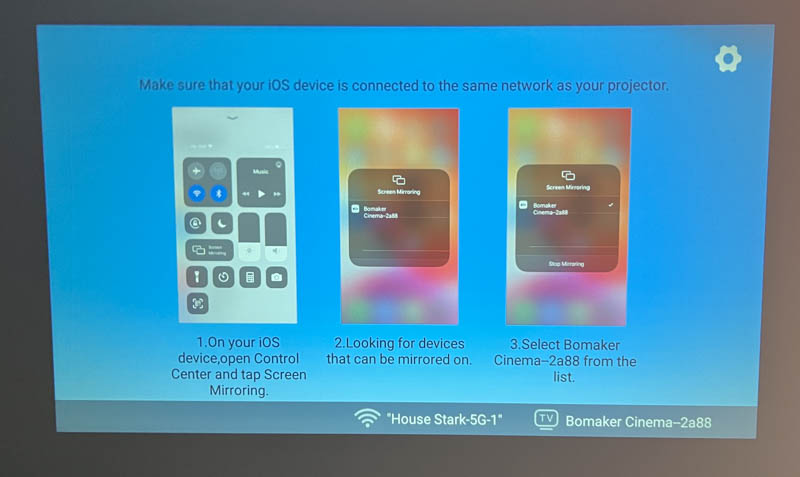 Most people are going to want to connect some media source via HDMI for best results. The Bomaker Cinema 500 Max does support screen mirroring from both Android and Apple devices. I tested both (with an iPhone 13 and a recent Samsung Android phone), and both worked without requiring any 3rd party apps which was nice.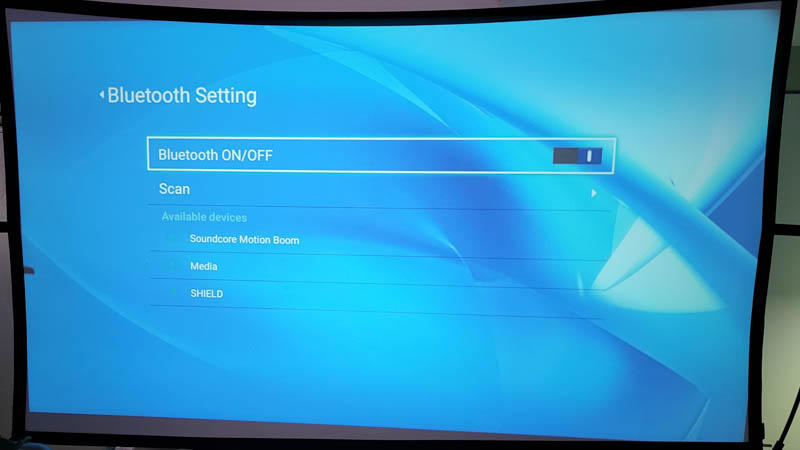 Finally, I tested out Bluetooth (meant to allow the connection of Bluetooth speakers), and this might be the killer feature that sees the Bomaker Cinema 500 Max replace my previous summer movie night projector! After turning on Bluetooth on the Bomaker Cinema 500 Max, I paired a decent stereo speaker, and was impressed by the result. There was no discernable audio lag (sometimes Bluetooth devices can be annoyingly out of sync with what you're seeing on the screen due to audio lag), and I could place this portable speaker right under the screen itself, lending to an immersive and rich sound experience.
The built in speakers are fine. I've heard worse, I've definitely heard better, and you wouldn't want to watch movies relying on them unless you're the type of person that watches entire feature length films on your mobile phone speakers. The fans are audible but not particularly annoying, they're similar to having a laptop or quiet desktop computer running nearby.
Performance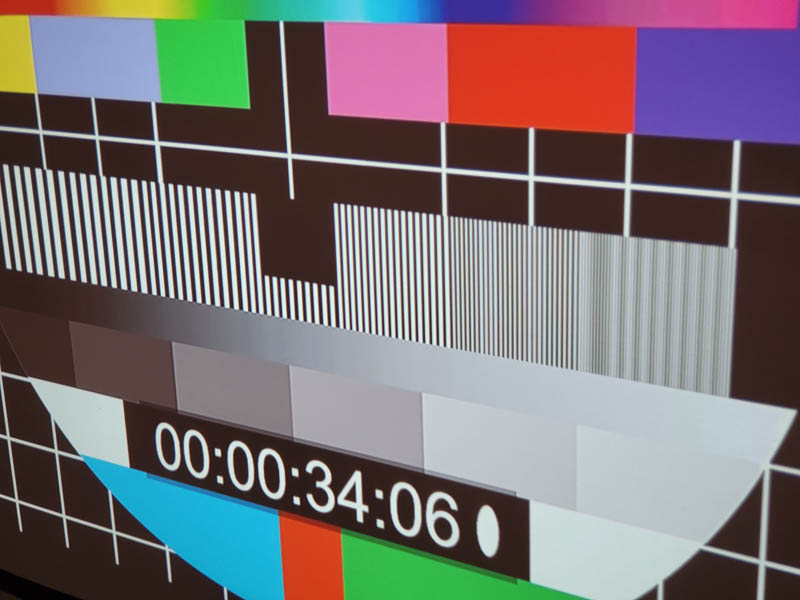 Like most sub-$500 projectors, the Bomaker Cinema 500 Max doesn't have flawless image quality. Just like every other projector in this range, I found that you needed to place it lined up right in the center of the screen for best results. While the projector supports 4-point keystone correction (allowing you to adjust the image if the projector is off-center), I found that the resulting image would look square, but would be much sharper in the center or on one side versus the other parts.  When perfectly aligned and carefully adjusted, you can see in the image above that the edges are still a bit blurry. This effect is much worse on the past projectors I've tested though, I didn't notice it very often when watching movies or playing games. If you were using this to display Office documents, you'd probably notice it much more in the form of blurry text on the edges.
Speaking of focus, the focus knob has a bit too much resistance on the model I tested. You have to apply more pressure than expected to get it to move, and then it would often jerk too far in the direction you were pushing. This resulted in a lot of yo-yoing back and forth trying to get the focus just right. If you're placing this in a permanent location like for a home theater, this isn't a big deal since after a few tries I got it, but if you're moving it often it's a point of annoyance.
Cameras have a hard time capturing what the eye sees in a dark room, but above is my attempt at doing so. The Bomaker Cinema 500 Max has very bright colors, and as long as the room is dark it has good contrast as well. Bomaker doesn't advertise the exact lumen rating, but it seems brighter than the previous budget projectors I've tested, it could cope with some leaked light, but it definitely washes out in brighter light just like pretty much any other projector. With some tweaking of the picture settings, I was able to get a fairly natural color experience.
Next up, I tested gaming lag with both a gaming laptop and the Nvidia Shield gaming console, and it was smooth. I didn't notice any perceptible lag. I'm one of those first-person shooter gamers that can tell when there's lag, and gaming was smooth as any other 60 Hz LCD screen I've tested on. It was significantly better than the past projectors I've tested, which ranged from mildly laggy to unplayable. Here's a short video where I held up what was playing on my laptop (on the right) compared to the projector (on the left), you can see they're in sync:
What I like
Decent image quality
Sharp image with some tweaking as long as projector is centered
Connectivity options including Bluetooth for audio
What I'd change
Full Android/Google TV would be much better than the current OS
Focus adjustment could be smoother, a bit too much friction
Allow lens cap to be placed even if lens is focused (you have to refocus the lens to be all the way inside the projector to use the lens cap)
Final thoughts
I couldn't find much on this brand, so I'm not sure about long term reliability of this projector, but the Bomaker Cinema 500 Max projector is a solid performer for the price point. Good image quality with low latency and Bluetooth connectivity combine for an excellent viewing experience on a budget!
Price: $219.99
Where to buy: Bomaker (Save 30% by using the code: gadgeteer30 at checkout)
Source: The sample for this review was provided by Bomaker