We use affiliate links. If you buy something through the links on this page, we may earn a commission at no cost to you. Learn more.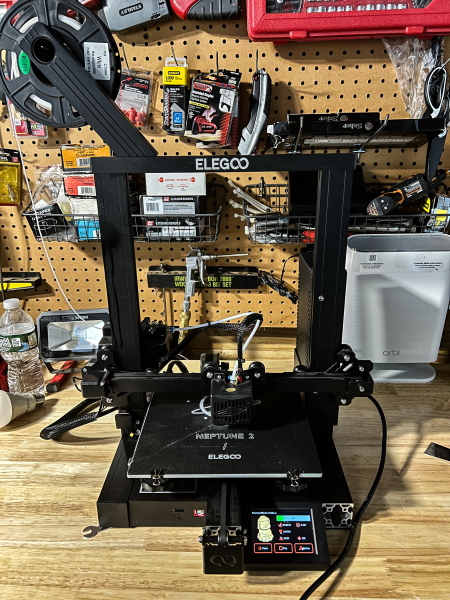 REVIEW – For the past few years I have been getting very involved with 3D printers and designing models and parts for myself. I do not have enough space for a 3D printing farm, and so I am constantly moving around printers and making space depending on what I need to print and which printer I want to use. Ideally, I need a compact FDM printer for most of my tasks and I need it to fit on my workbench without a hassle. Enter the Elegoo Neptune 2 3D printer!!
What is it?
The Elegoo Neptune 2 FDM 3D Printer features a silent motherboard, safety power Supply, resume printing, and a removable build plate. The printing size is 220x220x250mm, and the printer is compatible with several types of filament including PLA, ABS, TPU, PETG, Wood, Marble, etc
What's in the box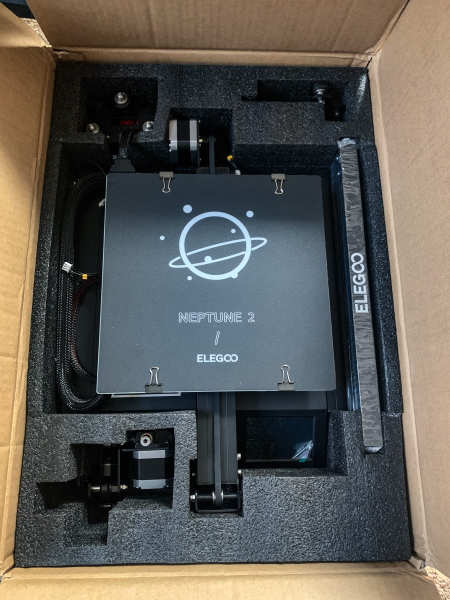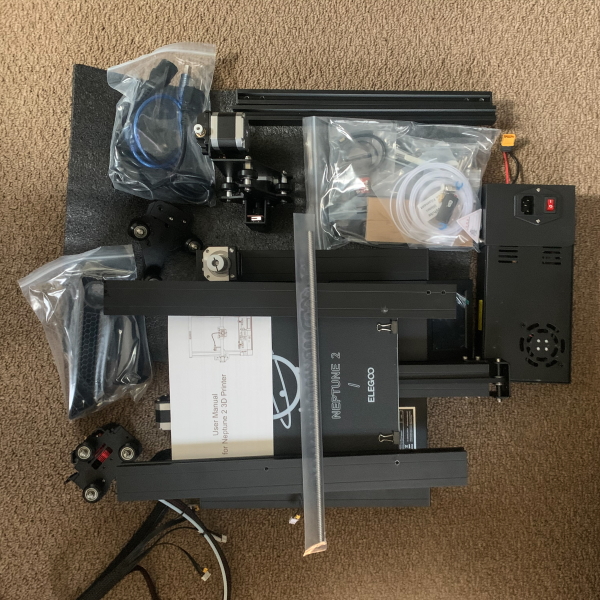 1 x Elegoo Neptune 2 3D Printer
1 x Build Platform
1 x Micro SD Card Disk
1 x Metal Scraper
1 x Plastic Scraper
1 x User Instruction
1 x Backup Screws
1 x Power Supply
1 x Tool Kit
Design and features
Features
Outstanding industrial design: CNC machined aluminum extrusion and semi-assembled parts for reliable build quality and easy setup. V-guide roller made of Germany POM material with ultra-silence, accurate motion, and excellent wear resistance during long-term printing. 220X220X250mm printing size at ±0.1mm high precision. Supports multi-function extensions as well.
Smarter 3D printing: Once a print is complete and the nozzle temperature drops below 50° Celsius, the cooling fans of the nozzle and the motherboard will automatically stop working, saving power and extending their lifespan. Resume printing from where it left after an unexpected power outage or faulty operations. MK8 extruder has wide material compatibility and equipped filament detection sensor will pause printing when filament runs out.
Safe and stable power supply: 400Watt switched-mode power supply can better protect your printing from short circuit, overload voltage, or under-voltage situations. The 250Watt hotbed can be heated to 100° Celsius within 3 minutes under an average indoor temperature and keeps it stable to meet different filament materials' working requirements.
Intuitive and user-friendly experience: The Multi-language user interface shows a preview of the model and real-time printing progress. Large rotary nuts make leveling easier. The hotbed holds a replaceable fiberglass sheet with a matte Polycarbonate surface, which has a stronger adhesion and allows you to remove models without any hassle. 32bit motherboard with TMC2225 silent driver provides a quieter printing at 50db noise level and ensures consistent printing for 200 hours without any issues.
Specifications
Frame material: CNC machined aluminum extrusion
Modeling technology: FDM(Fused Deposition Modeling)
Printing size: 220x220x250mm
Printing speed: ≤180mm/s, normal speed at 30-60mm/s
Printing precision: ±0.1mm
Layer thickness: 0.1-0.4mm
Nozzle diameter: 0.4mm(can be replaced with 0.3mm and 0.2mm nozzles)
Nozzle quantity: 1
MAX. nozzle temperature: 260° Celsius
MAX. hotbed temperature: 100° Celsius
File transfer: TF Card offline printing, online printing
File format: .stl, .obj, .amf
Slicer: Cura, Simplify3D, Repetier-host
Power supply: Input: 100-120/200-240V 50/60Hz Output: 24V 17A
Filament compatibility: PLA, ABS, TPU, PETG, Wood, Marble, etc
Filament diameter: 1.75mm
XY precision: 0.012mm
Z precision: 0.001mm
Controller board: STEM32 F103
UI Language: English, French, German, Russian, Italian, Spanish, Japanese, Chinese
Resume printing: Yes
Filament detection: Yes
Package Dimensions: 22 x 15 x 9 inches; 18.45 Pounds
The Elegoo Neptune 2 3D Printer is made mostly of aluminum with a few rubber and plastic parts. It is very well made. On the front, there is the touch screen control panel and the micro SD slot.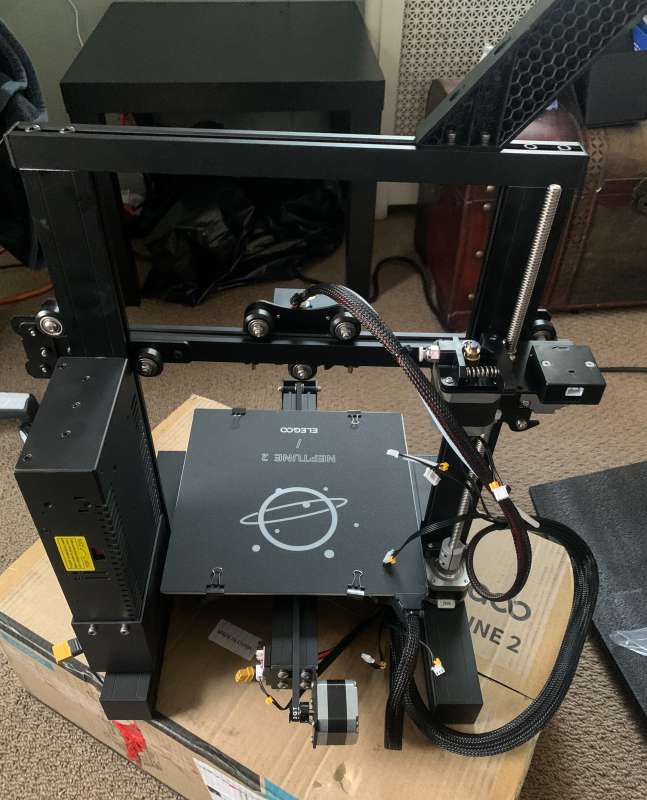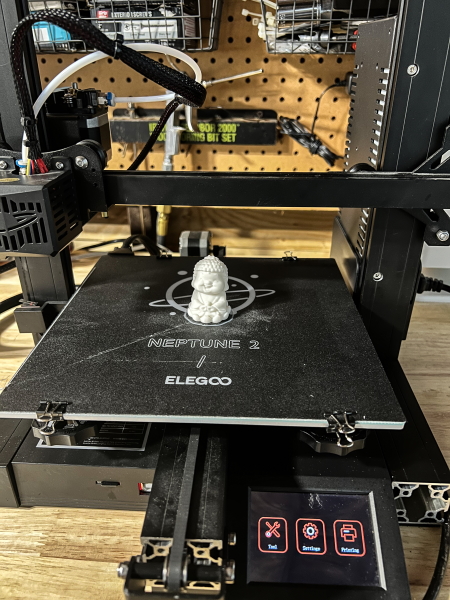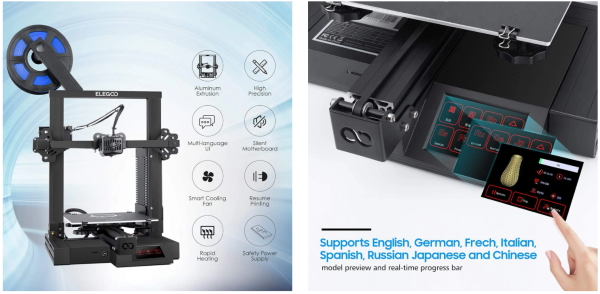 Performance
While the Elegoo Neptune 2 3D Printer requires assembly and comes with several parts, assembling it is quite easy and the instructions are easy to follow. The following photos are snapshots of my assembly process.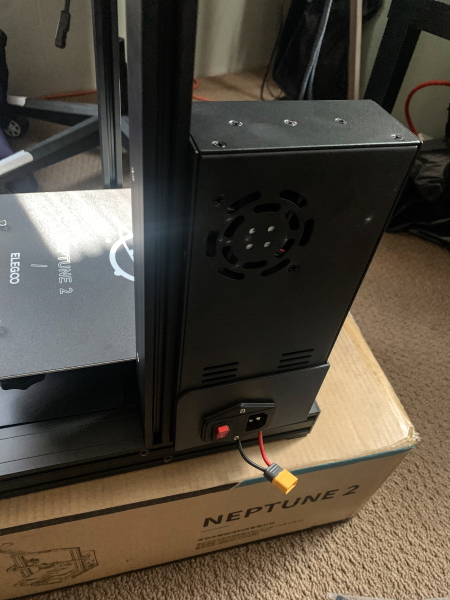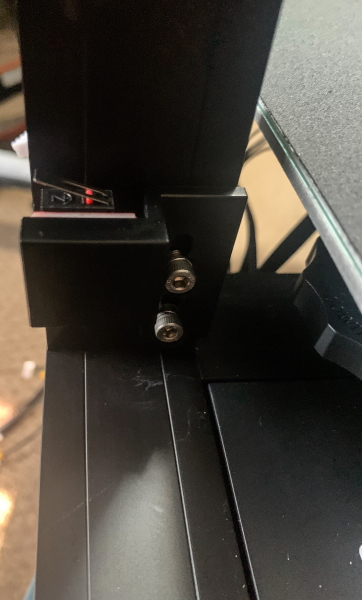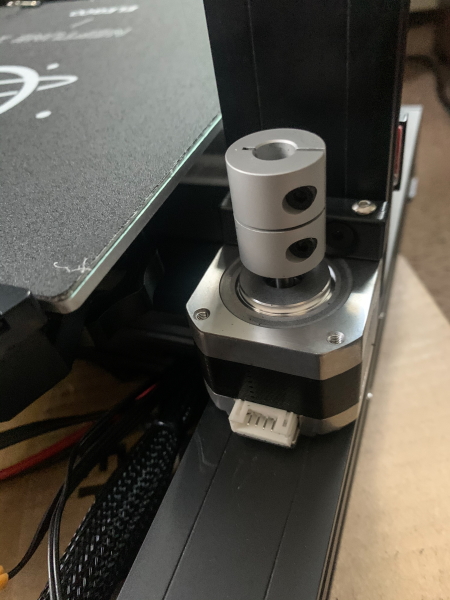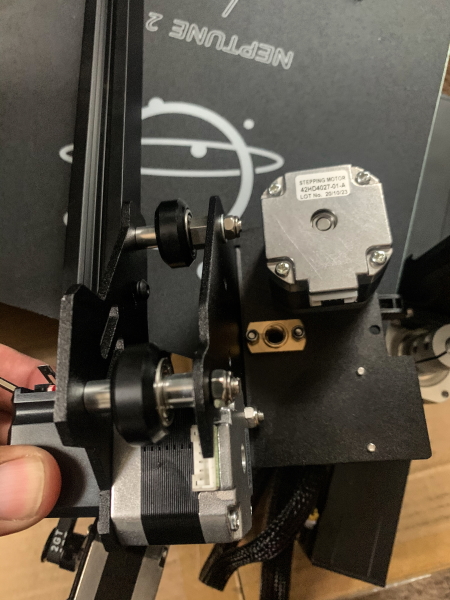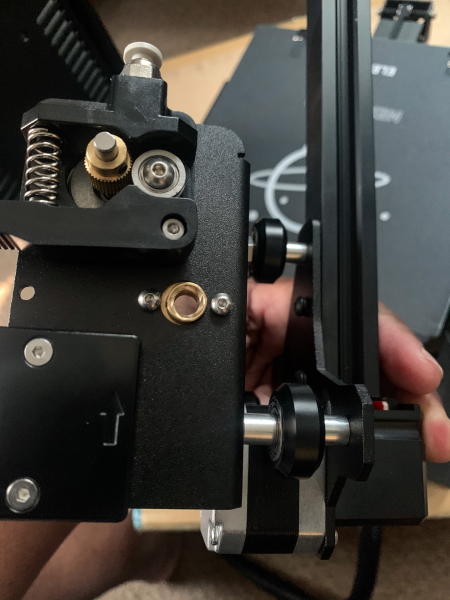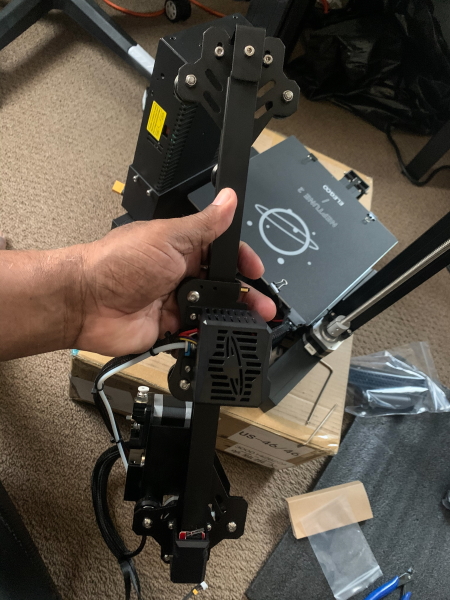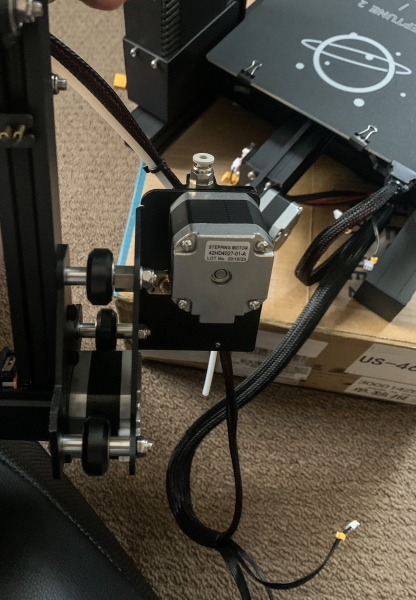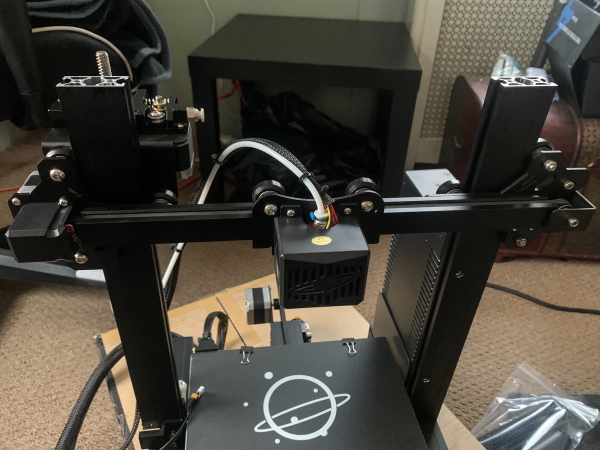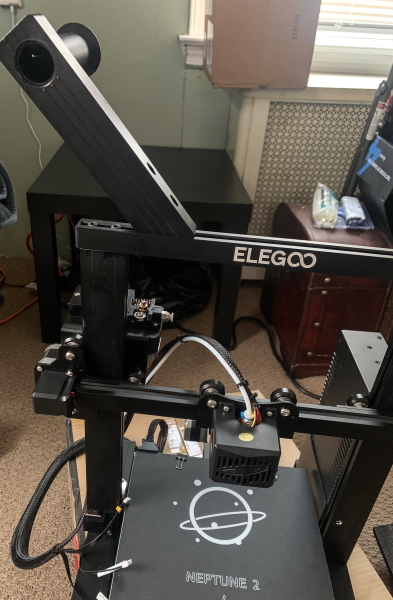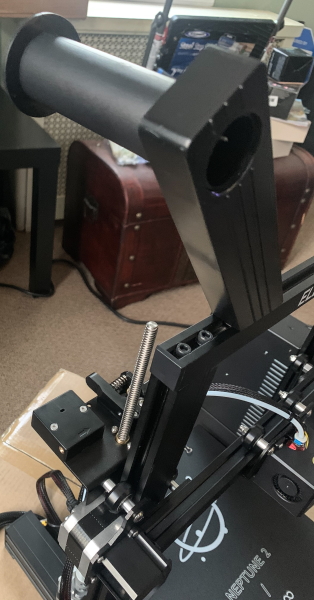 Here is what the micro SD card looks like when inserted into the printer: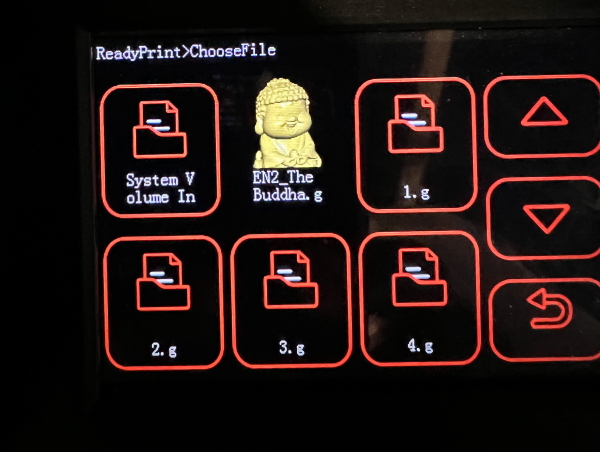 The following video shows an accelerated timeline of one of the models that I printed with the Elegoo Neptune 2 3D Printer. This model was already on the micro SD card that was supplied:
When I first assembled the printer, I experienced some difficulty printing. Since I have assembled quite a few of these types of printers and was overly confident, I did not really use the instructions because I was too confident about my ability to assemble them. After much frustration, because all of my prints were starting well and failing, I decided to contact Elegoo Support. Their support was not only responsive but quickly pointed out the simple error that my overconfidence allowed me to make. I am too embarrassed to actually say what the error was, but I will say that the Elegoo Neptune 2 3D Printer has performed flawlessly since. I use a thin piece of card similar to a page of a greeting card to manually level the bed and everything else has been great.
What I like
The compact size
The build quality
The ease of assembly and use
That it is low-noise
The filament compatibility
The price
What I'd change
Nothing that I can think of at the moment. it does what it is designed to do
Final thoughts
The Elegoo Neptune 2 3D Printer has a nice and convenient small footprint compared to all of the other 3D printers I own. It is also lightweight, easy to assemble, and works with very little adjustment and fidgeting needed other than the normal bed-leveling which is also very easy. it is well built and prints well consistently. In addition, their customer service/support is great. I give it a well done!!!
Price: $180
Where to buy: Elegoo website, Amazon
Source: The sample for this review was provided by Elegoo