We use affiliate links. If you buy something through the links on this page, we may earn a commission at no cost to you. Learn more.

REVIEW – Fanny packs used to be all the rage back in the 80s and early 90s.  I will even admit to having one or two myself.  Lately, I have been seeing the fanny pack make somewhat of a comeback.  I personally was still reluctant to even consider one until I saw this Roaring Fire Blazer Fanny Pack.  Not only is it a fanny pack, but it is a tactical pack and can act as a carrier for your gear on your car's headrest.  Let's see if it lives up to its hype.
What is it?
The Roaring Fire Blazer Fanny Pack is a gear bag designed to let you carry a lot of gear without having to bring along a full backpack.  It has a ton of MOLLE straps, pockets, a water bottle carrier, and a shock cord that you can use to pack and attach all of your gear.  It can be worn in a variety of ways and comes with an additional car seat panel that lets you attach the pack to your car headrest.
Hardware specs
1000D Cordura Nylon fabric and YKK two-way zippers with zipper pulls

This fanny pack has a Removable Durable waist strap and buckle, Detachable water bottle holder, and can be used in 5 different configurations. You can use it as a Fanny pack, Waist pack, Hip Pack, Cross-body pack, Car Organizer Pouch, or portable Organizer Pouch。

Removable car seat panel that attaches to your headrest. You can use it to attach the pouch to the hook panel. Quick access to emergency supplies or to items you need to get to quickly.

The removable water bottle pocket makes it easier to carry your water bottle. The Molle design allows you to use the water bottle holder with other packs with Molle attachments. The water bottle holder also can be folded according to the depth of your cup. There is a Velcro attachment between the water bottle cover and the Fanny pack so that it will not fall off during use.

The yellow and OD green color combination inside makes it easy to find the items. It has two zippered pockets, The front zipper pocket has 4 small pockets and 9 elastic loops. The second layer zipper pocket has one large zippered mesh pocket and 3 elastic loops.

The outer Shock cord allows you to hold extra gear.

The Fanny pack size: 9.85″*6.3″*1.97″ (25*16*5cm) Large capacity pocket design allows you to carry more items, and the pack weight is only 14oz

FREE U.S. Shipping and Lifetime Warranty

Front hook and loop panel for patches

The waist strap length is 45.3″(115cm) And the waist strap is fully adjustable so it can fit for different waist sizes with a keeper to stow away excess length.
Design and features
Below I have a picture of the front of the fanny pack.  You can see the shock cord and there are also ten MOLLE straps where you can connect various items.  There are also dual zippers for the two main pockets of the pack.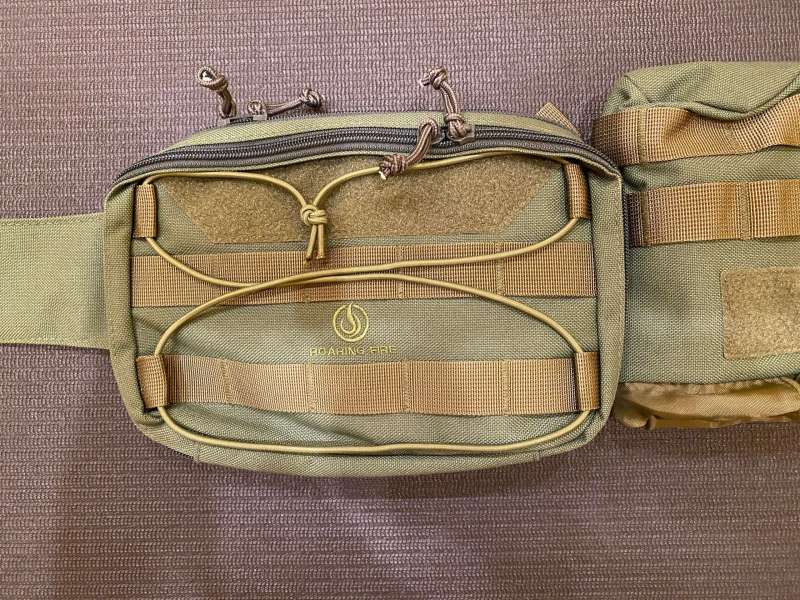 This is a shot of the back of the pack as it was shipped to me.  You can see the water bottle carrier to the left and it is mounted upside down.  Fortunately, it is very easy to unhook the velcro on the strap and slip the water bottle carrier off in order to install it the correct way.  On the back of the main pack is the car headrest holder that is attached to the main pack via velcro.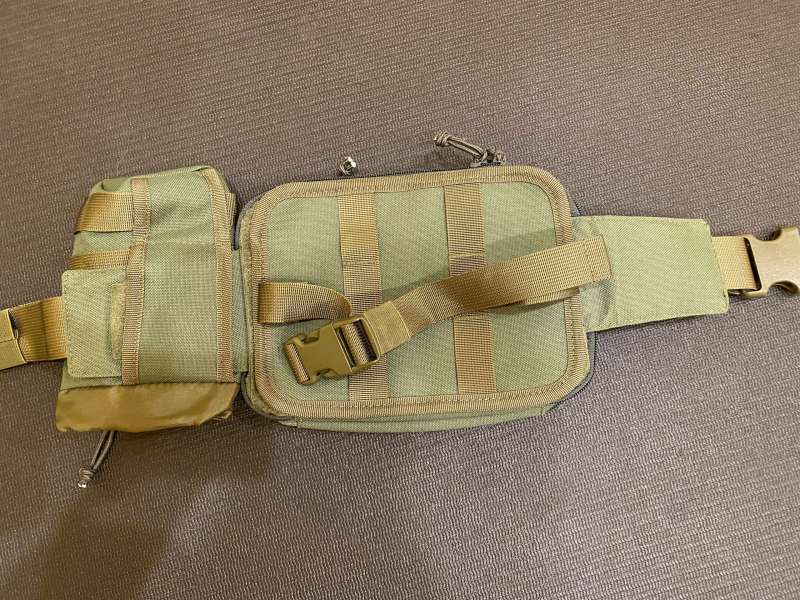 This is a close-up shot of the main buckle of the waist strap.  It is very heavy duty and would take a lot of effort to break.  You can see why the company provides a lifetime warranty.
Never miss one of our posts again. Sent MON, WED, and FRI with the latest gadget reviews and news!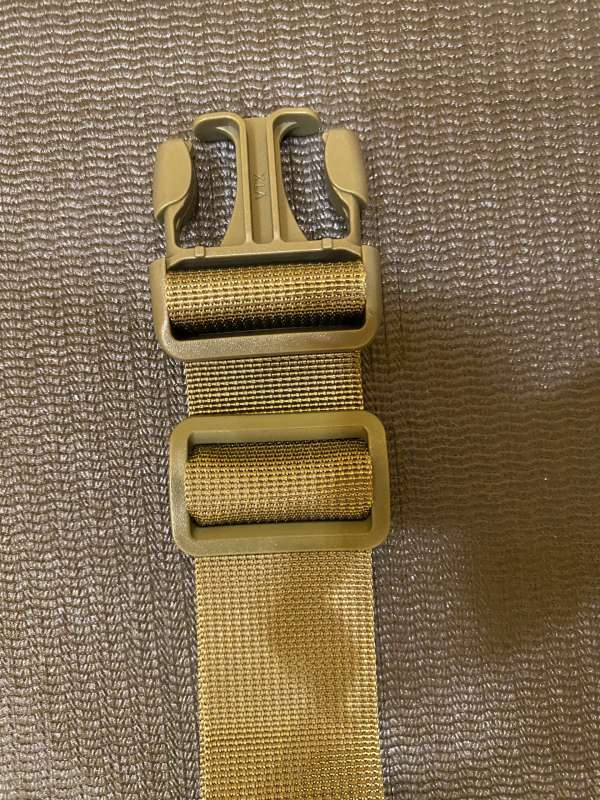 Here is a closeup of the water bottle holder.  You can see that it also has MOLLE straps on it.  There are a total of ten MOLLE straps on the cupholder.  You can really attach a ton of stuff to this pack!  There is also a very nice shock cord closure at the top to hold your bottles and gear in place.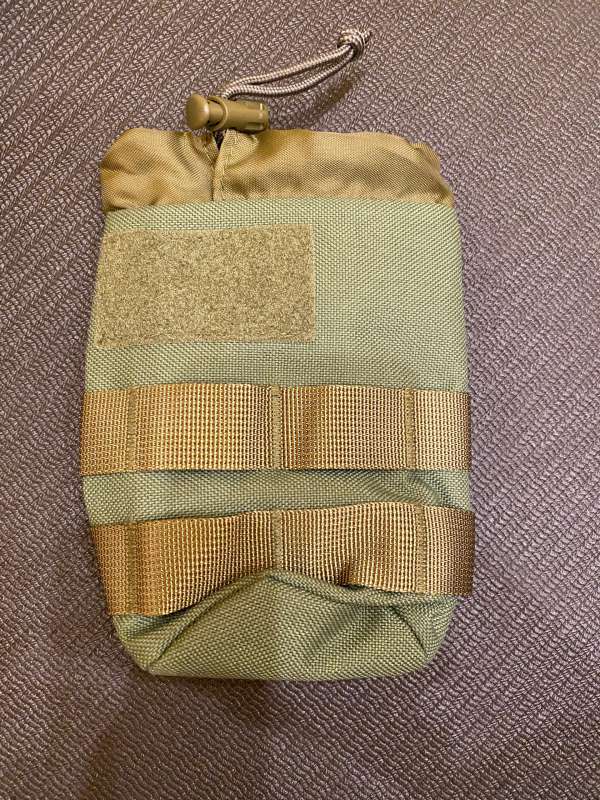 Inside the cup holder, you can see a bright orange lining that is also carried over into the pack.  This makes it easy to find things you may store down inside the pouch should you carry something other than a water bottle inside.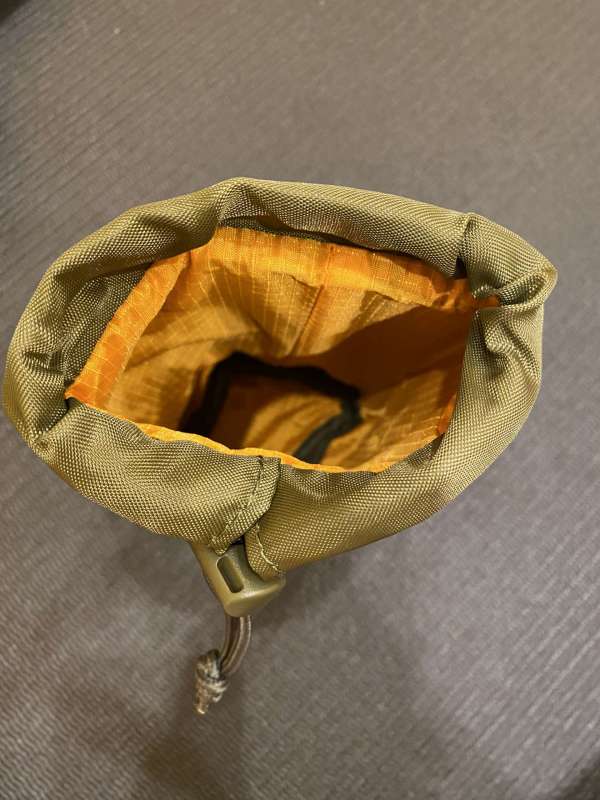 I put my large Hydroflask in the pouch and it just fit.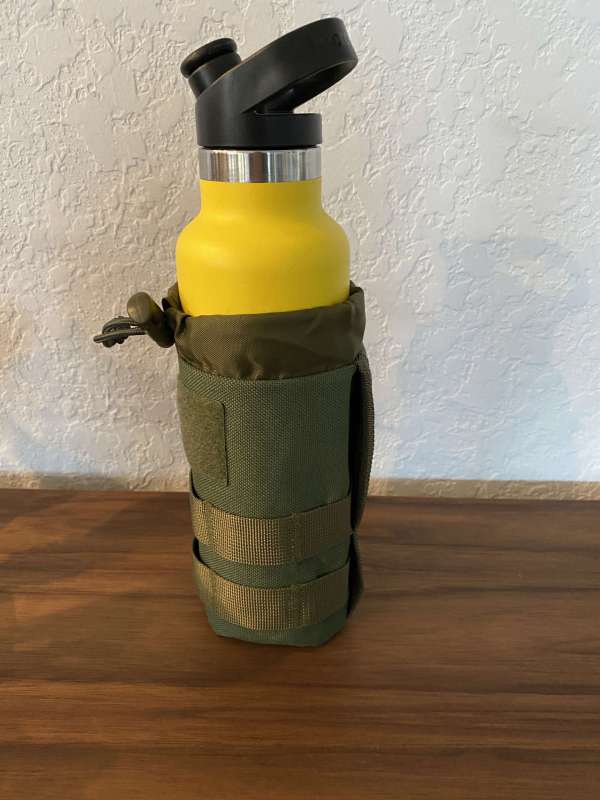 This is a shot of the top of the bag showing you the two main pouches of the pack.   The zippers on both zip all the way down around the sides to allow you to open the pack and lay both sides out flat which is very handy.  The zippers all have shock cord pulls and are YKK two-way zippers.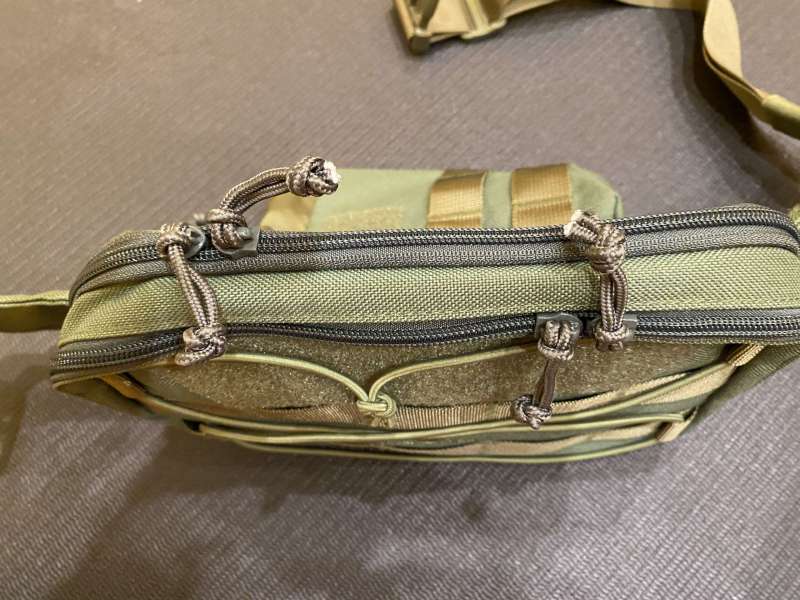 This is a picture of the pouch closest to the belt.  The back area has three MOLLE loops with that bright orange ripstop type backing to make things easy to find.  The front part of the pocket is a zippered pocket to store things like cords or other small items that you don't want tumbling around.  That zipper also has a shock cord pull and is YKK.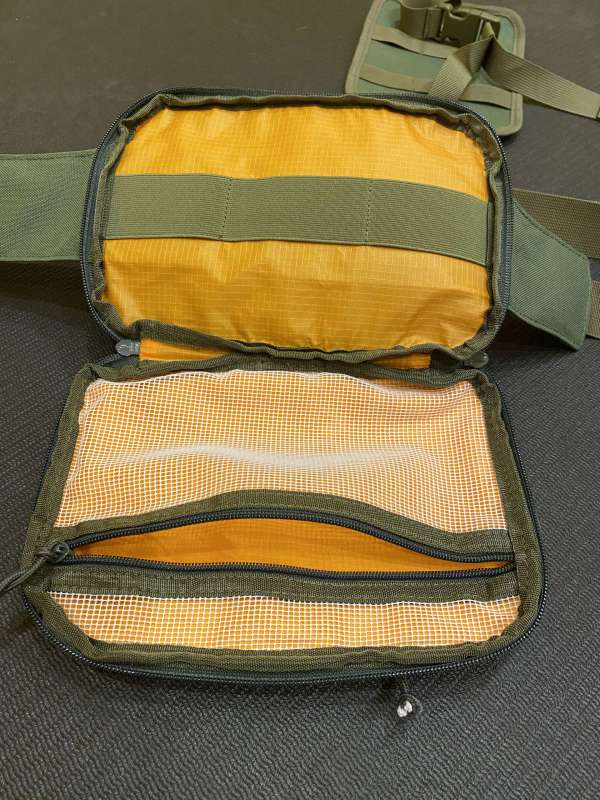 This is a picture of the front pocket.  The backside has a pocket that goes all the way down the pack.  There are three MOLLE loops in the middle and three on the bottom.  The front of the pocket has a big ripstop pocket running the length of the pack and two smaller pockets in front of it.  You need to be careful when opening this pouch while wearing the pack as anything in those pockets has a tendency to slip out if they are not stuck tight in the pockets.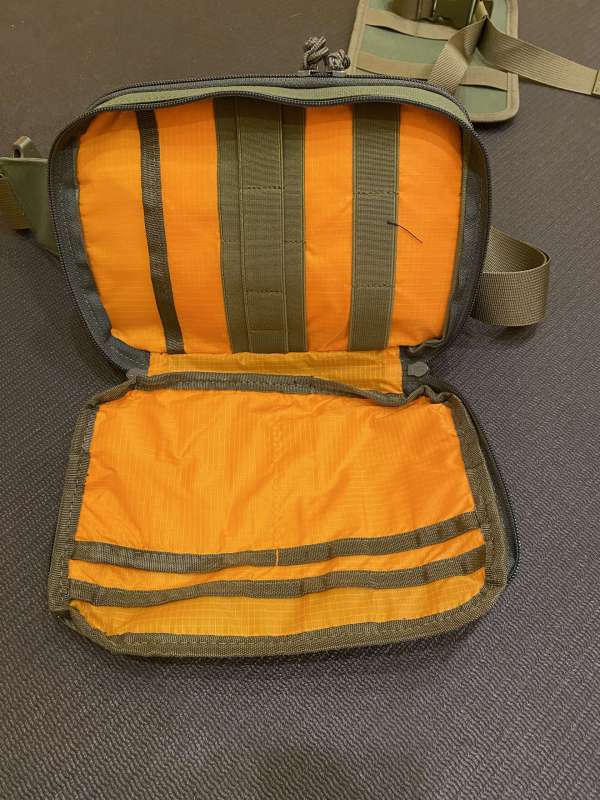 Here is a close-up shot of those pockets.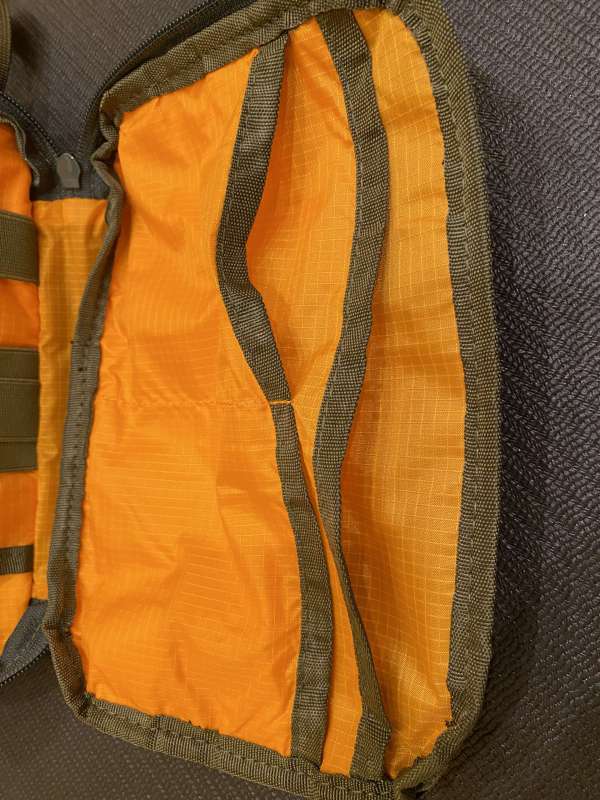 Finally, I took a picture of the main belt of the pack.  You can see the main pack is held by two velcro strips on the end of the pack.  The wider velcro strip is for the water bottle carrier.  This works really well to keep the pack and bottle from moving around on the belt.  The belt is also nice and wide.  It has some slight padding on it and is very comfortable to wear.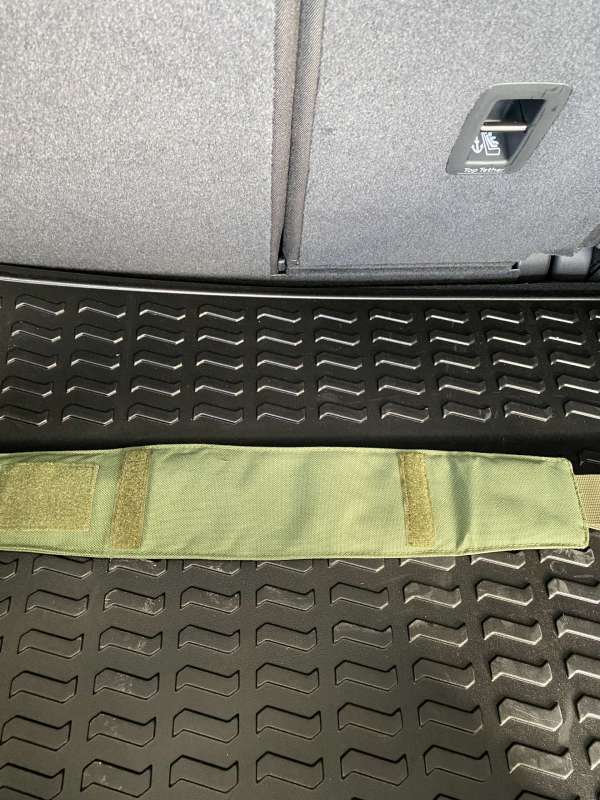 Setup
Next, I started to load up the pack.  I plan on keeping this in my car on the back headrest of my SUV.  I want to keep things I think I might need and be able to pull them out and put them in my day packs when I go hiking.  I hike with a CamelbakMule that lets me carry a hydration bladder and it has pockets to store extra items.  In the front pouch, I put a knife, a leatherman tool, a swiss army knife, a flashlight, and a small firestarter.  In the front pouch, I put my phone (iPhone 11 Pro) in its case and a small first aid kit.  No, I do not normally store my phone in the pack, but I did want to show that it fits in this pocket.  A larger phone would have to go in the main pocket behind the one mine is in and store horizontally.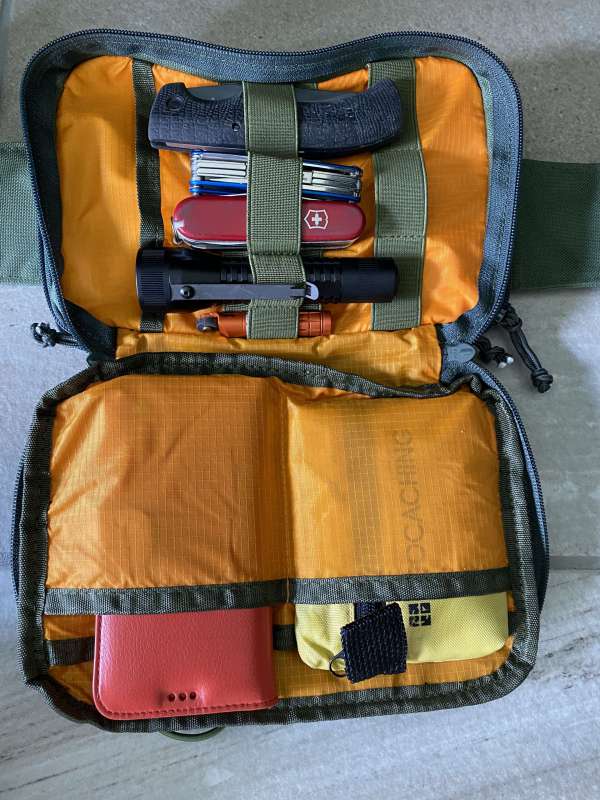 In the back pouch, I put a micro USB cable and a USB-C cable along with a rapid charger.  I left the backside of this pocket empty.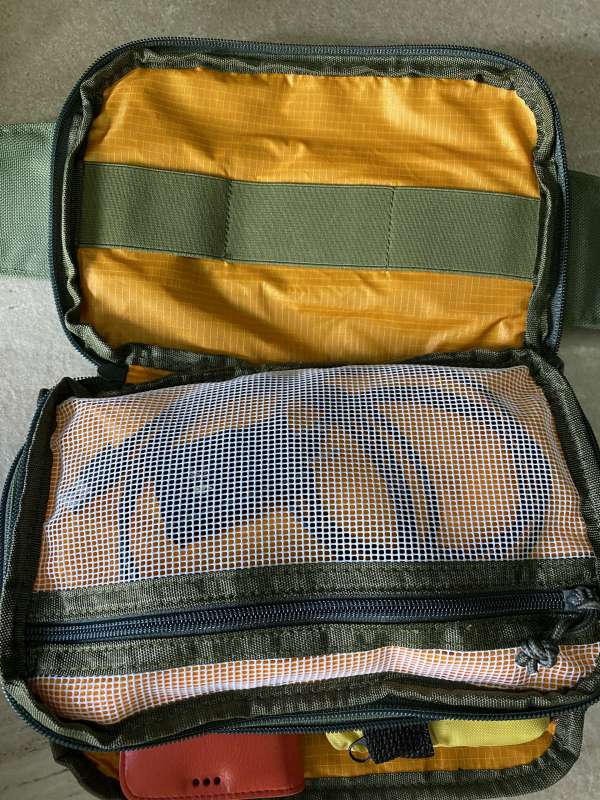 Here is a picture of a fully-loaded pack and water bottle on someone wearing the pack.  I personally found wearing the pack on my back was more comfortable than wearing it up front.  My torso is not as long as the person in this picture and the pack just fit better on my back.   It was easy enough to swing around if I needed to get something.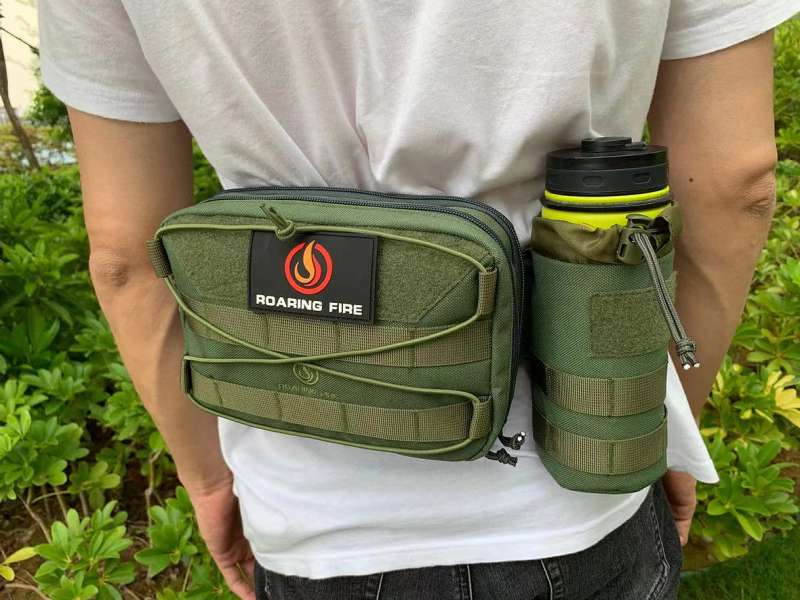 Here is a close-up shot of the back of the car headrest mount.  There are six MOLLE straps on it.  They are not accessible when this accessory is mounted on the headrest, but if you wanted to take it off the headrest and carry it around with this strap they would be there to use.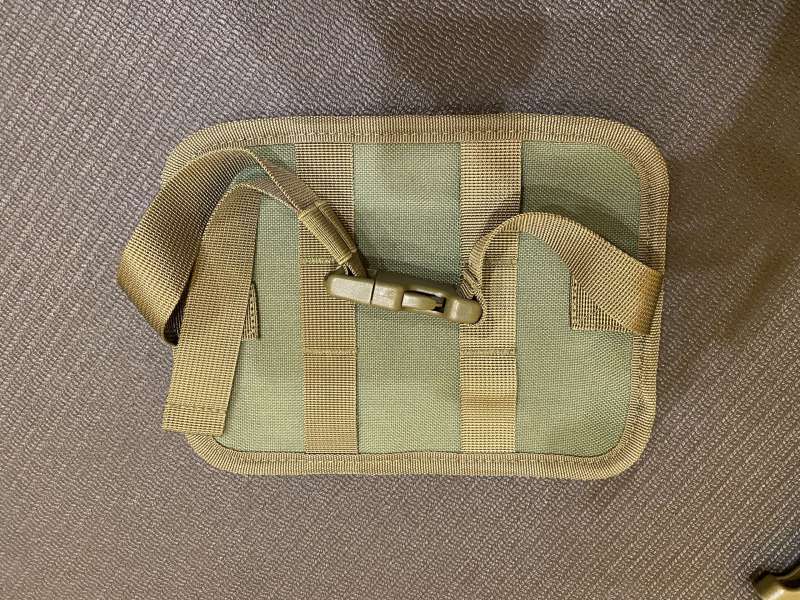 Here is the mount on my Audi Q3 back headrest.  I originally wanted to put it on the passenger side headrest, but in the Audi, the headrests were too thick (I think to allow or an infotainment screen which I do not have) and the strap was not long enough to fit.  I found I actually prefer it on the back seat.  The tint from the rear window keeps anyone from seeing that it is there and people are less likely to be bothered by it if they are sitting in the seat.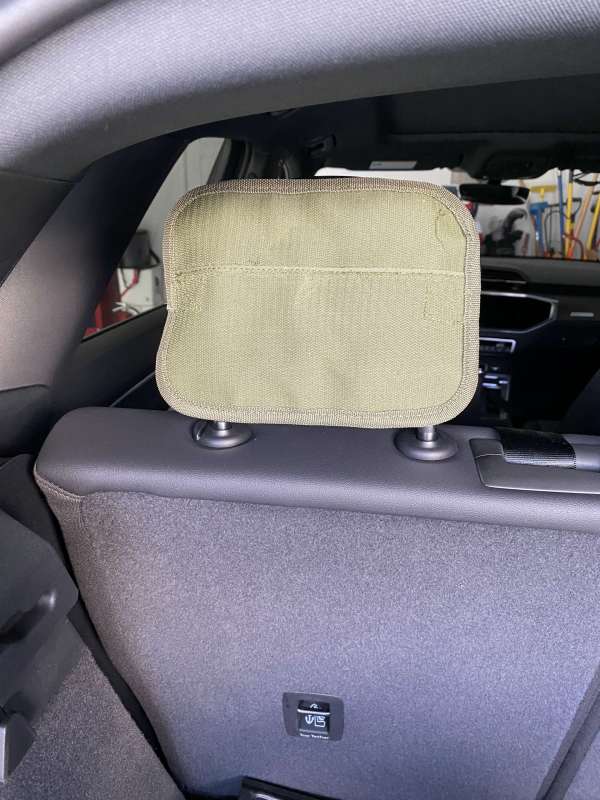 This is a shot of the main pack.  You can see it has the soft side of the velcro attachment.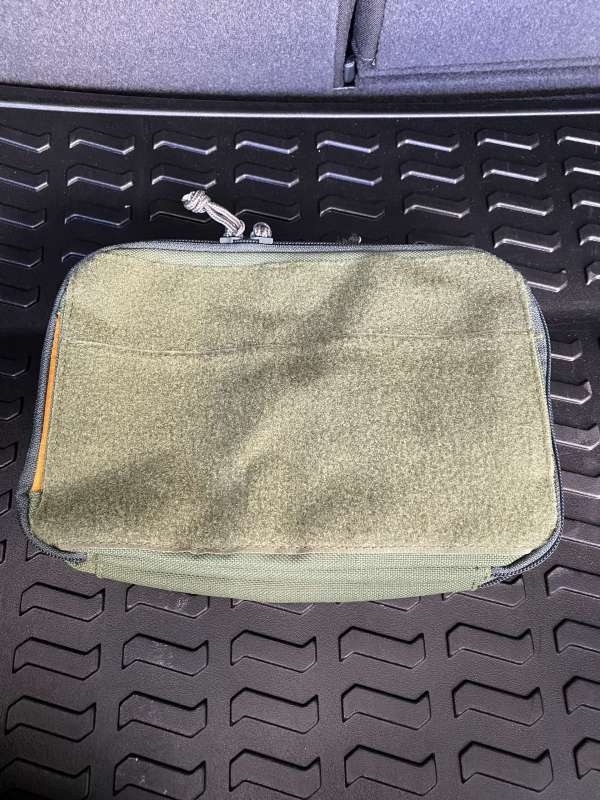 Finally, here is a shot of the pack mounted on the headrest.  That velcro area is huge and there is no way that pack is coming off the attachment.  I would not want to separate the pack from the headrest attachment in a quiet room.  It is quite loud and once attached, you have to pull pretty hard to get it off.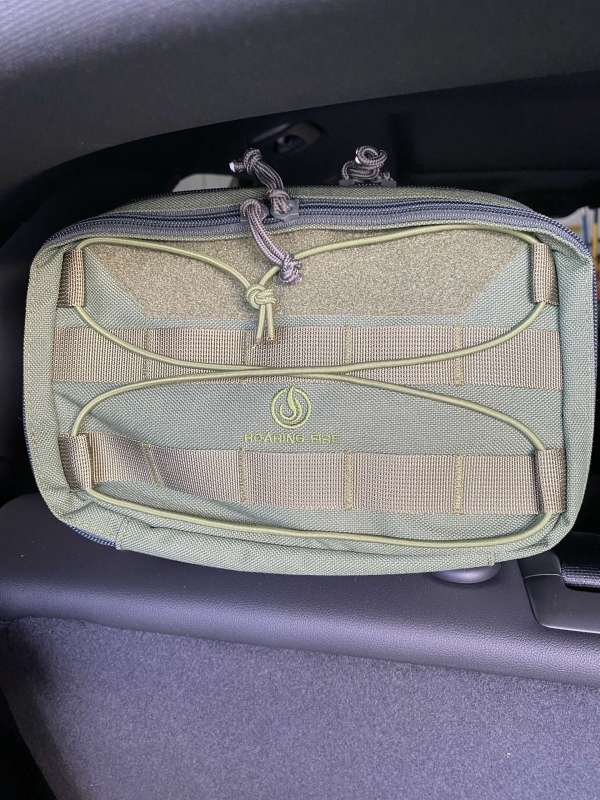 Performance
I am enjoying having this pack in my car.  It frees up my center console from items I rarely use but would like to have handy in case I need them.   I am now ready for the apocalypse and can grab this pack and run!
What I like
Tons of options to store things.
Very well made, hey it has a lifetime warranty
The orange interior makes it easy to see things.
The car headrest attachment is brilliant.  I love this option.
I love that I can remove the water bottle holder if not needed.
What needs to be improved
It would be nice if the car headrest attachment had a longer strap.  Then you can use it to sling over your shoulder to carry the bag around if need be.
Final thoughts
If you are looking for a fanny pack to carry everything you need for a day hike or to have in emergencies, then this is the pack for you.  It is very well built and sturdy.  I also love the price which I find very economical.
Price: $34.39
Where to buy: Roaring Fire
Source: The sample of this product was provided by Roaring Fire.