We use affiliate links. If you buy something through the links on this page, we may earn a commission at no cost to you. Learn more.
REVIEW – It seems to me, between CleanTok and the hundreds of "Clean with me" youtube videos trending that we might be onto a bit of a cleaning revolution. What works best? What works fastest? Is it smart, or dumb? Is there a Lemon-y scent? It's no wonder in the year after sanitizing almost became a world sport that cleanliness is on everyone's mind. Enter, Yeedi Vac Station Self Emptying Robot Vacuum. Could this be our VIP in the cleaning games?
What is it?
The Yeedi Vac Station is a robotic vacuum with a self-emptying dust bin that can also mop.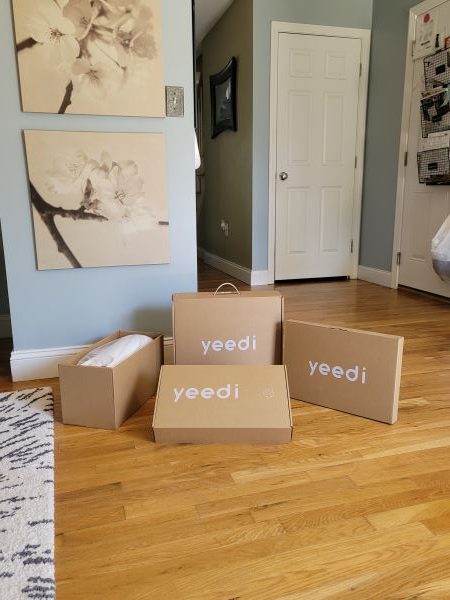 What's in the box?
Yeedi Vac Station
Yeedi vacuum unit with a built-in water reservoir
Charging base and ramp
Mopping attachment and microfiber pad
An instruction booklet
1 spare sweeper brush
2 dust canister bags
Power cord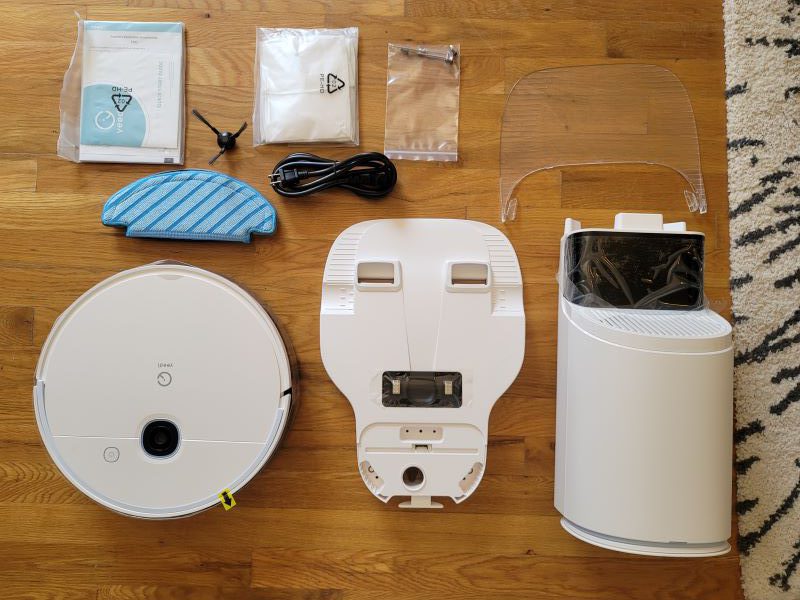 Installation and Setup
Boxes. Tons of boxes. Getting the Yeedi Vac Station literally felt like Christmas with all the nested boxes. "Ooh, what's in here?" may have been said more than a few times because with all the boxes it came with- not one was labeled with what was inside. If you like surprises and recycling, this could be the unit for you without even needing to turn it on. Of course, unboxing aside, the setup of the docking station hub and the unit was extremely user-friendly. Almost plug-and-play if you don't count attaching the clear ramp. If the self-emptying vacuum wasn't enough of a eye catcher, this Yeedi unit also gives you the option of mopping. This does mean a different attachment that will have to be placed on the unit and removed before charging. Water + electrical charging = I assume bad berries.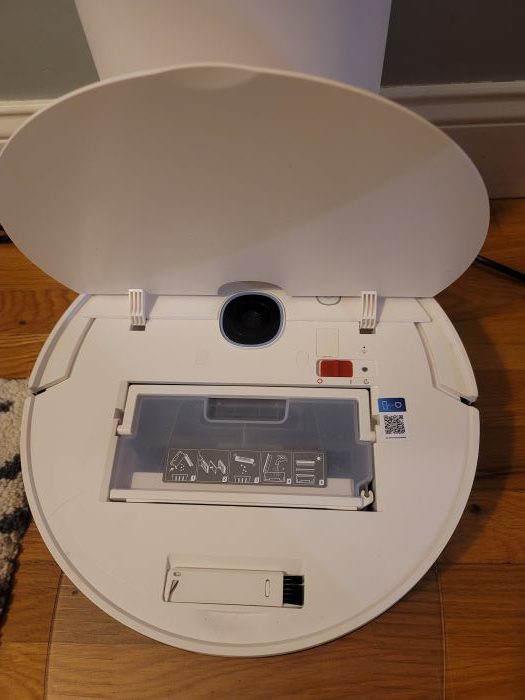 Features
The Yeedi Vac Station is, first and foremost, a robot vacuum.  It sports up to 3000Pa suction, floor type detection, visual SLAM mapping, a whopping 200-minute run time, and the newest addition: the Automatic Empty station.
As a mop, Yeedi brings a microfiber mop head and attachment with an onboard water reservoir. This mode also comes with an "Intelligent Wet Mop Safety System" that triggers the on/off sensor,  and my rugs are grateful.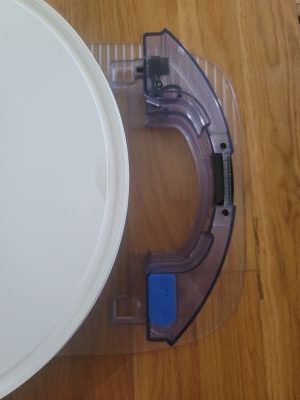 Straight out of the box, once the whole unit is put together, it was nice to see that the size is comparable to competitors. In fact, the size of this unit matches my first Roomba. Something Roomba didn't have? An actual, honest-to-goodness camera. That's right, friends! There is a camera located on the top/lid area of the Yeedi which is used to scan a QR code after you download the app. So, if you can snap a picture, you can set up this unit. Under the hood, you'll also find the dustbin and attached cleaning brush. Located at the front of the unit, there's a water reservoir for the mop function, which we'll discuss later. In doing some research, I did notice the manufacturer did not mention the capability of being connected to Alexa in the quick start guide, but Yeedi absolutely can be Smart enabled. Granted, you can basically turn it on and off (to vacuum or not to vacuum) with no frills but it is a 'neat' feature to have. Get it? Neat?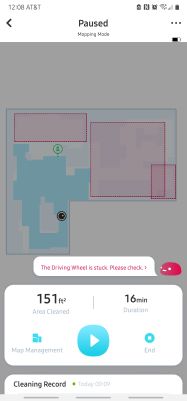 Vacuum
Once all the setup had been complete, it was time to see what Yeedi Vac Station could do. For the first use, I selected the lowest suction option of the three and let it do one complete sweep. I noted three distinctly different things from other robotic vacuums I've owned. First, the mapping feature on this unit is great. It will even show you said map in the app with status messages and a little cartoon Yeedi cleaning on screen. Second, the changes in suction; Yeedi would sense the carpets I have in two areas of my home and automatically change the suction to the highest power while cleaning that area. Third, if you like up-to-the-minute data on your robotics, Yeedi offers that in the app, whether it's business as usual hunting dust bunnies or trapped in the Mines of Morea, the app allows you to supervise AND diagnose. However, as a robotic vacuum owner for over 6 years and a dog owner- what do you think I wanted to test? That's right: could the poo-pocolypse be avoided if Yeedi was running? Without going into monstrous detail, I accidentally set a different robotic vacuum up to clean at 10 AM instead of 10 PM and my elderly cocker spaniel had an accident while I was at work. I think you know where this is going. I wanted to see if this was still a concern. But alas, Yeedi, too, fell victim to the soft and squishy.  (Tested with a water saturated dinner roll, I can assure you was MUCH more pleasant to clean the rollers than I had on the previous experience.) Pet owners, the warning still stands: if there is something that could get smeared, it will get smeared. Lastly, in terms of functionality, the self-empty mode NEEDS to be talked about. It is AWESOME. No more chasing around your Rosie or DJ Roomba to clean the bin, or having it get full halfway through the cycle only to have it keep going and not suck anything up. If you enable the feature through the app to clean continuously, Yeedi will escort herself to the base, empty her contents, then go right back to where she was cleaning. This is also the case if the battery gets low – she'll head home for a quick nap, then finish work. Must be nice.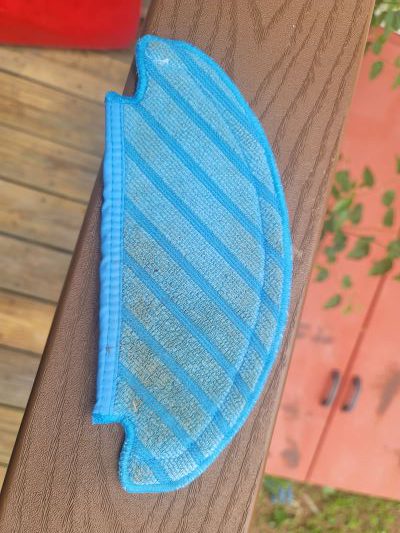 Mopping
I'd like to mention the mop feature since it is a newer option in the Yeedi Vac Max. The biggest concern I had initially was that it would be that the unit would mop ALL the surfaces and that if I didn't run a vacuum cycle first, debris and floor space would make a huge mess on the floor and mop attachment. My concerns were quelled when on my first mopping cycle, Yeedi used the same sensor that found my carpets for higher suction cleaning and used it to avoid that area when mopping WHILE also vacuuming so that mopping could happen unhindered. Yeedi even has a sensor to use more or less water during a mop and can be changed via the app. I would describe the mopping as more akin to a wet Swiffer. This is helpful during dust and allergy season, but it's not going to measure up to an actual mop and bucket scenario. Also, in order to run this function, you do have to attach a different piece to the unit for mopping after filling the water reservoir and you do need to remove it before the unit will go charge.
What I like:
Self-emptying
Mapping and area blocking in the app
Alexa compatibility
Different levels of suction
Reusable microfiber mop head
Low profile for getting near kitchen kick plates and under furniture
What I'd change:
Canister vs. the use of vacuum bags
Use the onboard camera to stop potential smearing accidents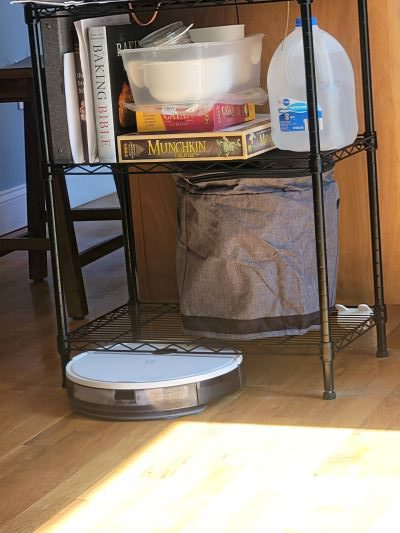 Final thoughts
The Yeedi Vac Station robot vacuum will be a welcome addition to your cleaning staff. It puts your mind at ease by being the best at what it does. It serves as an upgrade to your standard robotic vacuum units via the mop and app functionality, allowing the user to be as involved as they'd like. It works best as a fire-and-forget tool; once you have your area and schedule set, Yeedi will handle herself.
Price: $499.99
Where to buy:  Amazon or directly from Yeedi. There's also a less expensive version of the Yeedi Vac on Amazon that doesn't come with the self-empty station. It's $299.99.
Source:  The sample for this review was provided by Yeedi