We use affiliate links. If you buy something through the links on this page, we may earn a commission at no cost to you. Learn more.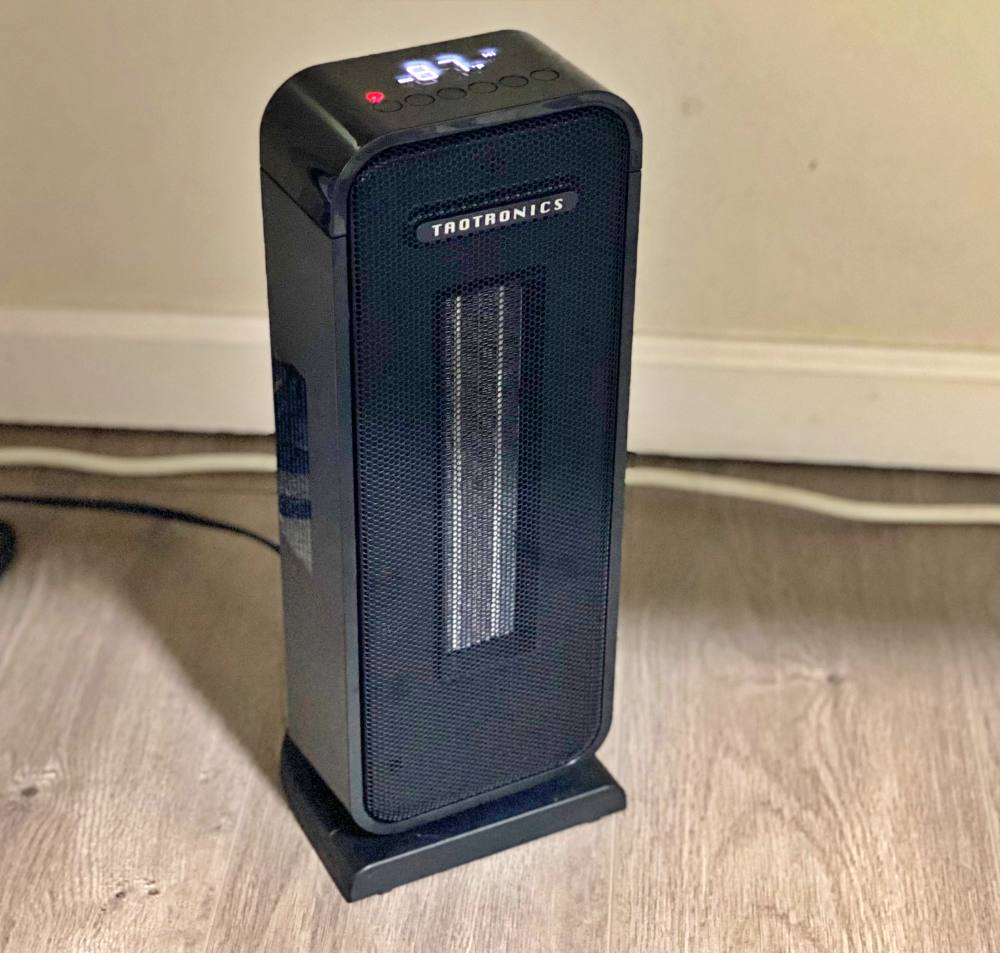 REVIEW – If your weather is anything like what we've been going through in the Bay Area, you're probably wondering why we might be reviewing a space heater in what feels like an endless summer. Well, you'd be right, but the weather here works under its own set of rules and as luck would have it we had a cold few days right after this new 1500w Space Heater from TaoTronics arrived. It's also good to plan ahead so you have what you need before you need it. Let's explore.
What is it?
TaoTronic's HE001 1500w Space Heater is a compact, electric heater that's easy to move from room to room as needed and perfect for small spaces that need some additional warmth.
What's in the box?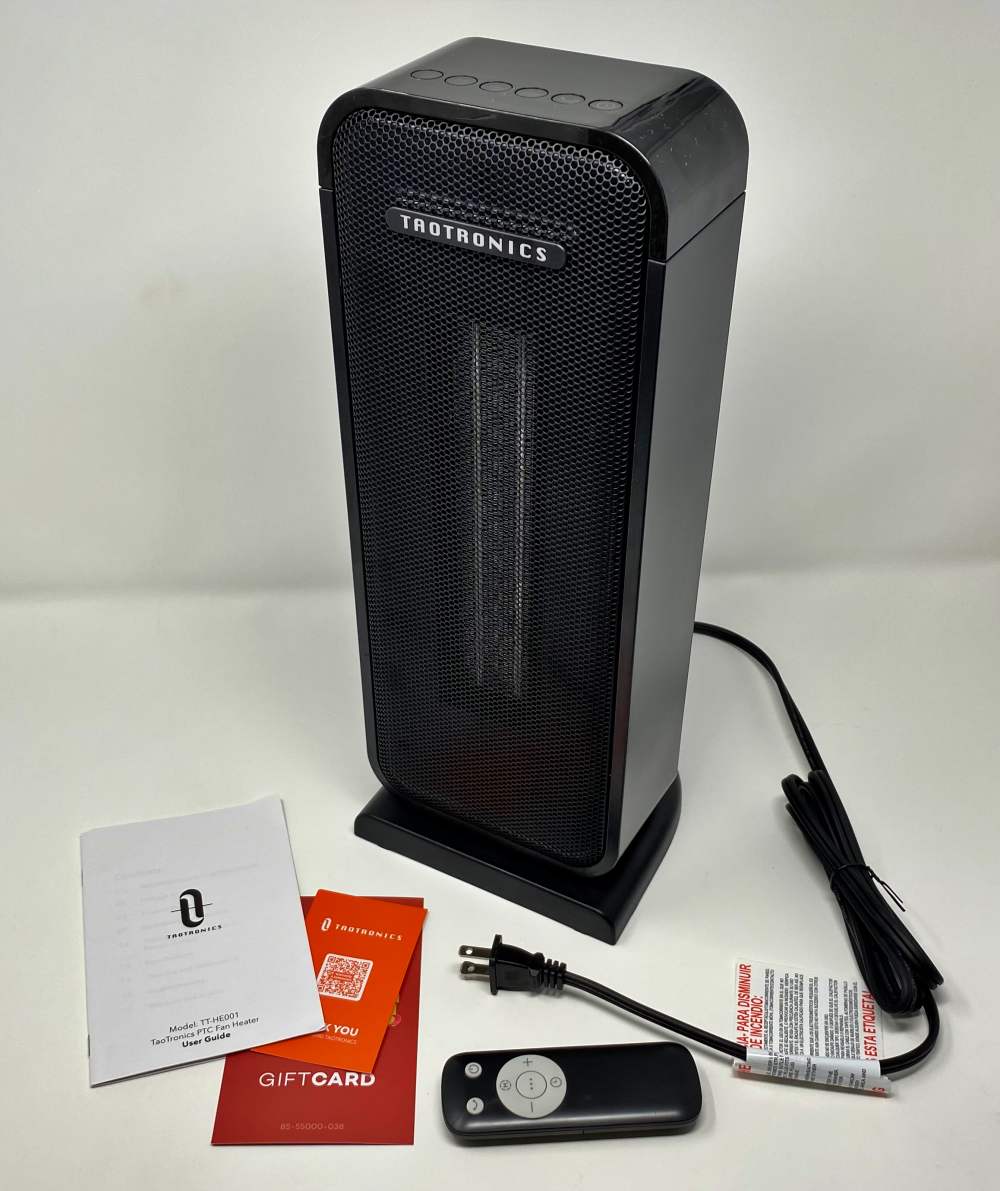 Space Heater
Remote Control
User Guide and Thank You cards
Hardware specs
Power Modes: 1500w/900w/Eco
Rated Voltage & Frequency: 120v / 60Hz
Timer: 12 hours
Auto Power-Off: 24 hours without operation
Protection: Overheating protection as well as tip-over sensing 
Temperature Range: 41º – 95ºF
Heating Element: Ceramic
Oscillation: 65º rotation
Dimensions: About 16″ x 6″ x 6″
Design and features
The HE001 is a compact little tower that puts out a decent amount of heat. The front has a metal mesh that lets the heat pass through while the rear has good ventilation and a handle for moving it around as needed. An oscillating base gives the heater a wider range of coverage.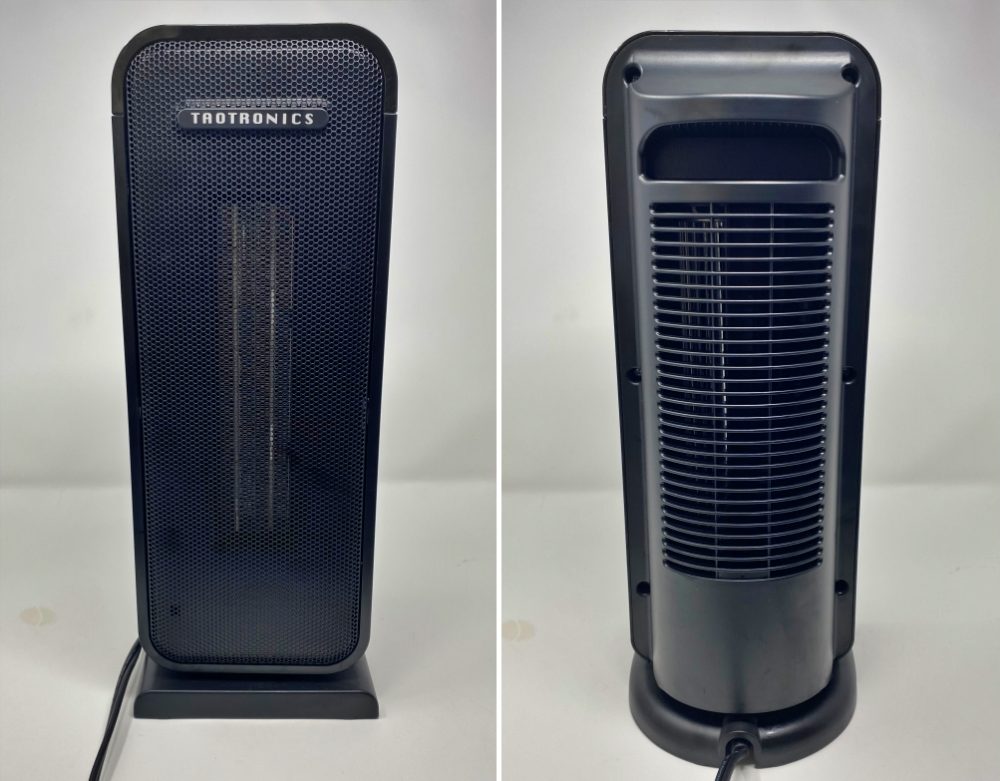 Here's a slightly closer look at the heating element inside that doesn't glow orange as the marketing material might have you think.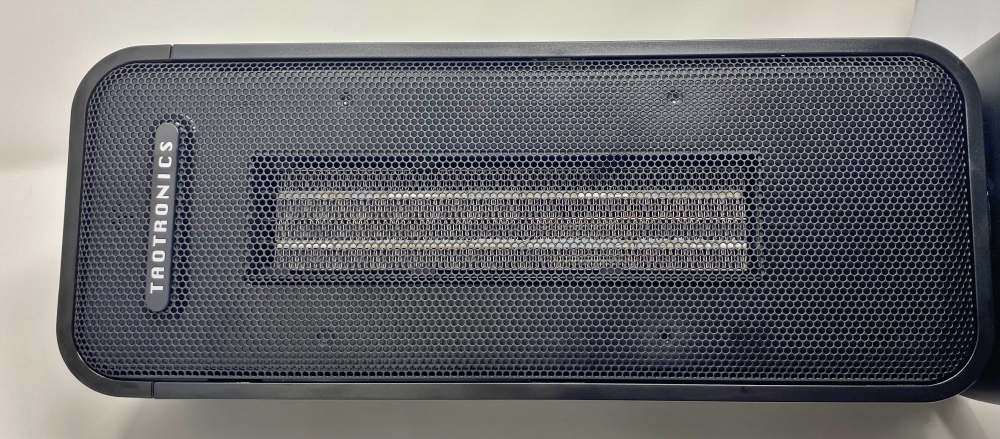 The controls up top make adjustments easy while the display is not visible until powered on.
Never miss one of our posts again. Sent MON, WED, and FRI with the latest gadget reviews and news!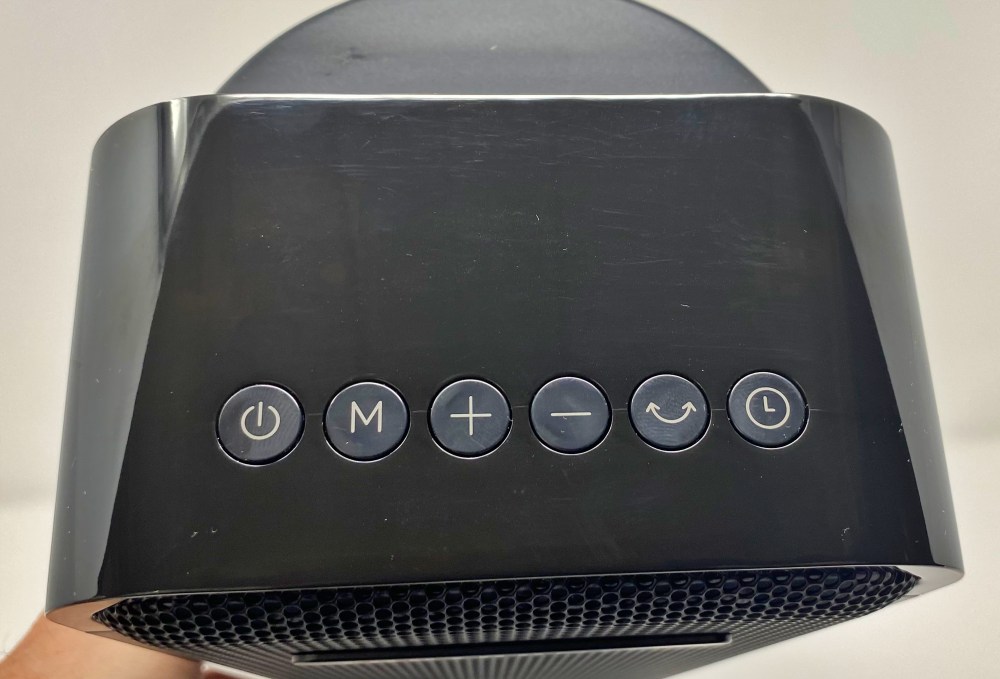 The handy remote is useful when the heater is just beyond reach and has all the same controls to boot.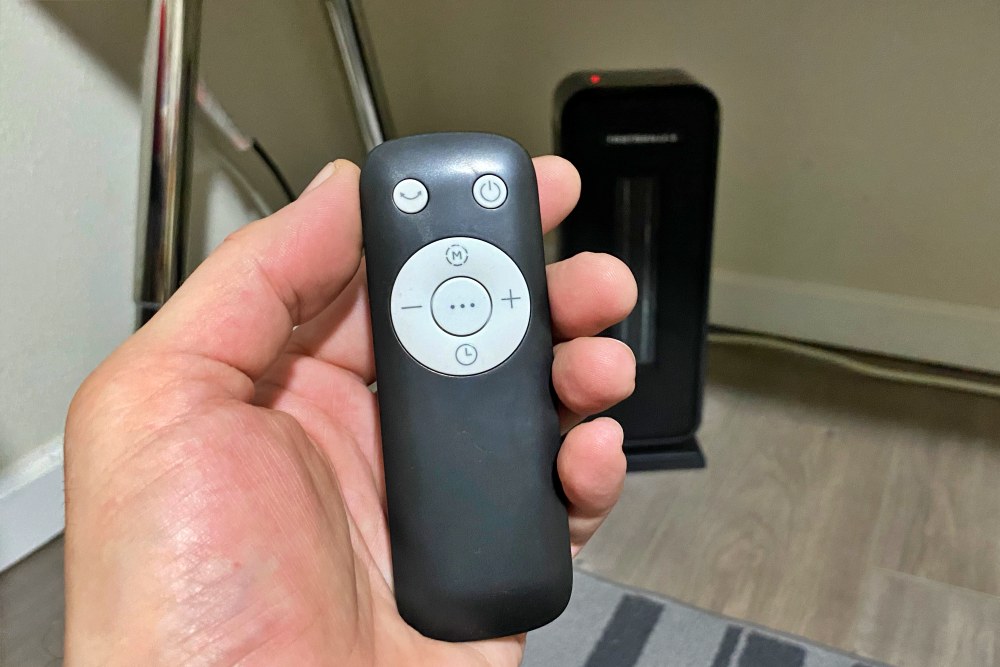 Setup
Getting started is easy. Open up the box and unpack everything. You'll then want to install AAA batteries in the remote as they're not provided.
Plug the cord into the outlet and position the heater so that the front is aimed at the center of any rotation if you want to use that function. Make sure to leave the area directly around the heater free of anything that should not be getting direct heat.
Use the power button on the heater (or the remote) to turn the unit on. Repeated presses of the (M) button will adjust modes…
– HI – 1500w (max heat)
– LO – 900w
– ECO – temp sensing (unit shows HI again, but also ECO and will turn on and off as needed)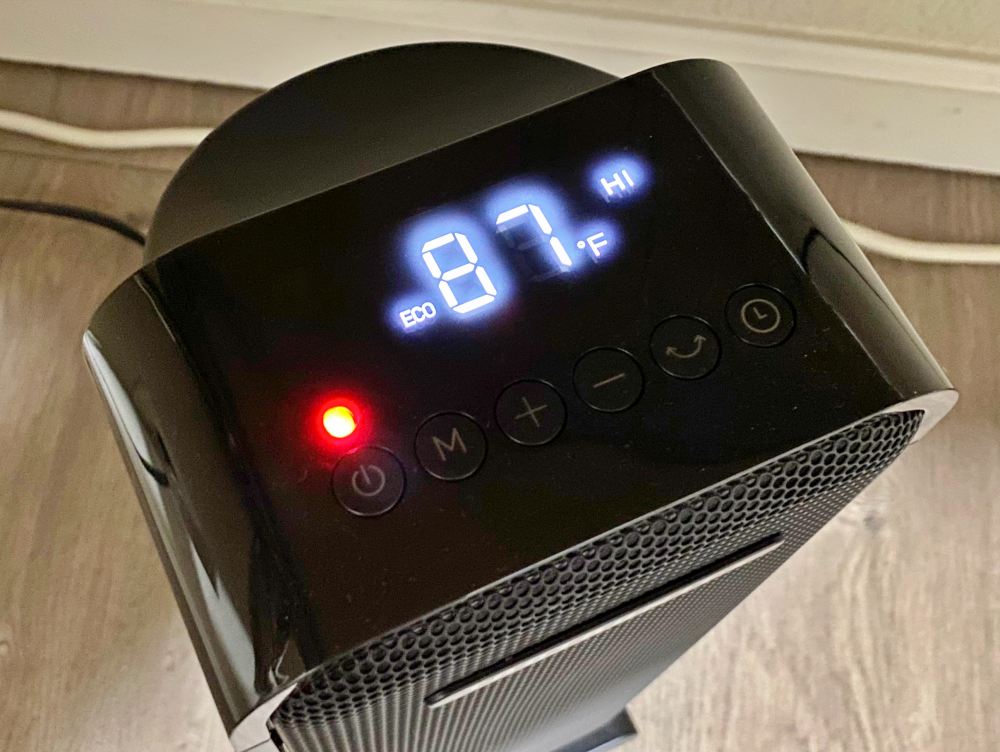 From there, use the +/- buttons to set your desired heat, the curved arrow button to toggle oscillation and the timer button to step through different timers up to 12 hours.
To turn the unit off, press power again, but note that powering off starts a 15 sec cool down before actually powering off.
Performance
So as I mentioned, it actually got cold a couple of mornings right as the 001 Space Heater arrived. My wife gets cold easily so we went to set it up in her office. First thing I noticed when unpacking is that some of the lubricant used to keep the oscillation mechanism happy had dripped out during shipping.

This wiped up easily but thought it was worth mentioning.
I got it set up under her desk as the feet get cold first. I installed a laminate floor in that office just before the new year so I wasn't worried about a rug or anything else causing trouble with a heater but wanted to test out the safety features anyway. The main one I wanted to check was the tip over feature. With the heater running, I tipped it onto its side. Sure enough, it started beeping at me for about 5 seconds and then cut off the heat, stopped the oscillation and displayed a P4 error.
Her desk is in a window nook that effectively creates a little hot box.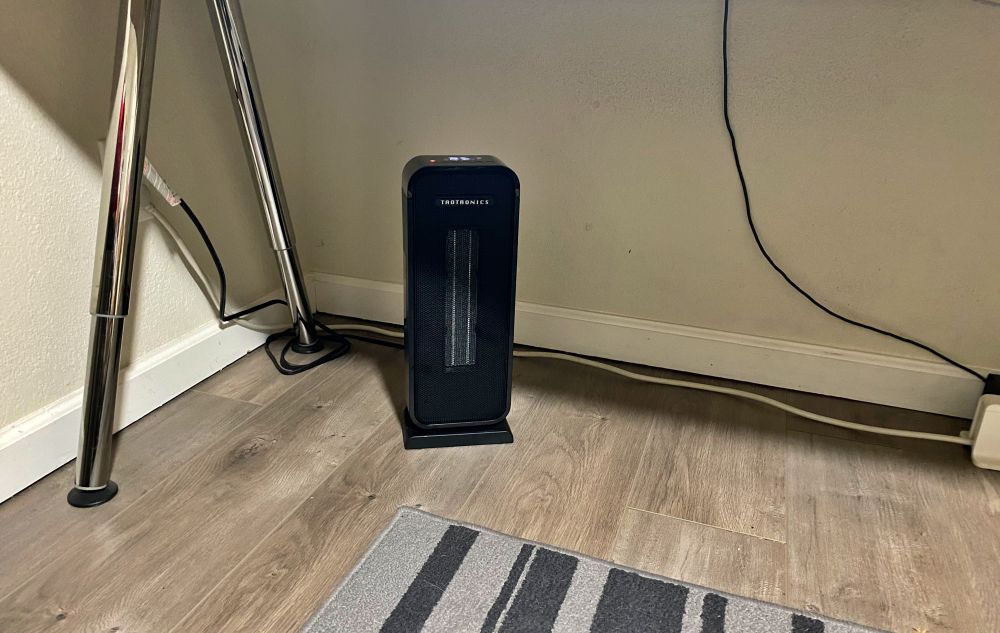 In both the high and low modes, it would get too hot quickly and she'd have to keep turning it on and off. ECO mode worked the best as would sense reaching temperature and then pause for a while before turning on again when needed. It was necessary to set a temperature higher than you would a thermostat as otherwise, it never felt like it got to the threshold.
We did run into a scenario that while it might seem like an outlier, ended up happening frequently. Getting up to leave the desk area, you'll want to turn off the heater unless you plan on coming right back. With the heater below the desk and out of sight, it was easy to forget to do that, especially if it had paused in ECO mode and therefore silent. On multiple occasions, we'd realize it was probably still on as we were heading to bed, or worse as we were waking up.
There are three built-in solutions to this issue. The first is getting in the habit of turning it off and on as you arrive and leave your desk. The second is using the timer as you turn it on, setting for the duration you expect to be at the desk. Last is the built-in auto-power off feature, which won't kick off for a full 24 hours which seems like an eternity. That's one I'd like to have a shorter time option on.
Lastly, the oscillation is great. It helps spread the heat around evenly instead of creating a narrow sweet spot. It's simple to activate with the button on the remote or the top of the unit, but know that when you turn it off, it stops wherever it is in the swing, so you end up watching the rotation to try and time it in the middle.
What I like
Small and efficient
Remote is great if you have it across the room
Eco mode for maintaining a temperature
Tip-over protection
What I'd change
Shorter timeframe for auto-power off feature
Final thoughts
The HE001 Space Heater from TaoTronics is a great little unit. It's lightweight making it easy to move around as needed, but more importantly, kicks out enough heat to warm a small room pretty quickly. It's also really small to make off-season storage easy and inexpensive enough that you may even want to pick up two if you've got a couple of cold spots in the house.
Price: $59.99
Where to buy: Amazon
Source: The sample of this product was provided by TaoTronics