We use affiliate links. If you buy something through the links on this page, we may earn a commission at no cost to you. Learn more.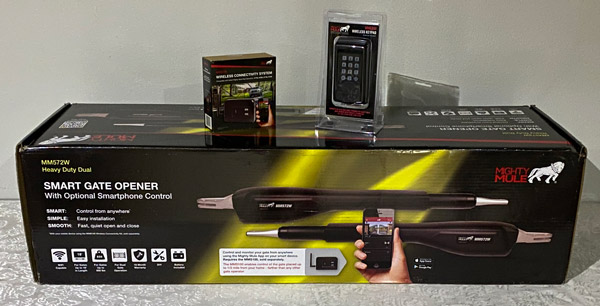 REVIEW – The IoT (Internet of Things) continues to expand into all facets of our everyday world, where our refrigerators, barbecues, toothbrushes, doorbells, garage door openers, etc are now "connected" smart devices helping us keep track of every nuance of our existence. As one might expect, this trend has spread to some relatively niche products. In this case, Mighty Mule has created a series of smart gate openers to further add modern day convenience and awareness into our lives. They sent their new MM572W Smart Dual Swing Gate Opener to checkout for this review.

A bit of backstory: My family and I live pretty far out in the sticks…along an old backroad, down a very long gravel driveway, on treed acreage where you can't see any neighbors or people. Our property has a single access point with a wrought iron fence and dual gates that adds security and limits entry into our quiet world. About 5 years ago, I installed a very low tech gate opener system as a DIY project that is getting a bit old and slow but has gotten the job done. So, when Might Mule agreed to send the MM572W I was pretty excited to not only modernize our entry gate but as a worthy DIY project for the the Gadgeteer Kid and I over his holiday break from college.
What is it?
Mighty Mule has recently released a new line of smart gate openers designed to be managed, monitored, and operated from nearly anywhere in the world using their Smart Controller smartphone app. The Mighty Mule Smart-series currently consists of both single and dual swing gate openers, all able to be controlled remotely via your smart device.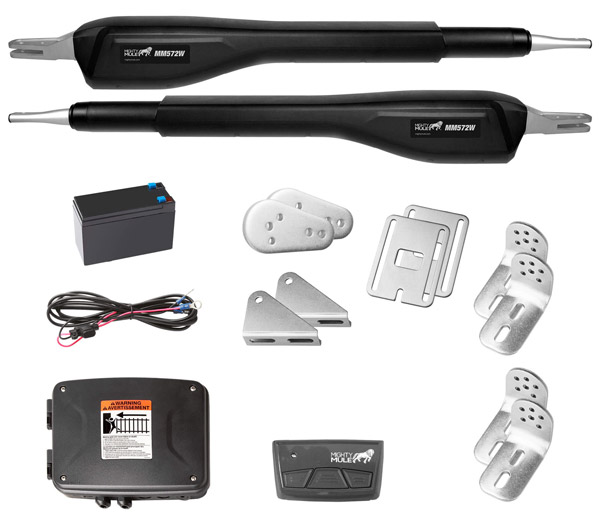 What's in the box?
MM572W Gate Opener
Remote with Visor Clip
12 Volt Battery
Additional Backup Battery Box
Mounting Hardware
Instruction Manual
The MM572W is not able to connect to the internet right out of the box. To achieve that, you will need the Mighty Mule MMS100 Wireless Connectivity System, an optional $130 accessory. Depending on your setup, I would also recommend purchasing the MMK200 Wireless Digital Keypad for $75 as well.
Hardware specs
Gate Length: Up to 18ft
Gate Weight: Up to 850 lbs
Gate Type: Dual Swing
Warranty: 18 month
Battery: 12 Volt
Design and features
The Might Mule Smart series of gate openers are designed to be installed by the homeowner, enabling you to control your gate from wherever you are in the world. There are two tiers of openers, the 300 series and 500 series variants. The MM371W and MM372W are able to open gates up to 550 lbs. The MM571W and MM572W are able to open gates up to 850 lbs. The MM371W and MM571W are single gate openers and the MM372W and MM572W are dual gate openers. As I stated above, the MMS100 Wireless Connectivity System can be connect up to half mile away from your internet hub.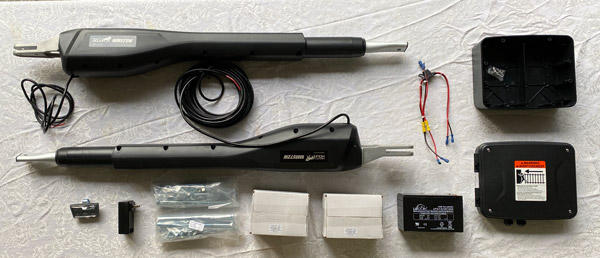 The Mighty Mule smart series of gate openers are well made and designed to be installed by nearly anyone. Everything is hardened and built to withstand years of varying weather conditions.
Installation
Mighty Mule has several pretty good videos on their website that describes the basic installation and engineering details that need to be taken into consideration before installing any gate opener. I'm not going into the step-by-step instructions of how to install the system but I will discuss how easy the MM572W smart gate opener is as a DIY project. Mighty Mule designs their gate openers to be installed by the average person. When I originally had our wrought iron gate put in, I looked into having openers professionally installed and the cost was outrageous/comical. So I found a nice enough DIY system on Amazon that I easily installed in less than a day. That system was far from "smart" but has worked well enough for half a decade for a fraction of the cost.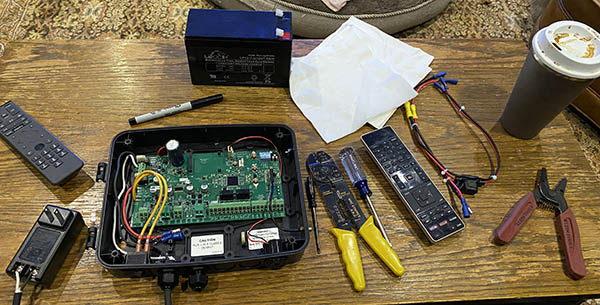 You do have to connect power and arm wiring plus plug in the wireless connectivity module into the waterproof control box.

Depending on your situation, installing the gate arms is easy enough. Bottom line is you have to securely connect the arm to your gate posts and the other end to the gate itself. Mighty Mule includes the hardware needed to make this happen in most situations.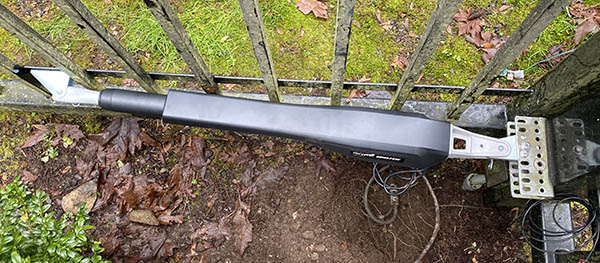 Though I had to do a bit of Macgyvering since I already had a bracket/hardpoint welded to my (very substantial) wrought iron gate posts. So for me, getting the arms in place was even easier.
Setup
Once the MM572W is physically installed, setting up the basic operation of the gate is as simple as getting your remote talking to your garage door opener. There is a "learn" button on the motherboard that you hold down until the system beeps and micro LED blinks, then hold the remote button for a couple of seconds and you're good to go. But at this point, the MM572W isn't "smart" and works as a basic opener with zero connection to the outside world.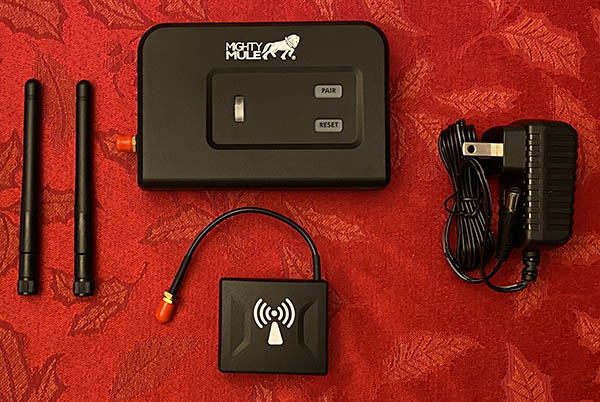 To make the MM572W smart gate opener truly live up to its potential, you have to purchase the Mighty Mule MMS100 Wireless Connectivity System. The MMS100 is what really transforms the MM572W into a smart device, enabling the gate opener to connect to the internet, allowing you to manage and control it remotely.

Installing the MMS100 Wireless Connectivity System into the control box is simple, taking less that a minute or two. Once the module is clicked into place, running the wire to the side port and connecting the external antenna is easy and intuitive.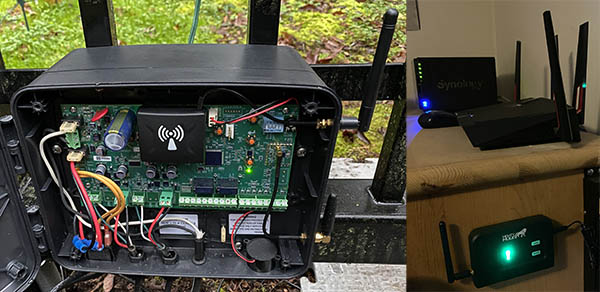 Installing and connecting the Bridge to your WiFi network is just as easy. The Bridge needs to be installed near your WiFi router but surprisingly does not get physically connected via ethernet cable. Once powered up, the Mighty Mule app assists you in getting everything talking. The Bridge and Module can communicate up to half a mile away. Our gate is approximately 400ft away from our router and the signal has to go thru many walls of our house. But the two connected easily on the first attempt.
Performance
Performance of a smart gate opener is a relatively complex equation…
The gate mechanism works very well. The arms are extremely heavy duty with a staggered, soft start/stop that open and close our gate easily. The movement is smooth, relatively fast, and nearly silent (all improvements from our old system, it had become slow, loud, and a little clunky).

The remote control/clicker distance could be better. The remote activates the mechanism from a distance of approx 40 feet (about half the distance of our old system). Mighty Mule only includes a single remote with the MM572W but I was very pleasantly surprised that the system's frequency is compatible with all of our car's built-in remote controls.

The MMS100 Wireless Connectivity System has a solid connection between the Bridge and wireless module in the control box. The system has remained continuously connected since being installed. The only glitch came when our power went out but once the lights came back on, immediately reconnected.

The Mighty Mule smart app works as I hoped, actually I am very pleased thus far. I can see if our gate is open or closed from anywhere I have a worthy internet connection. The app also notifies me when someone has opened/closed it. I can manage who has access via their smartphone. Though there are still several features including geofencing and automatic events that are currently in development and not operational.
What I like
Well made components
Excellent DIY project
Able to be upgraded/enhanced with accessories
Fast, quiet movement
Can be activated from any smart device
Works with built-in car remote
What needs to be improved
Should include the MMS Wireless Connectivity System
The app can be a temporarily non-responsive at times
Remote distance could be better
Geofencing and Automated Tasks are currently not functioning
All of Mighty Mule's smart gate openers by themselves are nicely made, relatively basic actuators engineered to (obviously) open your gate. The MM572W on its own is similar to an old school garage door opener with a remote clicker that opens and shuts a gate. The ability to add the MMS100 Wireless Connectivity system to remotely monitor, manage, and control your gate via your smartphone is truly brilliant. My only criticism for Mighty Mule is that they should have just packaged their smart system with the wireless connectivity module out of the box for a bit more (something like $899).
That said, I would recommend going several steps further and get the Mighty Mule wireless keypad and driveway exit sensor to truly get the most out of the MM572W. Fortunately Mighty Mule offers a package kit through Amazon that includes the Wireless Connectivity System, Wireless Keypad, and Wireless Exit Wand all for $1299.
Final thoughts
I've truly enjoyed nerding out during the installation and setup of the Mighty Mule MM572W Smart dual gate opener. If you have the need, the MM572W is an excellent DIY project that can bring wireless connectivity and awareness to your world. Considering the cost of having someone else install a similar system, it is well worth your time to at least consider trying to install this sort of gate opener yourself. The MM572W is an excellent choice for a gate opener especially considering how easy it is to install and its ability to be upgraded and controlled/monitored from nearly anywhere.
Price: $799 (basic system) / $1299 well equipped
Where to buy: Amazon
Source: The sample of this product was provided by Mighty Mule.