We use affiliate links. If you buy something through the links on this page, we may earn a commission at no cost to you. Learn more.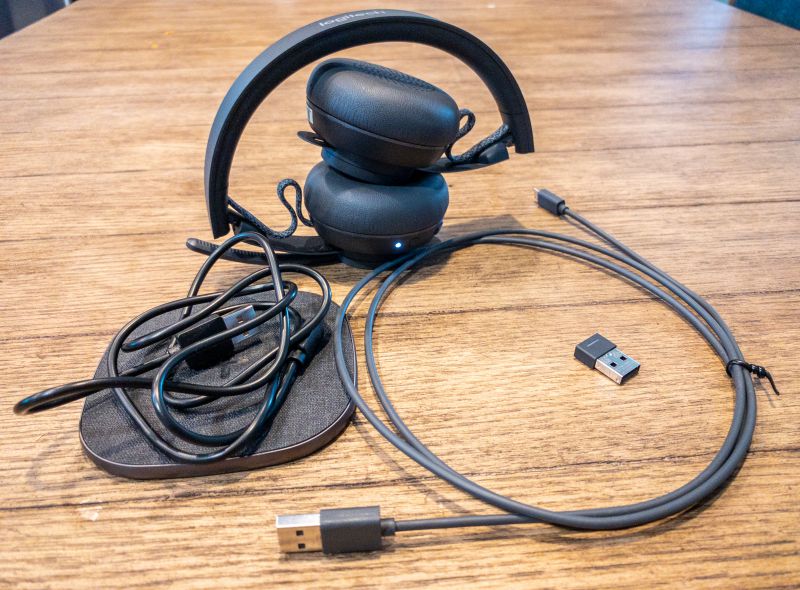 REVIEW – The trend towards open office spaces and other close-quarters work environments has made getting a little peace and quiet difficult. While I have an actual office with walls and everything, they are so thin it's almost as if I was sitting in a cubicle. I also work with two folks who've got voices so loud that they could do crowd control without a bullhorn. Needless to say, I jumped at the chance to check out the Logitech Zone wireless headset to see if it could bring me a moment or two of peace.
What is it?
The Logitech Zone Wireless is a compact on-ear headset that combines active noise cancellation (ANC), wireless charging and a positionable microphone to give you a comfortable listening experience whether you are connected to your favorite music source or talking on the phone.
What's in the box?
Logitech Zone Wireless headset
Charging cable
Travel sack
Wireless charger and cable
Documentation and instructions
USB-A dongle

Hardware specs
Headset
6.88 in Height x 6.96 in Width x 2.78 in Depth
Ear pads: 2.78 in Height x 2.78 in Width x .65 in Depth
6.4 oz
Microphone: Omni-directional dual MEMS mic array
Built in Lithium Ion battery with 14 (ANC on) or 15 (ANC off) hours of talk time and 14 (ANC on) or 16 (ANC off) hours of listening time.
Qi Wireless charging enabled
Audio
Music frequency response: 30~13kHz @ -10db
Talk mode frequency response: 100~8kHz per TIA920
Microphone frequency response: 85~20kHz @ -3db
Wireless
Zone Wireless Receiver: .85 in Height x .54 in Width X .24 in Depth
 Range up to 100 feet with open line of sight
Design and features
The Logitech Zone Wireless headset is designed to sit on your ears. While I didn't find it as comfortable as some of the over-ear models I've used, I was able to wear them for several hours with little discomfort. The band is padded silicone and the ear pads are leatherette and replaceable. The microphone can be positioned either on the right or left ear. It can swivel it 270 degrees so you can set it where it's most comfortable. The microphone will automatically mute when you swivel it up, say at the end of a conversation.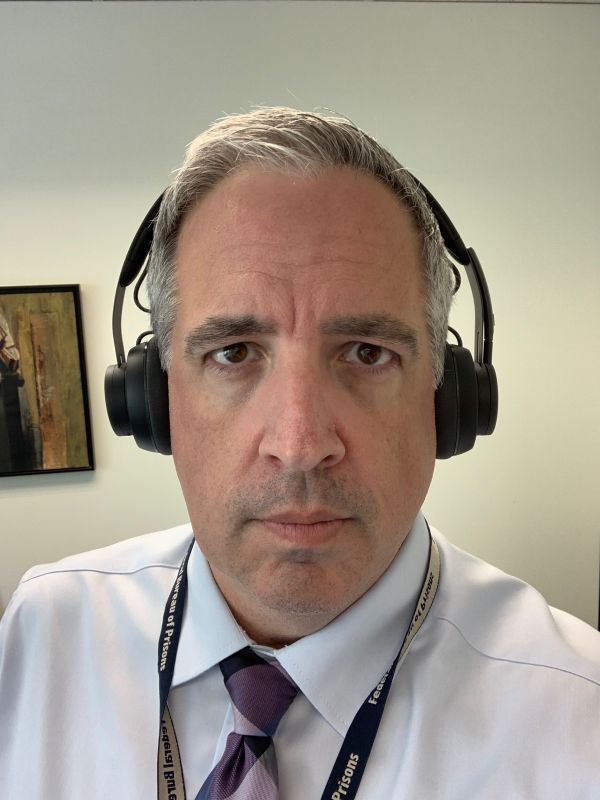 All of the controls are located on the ear cup with the microphone. Along the bottom are controls for Bluetooth pairing, a power button and an ANC on/off button. On the side of the ear cup is a multi-function button that allows for call (answer, end, reject) and medial control (Music play/pause, Skip forward/backward). You can adjust the volume from here as well. The only control on the mic itself is a mute button. There is a micro-usb charging port on this ear cup as well, should you decide not to take advantage of the Qi wireless charging ability. If you want to wirelessly charge the headset  the receiver is located in the other ear cup.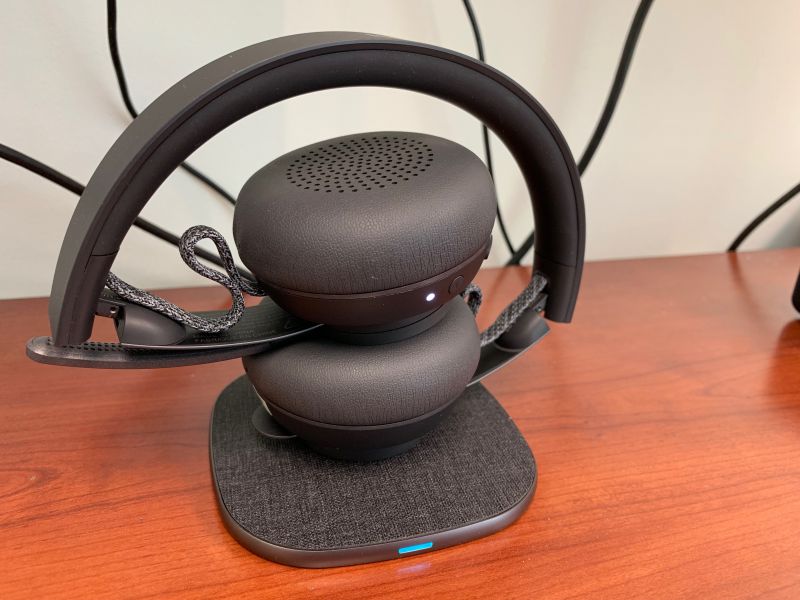 Setup
After connecting to your phone through bluetooth, the only other set up involved is connecting it to the Logi Tune app (available for IOS and Android). From there, you can work basic functions such as turning the ANC on and off, adjusting the equalizer curves and view the charge status.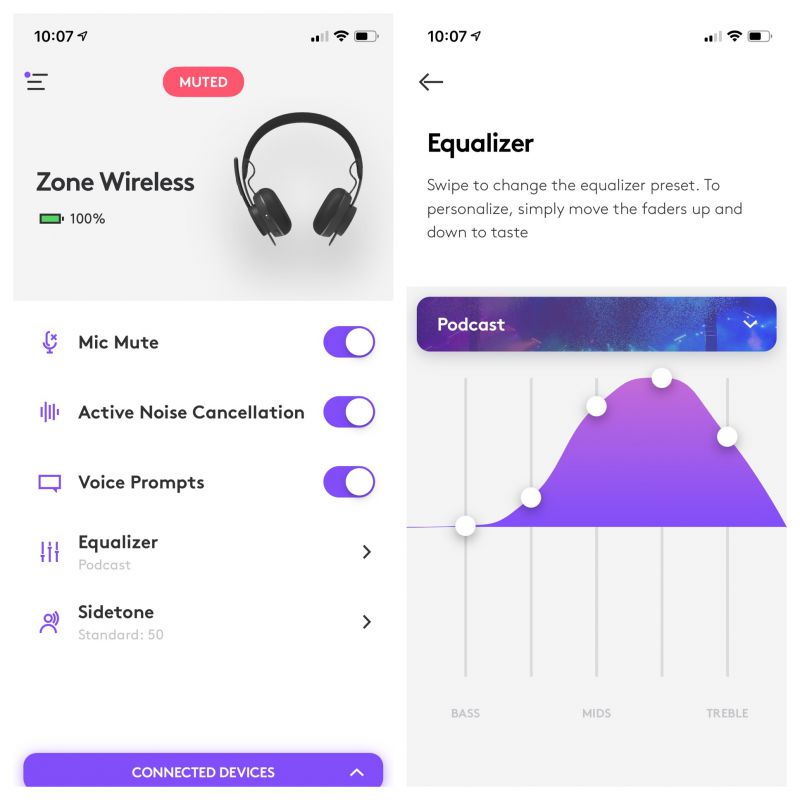 One cool feature is the ability to adjust the sidetone volume. This is essential when talking on the phone as it allows you to hear yourself and avoid the embarrassment of unnecessary shouting.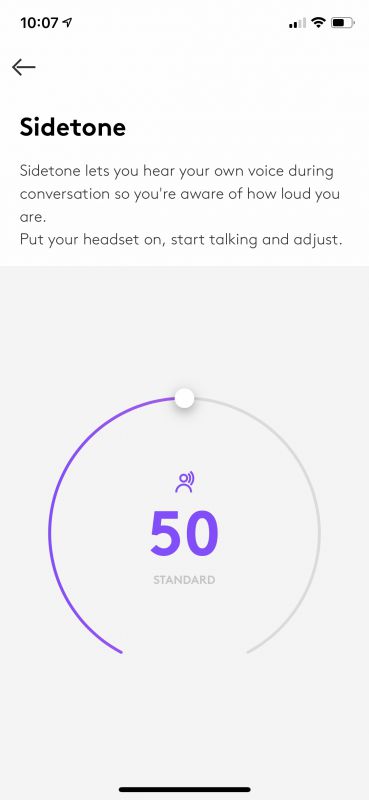 Performance
I went into this review with the perception that I was evaluating a pair of headphones. However, as the name implies, this is a headset, designed to be equally adept at listening to music as handling phone calls. With that in mind, I gave it a run through with several types of music (from jazz to metal to classical) and some of my favorite podcasts, all stored on my phone. I also connected the wireless dongle to my computer and sat through an hour long webinar. Finally, I made several calls on my iPhone.
Overall, I'd say that for listening to music, the Zone Wireless headset provided a satisfactory experience. While there wasn't too much in the way of dynamics, and the sound felt slightly compressed at times, my overall impression was that it was decent for a headset designed for listening and communications. When I listened to a webinar from my computer, I found the sound much less fatiguing than any other headset I'd used for that purpose. Another bonus was that it was quite a bit more comfortable. Using the headset to make a few phone calls, I found the audio clear and echo-free. Callers on the other end said that I was easy to hear and neither of us experienced any audio drop outs.
What I like
Comfortable to wear for long hours at the office
Good call quality on both ends
Quick and stable wireless connection through Bluetooth and wireless dongle
What I'd change
Active noise cancellation is not very strong
Music was somewhat flat, with little in the way of dynamics
Final thoughts
I'd say that the Logitech Zone Wireless headset is a great choice if you are looking for a do-it-all headset for the office. It doesn't excel for critical music listening like dedicated headphones, nor does its active noise cancellation come close to industry leaders in blocking unwanted noise. However, it provides you with a decent listening experience, good call quality and the ability to tune out most distractions in your office environment.
Price: $199.99
Where to buy: Logitech and Amazon
Source: The sample of this product was provided by Logitech.