We use affiliate links. If you buy something through the links on this page, we may earn a commission at no cost to you. Learn more.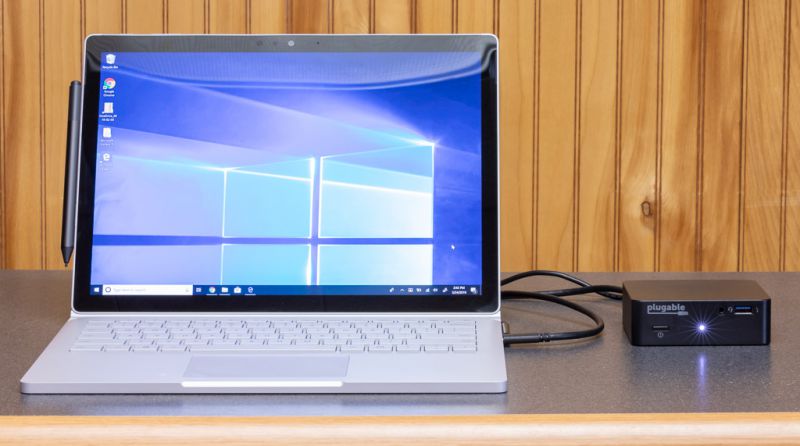 REVIEW – One of the drawbacks to laptops is connecting external devices and monitors. The Plugable USB-C mini docking station aims to make that easier by adding a little bit of just about everything.
What is it?
The Plugable USB-C mini docking station is a small USB-C docking station that includes a USB hub with 4 USB-A 3.0 ports, HDMI output, a gigabit ethernet port, and 3.5mm TRRS Headphone/Mic Combo Jack along with a USB-C port with charging functionality.
What's in the box?
USB-C Docking station
100W (20V, 5A) power supply
1m USB-C to USB-C cable
VESA mounting bracket
Quick Start Guide
Hardware specs
HDMI 1.4 output for mirroring or extending your desktop to an external monitor. Supports [email protected], 2560×[email protected] & 1920×1080/[email protected]
USB-C port with 85W Power Delivery functionality to charge compatible host computers (not all USB-C computers are able to charge through their USB-C port
Gigabit Ethernet port – The UD-CAM has a dedicated Realtek RTL8153 Ethernet controller
3.5mm TRRS Headphone/Mic Combo Jack
Four total USB (Type-A) ports; One USB 3.0 port on the front and three USB 3.0 ports on the rear
Design and features
There's an idiom that says "The more things change, the more they stay the same". It seems like everything is going wireless nowadays, but even though wireless is everywhere, there are some things that just work better wired. External drives, monitors, and various hardware often works better wired.
Portable devices such as laptops and tablets seem to have fewer and fewer ports, but we still seem to have the same or more devices to plug into them.
The Plugable USB-C mini docking station addresses this problem with a small, yet powerful, hub.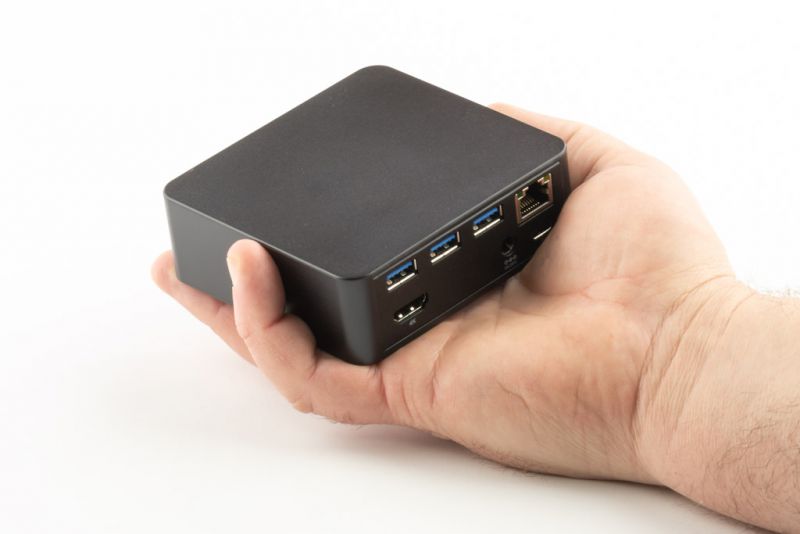 Not only does the Plugable USB-C mini docking station add USB ports for your device, but it also adds functionality to devices. Most notably is the ability to add an HDMI 1.4 output that supports 4K resolution – all through one USB-C connection from your device.
The mini docking station also adds a gigabit ethernet port. In all my experience, a wired network connection always seems to have better stability and speed.
To use the Plugable mini docking station, you will need to have a supported USB-C system like the 2015 and later 12″ MacBook Retina with USB-C, late 2016/2017 MacBook Pro with Thunderbolt 3, Dell XPS, Precision, and Latitude systems with Thunderbolt 3, and the Microsoft Surface Book 2. See Plugable's compatibility chart on the product page. https://plugable.com/products/ud-cam/
The Plugable mini docking station can also provide all of these features while simultaneously providing up to 85W of power to charge your system via the USB-C connection, so even though you're adding a cable to connect the dock, you might be able to remove the original charging cable – depending on your device.
I set up the Plugable USB-C mini docking station with a Microsoft Surface Book 2. Windows automatically recognized it and installed the appropriate USB hub drivers. There wasn't anything to manually install, it was just plug and play!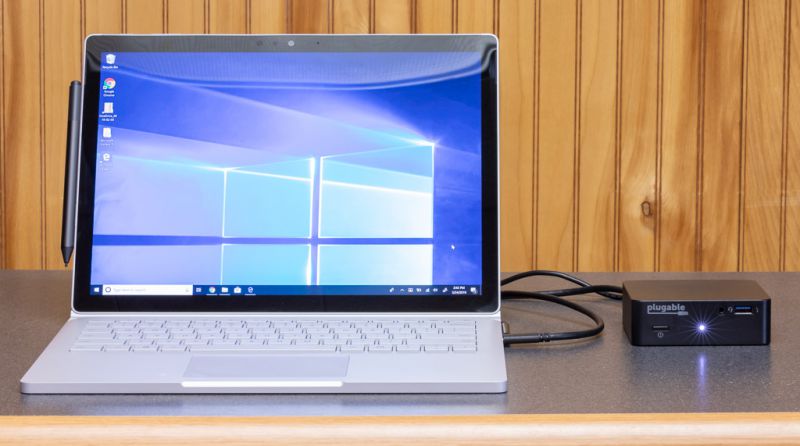 The first thing I did was check that it was charging from the docking station. Next was the one thing that really excited me about this device, it's 4K HDMI connection. So I connected it to my 40″ AOC 4K monitor and I was up and running without a hitch. It performed just as well as my desktop machine for the tasks I performed such as 4K videos, photo editing, and a little bit of CAD design for 3D printing. I was quite happy with it. It is limited to [email protected], which may be a hindrance if you're a gamer, but for normal computer tasks, it will work just fine.
I did not test it with any Apple devices as all of my Mac computers are older devices. I also did not test the VESA mount because all of my monitors are currently using their mounts on their stands, however, I've been using and abusing VESA mounts for over 20 years, so I can say that the included mount should work just fine.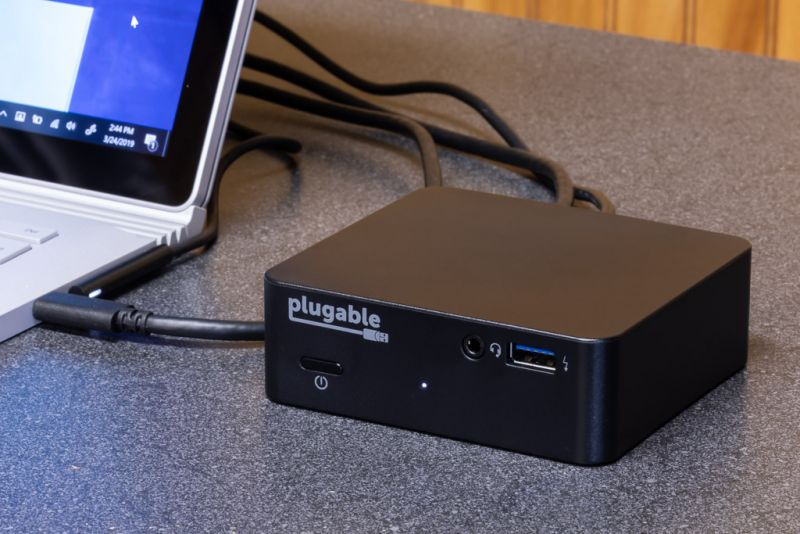 The Plugable USB-C mini docking station also features a VESA mount so that it can be attached to the back of a monitor that has the standard 100mm VESA mounting holes. This allows you to place it out of sight unless you need to plug and unplug devices regularly, then you might just opt to use the mounting bracket to mount the docking station under the edge of your desk. It really is a nice little feature that could save a lot of time over making your own bracket. Theoretically, one mounted out of sight you would still only have one cable running to your computer (laptop).
The device also has four rubber feet on the bottom. It may not sound like much of a feature, but if you've ever had a hub that didn't you would know that the cables can make the device turn. These little rubber feet help it stay in place.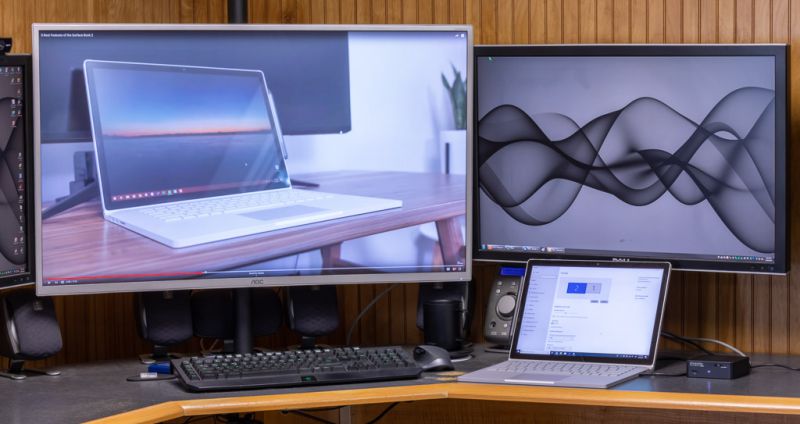 What I like
The VESA mount is a nice touch
The 4K video output is splendid
The rubber feet are nice
What needs to be improved
I could not think of anything that could be improved.
Final thoughts
The Plugable USB-C mini docking station is a great device that provides a lot of functionality in a small package. The additional ports provide functionality, usability, and speed increases (wired ethernet vs wireless).
Price: $129.00
Where to buy: Plugable and Amazon
Source: The sample of this product was provided by Plugable.