We use affiliate links. If you buy something through the links on this page, we may earn a commission at no cost to you. Learn more.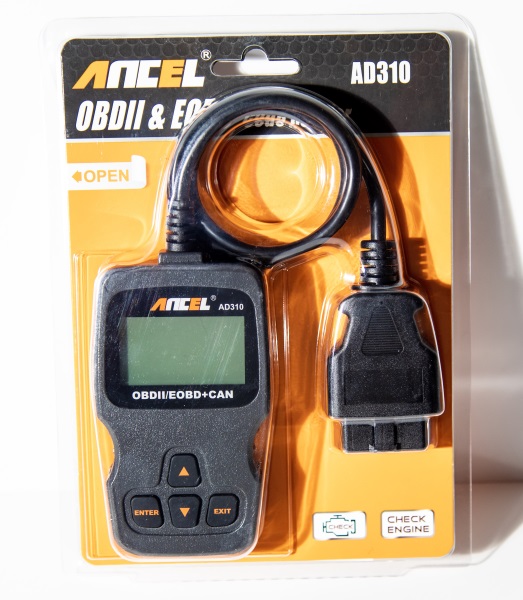 REVIEW – While I am not a mechanic, I am quite handy as a jack of all trades, and over the years I have tinkered with many of the used vehicles that I owned before I started to lease new vehicles. I was always interested in the devices that I would see at the mechanic shop and when I first heard about the incorporation of the ODB Connector in newer vehicles, I was intrigued about its function and capability. Although my current vehicle is new, I was excited to see what insight I can gain via the ANCEL AD310 Classic Enhanced Universal OBD II Scanner Car Engine Fault Code Reader when I connect it to my vehicle. Here is how it turned out!
What is it?
The Ancel AD310 scanner is a well-built device with a nice size LCD display (128 x 64 pixels) that has a white backlight and contrast adjustment. It is able to display the test results directly on the screen which makes it a very mobile all-in-one package. This is also true because it gets the power directly from the OBDII Data Link Connector in your vehicle, so there is no need for batteries or an external power supply.
What's in the box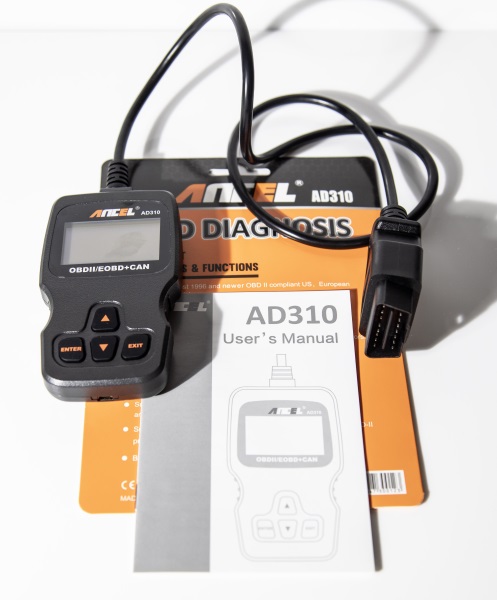 1 x ANCEL AD310 Classic Enhanced Universal OBD II Scanner Car Engine Fault Code Reader
1 x User Manual
Design and features
Specifications
Display: Backlit, 128 x 64 pixels display with contrast adjustment
Operating temperature: 0 to 60 °C (32 to 140 °F)
Storage temperature: -20 to 70 °C (-4 to 158 °F)
External power: 8.0 to 18.0 V power provided via vehicle battery
Product weight: 300g
Features
Works on all 1996 and newer OBD II compliant US, 2000 and newer OBD II
European, 2005 and newer OBDII Asian vehicles
Reads hard (memory) / pending (intermittent) and historic codes and shows definitions
Turns off Check Engine light, clear codes and resets monitors
Reads live data stream
View freeze frame data
I/M monitor readiness test
Retrieves vehicle information
Supports CAN (Controller Area Network) and all other current OBD II protocols Built-in OBD II Fault code lookup library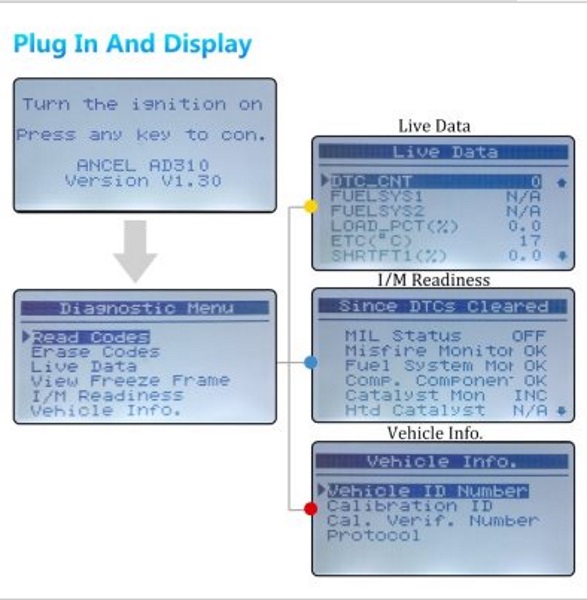 The Ancel Scanner comes with a built-in 2. 5' long cable that is well insulated. There are 4 buttons on the scanner that include the Up and Down buttons for scrolling the menu, and the Enter and Exit buttons for accessing and exiting menus and settings.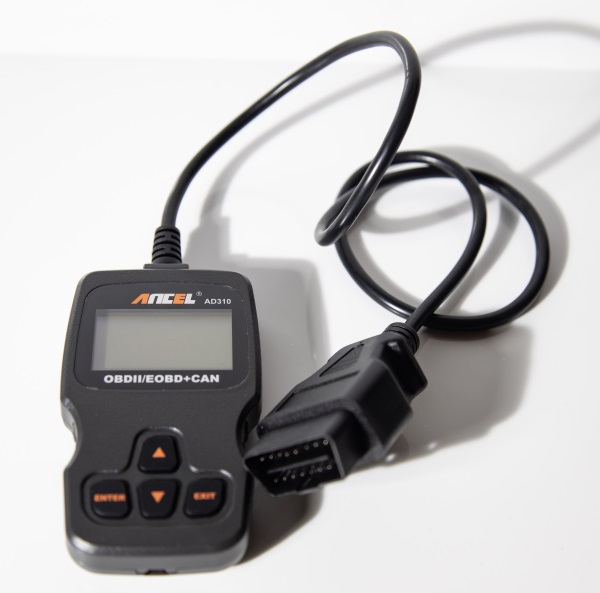 On the other end of the cable, there is the OBD Connector.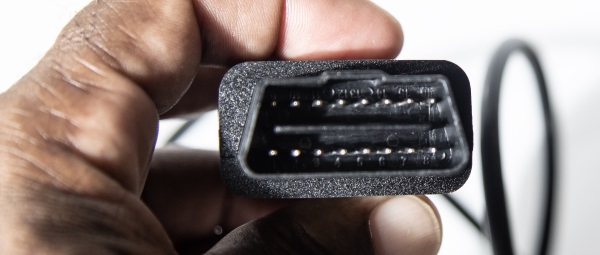 Performance
When I plugged in the Ancel AD310 to the OBD Connector in my truck the screen lit up immediately and the logo ANCEL appeared on the screen. After a couple of seconds, and just as indicated in the manual, the following screen appeared. This just required me to turn the ignigiton to the on position and not to actually start the vehicle. (Please Note: all of the following pictures in this section were taken with a cell phone camera in the dark underneath my dashboard):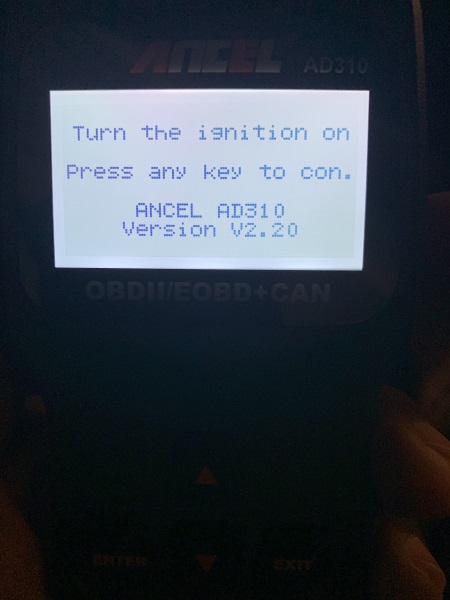 I am no expert on this type of device, but what I like is the amount of information it provides and its ability to erase codes, clear the check engine light and diagnose system issues which I am assuming includes faulty sensors, etc. Since my vehicle is new, it is not a good test subject to truly validate the capabilities of this device. However, as soon as I hear from one of my friends that their check engine light is on or that their vehicle is not performing properly, I will be on my way to them with this device and will post an update after should my visit yield any relevant information. The following are screenshots of some of the screens/options that are available:
Once I was done playing around with the options and screens, I selected exit and the folloing screen appeared: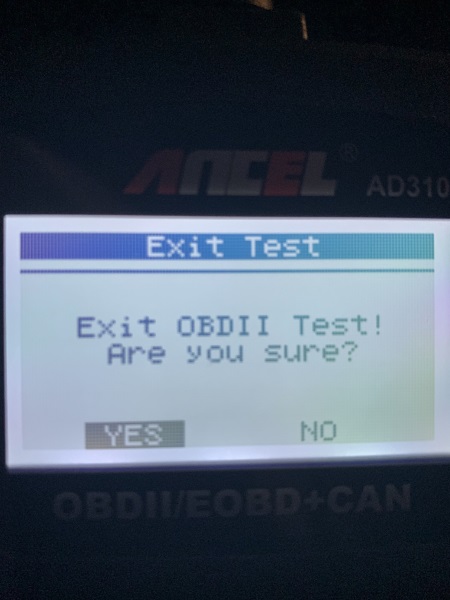 Of course I started my truck afterwards to make sure that I did not create an issue with all of my playing around. LOL.
What I like
Its build quality
The display
The ease of use
No need for external power
What can be improved
The User Manual print is too small (At least for my naked eyes)
Final thoughts
The ANCEL AD310 is a very handy tool that simplifies much of what we see mechanics do when we take our cars to the shop. Years ago, it seemed like such a device was too technical for the average person and required a qualified mechanics with a complicated tool to clear a check engine light or to diagnose a faulty sensor. Paying for a part to be replaced was one thing, but paying expensive shop rates for simple diagnosis was hurtful. Now, with a device like this, you can have a bit of change left in your pocket to purchase the over-priced replacement part. This device is reasonably priced and in my opinion, is a great bang for the buck. (Disclaimer: my opinion is subject to change if it does not actually perform as advertised once I get to check the next faulty vehicle that I get my hands on)
Price: $34.99
Where to buy: Amazon
Sample: The sample for this review was provided by Ancel