We use affiliate links. If you buy something through the links on this page, we may earn a commission at no cost to you. Learn more.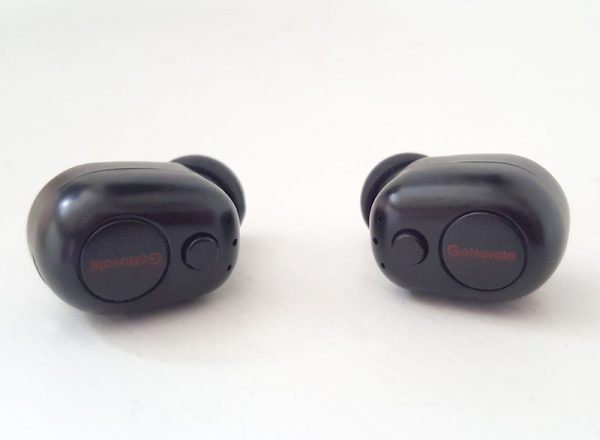 Having earbuds that are truly wireless has been a quest for me.  And when I say wireless I am not talking about being able to connect to my phone via Bluetooth.  I am talking about having earbuds with NO wires.  None.  I want them to look like I am wearing a hearing aid.  No wires. Zilch.  Enter the GoNovate Gemini Wireless Earbuds.  So small each one can fit on a quarter.  And no flashing little blue light. Are they worth the price?  Let's find out.
First of all, the earbuds are the smallest I have ever seen.  Which brings up my first point.  I have a habit of misplacing headsets that are small.  My daily Bluetooth headset is currently the Plantronics Voyager Edge, and I love it.  But I have misplaced it numerous times because it is so small and it is easy to set down and forget about.  And the GoNovate earbuds are about 1/3 the size of the Voyager Edge.  Did I mention that they are the smallest I have ever seen?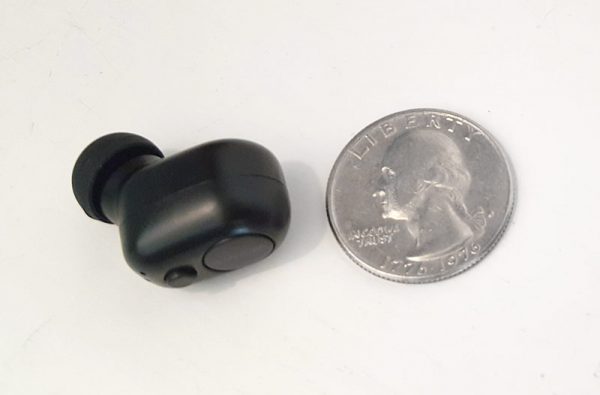 I should specifically mention that the setup for these buds is special and you need to read the instructions that come in the package.  Basically, you have to turn on the right bud, then turn on the left bud so that it connects to the right one, then you connect the right bud to your phone/tablet.  And you simply repeat that process every time you turn them on to make sure that they connect properly.  Apparently the right bud is the one that matters in relation to where your phone is.  When my phone is in my left pocket I have experienced a handful (just a few) drops and pauses in the music.  When the phone is in my right pocket I don't experience any drops or pauses except for when the batteries are almost dead.
Which brings me to my next point.  I was lucky to get 3.5 hours of listening time with these earbuds.  I guess I can't complain too much because if you want a really, really small earbud, that means a really, really small battery.  So I'll live with it.  Luckily, in the package you'll find the charging box, which the earbuds magnetically slip into the top of.  They immediately start charging when you insert them into the charging box and on the bottom of the box you'll find a button that you can press and see 4 LED lights to show you the current status of the battery capacity.  The box is awesome for taking the earbuds with you because you don't want to carry these things in your pocket.  Trust me.  They can too easily be dropped or lost.  The box is 2 ¾ in wide, 2 in tall, and about ¾ in thick.  It's a great size to carry in your pocket.  And inside the box is a 3,000 mAh battery which means you get numerous charges for your earbuds.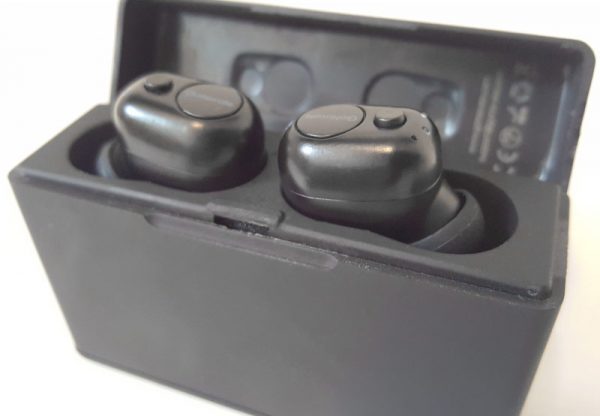 The GoNovate buds only have 1 button on each bud and it performs a couple of different functions.  Press either once to pause the music.  Press either one twice to go to the next track.  And hold either one to power both the buds off.  Pretty simple.  I have reviewed numerous headphones and earbuds lately on the Gadgeteer.  And one thing has been clear with almost every single product, which is that the vast majority of them claim that the headset/earbuds can also be used to answer phone calls.  Make a note that these earbuds are no different.  They aren't meant to answer phone calls, but they'll do for a quick call.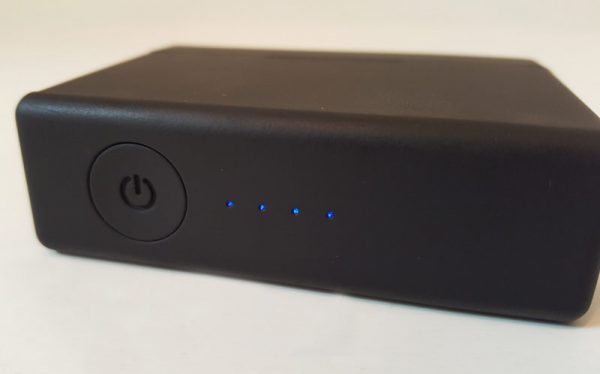 I should mention something about the sound quality.  I am no connoisseur of music, but I know what I like.  These earbuds don't have much bass sound at all.  And the highs aren't that great either.  Right in the middle is where I would say these earbuds shine.  You will get good quality sound through these earbuds but don't expect the same quality sound you get from your expensive over-the-ear headphones.  But on the other hand, for the smallest earbuds I have ever seen, I think the sound is great.  The volume is loud enough that when I am listening to music I can't hear anyone talking to me or calling my name from across the house (Sorry, honey. I was doing a review, honest.)
Finally, I want to mention the one thing that is a little disappointing about the GoNovate Gemini earbuds.  The tips on the ends that stick inside your ears are soft silicone that come in 3 sizes.  They aren't uncomfortable, but they aren't as a comfortable or useful as they would be if they were made of memory foam like many earbuds today.  So I can't recommend these earbuds if you are indeed going to be participating in some sort of strenuous athletic activity.  They just don't completely stay inside your ears with lots of movement of your head.  I find myself regularly pushing them back into my ears.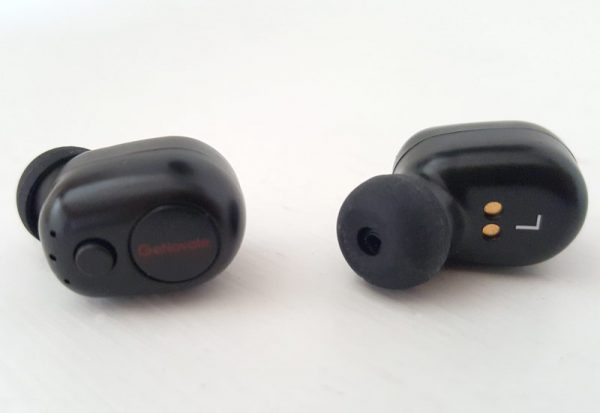 Positives
Amazing small size
Good sound quality
Battery charging box
Negatives
Only 3.5 hrs of listening time
Lows and highs in sound aren't there
Can easily be lost
Final thoughts
For the price of $##, it is really hard to complain about these earbuds.  The GoNovate Gemini are crazy small, the sound quality is good considering the small size, the charging box is a huge plus, and you don't have any blinking blue light to annoy those around you.  If you can live with the 3.5 hours of playtime and the silicone ear tips that don't quite stay in during strenuous activity, then these earbuds are a great buy.
Price: $39.99
Where to buy: Amazon
Source: The sample for this review was provided by GoNovate.