We use affiliate links. If you buy something through the links on this page, we may earn a commission at no cost to you. Learn more.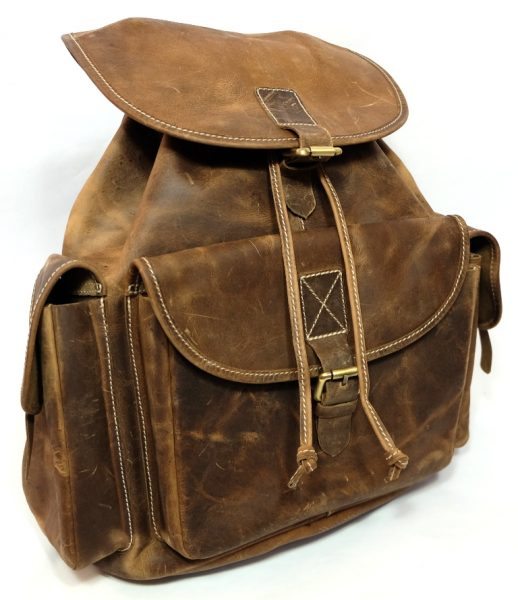 As a home educator, sometimes I have to teach while out and about. During such times, I carry my teaching materials with me in a backpack. Some inexpensive backpacks don't last very long while other more expensive backpacks last longer. One thing seems to be true of most of them – they all tend to look the same. Leather backpacks, on the other hand, tend to be more distinctive as well as long lasting. I was recently given the opportunity to review the High on Leather Leather Hiking Backpack and I must say that I really like it. It's a rugged vintage looking backpack and appears to be something that may last longer than I do.
Features
Leather: Cowhide
Color: Brown
Dimensions: 12.5″ L x 6″ W x 15″ H
Three external pockets (front and side pockets)
Interior walled zippered pocket
Large internal compartment
Two leather adjustable shoulder straps.
External topside leather handbag handle
Made with quality easy glide & easy access metal zippers
Professionally made with stainless steel/brass toned hardware
Durable polyester fabric interior lining
Constructed with heavy industrial thread for supreme quality and durability
Design & Build Quality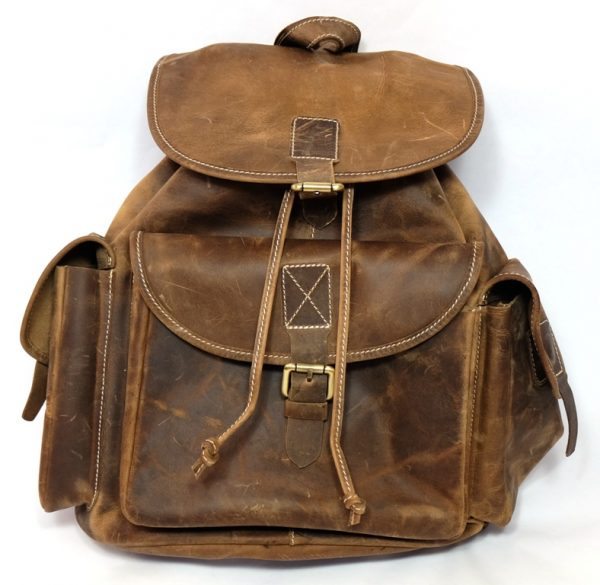 The Leather Hiking Backpack is made of cowhide and has a vintage rustic look consisting of dark rich brown colors marbled with lighter tan colors throughout. The backpack has two side pockets and a front pocket for additional storage.
The back of the backpack has no padding. The straps are adjustable and the stitching looks like it is rugged enough to hold up for a long while.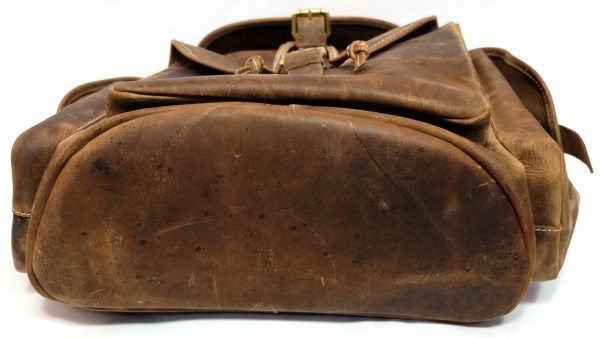 The bottom of the backpack is the most rigid portion of the entire bag. It feels like this is the area where the thickest leather was used. This part of the backpack definitely seems like it will last a lifetime.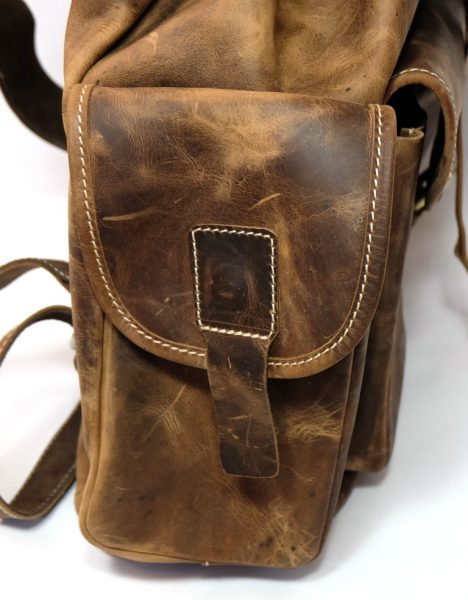 The side pockets (inside measurements: 4.25″ L x 1.25″ W x 7″ H) do not have any buckles. The narrow leather strap attached to the side pocket flap is made of a very thin piece of leather to lift the side pocket flap.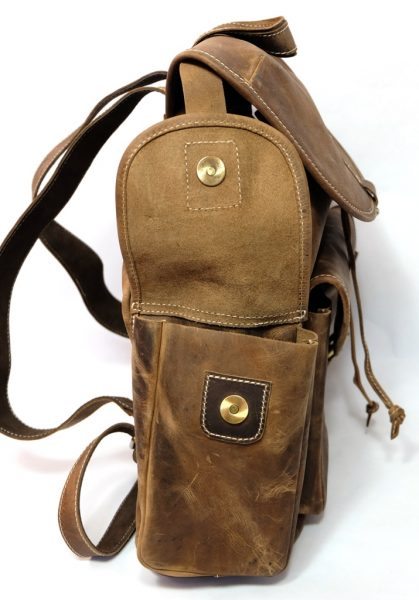 The side pockets are held closed with magnetic snaps.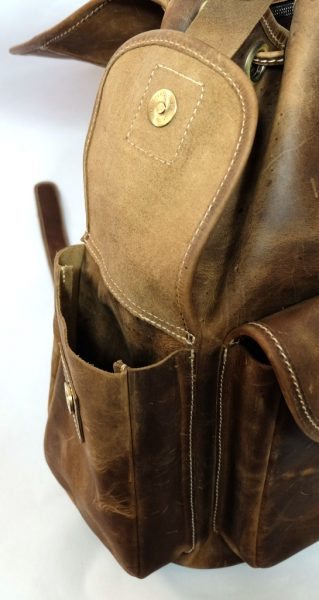 There is no lining in the side pockets. The pockets are made of a nice thick leather.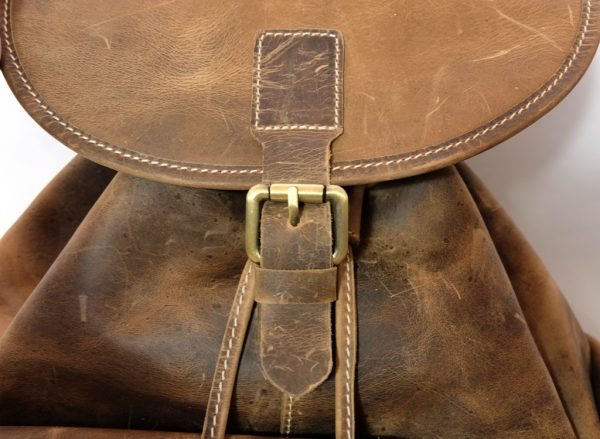 The buckles and other hardware used in this backpack are described as "stainless steel/brass toned hardware." The buckles feels solid and durable, not hollow.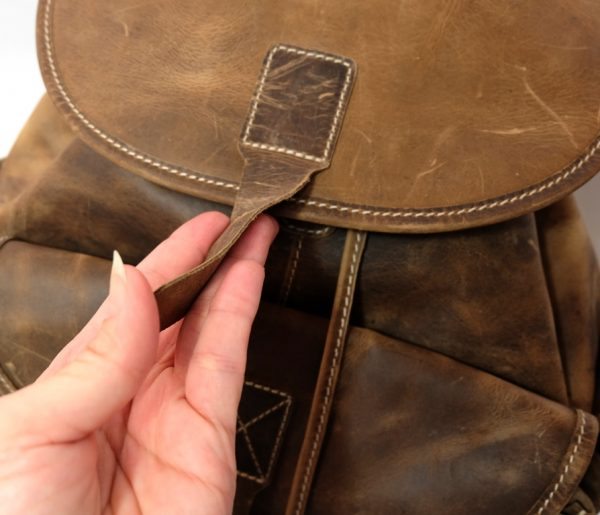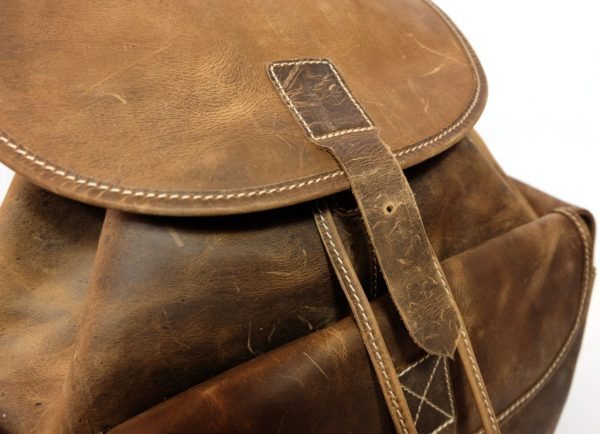 The strap attached to the main compartment flap that threads into the buckle is made from a very thin piece of leather (just like the leather strap on the side pocket flaps) and may be a weak point on this otherwise durably made backpack.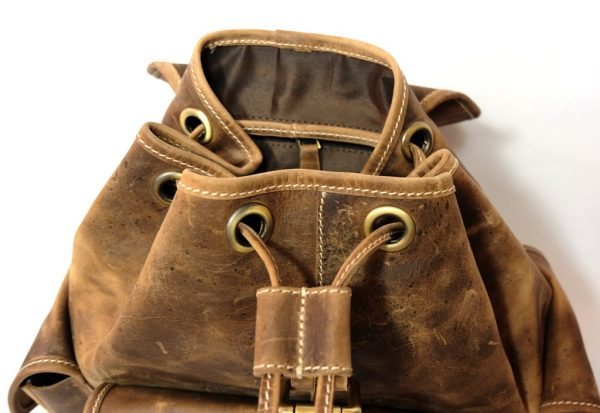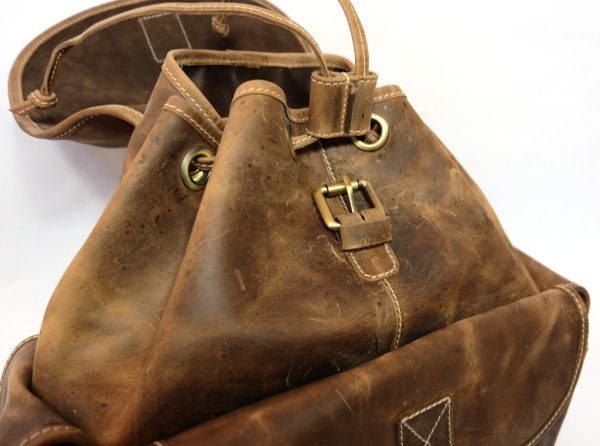 The main compartment has metal grommets surrounding the opening with a strip of leather that is woven through them. The two ends of the leather strip are pulled taught and cinched in place by a sliding piece of leather.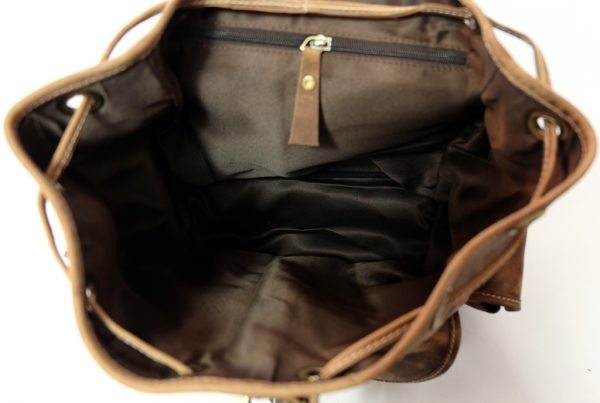 The main compartment of the Leather Hiking Backpack is spacious and lined with a thick "polyester fabric interior lining". The lining has a durable feel and sewn into it is a zippered pocket along the back interior portion of the backpack.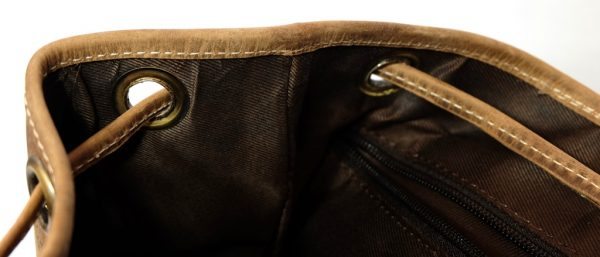 Here you can see a closeup of the grommets used, the sewing quality, and the thickness of the strip of leather used to close the main compartment. The grommets do not seem quite as nice as the buckles, but since their purpose is simply to keep the top of the backpack closed, I imagine they will endure.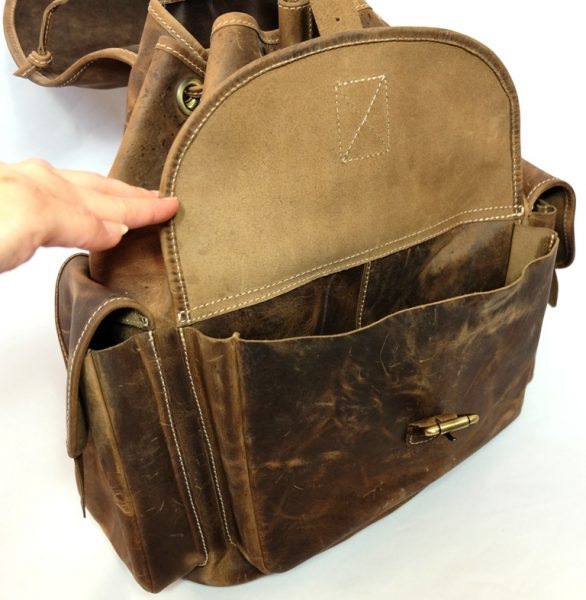 The front pocket (inside measurements: 9.25″ L x 1.25″ W x 7″ H) of the backpack is much like that of the side pockets. It is made of a nice thick leather and does not have any lining.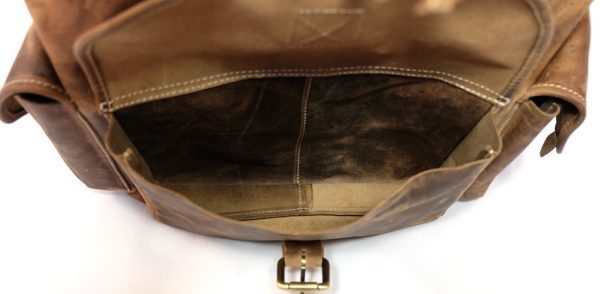 This pocket also seems fairly spacious.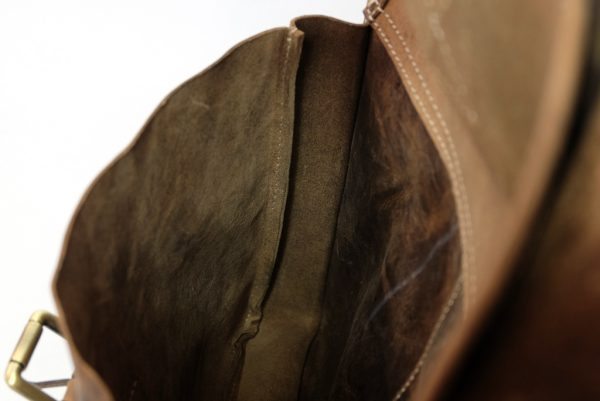 In the above photo, you can see the raw edges of the leather sewn together within this pocket. I really like the fact that the exterior pockets are not lined and that they are made with such thick leather.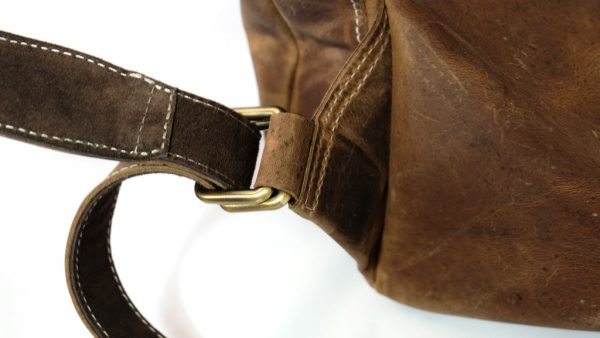 The shoulder straps of the backpack are adjustable by simply feeding the straps through two solid metal square rings.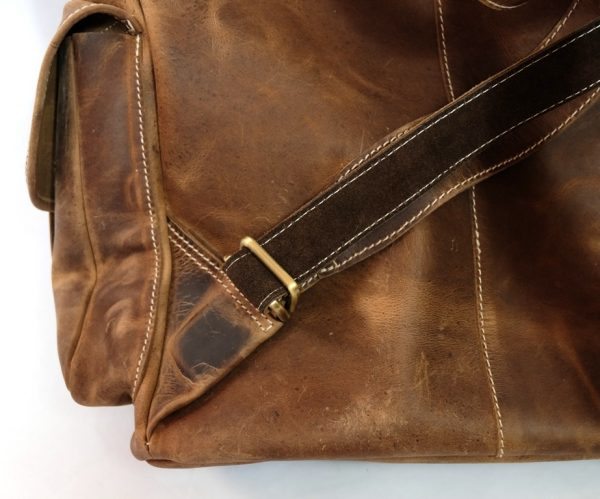 The triangular flaps sewn into the lower sides of the backpack that hold the metal rings through which the straps are held, appear to be strong and are double stitched to ensure durability.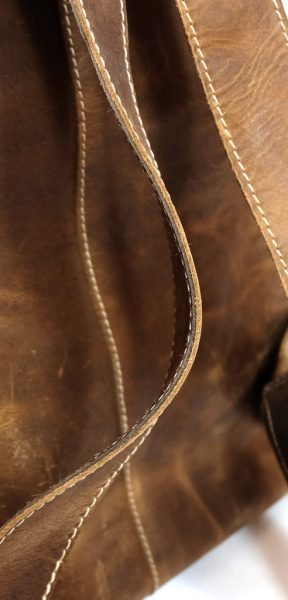 The shoulder straps themselves are made of two thin strips of leather sewn together. They feel well made enough to hold up over time.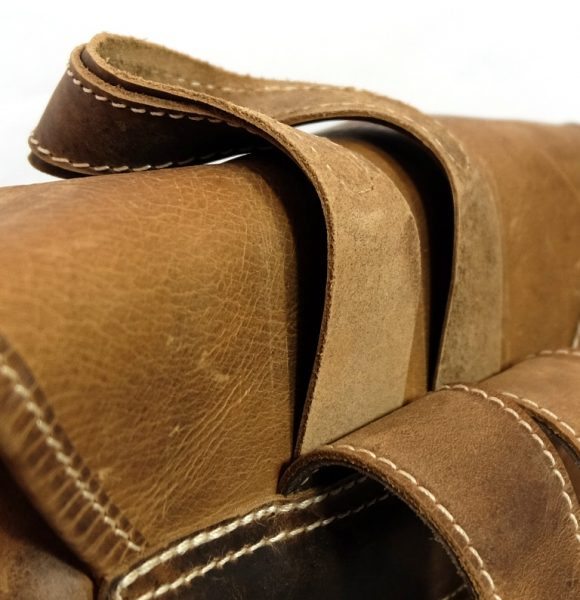 The handle to grab the backpack when you are on the go may be another weak point. It doesn't seem quite thick enough to carry a lot of weight over the years, but perhaps I'm wrong.
Here in the above photo, you can also see the double stitching used to attach the shoulder straps and handle to the backpack. I have to admit, I'm curious to see how well the stitching holds up over time.
Use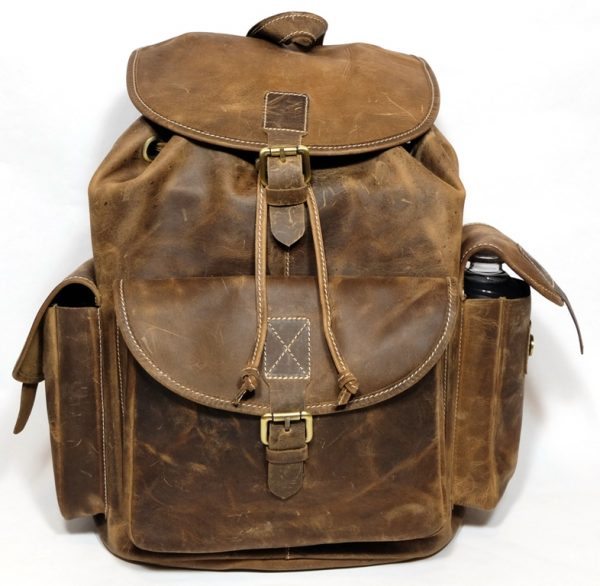 I filled the backpack with the normal items that I carry around with me when teaching my kids on the go. I'm happy to say it holds more that I thought it would.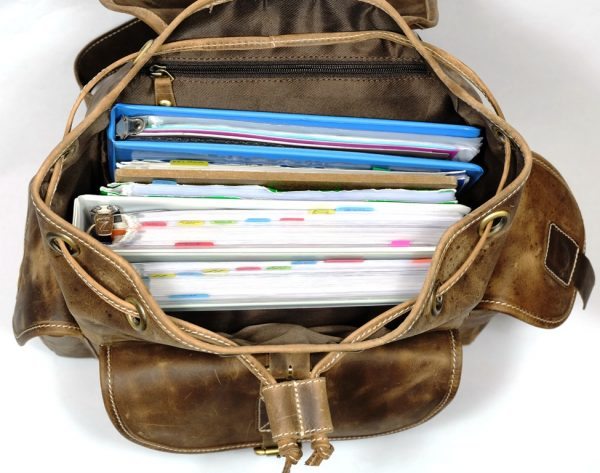 In the above photo, you can see that I have two full one-inch binders, one full half-inch binder, and about the equivalent of another half-inch binder. At this point the backpack was full.
This backpack which is 12.5″ L x 6″ W x 15″ H cannot hold our 15″ Dell laptop because it is too long (15″ L x 10.5″ W) but may be able to carry a 2015 15″ Macbook Pro since that laptop has smaller dimmensions (14.1″ L x 9.7″ W x .7″ H). Unfortunately, I do not have a Macbook Pro to test this. If you should decide to carry a laptop in this backpack, I recommend storing it in a protective sleeve or case before placing it in the backpack since this bag has no padding for electronic devices.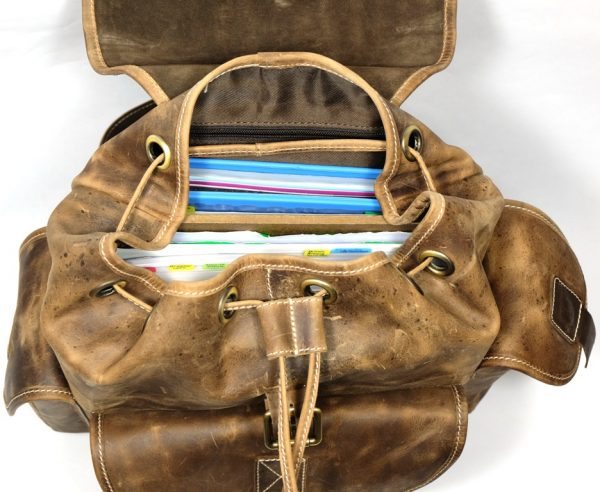 After placing all my materials in the backpack, I was able to easily cinch the top closed.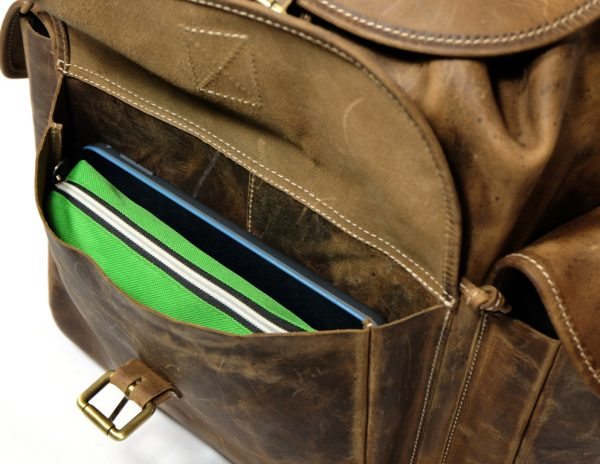 The front pocket comfortably holds an iPad Mini 4 and my thick pencil case. Also inside this pocket (not seen in the photo) is another zippered pouch that is about 6″ L x 4.5″ W which contains my post-it tabs.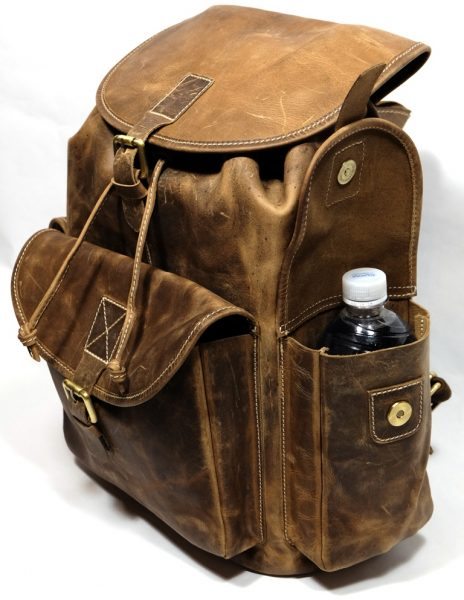 In one of the side pockets, I was able to easily fit a 20 ounce water bottle inside but was unable to snap the pocket closed because the bottle was too tall. I'm not really bothered by that, though.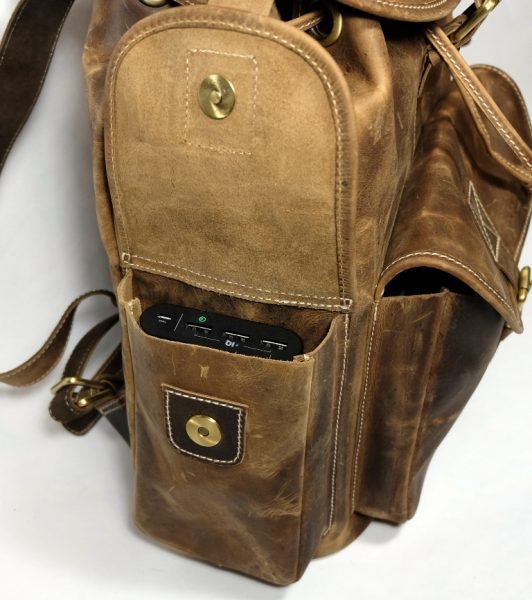 The other side pocket held my Anchor PowerCore+ 26800 mAh battery (7″ L x 3.125″ W x 1″ D) and I was easily able to snap the pocket flap closed.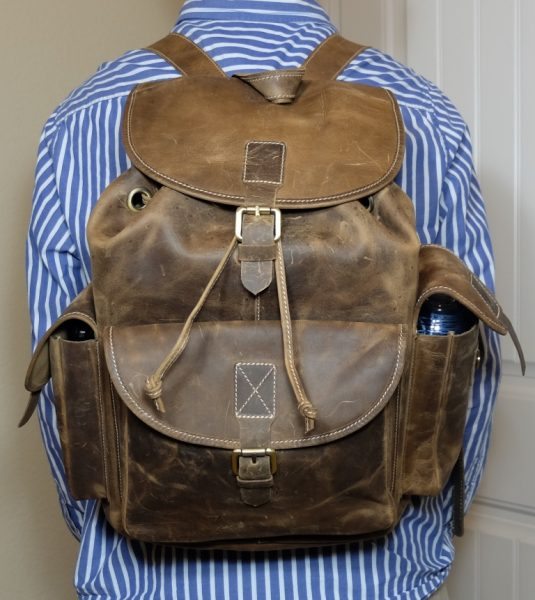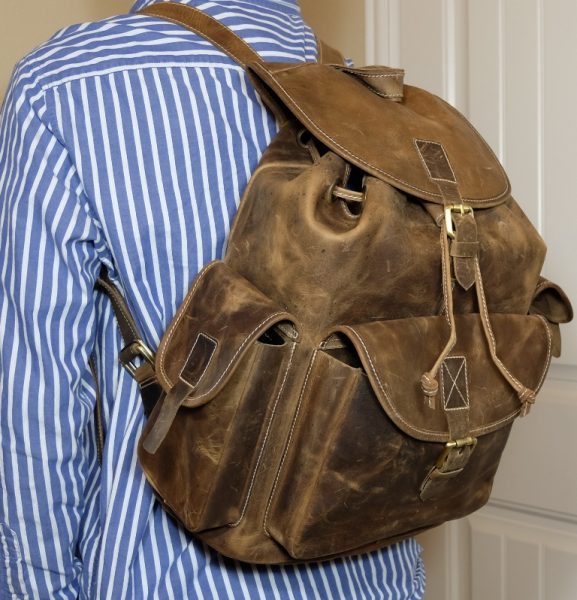 Looks good, eh?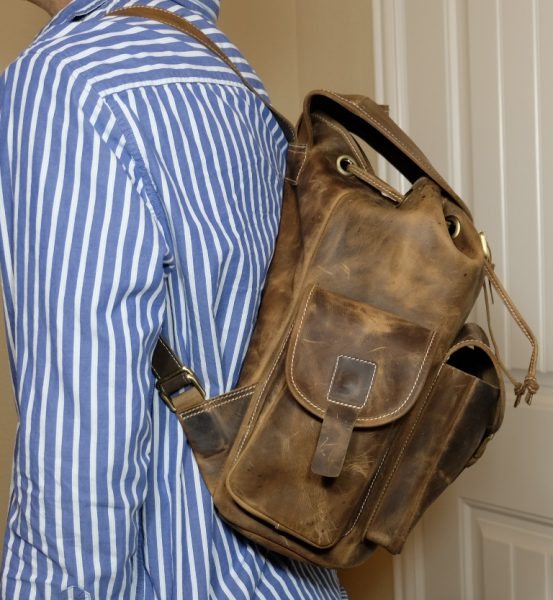 When carrying the backpack around, it bothered me that the bottom of it digs into my lower back instead of it fitting flat against my back. Other backpacks may do this too but this backpack seems to exaggerate the problem perhaps because the main compartment has a grommet closure instead of a zippered one (a zippered closure may hold the top more tightly closed when carrying a lot of weight while the grommet closure allows for some slack and thus more easily pulls away from your upper back).
I was curious to see if the cinched closure would loosen over the course of a day, but I did not experience this.
I also have not carried the backpack around during inclement weather so I do not know if the backpack will keep my materials dry or not.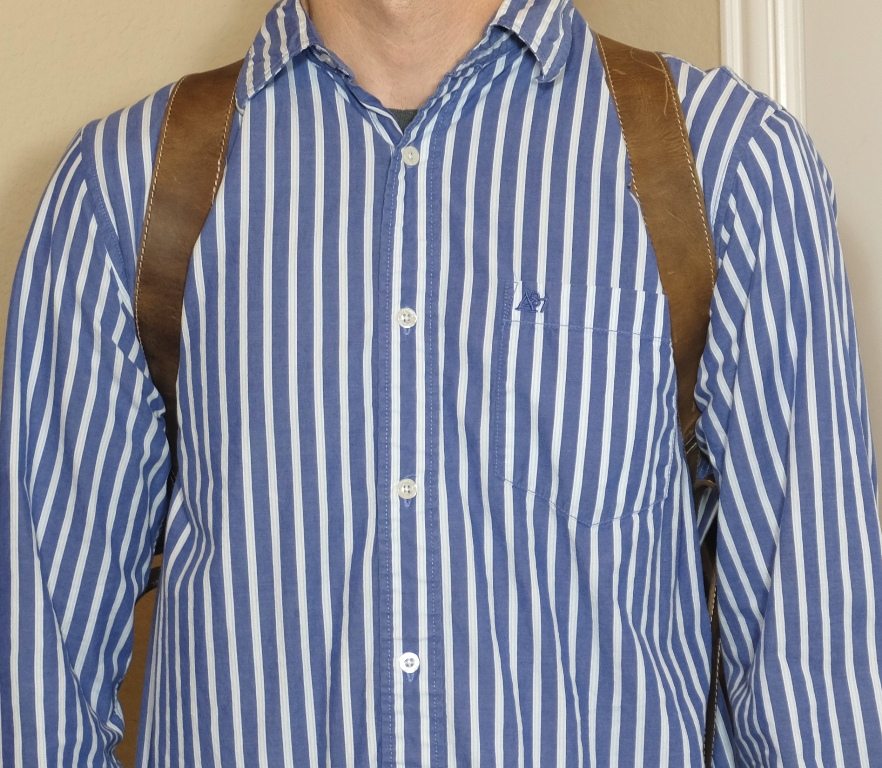 With the amount of stuff I tend to carry around when teaching, the thin shoulder straps start to hurt when I have to carry it around for a moderate length of time (30 – 60 minutes). However, I can't imagine using padding on the shoulder straps since that would detract from the look of this really attractive backpack. Ah, so I've fallen for form over function. It was bound to happen someday.
High on Leather provides information about the care of their leather products. Follow the link here for more information regarding care.
Final Thoughts
I find that the High on Leather Leather Hiking Backpack is a really attractive, durable, well-made backpack. It is made entirely of leather, the main compartment of which is lined with a durable thick fabric lining. It feels really ruggedly made, with most of it being made of thick pieces of leather that give the appearance of being able to last a lifetime. But here's the real treat – this backpack is only $138. I would have expected a MUCH higher price for this elsewhere.
There are a couple of places on the backpack that I will be watching as time goes by – the rather thin straps of leather that feed into the buckles of the main compartment flap and the front pocket and whether or not the shoulder straps and handle will stay sewn into the backpack at the shoulders.
Updates 10/10/17
As I stated in the comments section below, I've learned a lot more about leather products since reviewing the High on Leather Leather Hiking backpack and am thus updating my review. The High on Leather backpack appears to be on par with other $130 leather products when comparing it to pictures of other leather bags online. Unfortunately, I do not have any other similarly priced leather products on hand to compare the High on Leather backpack to directly. I can say that the backpack is made with thinner leather than premium brands, but that might be expected with a bag in this price range. If money is a concern, then the High on Leather backpack might work for you. But if you want to ensure longevity, thicker leather is better, thus you'll have to pay more.
I cannot speak to the longevity of the High on Leather backpack as I no longer use it (It was uncomfortable to carry around because the bottom of the backpack dug into my back when carrying my materials and it just wasn't as nice as other backpacks I've tried since). I tried to find information about the warranty of High on Leather products too and was unable to do so on their website. Thus, I cannot determine how much they trust the craftsmanship of their leather products. Their website also does not include the details of the exact type of materials they use in their bags that would also help customers determine the hardiness of the bag (e.g. thickness of the leather used, type of thread used, type of metal hardware used, etc). This is something I've learned to look for in the leather products I review.
Since I happen to be in the market for a more expensive bag that is made with thicker leather, I personally would wait and save a couple hundred dollars more to purchase such a product in order to guarantee its longevity (the higher priced backpacks tend to have long warranties and are more aesthetically attractive to me as well). But I also realize that not everyone has that kind of money to spend, so the High on Leather Leather Hiking backpack may very well work for you.
Source: The sample used in this review was provided by High on Leather. Please visit their website for more information or to purchase one for yourself.
Product Information
Price:
$138
Manufacturer:
High on Leather
Pros:

Really durable rugged leather backpack (entire backpack is made of cowhide)
Vintage, rustic look
Inexpensive for a leather backpack
Main compartment fabric lining is thick and feels durable
Sewing is well done and looks durable

Cons:

Thin strips of leather are used for the handle and the flaps that feed through the buckles
Thin uncushioned shoulder straps hurt after a while