The Gadgeteer is supported by readers like you! If you buy something through links on our site, we may earn an affiliate commission at no cost to you. Thank you! Learn more.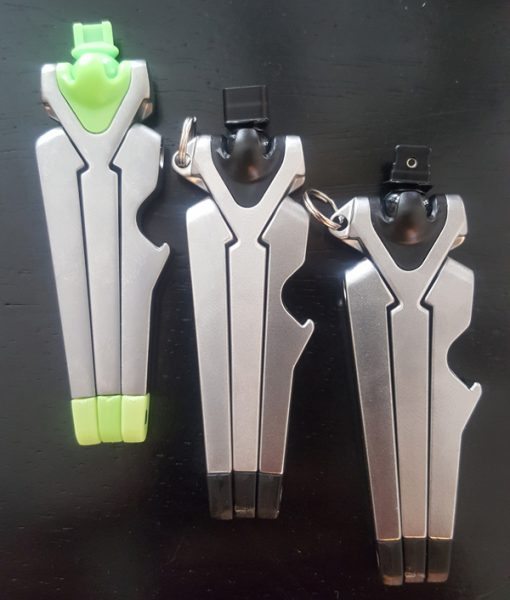 I have always been a big fan of Kenu products.  I have owned many of their products and their simple design, high-quality materials, and ease-of-use are top shelf.  So when I heard about the new Kenu Stance, I was intrigued.  My smartphone is the main camera that I use to document the moments in my life, and every holiday I invariably find my phone perched atop a large stack of boxes and books as I try to position it without falling over for that perfect family group shot in front of the fireplace.  Some of you are grinning because you have done the same thing!  The $24.95 Kenu Stance solves this problem by providing you a mini-tripod that attaches to the power port on the bottom of your phone.  Did it measure up to the high standards that I have come to expect from Kenu? Let's find out.
The Stance is 3.1 inches long and weighs only 1.2 oz., and they state that it is smaller than a pack of gum.  I received 2 models for the review, one for iPhone (with lightening ports) and one for micro-USB phones (which is what my phone is) and one for USB-C.  Here is what Kenu states regarding the compatibility of the Stance with Apple, Android, and Windows smartphones:
Stance is designed to work with any iPhone with a Lightning Port, which includes the iPhone 6 Plus, 6s Plus, 6, 6s, SE, 5s, 5c, 5 and iPod iTouch Gen 5.  Stance for Android and Windows Phones is designed to work with any smartphone with a centered (not off-set) micro-USB charging port. We have tested Stance to work with the following smartphone models:
Samsung Galaxy S5
Samsung Galaxy Note 4
Samsung Galaxy Note 3
LG G3
LG Optimus L90
Motorola G
Motorola X
Nokia Lumia 530
Nokia Lumia 635
Nexus 6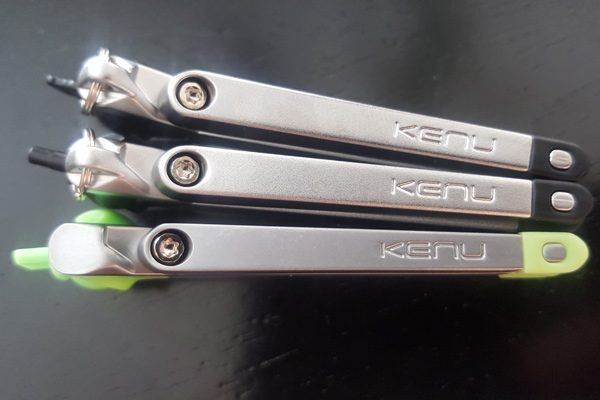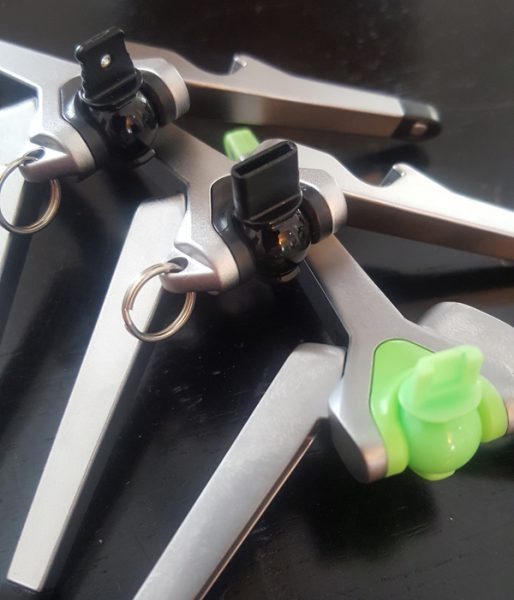 And I can confirm that it also works with my phone, which is a Samsung Galaxy S6 Edge+, which is micro-USB.  I should also mention that Kenu clearly states that large tablets like the iPad should NOT be used with the Stance even though the Stance will clearly fit into the lighting port on the iPad.  The reason for this is that the iPad is simply too large and heavy and will easily tip over if you try to use the Stance.  I can also confirm that the Stance does work with my 7 inch Nexus 7 tablet, which you can see below, as long as I keep the tablet straight up and don't let it lean in any direction because it is clearly heavier than most smartphones.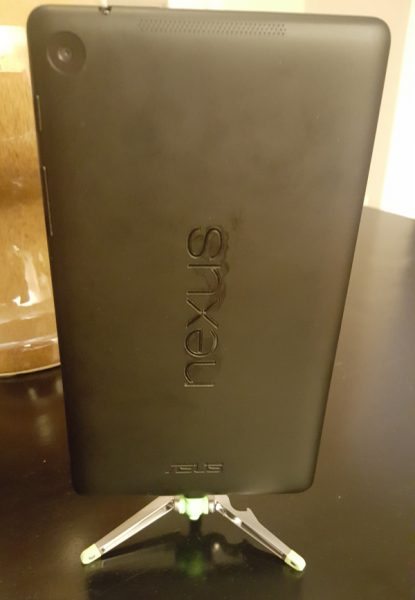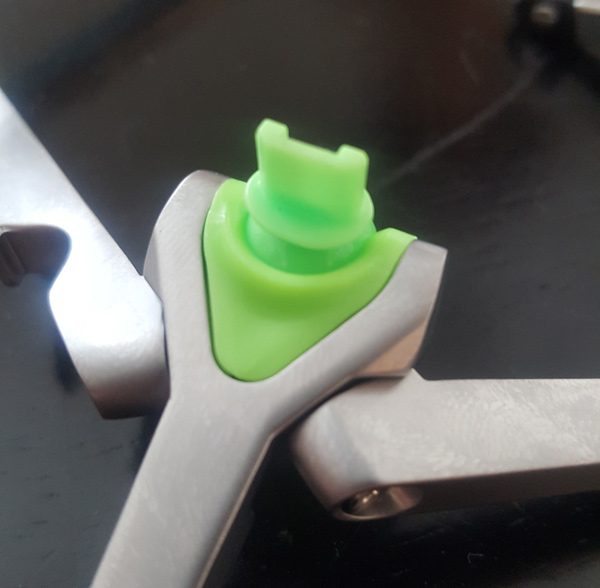 The iPhone version of the Stance come with a neat little key-ring that you can use on your key-chain, but the micro-USB version does not have one, sadly.  I would attach it to my key-ring if it had one.   And each Stance has a bottle opener built into one of the legs (easily seen in the first picture of this review).  Of course.  And why not? If it is going to be dangling off your key-chain, it might as well be useful!
The Stance has rubberized feet to keep it in place when the legs are extended and your phone is perched atop and the ball joint adapter easily moves in all directions, 360 degrees, so you can position your phone in numerous angles.  The ball joint is tight and firm enough that your phone won't flop all around when you stand it on the table, but if you have a heavy phone like I do you have to be careful not to angle it too far in one direction or it could fall over.  Use the Stance for taking pictures like I do at my family gatherings, or perhaps on a video conference call, or a web chat, or watching a movie on a plane.  It can be used to stand your phone straight up and down, or let it sit landscape on the table by folding the legs back together and rotating them behind the phone as you can see in the picture below.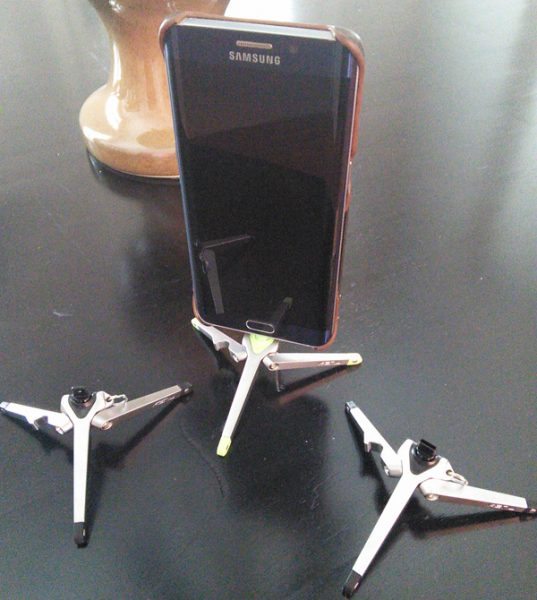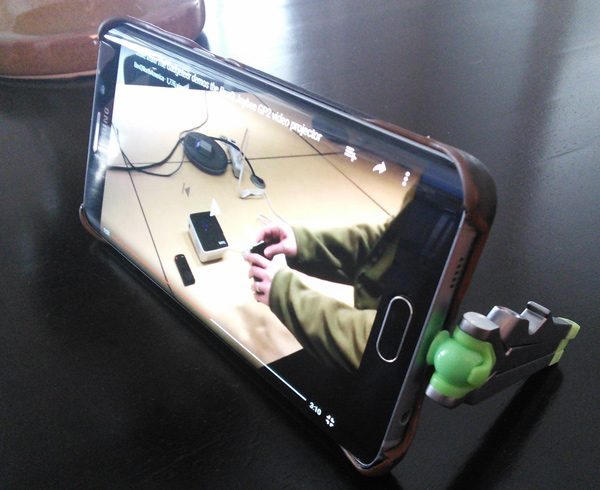 The only drawbacks that I can see are minor.  The micro-USB version for my phone doesn't have a key-ring, so my feelings are hurt.  But I'll get over it.  And when the Stance adapter is plugged into your phone's power port, you can't actually charge your phone.  That could possibly be an issue for some folks because when you need juice, well, you need to plug up to power.  Finally, if your power port on the bottom of your phone is off-set to one side, the Stance won't work.  It has to be centered so that your phone will be stable while attached to the Stance.
Final thoughts
The Kenu Stance is every bit as wonderful as all the other Kenu products that I have used.  High-quality materials, drop-dead simple design, and anybody can use it without any instructions.  If you need a tripod of your phone, get the Kenu Stance.  Then pop a bottle top and enjoy!
Source: The samples for this review were provided by Kenu. Please visit their website for more info and Amazon to purchase.
Product Information
Price:
$24.95
Manufacturer:
Kenu
Retailer:
Amazon
Requirements:

Smartphone with a centered lightening, USB-C, micro-USB port or USB-C port

Pros:

High-quality design
Simple, elegant design
Great price
Built-in bottle opener

Cons:

Can't charge phone while using the Stance
Doesn't work with large tablets