We use affiliate links. If you buy something through the links on this page, we may earn a commission at no cost to you. Learn more.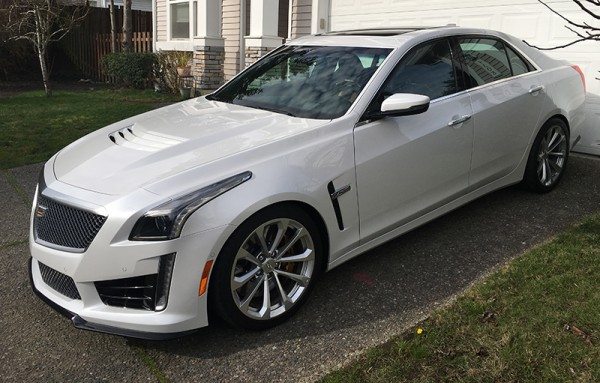 Wait a minute.. is this a car review? Why yes it is. I was lucky enough to be able to test drive one of five GM vehicles, spread across their various brands. I chose the Cadillac CTS-V since I have driven cars all of my life. This was a step up in size from my Focus, so it was fun to get to try something completely different than what I am used to. Fellow Gadgeteer, Dave, insisted that I should drive across the Pacific Northwest on a road trip, but I kept it conservative and drove all around the Seattle metro area instead, seeing how it was to drive not just on highways, but on city streets as well. This was one powerful, intimidating car, but I thoroughly enjoyed it.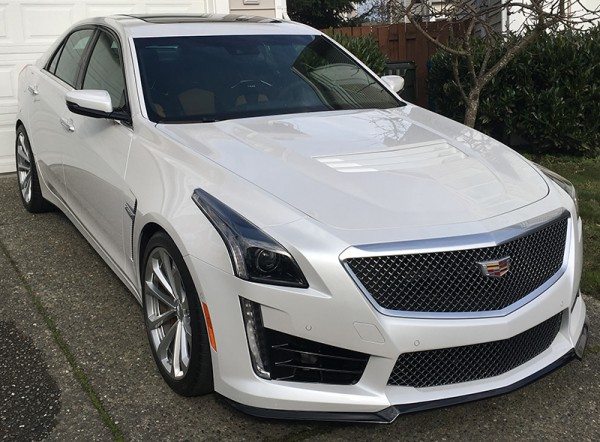 When it comes to Cadillac, I always thought that they were cars for older people. The body just was too boxy for me. They've really changed from the cars I knew back in the day; now boasting a sleeker look and a redesigned logo. They've even equipped this model with the optional manual paddle shift, for a different experience. I can barely drive a stick, so I kept to the automatic shifting.
Not only did they make it more modern, but with cameras equipped for every side of the vehicle, lane assist, blind spot awareness, and a collision warning system installed, they have focused on safety as well. I got some amusement out of the collision warning system when I went through a drive thru. When I pulled up close enough to the window, my seat started vibrating because the car felt the side of the car was too close to the building. The sensitivity level can be changed, but I preferred to keep it at the highest sensitivity because you never know when you may need it.



The CTS-V model is built for speed and power. They've built in hood vents, side vents, and overall, have made the car much more aerodynamic. What really makes this car powerful though, is what is under the hood. This baby sports a 6.2L Supercharged V8 engine with 640 horsepower and goes from 0-60 in 3.7 seconds. It also has a top speed of 200 mph if you are on a racetrack, since you wouldn't want to be going that speed in traffic!
While I didn't test 0-60 in 3.7 seconds, I did speed up as fast as possible while getting on the interstate and when starting from a stop light. Oh man, that was so fun. It's just not the same to try to do that in my little Focus!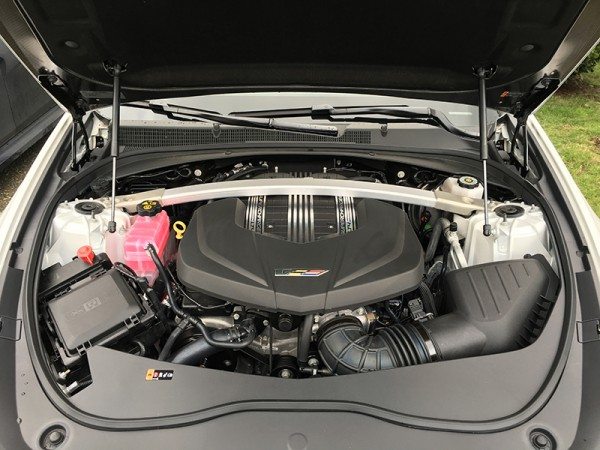 When I was on the phone with GM, I was told this car was powerful. When the representative dropped it off at my door, he warned me it was powerful. This meant that I was paranoid to first touch the gas petal, afraid that it would jump like a bucking bronco. That was not the case at all. Speeding up for the first time, I could feel the power, but I could also feel I was very much in control. After the first test drive around the neighborhood, I was ready to start driving it like normal. As recommended, I kept the car 'power settings' in the everyday touring mode, but there are four road options varying from the laid back touring all the way to racing mode. You could hear the power difference in the idle of the car when switching between the highest and lowest power mode.
Now, I am not a speed junkie. What I love most is speeding up from a dead stop. My sister's fiance, who loves speed, racing, and powerful cars, was absolutely jealous of the CTS-V. What I got out of his thoughts while riding along, and my own experiences, is that this car could work very well for a family who has two different types of car people. A casual driver can get used to driving this car easily enough, while the hardcore driver can have their fun as well. In my opinion, most anyone can drive it.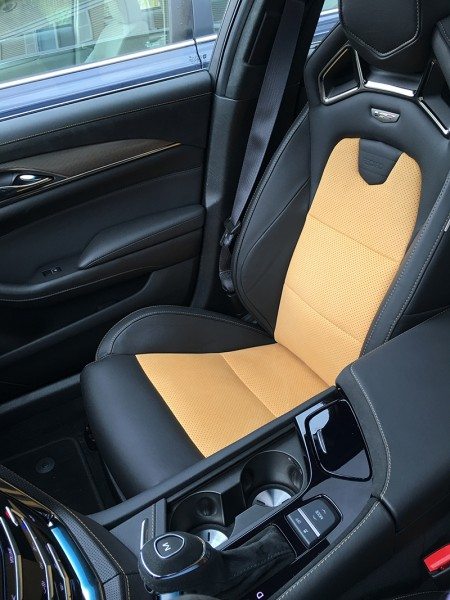 Let's get inside of the car and check out the cushy leather racing seats. They can be adjusted in several ways, from the standard forward and back, to the back of the seat, and even the sides can move up and down to customize the best ride experience for you. There are three presets you can program for adjusting your seat as well, so when your pesky husband adjusts the seat, you can get it back to your setting with a push of a button. The front seats are also heated, and will heat up based on the temperature in the car. I laughed when my husband wondered why his seat was so warm on a cold evening, since no one had turned the heat on that seat. I wish my current car had a seat warmer.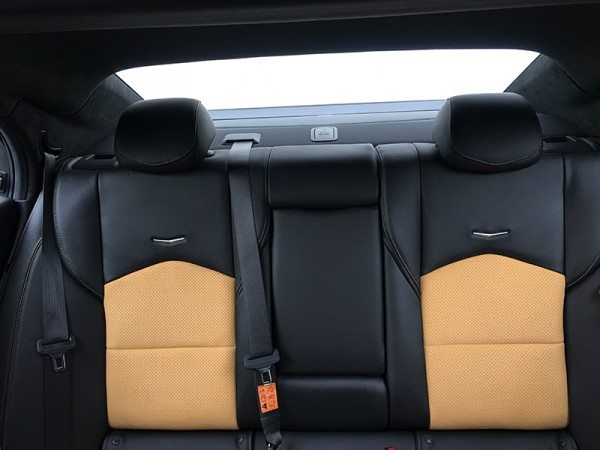 The back seats are made with the same cushy leather and are heated as well. There is plenty of leg room, and the whole back seat area is spacious. In the console between the two front seats, there are controls for seat warmers and temperature control for both sides. I had never seen that in a car before, but then again, I'd never driven around in the back of a luxury vehicle.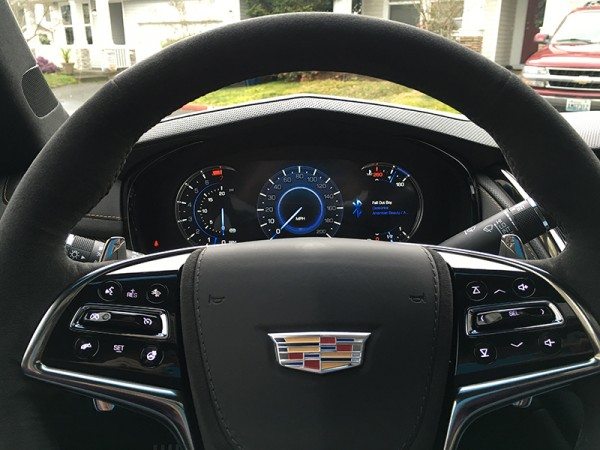 The drivers console can be customized in several different ways, as it is all fully digital. I must be old school, since I am still fond of the standard speedometer rather than a numbered display, so I kept it to that. GPS directions are given both on the center dash console and in the drivers console, where the Bluetooth sign is. When you don't have navigation going, it reverts back to whatever you have chosen to display there. I chose to have my songs displayed, so I didn't have to look at the center dash console.
Then there is the steering wheel, with the standard cruise control, radio controls such as volume and next, the controls for customizing the drivers console, and my favorite, a button for voice commands. Not only did the voice commands work for the car, but when I held down the button, it would bring up Siri on my phone via Apple CarPlay.
Lastly, which can't be seen in the above picture, a HUD (heads up display) is projected onto the window that can also be customized to different settings. I had mine showing my speed and the speed limit most of the time. It can be customized and adjusted up and down with a button near your left knee. My favorite part of the HUD was the turn by turn directions; the turn arrow would pop up with a bar next to it that would gradually decrease as you got closer to your intersection. This meant no more guessing at how far 500 ft ahead was!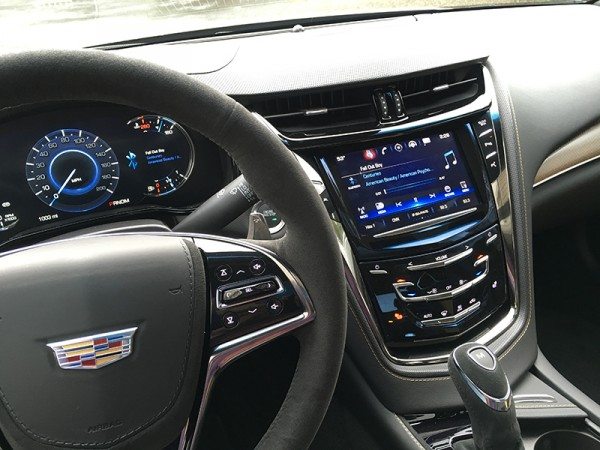 I could take so many pictures and write so much about the electronics in this vehicle, but I will try to limit to what I think is important. The center console dash is equipped with Apple CarPlay, which I was thrilled about. When I hooked up my phone to the car via a USB cord, CarPlay was ready to go. I could send texts, read texts, choose music, and do many standard things with the touch screen that I could do with my phone. Apple CarPlay was awesome to use, but I don't see how touching a screen in the middle of a dash is better than touching a cell phone that is held just right of the steering wheel. That's why I loved that the car's voice system would bring up Siri to read or send messages if I absolutely needed it. If you had a passenger controlling the CarPlay, it makes things a heck of a lot easier than trying to do things with your phone.
Navigation is set up on this screen, and you can search by voice command. OnStar can also send directions directly to your car's navigation, but I never had to use it, as the voice commands picked up where I wanted to go every time. You also can manually punch in an address just as easily as on a GPS. Lastly, you can check the traffic in a given area. All in all, if I had navigation in my car, I would always choose to use it over a GPS or phone display.
There are lots of stations you can program into the bottom of the touch screen display, that will change between AM, FM, and Sirius XM radio. All of the radio controls, except for the volume, are located on the touch screen display.
One thing I still am unsure if I like, is that part of the temperature control resides in the touch screen panel. It was easy to use when sitting still, but I wouldn't want to be using that while driving down the road.
Under the display you will find the power, volume, and home buttons. They are more like touch sensitive buttons than anything, and took a bit to get used to. However, once I got used to the volume, I loved it! You can just slide your finger left or right on the button and it will quickly change the volume. Under all of that are the rest of the temperature controls such as fan speed, temperature, seat warmers, and defrost. Of course, each side has their own temperature control settings. We need this in my family, since my husband complains that his feet are sweating when I turn the heat to our feet.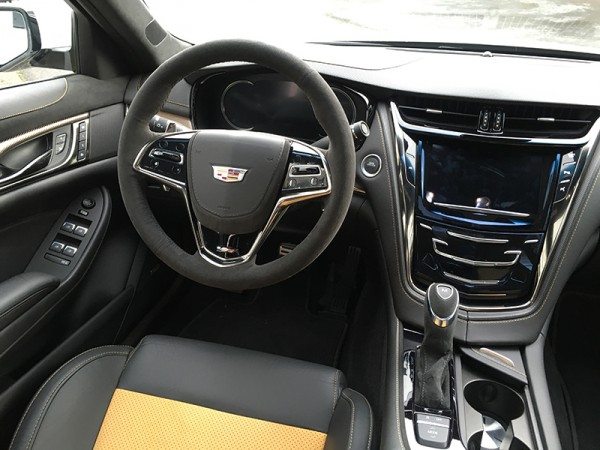 I am sure that I have missed several things that can be written about with this car, but if I wrote about every little thing, this already long review will be much longer. I would just like to emphasize a few things that I loved most about this car. First, the navigation in the HUD, which made turn by turn directions so much easier. Next, I loved how a casual driver like me could get into this car just as much as someone who loves power. Lastly, I loved the safety features; most of all, the blind spot awareness. I love my little Ford Focus, but I would love to have some of the features that the Cadillac CTS-V has in my car now that I've seen them. I'll definitely be looking for them when I go to purchase my next vehicle!
Overall, I had a wonderful experience with the Cadillac CTS-V. When I thought of a luxury car before, I imagined all the bells and whistles, but this vehicle had me seeing features that I had never thought of. While I'll never have the money to purchase one of these myself, I can see why those with the money would invest in a car like the Cadillac CTS-V over my little Ford Focus.
Source: The test drive car was provided by General Motors. Please visit their site for more info.