We use affiliate links. If you buy something through the links on this page, we may earn a commission at no cost to you. Learn more.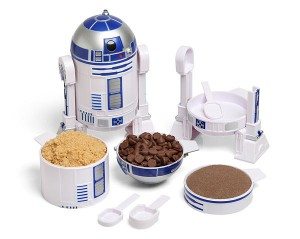 So, you failed at Jedi mind tricks and you can't build that droid of your dreams. What's an aspiring Padawan to do? Why not bake something? And if your going to bake, your going to need measuring cups and what better set of measuring cups than the Star Wars R2-D2 measuring cup set from ThinkGeek. Besides having measuring cups, the R2-D2 has measuring spoons and the following features as listed by the ThinkGeek website
Set of measuring cups that look like R2-D2
Officially-licensed Lucasfilm merchandise
A ThinkGeek creation and exclusive!
Body built from 4 measuring cups: 1/4, 1/3, 1/2, and 1 cup
Detachable utility arms turn into nested measuring spoons: 1/4, 1/2, 1 tsp, and 1/3 tbsp (bakers will see wut we did there)
Dome is both 1/2 cup and 1 tbsp
Materials: Food-grade ABS plastic (BPA-free)
Dimensions: 6 1/2″ tall x 5″ across x 3 3/4″ deep
Do not microwave
Not dishwasher-safe
For 19.99 from ThinkGeek this set may not make you a better Jedi, it may not make you a better cook, but it may just bring out the force in your cooking.