We use affiliate links. If you buy something through the links on this page, we may earn a commission at no cost to you. Learn more.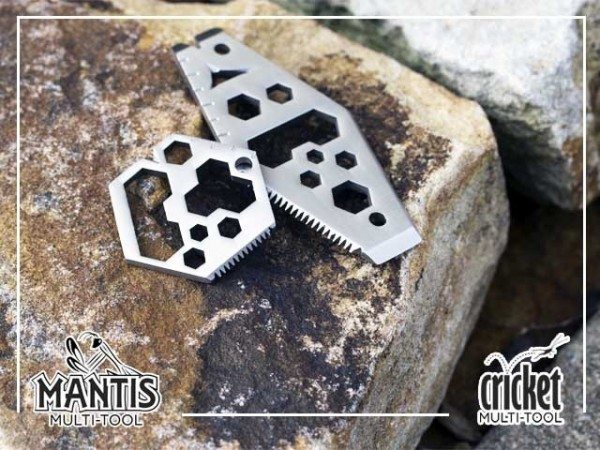 Pocket multi-tools, you all know I love them. I have several reviews and news post about them here on The Gadgeteer, so in keeping with my fetish interest, I have found another set of multi-tools on Kickstarter. The Mantis and the Cricket from Jeff Morin, are two versatile  multi-tools designed to make your life easier. The Mantis is a mini crowbar shaped 4″ x 1.75″ multi-tool with 11+ built-in functions. The main functions listed are:
Flat screw driver
Wire stripper
2″ large toothed saw blade
Bottle opener
2″ scraper
Mini pry bar
Nail puller
2″ ruler
Keychain holes
8 hex wrenches
2″ small toothed saw blade
The Cricket is a six-sided multi-tool that has a 1.75″ foot print is listed as having 7+ functions. The listed functions for the Cricket are:
1″ scraper
Bottle opener
Wire stripper
1″ ruler
1″ saw blade
Hex wrenches
Keychain hole
This project is seeking funding until March 30, 2014 and if successful is slated to ship in the April 2014 time frame. There are several pledge options for this project with a $16 pledge getting you a Cricket multi tool and $19 pledge getting you a Mantis. Both tools come in either a matte silver or matte black finish.