We use affiliate links. If you buy something through the links on this page, we may earn a commission at no cost to you. Learn more.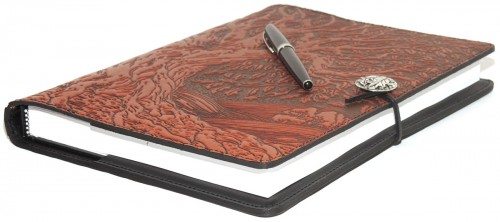 No matter how tech-savvy or bleeding-edge you are, there are times when going "old school" should at least be considered. There is no doubt that the Gadgeteer Kid and I do enjoy our tech-gear, but he is also an aspiring artist who loves to draw. A digital tablet or loose sheet of paper just does not capture the evolution of his abilities or preserve what he creates to someday show his kids. The artisans at Oberon Design have create the ideal solution; their Extra Large Sketchbook is the perfect way to do just that.
The Sketchbook is a refillable, handcrafted leather book meant to draw, sketch, doodle, or write, in. It is made from custom tanned domestic bullhide with the an embossed on the front cover and a supple black leather backside.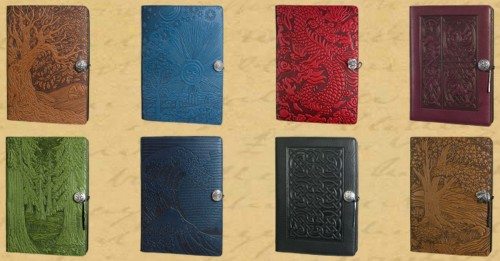 Designs available for the front image include: (top row, left to right)  Tree of Life, Roof of Heaven, Cloud Dragon, Celtic Hounds, (bottom row, left to right) Forest, Hokusai Wave, Bold Celtic, and Creekbed Maple. For an extra $25 a custom color and/or button combination can be created as well.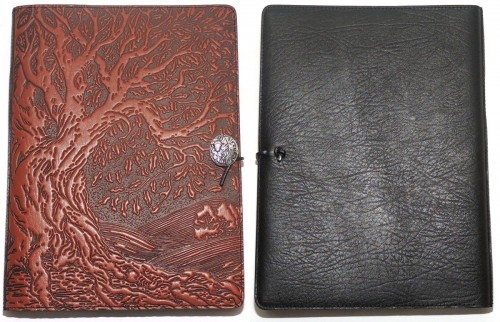 I received the Tree of Life design.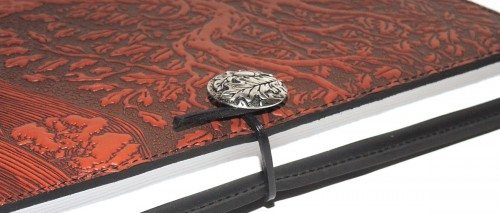 The Sketchbook is held closed by a hand-cast pewter button and bootlace tie. As you can see, the thick leather is very well stitched and finished. Oberon includes a Smythe Sewn hardbound book made with recycled, heavy bond acid free paper and a lined template sheet to help you write in straight lines. The Sketchbook weighs 3 pounds and has dimensions of 9 1/8 x 11 5/8 inches. The book insert is 8.5 x 11 inches and contains 220 pages. Replacement inserts/books can be purchased for under $20.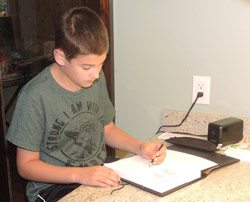 Never miss one of our posts again. Sent MON, WED, and FRI with the latest gadget reviews and news!
For those who like to draw, sketch, doodle, and/or write, the Oberon Extra Large Sketchbook is an ideal way to capture your work. For those of you who are not so artistically inclined, it would make an excellent gift for those who are. In our always plugged in world, I find the Gadgeteer Kid's love of drawing a refreshing thing that I do my best to support and encourage.
Giving him a place to chronicle his efforts that will stand the test of time is the least I can do. There are those who may say that $127 is too much to pay for a blank book, handmade leather cover or not. But I would argue it is a fraction of the cost of much of today's tech, and it will last a lifetime and never become antiquated.
Product Information
Price:
$127
Manufacturer:
Oberon Design
Pros:

Excellent craftsmanship and build quality
Handmade from superior materials
Book/paper is very nice, made of recycled materials
Designed and made in the US

Cons: