We use affiliate links. If you buy something through the links on this page, we may earn a commission at no cost to you. Learn more.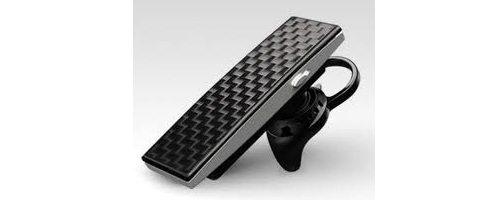 A good headset makes an already incredibly useful device – the cellphone – even more useful by adding hands-free features. The new SoundID SIX Bluetooth headset has several interesting features that promise even more usefulness.
The SoundID SIX is…
Smal l- 1.875″ x 0.6″ x 0.375″ (48 x 15.4 x 9.5 mm)
Light – Weighs less than .30 ounces (8.6 grams)
Well-powered – 'Advanced Lithium Polymer battery' gives 4 hours talk time and 75 hours standby
Clear – using Bluetooth 2.1, EDR, and eSCO standards with a 33 foot range
Comfortable – with three sizes of 'Real Comfort' earloops and an ear clip and padding options
Convenient – with a standard micro-USB and an included charge/sync cable and AC-USB 'wall wart' (one of the smallest I have ever seen.)
$129.99 MSRP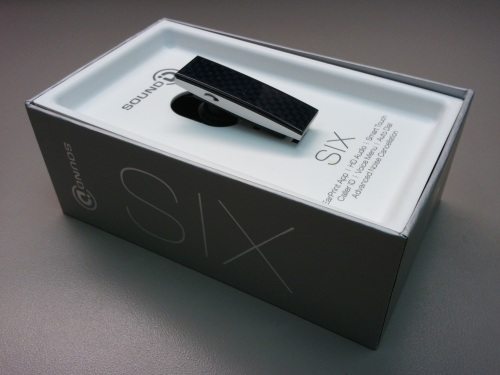 Beyond the basics, it also brags about some special features…
EarPrint 3.0 app for most smartphones to customize and control the unit
3x Noise Cancellation, using three microphones to minimize wind and other background noises
Active Connect connects up to two Bluetooth sources for calls, music, and other audio HD
SmartTouch Sensor controls all features in a single smooth controller.
PassThru Mode amplifies background noises when not taking a call or playing music
Caller ID and Voice Prompts enhance the hands-free experience
Voice Menu offers up to five voice-activated commands
Text to Speech reads SMS messages for you.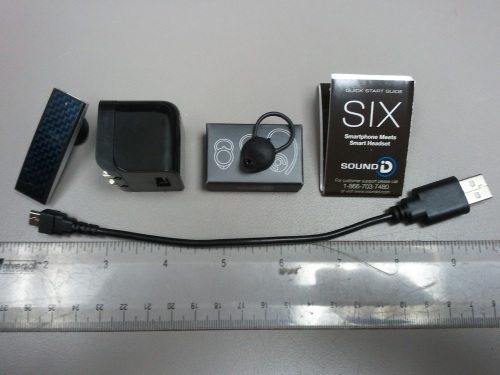 To begin with, let's check out the basic functions. I did all tests with a fully-charged SIX headset paired to my Samsung Epic 4G phone, playing music with the PowerAmp app.
SET-UP was a piece of cake. The instructions are pretty minimal and better info is available on-line, but the unit was easy to charge and pair up. I did have one issue after about a week of no use in which it did not pair and I ended up having to dismount the SIX from my phone and start it over again but it has been fine since that.
RANGE was about normal for a Bluetooth device. They claim 33 feet which generally means 'line of sight'. In my older, wooden framed house, I was fine when I could see the phone but turning any corners resulted in minor 'popping' (very brief loss of signal that comes back suddenly at the etc. volume, making a 'pop' as it does.) Going out the nearest door, or downstairs resulted in more frequent and/or longer-lasting 'pops' until I crossed the imaginary boundary and lost the signal. There was never any real static or loss of quality.
BATTERY LIFE is about as described. After an hour of use I was at 90% (as per the 'Battery' feature of the EarPrint app). It was at 60% at two hours, and under 10% at almost four hours of continuous play.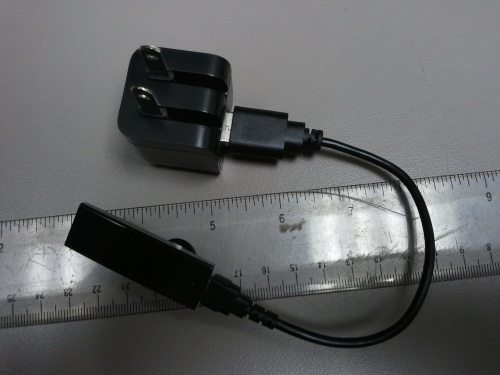 COMFORT is trickier for me. I'm a big guy and a lot of things don't quite fit right ("One size fits all" is such a lie!) I tried all three sizes of earloops and the included over the ear clip and padding. Each felt fine for the most part, but each allowed a different corner of the very rectangular SIX to touch- just a little bit- which ranged from minor irritation to pretty annoying over time.
You insert the unit by choosing the correct earloop and popping it on – which is quite easy – then setting it to a pointer for the left or right ear. Place it in the ear with the unit held so the microphone tip points down, then rotate it in place. I tried wearing it in each ear. It was more comfortable for me in my left ear, but more convenient and felt more natural in my right.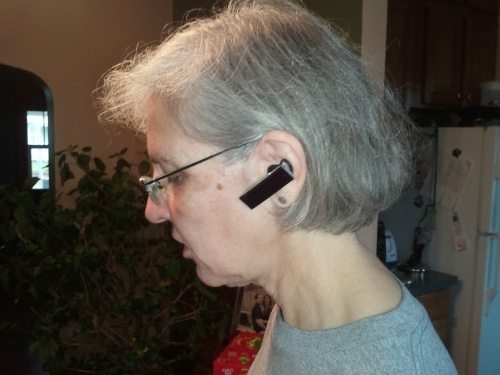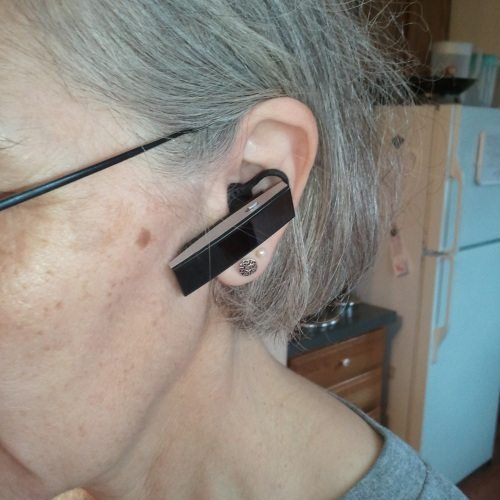 CONTROLS are simple. There is a charging port on 'top', a on-off slider on the side, and a featureless front. Tapping the top of the front answers or disconnects calls. Touching and holding brings up the voice menu, and tapping during the recitation activates that option, and sliding on the front changes volume. I found the controls to be pretty easy to use, although the volume slide sometimes seems to lag, but that may be the app I was using.
CLARITY is pretty good, considering. Music sounds a bit hollow and dull. You can improve the tone in the EarPrint app by sliding a control that acts like a single-point equalizer but the tiny speaker cannot really deliver good bass or treble.
Voice quality is good on both ends. My callers sounded a bit echo-y, but not to the point of distraction, and they report that everything was pretty clear on my end. They reported that some background noises did intrude, but I do not know how the noises would have differed compared to the speaker phone option or normal phone use.
So far, we have a perfectly good headset. But the SIX still has features we have not considered.
The EarPrint app for Android offers several functions:
– Personal Sound acts as a personal equalizer. Dragging a target around the screen adjusts bass, treble, etc. in a smooth, intuitive manner.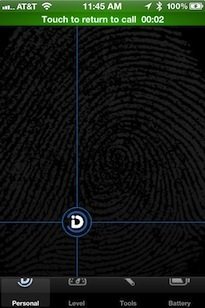 – Level is a simple decibel meter that only works when not listening to music or calls to help you determine how loud you are speaking (or the background noises are)
– Tools let you tweak a few settings including…
 Turning on the 'Pass-Thru Mode'. This option amplifies the background noises when not streaming music or listening to a call. You can select 'surround' or 'focused'. The surround setting seemed to make all noises a bit 'brittle' somehow. I found the 'focused' setting to be slightly better for me – although with a strong tendency to sound like I am holding a shell to my ear. Both can be tweaked at the 'Personal Sound' screen.
Activating the 'SMS to Speech'. The program uses a female voice and does a good job figuring out what you said. When 'on', it will automatically read incoming SMS, or you can hear the last SMS with the touch of a button.
A 'find my headset' feature that makes your headset give off a LOUD beep if it is lost. Very handy! The sound starts low and gets really loud over about 9 seconds.
– VoiceMenu tunes your Voice options and sets up caller IDs so the phone will let you know who is calling.
– Battery shows your current charge level.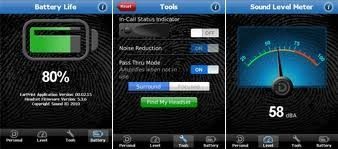 EarPrint makes the unit much more flexible and user-friendly. It is also nicely designed – bonus! This app and the features it works with make the SIX a great headset!
Product Information
Price:
$129.99 MSRP
Manufacturer:
Sound ID
Requirements:

- Compatible phone. EarPrint app is available for iPhone, Android, and Blackberry

Pros:

- Small and light
- Comfortable
- EarPrint makes it very flexible and convenient

Cons:

- Rectangular shape means that a corner may press against your ear