We use affiliate links. If you buy something through the links on this page, we may earn a commission at no cost to you. Learn more.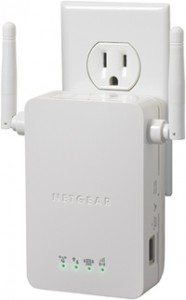 Not all of us are lucky enough to have a home that's wired for Ethernet, and for many of us who have to depend on wireless for network access within the home, there are places where our wireless signal just doesn't quite reach.  Wireless network extenders solve this problem, and are nothing new, but most of them require a fair amount of technical prowess to get configured and working properly.  Netgear's WN3000RP Universal WiFi Range Extender looks to be a solid attempt at making the task of propagating your wireless network throughout the house a much simpler undertaking.
LEDs on the face of the WN3000RP help you find the optimal location for extending your network, and the unit plugs directly into an outlet like a power brick, so it can go just about anywhere you have power.  It supports Wi-Fi Protected Setup for easy configuration, and supports all wireless security standards.  Further, the WN3000RP can also be used as a wireless bridge, if you just need to get a wired device onto your wireless network.
The WN3000RP Universal WiFi Range Extender is priced at $89.99, and is available now.