We use affiliate links. If you buy something through the links on this page, we may earn a commission at no cost to you. Learn more.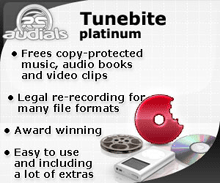 Have you ever wanted to copy a song or DVD to your iPod or cell phone and couldn't because of the DRM protection? Typically the only way around this is to illegally remove the DRM protection. For those of you who are not familiar yet, there is a program from RS Audials called Tunebite that can legally remove the protection and allow you to convert the files to different formats.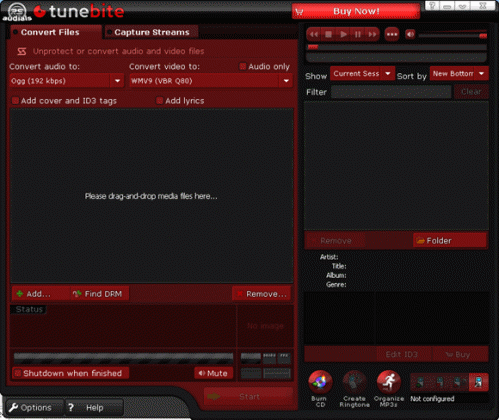 Let me start by saying I spent a fair amount of time playing around with this program, and once you actually get the hang of it, for the most part it's a pretty handy tool for anyone that is into music or video.
Like I said "for the most part". Before I get into what the program can actually do for you, I need to let everyone know that figuring out how to navigate the program is in my opinion pretty difficult. There are no instructions so you basically have to learn as you go. Once you figure out that Tunebite is basically a click and drag operation then you can really get into what this bad boy can do.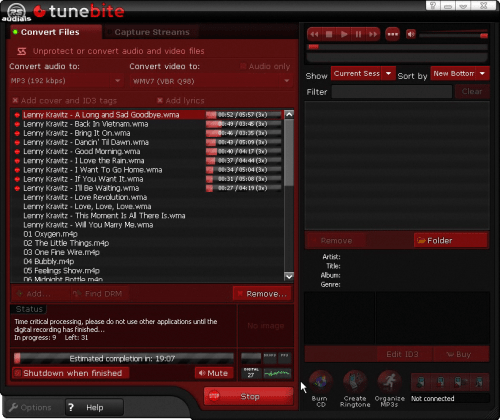 First of all this program can convert DRM protected audio and video into unprotected formats such as mp3, ogg, wma, wmv, wav, mp4 or 3gp for your cell etc. It does all of this LEGALLY and without breaking the copy protection. It uses virtual sound card drivers to record a high quality duplicate of the original. The audio duplicates do not change in size due to the fact that you are only copying it. The same goes for most video that you record as well. However when you copy a DVD it does get smaller in size due to the conversion process. How small, actually depends on which format you are converting to. As for the sound and viewing quality, I never noticed a single difference. The videos that I copied turned out very crisp and clean. Obviously the picture quality is going to be a bit different depending on what type of device you are viewing it on and how good the resolution of that particular screen is. The only down fall is the conversion process tends to take a pretty long time. But the end result is worth it. And the conversion time also depends on how many files are being converted at a time, the fewer files the less time it takes.
Tunebite Platinum includes a CD burning feature to create audio CDs from your playlists. One very cool feature is the fact that it has a ringtone creator that enables you to create ringtones for your cell phone. No more paying to download that one song. And you can even pick the specific part of the song you want. Another great feature is the fact that you can synchronize your mobile device. By syncing your cell you will always have a backup of your most precious information. And the backup process on that actually only took a few minutes. But again the more information you are backing up the longer it is going to take.
Another plus is the fact that the program is compatible with DRM protected files from iTunes, Windows media and Audible. So anything you download form those sites are easily converted with no problems. And to top that off Tunebite will automatically populate your music with id3 tags, album art and lyrics.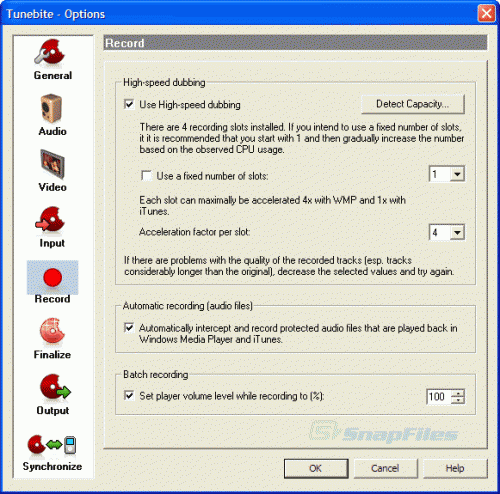 And now for the kicker for anyone that listens to streaming internet radio which I am guessing is the majority of us, this program will actually run in the background and automatically record what you are listening to and store it as an mp3 file. It also does the same for any streaming video as well.
Never miss one of our posts again. Sent MON, WED, and FRI with the latest gadget reviews and news!
Overall I would say that Tunebite Platinum is a must have for music lovers. Once you get past the initial awkwardness of learning how to navigate through the program, it is actually very fun and extremely useful. If you are in the market for new music or new videos and you do not want to dish out the potential 1000's of dollars it could cost to build a decent library, then how about dishing out the $24.90 for Tunebite Platinum and you can copy and record all the music and video you want and its 100% LEGAL. To start a collection that most people would drool over just go to www.tunebite.com
Product Information
Price:
$24.90
Manufacturer:
RS Audials
Pros:

Quality conversions
Inexpensive
Save a ton of money

Cons:

Hard to navigate at first
Long conversion times
No instructions