We use affiliate links. If you buy something through the links on this page, we may earn a commission at no cost to you. Learn more.
In my opinion, this is one of those applications for which all PocketPC and Windows Mobile OS devices are specifically made for…taking notes on the spot! There is nothing more natural to me than to use these devices for such purposes and yet the basic Microsoft notepad is still lacking. I think the proof is in the dozens of notepad replacement products on the market today with each one having their own unique spin on how one takes notes. Vsnotepad from Virtual Spaghetti has its own simple philosophy on note-taking and may just be a worthy contender in this software category.
When evaluating notepad software, I have found that the software usually falls into a combination of product attributes from two main areas: 1) standalone or integrated products and 2) word processor or digital ink driven software. As I said earlier, each developer has his or her own way of taking notes and as such uses a combination of these attributes for their own products.
In the first category, the standalone products tend to be very simple or be built upon a their own database where you can do all sorts of filing and categorizing; where note-taking is a large part of one's PDA usage. Integrated notepad applications are coded to work with other PDA applications like internal or second-party personal information managers (Pocket Information 2007 or Agenda Fusion 8 for example), possess integration links into PC programs like Microsoft Outlook's Notes app or include their own standalone PC syncable apps. This category of programs are usually robust in feature offerings as well as more complex in their output including things like search functionality, note alarms or the attaching of audio/video "notes" to your original note.
The second product attribute for the majority of notepad products fall into either a word processor versus digital ink driven application category . Notepad programs in the digital ink realm (like Vsnotepad) takes your pen marks and "digitizes" it on the screen. They tend to be more visual in nature, allowing for different colors and even shapes to be drawn. Those programs that are word processor driven in their approach to note-taking utilize keyboard or cognitive handwriting/gesture inputs, providing a structured note-taking experience. I have found most notepad programs will exclusively use one or the other but there are a few that offer a mixture of both.
From my testing, Vsnotepad tends to fall into the "standalone – digital ink" version of notepad software. The developer states on his site that "the concept of Vsnotepad is to note, change pages and view your notes like a true notepad. Easy to use, powerful and complete." As I put Vsnotepad though its paces, it is indeed simple and easy to use just like those wire-bound notepads from my pre-PDA laden days!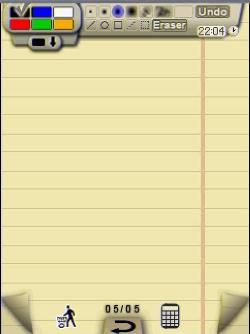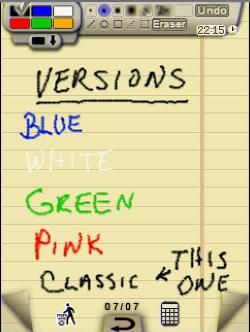 Above you see your typical notepad view. Go forwards or backwards by clicking on the turned up page corners. The key in the center exits the program, no minimizing or saving notes steps are required.
Notepad paper comes in 5 colors (see note below). This paper is the Vsnotepad "Classic" version.
Vsnotepad Features
Here are the features as Virtual Spaghetti describes them on their web site for Vsnotepad:
Compatible Windows Mobile 5.0
Compatible Square Screen
Designed to work like a true notepad
Optimized graphic Interface
Full screen Smoothed and detailed
Compatible QVGA/VGA/Square
Calculator tool
Graphic Tools
Color selector
Easy creation and change page method
Show Current Time
Detection of the level of battery
Compatible Phone Edition
English / French language enabled
Important note on paper color – there are five different "paper" color versions of Vsnotepad you can choose from:
Classic (the paper used for these screenshots)
Pink
White
Blue
Green
Vsnotepad gives you only get one choice of paper color per Vsnotepad program at the time of purchase. Each one is listed with the assigned paper color like Vsnotepad Classic, Vsnotepad Pink, Vsnotepad White, etc. Be sure to try out the trials versions to see which color works best for you before purchasing!
More Vsnotepad Screenshots: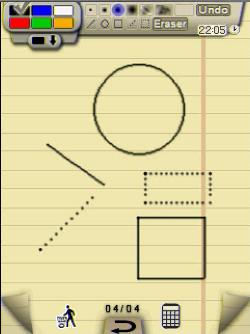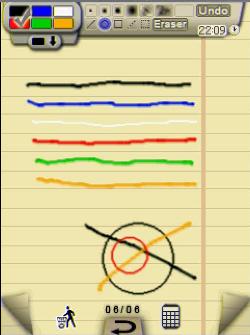 Vsnotepad shape drawing features. There are 6 ink colors available, an "undo" button and an "Eraser" function that works well.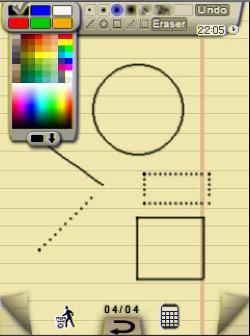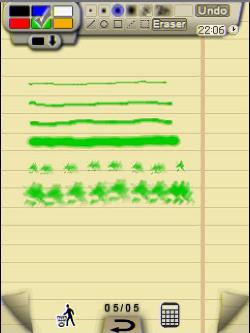 Don't like the 6 ink choices… choose your own variation. Ink thickness is also a selectable item on the toolbar.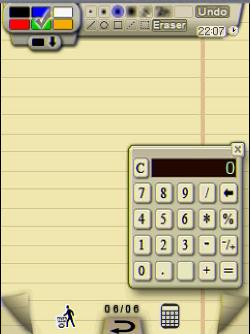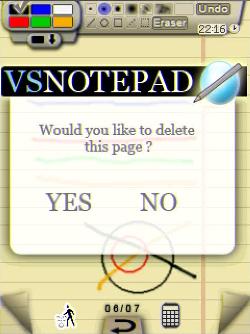 Handy calculator (Note that it does not paste results on the screen). You can delete all the pages or just one page within dozens of pages. There is a maximum of 99 pages in the commercial
version of the program.
Installation
Vsnotepad installation (397KB) is relatively straight-forward with an .exe setup file containing the CAB installation file, the uninstaller and setup.ini file that installs under the MS ActiveSync directory on your PC by default. I found Vsnotepad to work on both my internal and external/card storage memory. The program has a relatively large footprint of over 2MB on my PDA RAM/ROM (depending upon your memory configuration). I have 6 pages in my notebook which are stored in the same directory as the program by default (not changeable) with each page running about 150KB on average.
Conclusions
Vsnotepad is a nice little notepad program, as the developer seems to have kept it true to his idea of a simple notepad application. The price at $14,95 is about right for all that it offers and is in the ballpark with similarly featured notepad programs. As with any program you are thinking about buying, look at how you use notes today or plan to use it in the future. I think Vsnotepad is probably a great choice for those looking to jot down notes now and then as well as for those that don't need to save, search or store them for later retrieval. If you do use the notes function in your PDA more often or need some type of structure to your note filing, then this program will not cut it for you. As always, download the available trial version and see for yourself if Vsnotepad is right for you!
Product Information
Price:
14.95
Manufacturer:
Virtual Spaghetti
Retailer:
Virtual Spaghetti
Requirements:

Windows Mobile 5.0 (and presumably PPC 2003SE)
2MB of storage memory

Pros:

Fast, simple and straightforward notepad program
Compatible on most Phone Editions
Works well on QVGA/VGA/Square screens

Cons:

Cannot save notes for future referral unless via a backup scenario
Only one choice of paper color per program purchased